In-depth interviews, behind-the-scenes footage, brand-new gameplay videos, exciting new video game announcements, and much more. Let's take a closer look at all the announcements from the Xbox Games Showcase Extended, the exclusive event that perfectly concludes Xbox's 2023 Games Showcase.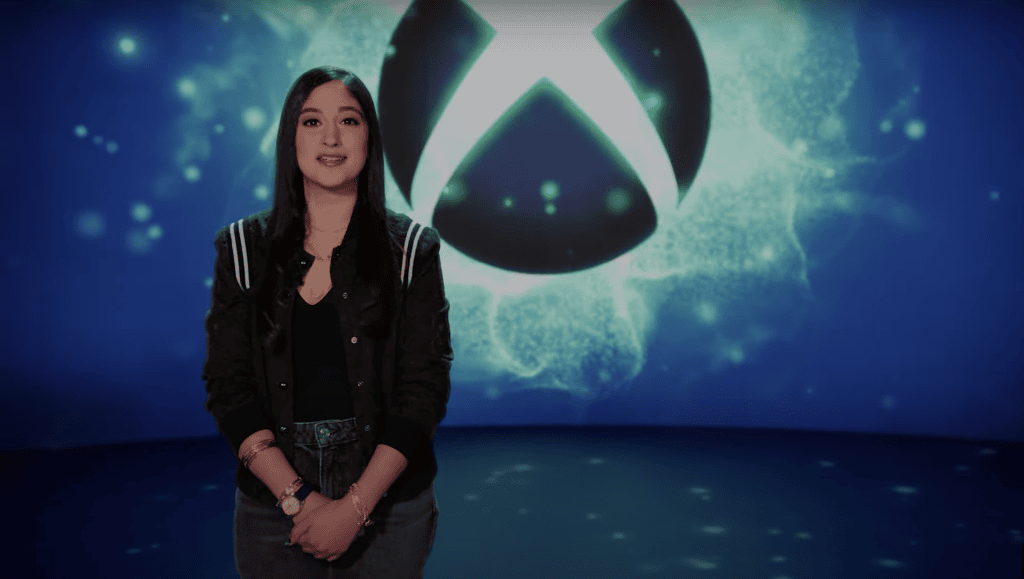 The Xbox Games Showcase Extended, the event that officially concludes a dream week for Microsoft, has just ended a few hours ago, showcasing what Microsoft has in store for us. It was a double event that flexed all of Xbox's muscles, featuring highly anticipated video games, extraordinary announcements, and a truly stellar Starfield Direct.
It was another unmissable appointment for Xbox and PC gamers, who were able to witness new reveals, exclusive in-depth interviews, behind-the-scenes with development teams, never-before-seen gameplay footage, and a truly, truly special guest.
Guiding us through this in-depth showcase is the evening's host, Tina Amini, gracefully leading us to explore various aspects and themes of the conference, with the behind-the-scenes of Senua's Saga Hellblade II with the studio Ninja Theory, exclusive interviews with Game Director Carrie Patel (Obsidian) on Avowed, and with Game Director John Johanas of Hi-Fi Rush, and a unique guest who has arrived straight from the DLC of Cyberpunk 2077: Phantom Liberty.
So, without further ado, here are all the announcements from this Xbox Games Showcase Extended.
Cyberpunk 2077: Phantom Liberty – Exclusive New Gameplay + Interview with the special guest, Keanu Reeves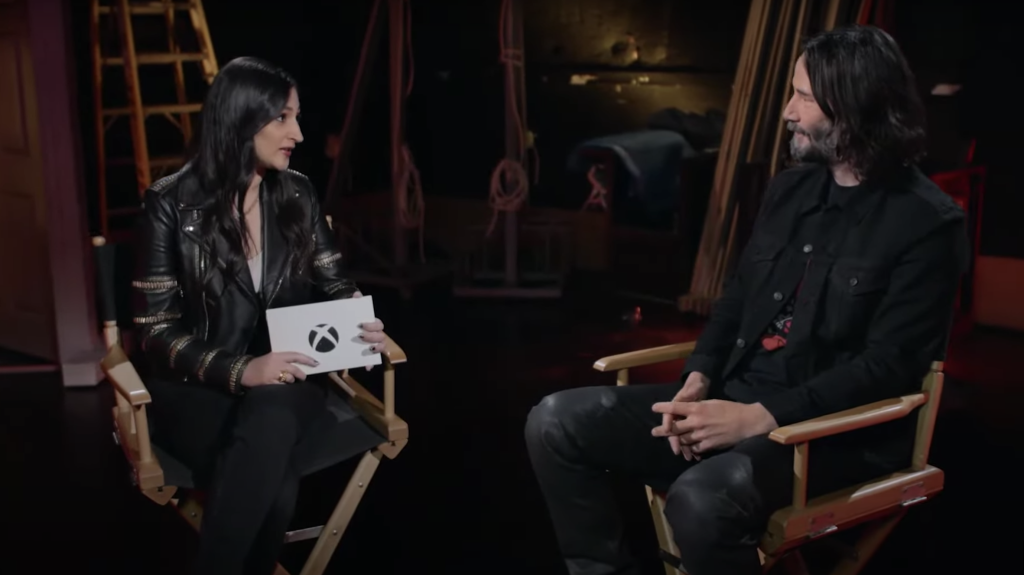 They couldn't miss providing more in-depth details about Phantom Liberty, the highly anticipated DLC for Cyberpunk 2077, set to release on September 26, 2023. In this regard, the Quest Director, Paweł Sasko, stepped in and revealed some interesting details in this exclusive gameplay footage about one of the DLC's key locations, Dogtown's black market. The spotlight was on the chrome vendors and their goods, shedding light on what we can anticipate from the expansion.
Later on, the showcase made room for an exclusive interview with Keanu Reeves, the renowed face of Cyberpunk 2077, portraying the iconic character Johnny Silverhand. The interview sought to delve into his expectations for the DLC and the significant role that Johnny will play in it, with his usual charm and enviable charisma. Well, as the saying goes, Keanu is always Keanu.
High on Knife – The horror-comedy upcoming DLC for High on Life
Who would have ever imagined that High on Life could take a horror-style turn? Or rather, a comedy-horror style turn?
High on Knife is the highly anticipated upcoming DLC expansion for High on Life, announced by Squanch Games. This DLC will feature Knifey, the exuberant and beloved melee weapon, voiced by the incredible Michael Cusack. We're not sure why High on Knife takes such a macabre and horror-comedy artistic direction, but we expect it to deliver thrilling and hilarious moments, as well as stylish alien slaying, just like the main game.
The DLC trailer introduces us to new characters, enemies, and exclusive biomes, along with two brand-new alien weapons: Harper, "an ex-military pistol trying to overcome her past", voiced by Sarah Sherman (Saturday Night Live), and BALL, a pinball gun "operated by a chaotic group of little gibberish-speaking weirdos", voiced by Alec Robbins (Mr. Boop).
The Lamplighters League – A closer look at Harebrained Schemes' upcoming video game
There is also room for The Lamplighters League's Release Date Reveal Trailer, an intriguing original pulp adventure set in an alternate 1930s. The trailer unveils the game's release date, set for October 3, 2023. Furthermore, the game will be available Day One on Xbox Game Pass.
The Lamplighters League is the latest project from Harebrained Schemes, the developers behind The Shadowrun Trilogy and BATTLETECH, who return with a video game that combines compelling storytelling, tactical turn-based combat, real-time infiltration, and a truly unique style.
Avowed – In-depth Interview with Obsidian's Game Director Carrie Patel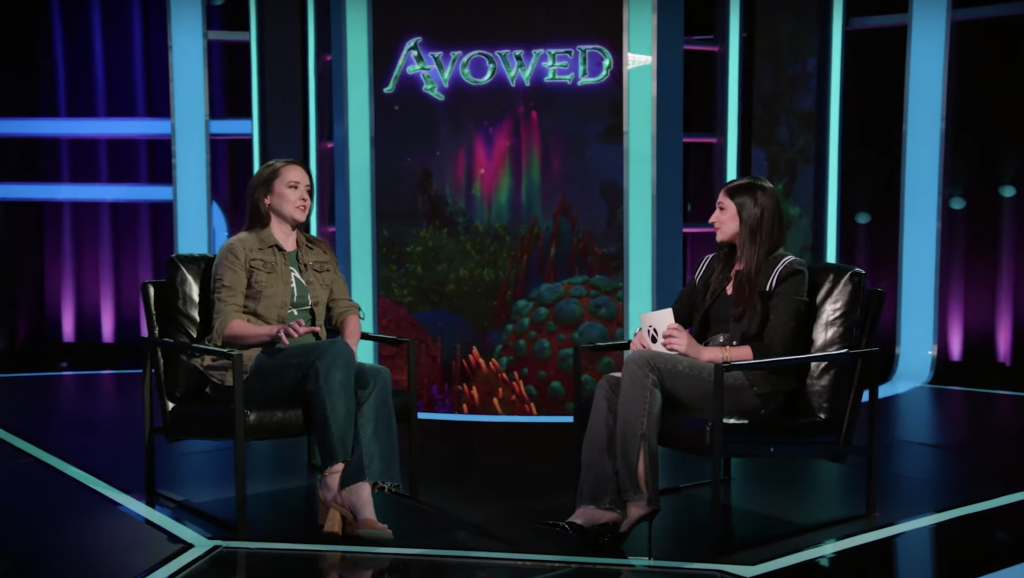 In this Xbox Games Showcase Extended, there is further room for Avowed, the upcoming first-person fantasy RPG from Obsidian Entertainment. In this regard, the showcase featured an exclusive interview conducted by host Tina Amini with Obsidian's Game Director, Carrie Patel.
Carrie Patel provided an in-depth exploration of the world of Avowed, unveiling numerous key elements that connect it to the Pillars of Eternity universe. However, the game promises a distinctly different atmosphere, with a more pronounced presence of magic, not to mention the plague, a key narrative element that shapes the world and its creatures in Avowed.
The interview covered a wide range of topics, delving into the diverse nature of the game world while emphasizing Obsidian's commitment to providing players with unparalleled freedom of exploration. Carrie Patel then shifted the focus to the significance of companions, offering an intriguing glimpse into Kai's character and distinctive traits. Finally, there was a discussion on Obsidian's approach to the first-person fantasy combat system, which provided numerous thought-provoking insights and ideas.
We know that Avowed will introduce significant innovations while striving to maintain the classic isometric dynamism that has been a hallmark of Obsidian's identity. In terms of the game world's scale, the Game Director specified that it will be comparable to that of Star Wars: Knights of the Old Republic II and The Outer Worlds.
While awaiting further details, it is worth mentioning that the release of Avowed is currently slated for a generic 2024 timeframe.
The First Descendant – First Look + Crossplay Beta
Let's also take a look at The First Descendant, a next-generation third-person looter shooter that will be available on Xbox One, and Xbox Series X/S.
Developed by the Korean studio NEXON, The First Descendant promises an engaging action-packed gaming experience with 4-player cooperative gameplay, playable on both PC and consoles. The game is currently in the beta testing phase, and if you want to give it a try, the Crossplay Beta Test organized by the development team will allow you to do so. Mark your calendars, as the Beta Test will be available from August 22nd to August 28th across all major gaming platforms.
Towerborne – Behind the Scenes + In-game footage
Making a comeback after its announcement at the Xbox Games Showcase, Towerborne, the intriguing new couch co-op action-adventure game from Stoic, once again captures our attention.
In an exclusive behind-the-scenes look, the creators of The Banner Saga unveil additional details about their upcoming project, including its art style, seasonality, lore, and music. New in-game footage showcases the player's journey from The Belfry to the world map, leading into thrilling combat encounters.
Towerborne is scheduled to release in 2024 on Xbox and launches Day One on Xbox Game Pass.
Fallout 76: Once in a Blue Moon – Get ready for the DLC's Launch
Gather the firewood, light up the flames, and draw closer to warm yourself by the campfire.
Introducing the highly anticipated DLC expansion of Fallout 76, themed around full moons and werewolves. The Once in a Blue Moon DLC will be available for free starting from June 20th.
Get ready to face two thrilling new Public Events: "Safe and Sound" and "Beasts of Burden." Uncover the mysteries of the "Blue Devil" and the "Ogua" as you strive to earn exciting new rewards and items.
Hi-Fi Rush – Arcade Challenge! Update! + In-depth Interview with Game Director John Johanas
Returning to the spotlight with the Arcade Challenge! Update! is the wonderful Hi-Fi Rush, one of the most delightful and unexpected surprises of 2023.
Tango Gameworks has officially unveiled the upcoming content coming to the game next month, which includes two exciting new game modes: BMP RUSH! and Power Up! Tower Up!. These modes will introduce new music, along with a range of new player customizations and Special Attacks.
The showcase also featured an exclusive interview hosted by Tina Amini with Hi-Fi Rush's Game Director, John Johanas. During the interview, he revealed further details and information about the massive update that will soon arrive in their game. Johanas confirmed that all these exciting contents will be available for free, but only after completing the main campaign, providing a true post-game challenge.
The Arcade Challenge! Update! is set to release on July 5th and will be available for all those who already own the game. Hi-Fi Rush is available for Xbox Series X/S, PC, and Xbox Game Pass.
The Elder Scrolls Online: Necrom – Upcoming Release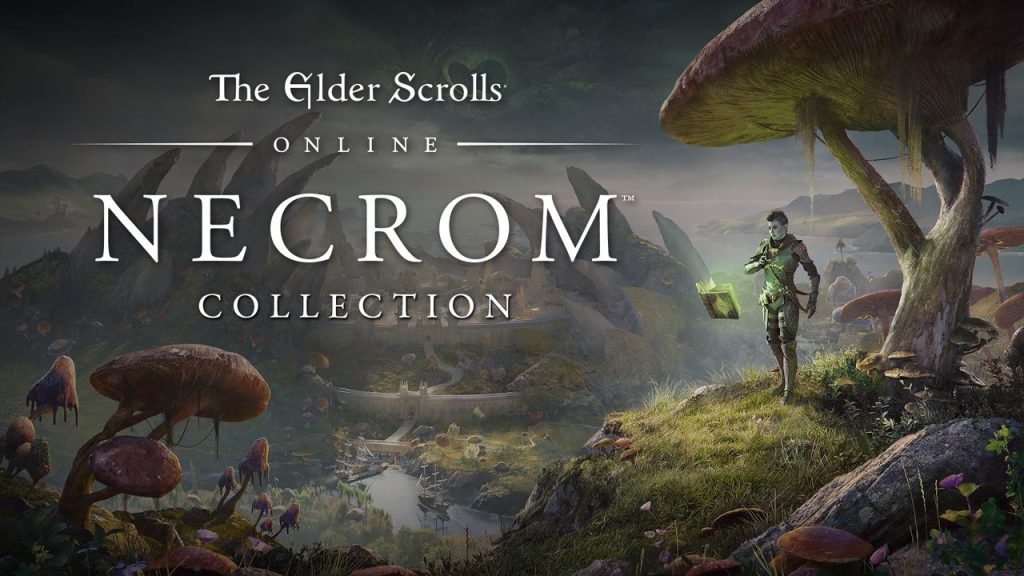 The presence of Bethesda remains strong and prominent at this double showcase.
During the extended showcase, The Elder Scrolls Online's Creative Director, Rich Lambert, and Art Director, CJ Grebb, officially unveiled Necron, the highly anticipated new DLC Chapter set to release on June 20th for PC/Mac and Consoles.
The showcase also provided a valuable opportunity to delve into why this expansion holds great potential for both newcomers to The Elder Scrolls Online and veterans, offering a chance to rediscover familiar locations with fresh challenges and face new enemies, making it an enticing prospect for players of all backgrounds.
Phasmophobia – Console Announcement + Early Access Release
The Return of a Cult Classic: Coming Soon to Consoles.
Phasmophobia, the thrilling first-person horror adventure, is making its highly anticipated debut on consoles. Developed by Kinetic Games and previously available on PC, this game offers a chilling cooperative online experience for up to four players.
Step into the shoes of paranormal investigators as you explore haunted locations in search of irrefutable evidence. Get ready for the paranormal and use your ghost-hunting detective equipment to track down and identify up to 24 types of ghosts in a spine-tingling atmosphere.
Phasmophobia will soon be available on Xbox and PlayStation. Console Early Access will begin in August 2023.
If you think you have what it takes to survive these thrilling paranormal activities, you can even try it in VR for an even more immersive experience.
Exoprimal: Variant Exosuits, the Savage Gauntlet, and other new insights from Game Director Takuro Hiraoka
During the Xbox Games Showcase Extended, there was also room for a new appearance of Exoprimal, the upcoming team-based action game by Capcom.
Among the most exciting news and details, we can highlight the introduction of new exclusive variant "Alpha"Exosuits, each bringing a unique playstyle to the game. Additionally, Game Director Takuro Hiraoka revealed the inclusion of the Savage Gauntlet mode, a thrilling cooperative experience where players can test their skills against relentless hordes of dinosaurs.
For players who have yet to try the game, we would like to remind you that Exoprimal's second Beta Test will be officially launched and open to all players. The Open Beta Test will take place from June 16th to June 18th.
Don't miss out on this opportunity to get a taste of the game before its full release, which is scheduled for July 14th, 2023.
Microsoft Flight Simulator: Dune Expansion – A Behind-the-Scenes Look
With the release of Dune: Part Two in theaters, the highly anticipated expansion dedicated to Microsoft Flight Simulator is also on its way.
In partnership with Warner Bros. Entertainment, during the Xbox Games Showcase Extended, Jorg Neumann, Head of the Microsoft Flight Simulator team, alongside host Parris Lilly and Patrice Vermette, the Academy Award-winning production designer of the Dune film franchise, unveiled all the exciting new features and details coming to Microsoft Flight Simulator. They provided an in-depth look behind the scenes at the development of the Microsoft Flight Simulator: Dune Expansion.
The partnership has brought forth the faithful recreation of an intricately detailed House Atreides ornithopter. This non-flying aircraft has been meticulously handcrafted as a prototype since it is not capable of flying in reality.
The expansion will also perfectly recreate the map of Arrakis, including iconic locations such as the Shield Wall and many others from the film. The work done by Asobo Studio appears to be of the highest quality.
Mark your calendars, as Microsoft Flight Simulator: Dune Expansion will officially release on November 3rd, precisely two weeks before the release of Dune: Part Two.
Introducing Go Mecha Ball – The upcoming Acrobatic Action Roguelite by Whale Peak Games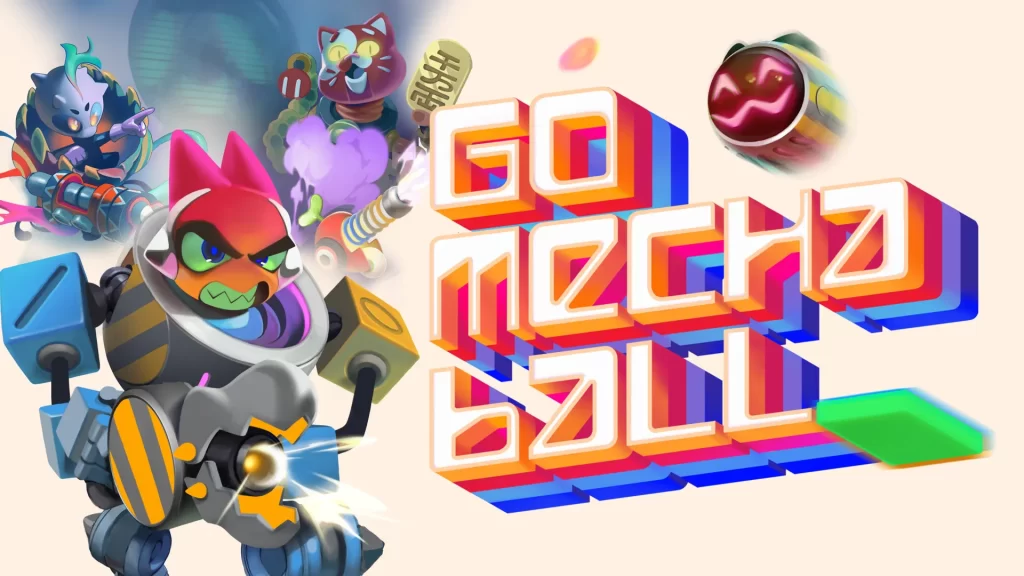 Coming in Early 2024 to PC, Xbox, and Xbox Game Pass, Go Mecha Ball is a fast-paced acrobatic action roguelike currently in development by indie studio Whale Peak Games and published by Super Rare Originals.
"Get ready to roll, shoot and boost your way through a futuristic wonderland in pursuit of an ever more glitched-out rogue AI, uncovering and mastering an increasingly ridiculous arsenal of weapons, abilities and upgrades as you go. Blast your enemies to bits as a gun-toting walking mech, and knock your foes into the abyss as an agile rolling ball!"
Go Mecha Ball combines stylish acrobatic moves, immersive 3D platforming, and chaotic arcade roguelite action. Discover synergies and fine-tune your playstyle by experimenting with a vast selection of weapons, abilities, upgrades, and four different mechs.
Key features:
Action-packed, acrobatic arcade roguelite
Walk and shoot as a mech, roll and bump as a ball
Roll, bounce, leap and bound through fun-filled arena playgrounds
Blast your way through four different worlds filled with unique enemies and obstacles
Compose a perfect playstyle from dozens of weapons, abilities and upgrades
Find your favourite guns in an arsenal of over 25 tools of mass destruction
Dominate your foes with over 20 quirky and devastating abilities
Augment your mechs using over 50 different upgrades
Lies of P – Never-before-seen Gameplay Footage
The upcoming Pinocchio-inspired Dark Fantasy Action RPG by Round8 Studio and NEOWIZ returns unexpectedly, offering an exclusive in-depth look at never-before-seen gameplay footage.
This comes just days following the official announcement of the release date and demo release. At the Xbox Games Showcase Extended, NEOWIZ revealed and showcased many new details about the core features of Lies of P, including a closer look at the Belle Époque-inspired setting, characters, the weapon combination system, Legion Arms, Fable Arts, the P-Organ, the power of Lies, and much more. All of this and more can be found in the exclusive gameplay footage presented at the extended showcase.
Lies of P will be released on September 19, 2023, for PC and Consoles, and will be included on Day One with Xbox Game Pass.
Senua's Saga: Hellblade II – A Behind-the-scenes glimpse
After showcasing a stunning in-engine trailer during the previous Xbox Games Showcase, Ninja Theory invites us behind the scenes of Senua's Saga: Hellblade II, providing an intriguing glimpse into the Performance Capture with actress Melina Juergens, the actress who brings Senua to life.
This impressive technique allowed the developers to capture the incredible details of Melina's face, expressions, and facial movements.
For a while now, the Development Diaries have been an excellent communication tool for Ninja Theory, documenting the progress of the development, sharing interesting facts, behind-the-scenes insights, and showcasing the very location where Senua's Saga: Hellblade II was directed. This dev diary is no exception and highlights the meticulous care of the team behind the game's creation.
During the recent Xbox Games Showcase, Ninja Theory and Microsoft also announced an official release window for Senua's Saga: Hellblade II, set for a broad 2024 timeframe.
Lightyear Frontier – A Mech-Based Multiplayer Farming coming to PC, Xbox, and Game Pass
Lightyear Frontier finally reveals itself with an exciting gameplay walkthrough. It is an incredibly inspired and peaceful open-world farming game with a mech-based multiplayer twist developed by FRAME BREAK.
Embark on an interstellar homestead adventure with Kelly, Carolina, Sebastian, and Anita. Join forces with up to three friends and immerse yourself in a new world full of mystery! Establish your sustainable exofarm, cultivate alien crops, and explore the wonders of this captivating realm.
Unleash your creativity and build the exofarm of your dreams, transforming available resources into functional structures. Watch your homestead evolve from humble beginnings to a fully-fledged retro-futuristic farm. Customize your place with alternative color palettes and decorations to make it uniquely yours.
Stay vigilant and adapt to ever-changing weather conditions as you navigate through the seasons. Protect your crops from creatures eager to feast on them and maintain a delicate balance with the surrounding ecosystems. Remember, this planet holds immense potential, but if its resources are depleted, the local wildlife will be forced to feast upon your precious harvest.
Lightyear Frontier is scheduled for an early 2024 release and will be available on PC, Xbox, and included on Day One with Xbox Game Pass.
33 Immortals – Gameplay demonstration with Xbox's Head Phil Spencer
"Every year in our Showcase, there's one game that kind of pops for me – something I'm very interested in. This year, we got to announce 33 Immortals from Thunder Lotus," said Xbox's Head Phil Spencer, as he kicked off the conclusion of the Xbox Games Showcase Extended.
But not before immersing us in an in-depth gameplay demonstration of 33 Immortals, played alongside Thunder Lotus Founder and CEO Will Dubé and Creative Director Stephan Logier, the creators of Spiritfarer.
33 Immortals is a remarkably unconventional yet incredibly intriguing game, as the name suggests. It's no coincidence that the game can be played with a whopping 33 players simultaneously, whether they are friends or complete strangers.
During the gameplay session, Phil Spencer engaged in a detailed discussion with the developers about the development of 33 Immortals, including Thunder Lotus' background with Spiritfarer and what led them to embark on such an unusual and brilliant experience like 33 Immortals, which, as a reminder, features 33 simultaneous players in its 33-player co-op mode.
33 Immortals will be available in early 2024 on PC and Xbox Series X/S, and will be included on Day One with Xbox Game Pass.
And with that, our coverage of the Xbox Games Showcase Extended comes to a close. Thank you for joining us today as well. Talk to you soon.