The series entirely dedicated to Mexican folklore, Guacamelee!, becomes free on the Epic Games Store, let's find out together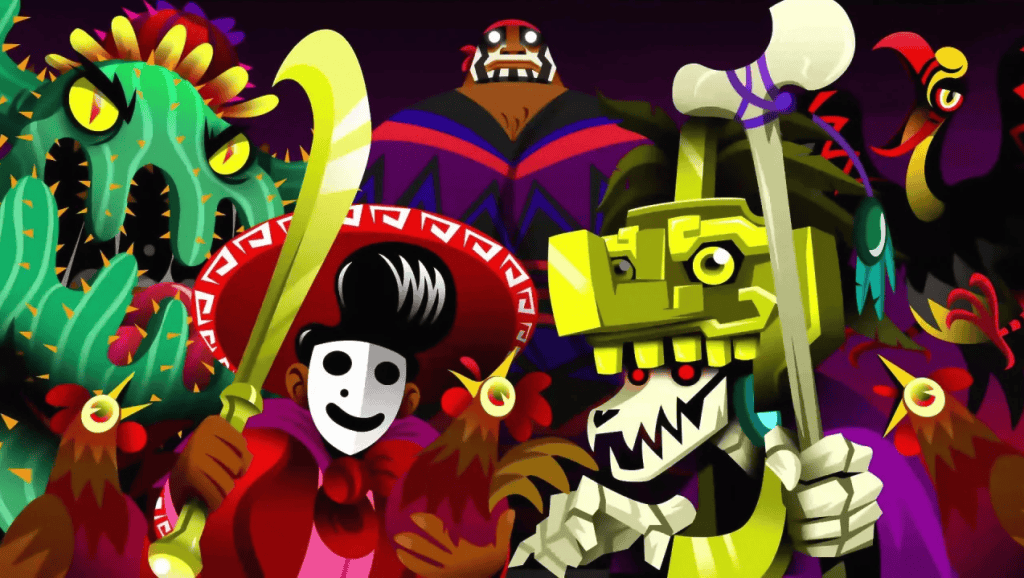 As we foresaw, Epic Games Store, will give us the Guacamelee series! It is available from 15 to 22 June, on their platform. Guacamelee! Super Turbo Championship Edition and Guacamelee! 2 are developed and distributed by DrinkBox Studios. Guacamelee! Super Turbo Championship Edition initial release was on October 16, 2015, while Guacamelee! 2 initial release was on August 21, 2018.
Let's see in detail something more about these two games…
The Farmer and the most beautiful girl in the world
Guacamelee! Super Turbo Championship Edition is an action platformer in which you will have to fight as a "luchador" against the evil Carlos Calaca and his hordes of undead henchmen to free El Presidente's daughter, the most beautiful girl in the world.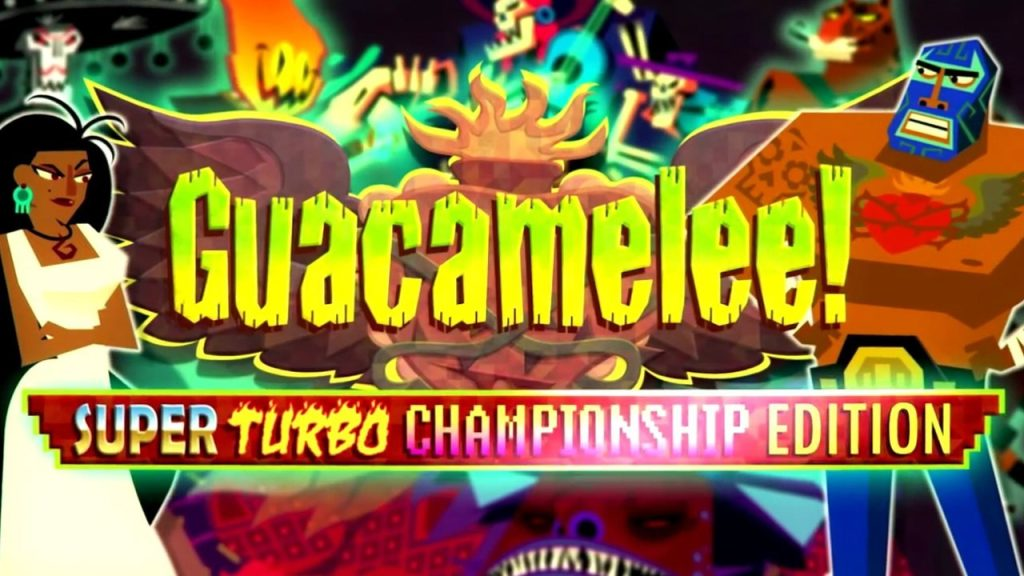 Carlos Calaca has kidnapped the President's daughter to sacrifice her and unite the World of the Living and the World of the Dead. Juan Aguacate is an agave farmer who, after accidentally finding the mask of a legendary luchador, fights as the hero he always dreamed of becoming to defeat Calaca. Not for himself, not for Calaca, but for El Presidente's daughter, the most beautiful girl in the world. He explores a mystical Mexican landscape as a luchador, using the power of his fists to battle evil.
He uses grappling techniques like the Grouse Upright and Dimension Shifting to uncover new secrets and access new areas.
Game features:
Use fighting moves to take on opponents and platforming challenges
Traverse multiple overlapping dimensions (World of the Living and World of the Dead)
Toggles 2 player local co-op throughout the story
Chickens. Lots of chickens!
Guacamelee! Super Turbo Championship Edition – Addon
In addition to the base game, the original Guacamelee soundtrack will also be available with music by Rom Di Prisco and Peter Chapman. That's 30 hi-res remastered songs, over 1 hour of music (MP3 320kbps) – PLUS 4 bonus remixes not heard in game. The pounding and colorful soundtrack combines guitars and trumpets in a Mexican-inspired world with driving electronic beats – the perfect music for suplex skeletons.
The Mexiverse awaits you!
Guacamele! 2 is an action platform video game. A sequel to Guacamelee!. The release for PlayStation 4 and Windows was back on August 2018. Meanwhile the Nintendo Switch version release was back on December 10th.
The Xbox One version release was back on January 18, 2019. The game received generally positive reviews upon release. Guacamelee! 2 brings Luchador Juan Aguacate out of retirement for an exciting new Metroidvania-style adventure, where he will face his greatest challenge yet, one that threatens to tear apart the fabric of the Mexiverse!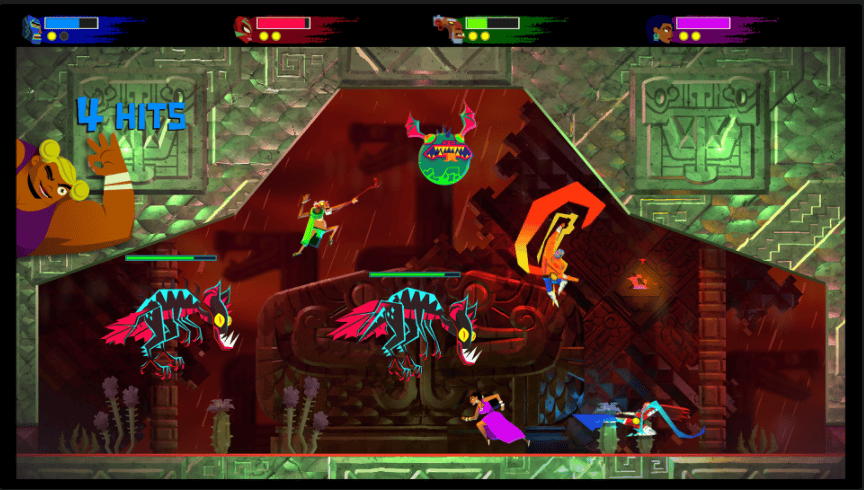 We will explore a huge hand-drawn world inspired by Mexican culture and folklore, full of insidious new villains and weirdos. We will also meet some old friends!.
We'll learn a huge repertoire of bone-crushing wrestling moves to fend off hordes of skeletons and overcome tough challenges… and who said Illuminati Chickens? We certainly don't!
What awaits us on Guacamelee! 2
Let's take a look at the features that make Guacamelee! 2 a crackling and colorful experience:
An epic adventure that spans time and space, with 4-player co-op assistance for you and your best amigos!
A brand new upgrade system: discover "coaches" around the world, overcome their challenges and develop your skills in movement, combat and much more!
A dynamic and colorful adventure that will take you from the Mangrove Swamp to Hell itself, with twice the enemy types of the first game and a series of new eccentric bosses!
An absolutely fuego electro-Mexican soundtrack, and better graphics than ever thanks to the new rendering engine!
Definitely not a secret society of chickens teaching you ancient chicken skills lost in the past!
Guacamelee! 2 – Add-ons
More Add-ons will be available for the second chapter: terrains, outfits and soundtracks
Guacamelee! 2 – Proving grounds: The great Tiempochtli will have the power to help you. He takes on 15 unique challenges and proves his worth.
Guacamelee! 2 – Three Enemigos: Keep friends close and Enemigos even closer! This three-figure pack will have you saving the Mexiverse in style.
Guacamelee! 2 – Soundtrack: The original soundtrack. With music by Peter Chapman (aka Coins), Rom Di Prisco and special guests Mariachi Entertainment System. Includes 32 brand new original songs, plus bonus tracks. Available in MP3 format at 320 kbps.
Don't miss the complete series! From 15 to 22 June it is available on the Epic Games Store among the free titles. Let us know in the comments if you try this game.If the colorful world of Guacamelee has captured your attention, you can learn more with our ad hoc article that you find here. You have no excuses… the Mexiverse needs you!
Stay updated with us for upcoming free games
Good Game a todos!