Round 8 Studio has announced the official release date for Lies of P, the highly anticipated Pinocchio-inspired Dark Fantasy Action RPG with a Souls-Like twist. Furthermore, a game demo is now available for all platforms, accompanied by a captivating new release date trailer.
Among the numerous announcements at the Summer Game Fest, there is also room for the highly anticipated Lies of P.
Round 8 Studio's upcoming Dark Fantasy Action RPG with a Souls-Like twist returns to the spotlight, with a brand new release date trailer unveiling the game's official release date and the immediate availability of the demo for all gaming platforms.
Release Date
As announced by Round 8, Lies of P will be officially released on September 19th on PC (via Steam), PlayStation 5, PlayStation 4, Xbox Series X/S, and Xbox One, and will be available Day One su Xbox Game Pass.
It will be slightly delayed from the release month trailer unveiled during this year's IGN Fan Fest, which announced the game's release window as August 2023.
With the announcement of the official release date, the developers have also revealed that pre-orders are now available and a demo has been released for all the platforms mentioned above.
Pre-Order Details
With the announcement of the release date for Lies of P, pre-orders are now officially open and available for purchase.
Players who pre-order the Standard Edition will receive the exclusive cosmetic item 'The Mischievous Puppet Costume Set', in addition to the base game.
While those who pre-order the Digital Deluxe Edition will be rewarded with a more extensive content package, including additional cosmetic items and 72 hours of early access to the game.
Lies of P – Base Game
72 Hours Early Access
Mischievous Puppet's Clothes and Parade Hat
The Great Venigni's Signature Coat and Glasses
Mask worn by those preparing for the festival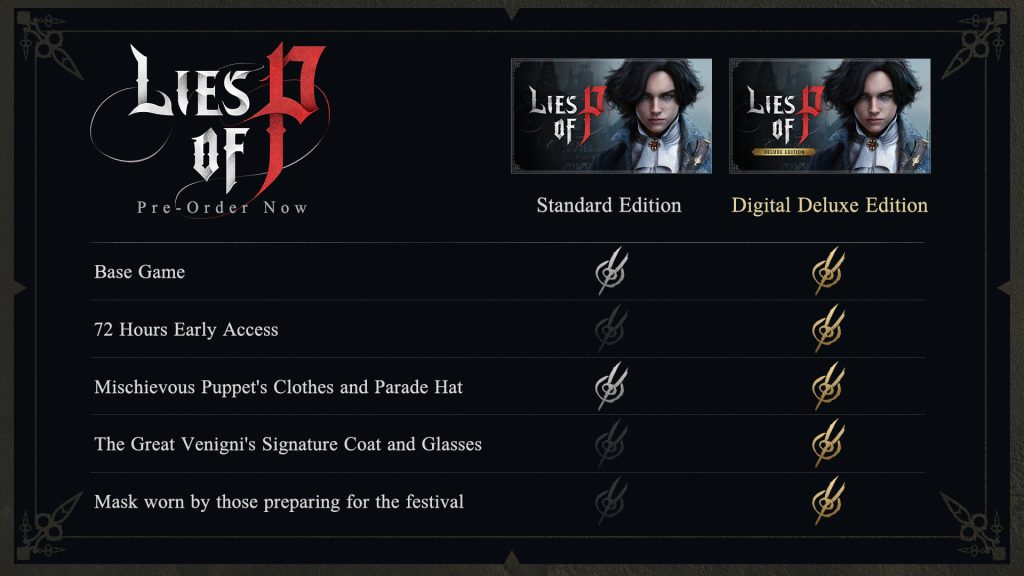 Round 8 Studio has also announced that a Physical Deluxe Edition of Lies of P will be available, presented in an elegant exclusive SteelBook tome-inspired collector's box. The physical edition will include a 92-page artbook, a limited edition SteelBook, as well as bonus digital items such as the original soundtrack and "The Great Venigni's Set" outfit, along with a unique mask to be worn during the festival.
There will also be a Physical Standard Edition available. By pre-ordering either of the physical versions of the game, you will also receive the "Mischievous Puppet's Set".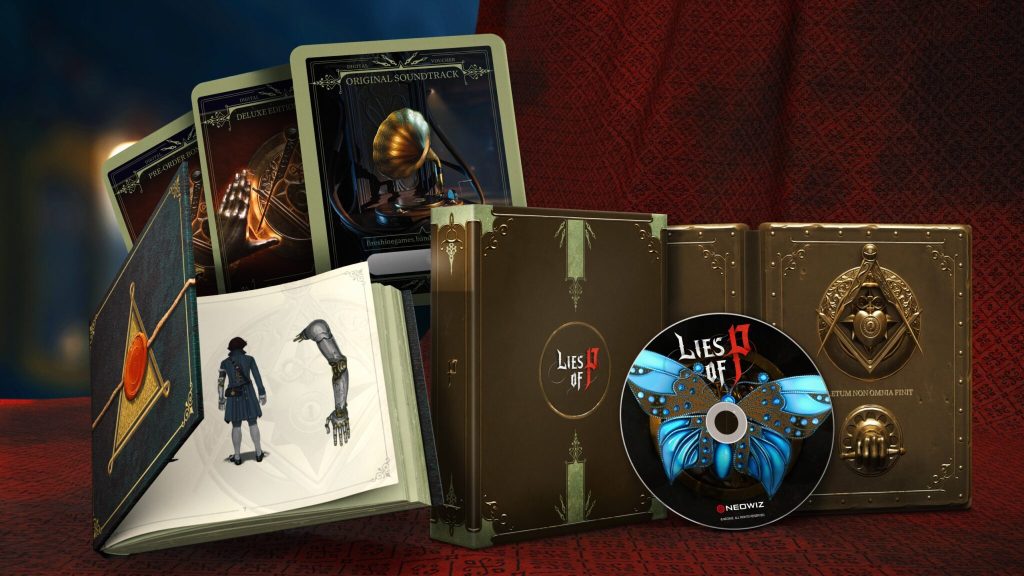 Furthermore, we would like to remind you that the Standard Edition of Lies of P is available at the price of $59.99, while the Deluxe Edition is priced at $69.99.
The Demo
As mentioned earlier, Round 8 Studio has also made a game demo available for all gaming platforms for a limited time, from June 8th to June 26th.
It's a small gift that the development team wanted to give to the many players who have been following their project with so much interest, as stated by Round 8 themselves: "It may be a huge disappointment for our fans who have been eagerly waiting for the full release. As a little compensation, we have prepared a brand-new trailer and a playable Demo."
Round 8 Studio has truly crafted and structured an impressive product with the Lies of P Demo version, granting players access to the first two chapters of the full game, three challenging boss encounters, an initial introduction to key characters in the lore, and completely unrestricted exploration of the first hub area, the Hotel Krat.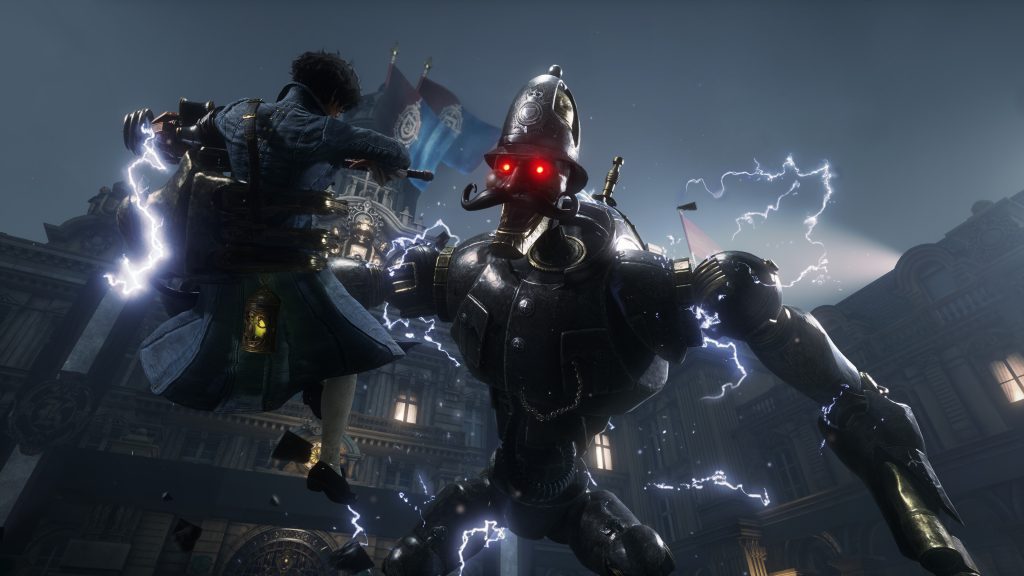 Round 8 also wants to emphasize that any progress made in the Demo version will not carry over to the full-release version. They highly value feedback, opinions, and any kind of advice from players regarding their experience with the demo, as it will be incredibly valuable and essential for the developers in preparing for the full-release.
We'd like to share our experience of the demo with you, describing how immersive and enjoyable it was to explore the depths of the Hotel Krat. However, we believe that all of this deserves its own dedicated chapter, or better yet, a separate article. And trust us, there will be a lot to talk about.
What is Lies of P about?
Lies of P aspires to provide a darker and more gothic reimagining of the renowned fairy tale of Pinocchio by Carlo Collodi, embracing the essence of Dark Fantasy.
Round 8's grim horror fable will transport us to an elegant and stylish world shaped by the distinctive style of the Belle Époque. It is here that the thriving city of Krat stands, the pulsating heart of this elegance and beauty.
However, not all beautiful fairy tales are meant to last. Krat swiftly succumbed to ruin, consumed by madness and tainted by a relentless bloodlust. And it is in this unsettling backdrop that we step into the shoes of the protagonist Pinocchio, a puppet mechanoid brought to life by Geppetto.
Pinocchio's path will be fraught with danger, as he faces numerous threats along the way. Choose whom to trust, be wary of those who deceive you, and find your father Geppetto. He is somewhere out there in Krat.
Deceive when necessary and unveil the humanity within you!
Game's Key Features
A Dark Fairytale Retold: The timeless tale of Pinocchio has been reimagined with dark and striking visuals. Set in the fallen city of Krat, Pinnochio desperately fights to become human against all odds.
Visual Concept: The city of Krat was inspired by the Belle Epoque Era in Europe (late 19th Century to the early 20th Century) and is the epitome of a collapsed city bereft of prosperity.
"Lying" Quests and Multiple Endings: Experience interconnected procedural quests that play out depending on how you lie. These choices will then affect how the story ends.
Weapon-Making System: You can combine weapons in a multitude of ways to create something new altogether. Research to find the best combinations and make something truly special.
Special Skill System: With Pinocchio being a doll, you can change parts of his body to gain new skills and hopefully an edge in battle. But not all of the enhancements are for fighting though, they can also provide several other unique and useful features.
It's Time to Lie
There is still time before Lies of P officially makes its debut on PC and Consoles.
So, what can you do in the meantime? First and foremost, remember that there is still plenty of time to play the demo until June 26th. If you haven't done so already, that's the first step to get a taste of what Lies of P is ready to offer in the full release.
If you're eager to delve deeper into the "backstage" of Round 8 and their upcoming video game, we highly recommend watching the following trailers. The first one offers a behind-the-scenes look at Lies of P, while the second one provides an up-close encounter with Allegra Marland, the talented voice actress who brings the character of Sophia to life.
We also recommend that you continue to follow us to stay updated on the latest news about Round 8 Studio's project. And while you're at it, make sure to visit the official website of Lies of P for any for any additional information you may need.
That's all for today. Talk to you soon.