A made in Italy superbly hand-drawn fairy tale
Children of Silentown is a 2D graphic adventure developed by Fraffrog in collaboration with the Elf Games team. It's about to be released on Steam and consoles, and as an entirely Italian product, I'm excited to talk about it and, more importantly, to play it.

There is a playable demo on Steam, which is the prologue, as well as a mini game to experiment with some mechanics, and we can already get an idea from these small examples.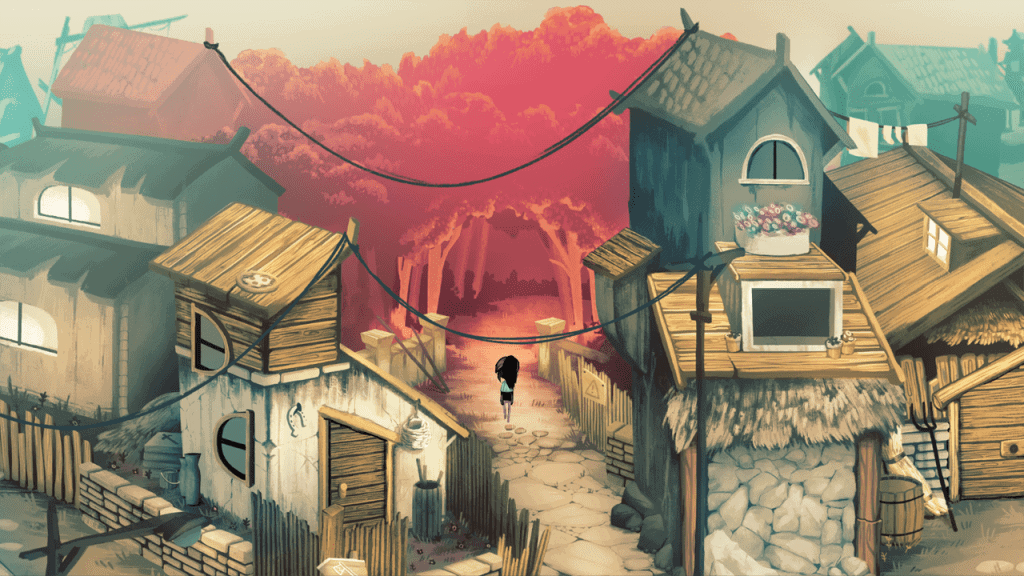 AN EXPLOSIVE SMALL TEAM OF YOUNG TALENTS
But, before I get into the game's specifics, I'd like to talk about the minds and hands behind this indie gem.
First and foremost, there's Fraffrog, a young illustrator originally from Tuscany who now lives in Milan and rose to fame thanks to her YouTube channel, where she posts distinctly creative short videos. She has achieved great success, owing primarily to her outgoing and ironic personality, and has transformed herself into what we could fully define as an art-influencer.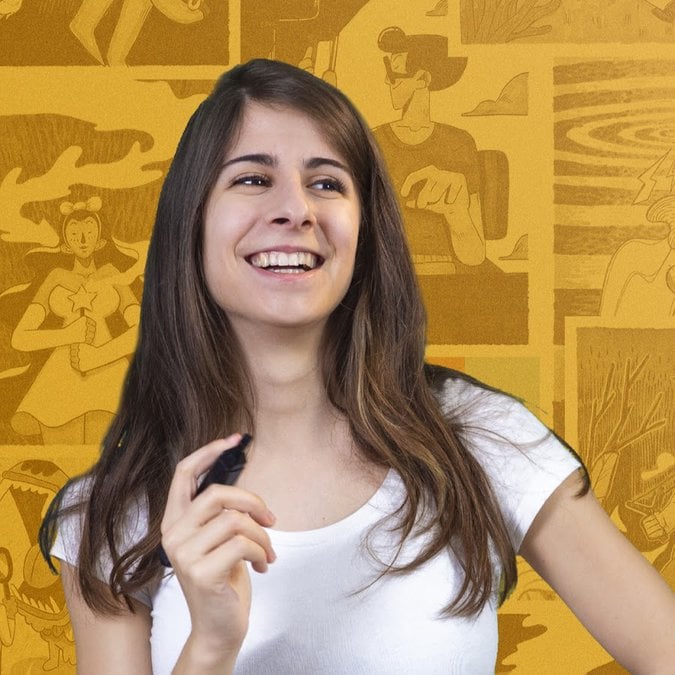 In addition to her, there is the Elf Games team, founded by Flame, the "handyman" artist, as Fraffrog defines her, and Piero, the programmer. They are joined by three other collaborators: Marco, Andrea, and Stefano.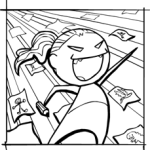 Some of the game's development can be seen in some YouTube videos on the Fraffrog channel. We see this close collaboration in these videos, such as the creation of maps, characters, and, finally, how to create an enigma, in which the young illustrator and creator of the story explains to us in a simple but still technical way the steps necessary for the creation of animations and game mechanics. I strongly advise you to look into them because, in addition to being a lot of fun, they are also extremely useful for those in the industry.
LITTLE LUCY IN A BUBBLE SURROUNDED BY MONSTERS
Children of Silentown takes inspiration from an old short film made by Fraffrog, in which the protagonist character was already well defined: Lucy.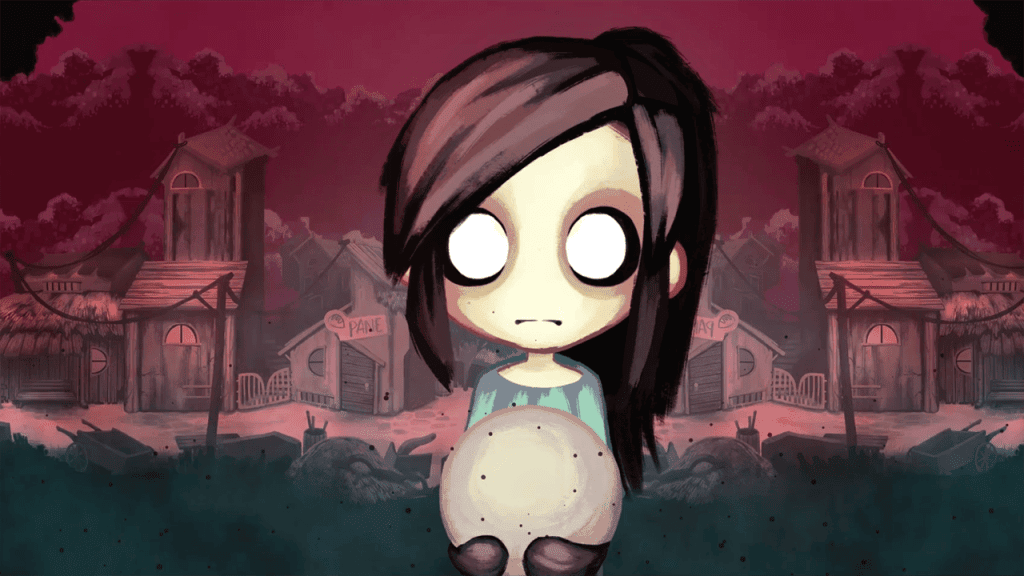 Lucy is a little girl who lives in a small village surrounded by a forest. This forest is home to mysterious monsters, the origins of which are unknown, but which occasionally cause people to vanish.
Lucy, now a little older, decides to investigate the nature of these disappearances, but above all, she feels the need to leave her safe nest, alongside her parents and the other adults of the village, who, for some reason, never went outside.
The game begins with Lucy frightened by the threatening sounds coming from the forest and in the throes of recurring nightmares, and while we do not yet know why she has these strange dreams or whether they are recalls or premonitions, it appears that it is these dreams that encourage her to embark on her adventure.
Lucy wants to know what happened to the missing people, but she may also want to learn more about herself and why she has these frequent nightmares that are almost visions, which she then reports on paper.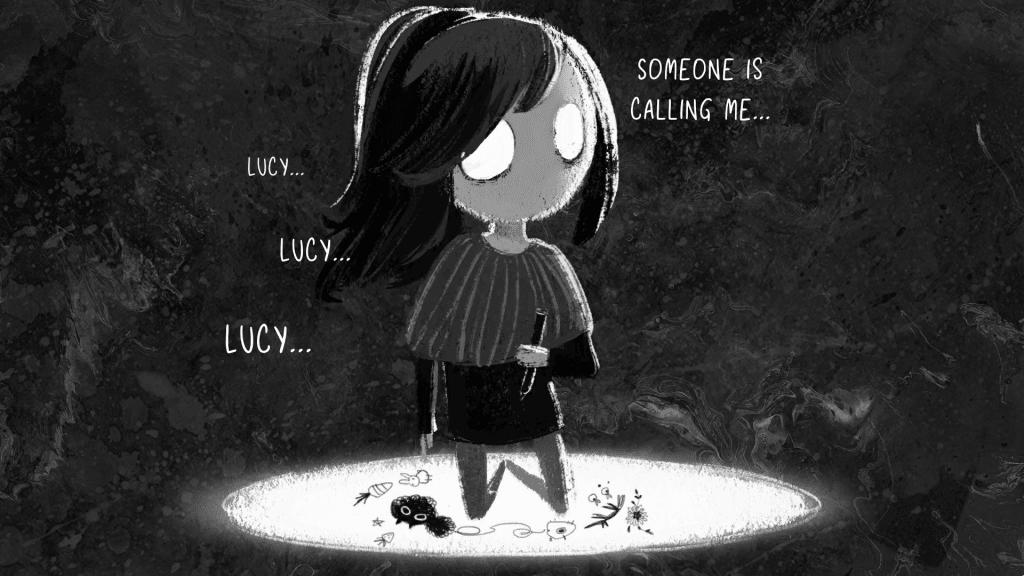 In fact, in the very first scene of the demo, we see Lucy intent on drawing, and she will carry a diary in which she will collect not only drawings and thoughts, but also musical notes. As far as we can tell, music will play an important role in the game, allowing Lucy to escape or face the dangers of her new adventure.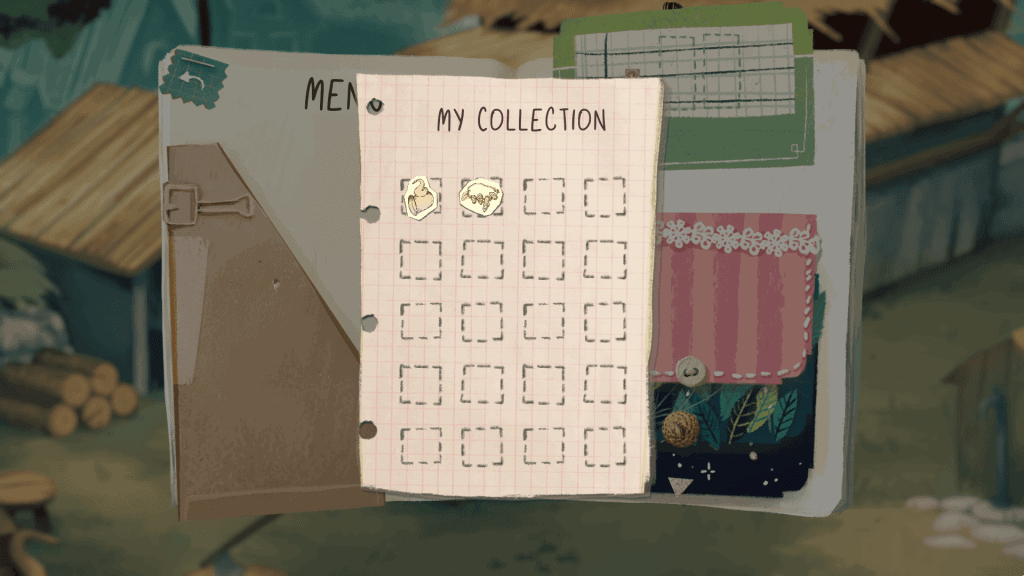 FRAFFROG'S PERFECT HAND
Children of Silentown is a 2D point-and-click adventure beautifully illustrated by Fraffrog and expertly animated by Flame. The graphics are non-Euclidean, decadent, and "Edgar Allan Polly Pocket," according to the latter. It can also be described as a grotesque style, slightly distorted but clean.
Some people have seen Tim Burton (again!) We can find it in this graphic style, and perhaps in the slightly dark and disturbing atmospheres, but I believe it is a much more personal style, certainly an index of multiple inspirations.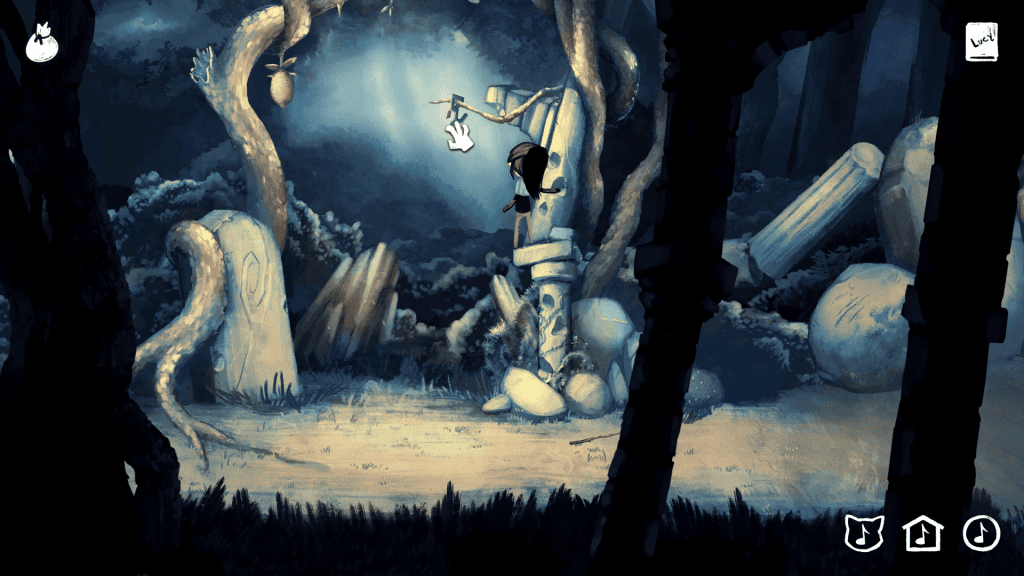 The characters, designed entirely by Fraffrog, are distinguished by large white eyes that appear expressionless but are actually filled with emotion and restlessness.
THE GAME
Using Piero's words, this game is: mysterious, enigmatic, with a hint of hope. Despite its apparent stylistic simplicity, it is a dark fairy tale that allows us to imagine a well-constructed and intense script.
The story is both mysterious and compelling. We'll have to explore the city and its dangerous surroundings, getting to know the strange inhabitants and other characters, a little bizarre, with whom you'll have to be nice before they disappear.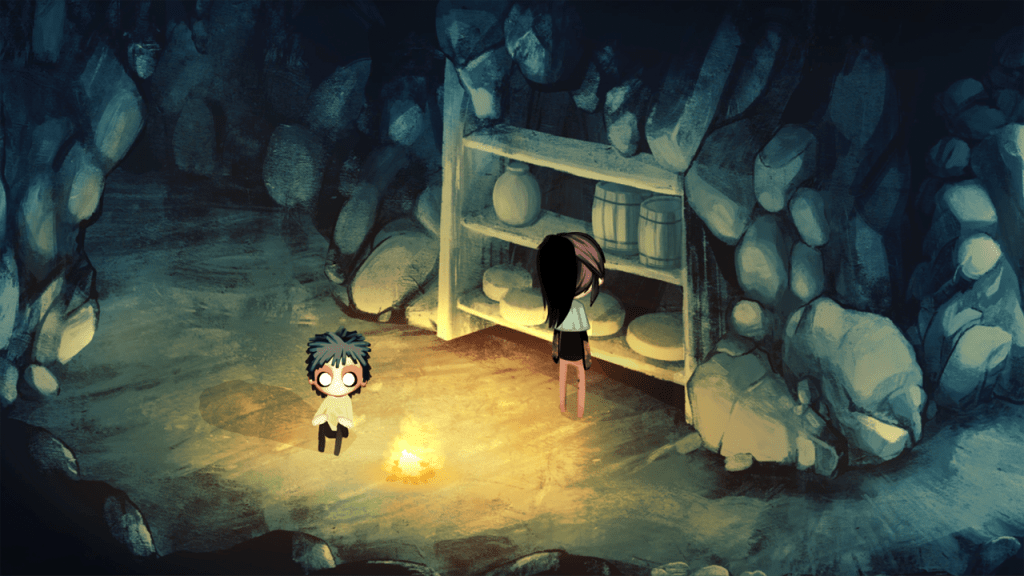 But what is the really playful component? Surely the puzzles and the various mini-games.
Those who have prior experience with graphic adventures will be able to guess the solution to the puzzles, but in any case they will have to reflect a little. Those who are new to this genre may find themselves confronted with a suitable level of difficulty, making the game interesting but not impossible.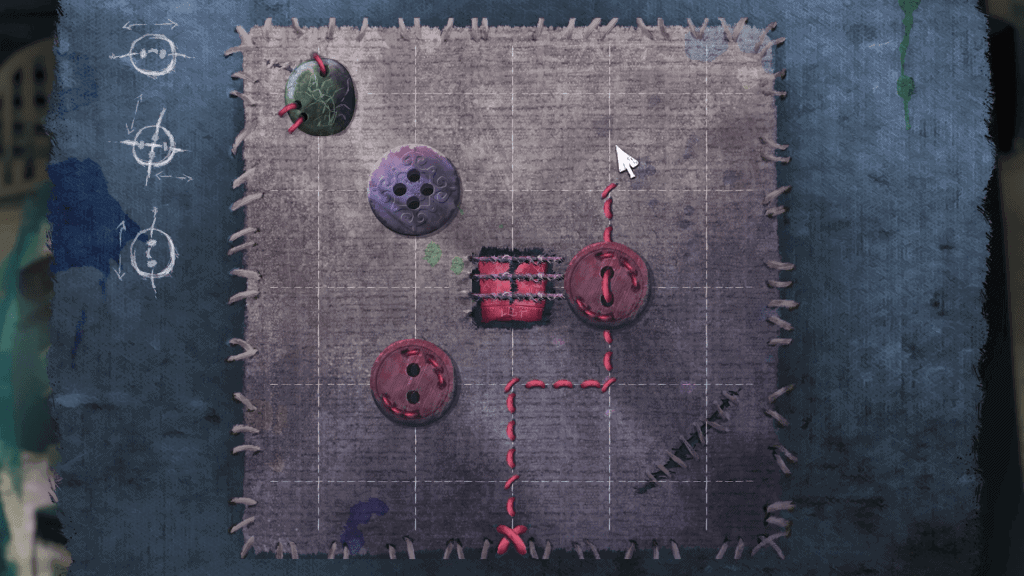 Let's not forget Strabico, Lucy's cat, who seems programmed to give torment to her young owner, but who, who knows, maybe will play a key role in the story.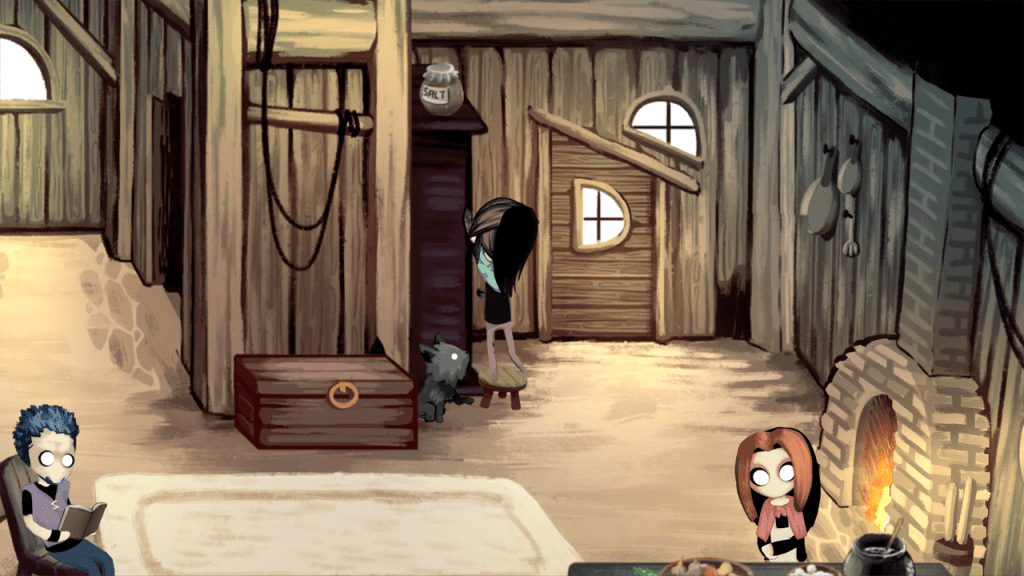 I'd like to close by saying that this is one of those games that deserves to be played and lived, because it's clear how much heart is behind the project. I wish Fraffrog and the Elf Games team the best of luck.