Abathor is a retro pixel art hack 'n' slash for up to 4 players, developed by David and Javier Garay, inspired by the great classics of 80s and 90s like Rastan and Golden Axe.
Are you old enough to remember or to have played 80s and 90s games like Rastan or Golden Axe? 
If the answer is "yes" maybe we have the game just for you. We still have little information about this game, among which a teaser trailer and some gameplay images. Let's take a look at this stuff and try to go deeper.
Lore and Hints of Plot
The game talks about the fate of Atlantis, told from the point of view of a sword and sorcery storytelling. 
Inspired by Plato's historical writings and Athanasius' original map, the main developers gave birth to the world of Abathor. It lies beneath the Atlantean continent and it is the world of demons. 

Atlantean people angered the gods, so they sent hordes of monsters to destroy Atlantis as punishment. Players must cooperate and compete to save Atlantis through a series of challenges.
During their quest, the players will face an incredible amount of fearsome opponents, loot as many treasures as possible and offer them to the gods to obtain forgiveness.
Inspiration From the Old Classics
First thing I saw from the trailer is the strong inspiration that the level and character design took from 80s and 90s arcade video games.
One of these is Rastan, whose original title was Rastan Saga in Japan, is a side-scrolling hack 'n' slash video game released by Taito for arcades in 1987.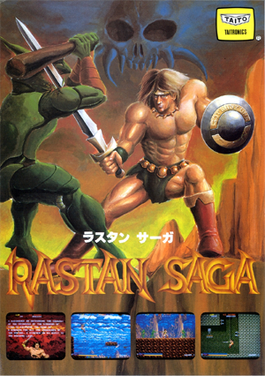 The game talks about the story of Rastan, presently a ruler of his kingdom narrating his past full of dangerous adventures and his ascension to a kingship. The game was a success and everyone drew comparisons to the movie character Conan the Barbarian (1982), Capcom's platformer Ghosts 'n Goblins (1985) and Konami's run-and-gun shooter Green Beret (1985). 
Abathor's pixel art, character design and gameplay took great inspiration from these milestones, like platforming and the eight-way joystick commands. An honorable mention for the levels design with traps, verticality of platforming and very good and various artistic and gameplay ideas.
4 Players, Treasures and Other References
The multiplayer nature of the game, the characters design and their special abilities, remember a classic of the genre like Golden Axe. Another side-scrolling hack and slash game developed by Makoto Uchida and published by SEGA in 1989.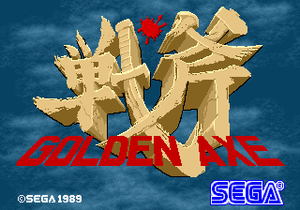 In Abathor we can choose up to 4 players with different special abilities and a personal plot to accomplish.
CRANTOR (barbarian), the strongest one. His special ability is the Power Attack.
SAIS (valkyrie), a defensive fighter specialized in counterattacks. Her special ability is Parry.
KRITIAS (assassin), Agile and fast. His special ability is the Halfmoon Slash.
AZAES (warlock), a Master of sword and sorcery. His special ability is Soul Absorption.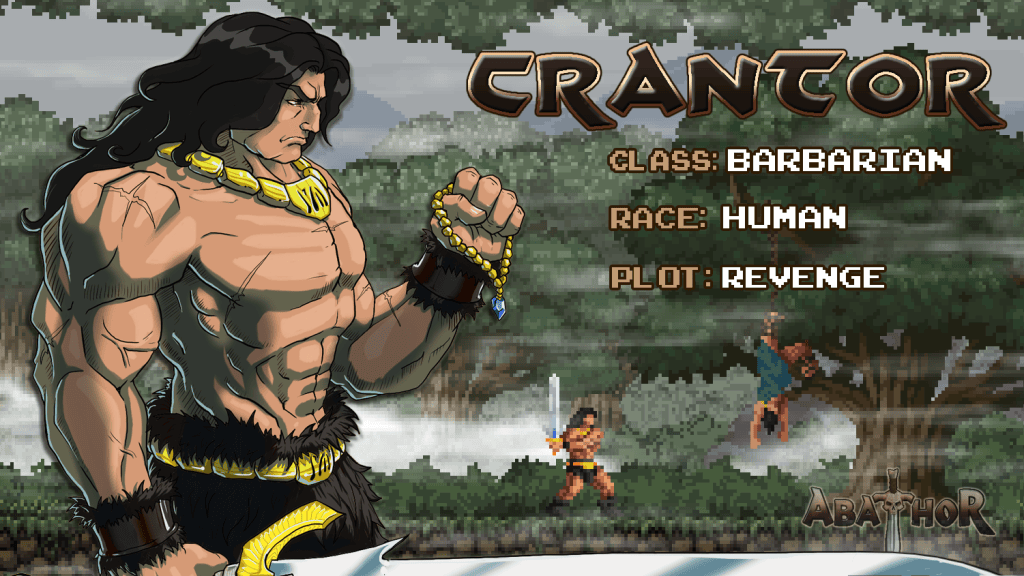 Fight Fearsome Creatures
In the trailer we can see some mid and colossal boss fights including a gargantuan sea creature (a Kraken?) and a titan that will chase the players.
For a few seconds we see what looks like a colossal snake bossfight devouring a column where our heroes are trying to escape from it.

That picture immediately reminds me of a tribute from the developers to Aeshi Nero's bossfight. First appeared for the first time as second bossfight in Metal Slug 2 and then in Metal slug X, the run'n'gun series from SNK.
Technical Aspects
The 2 main developers (Garay brothers), have several pixel artists and 2 composers specialized in late 80s chiptune. 
The game seems to have a great variety of scenarios, levels and enemies, both designed by professional pixel artists. It also has an optional shader of retro aesthetics in CRT to achieve the arcade screen effect.
Music has a great variety too. Composed by chiptune and retro music professionals, with melodies and instruments adapted to the mechanics and experiences of each stage.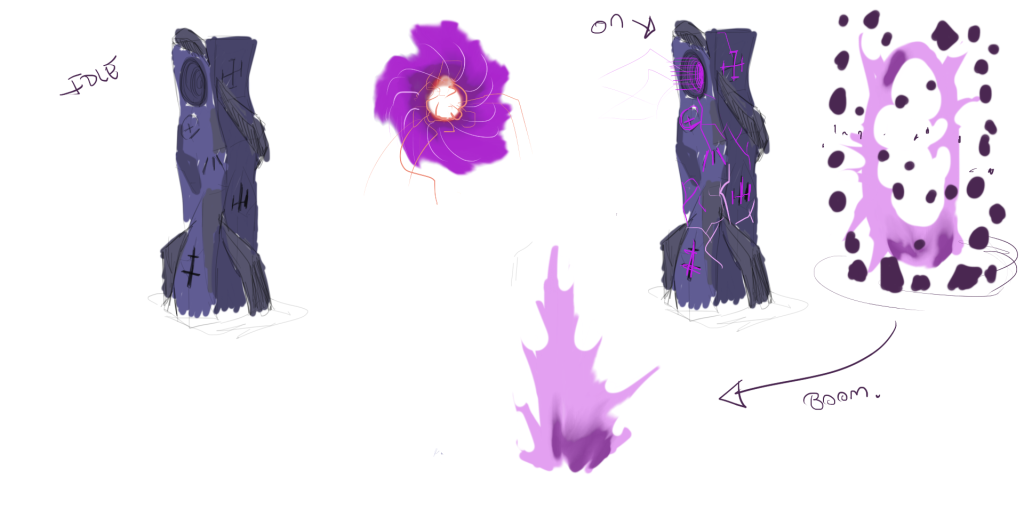 What Do I Expect?
Albeit I saw only a trailer, the game seems to have everything in order to be a good tribute game, that can satisfy fans of the genre.
Abathor is planned for early 2024. It will be released on Steam and Switch (physical and digital formats).
Also there's the possibility of being released on PS4, PS5 and Xbox.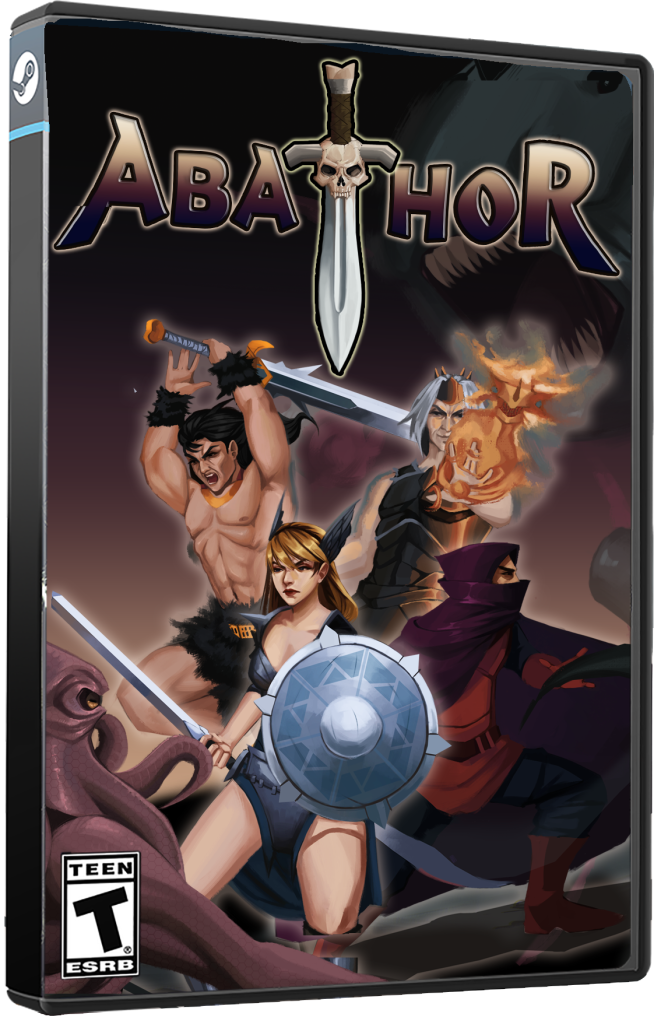 The downloadable demo will be released in a few months, and I can't wait to get my hands on it!
Useful links: