Les Crafteurs just announced the release date trailer of its new upcoming game Toasterball. An original and unconventional sport game where we will play as living toasters.
Today April 19th, Les Crafteurs presented their new upcoming game Toasterball with a release date trailer. In this 2 minute trailer we can see and have some information about gameplay, game design and the mood of the game. Let's not waste time talking, but let's analyze what we have seen so far.
Humor and References
In the first seconds we see a hall of fame full of sports memorabilia. A voiceover of an old man talking about the past with an inspiring piano theme in the background. 
Then the camera slowly focuses on a strange kind of trophy: The Toasterball cup.
Suddenly the action moves to an indoor sports field and we can see the real game. Two toasters trying to score a goal in the opponent's field. Somewhat reminiscent of a classic game like Pong with different and evolved elements. No doubt there is a lot of humor and the game doesn't take itself too seriously.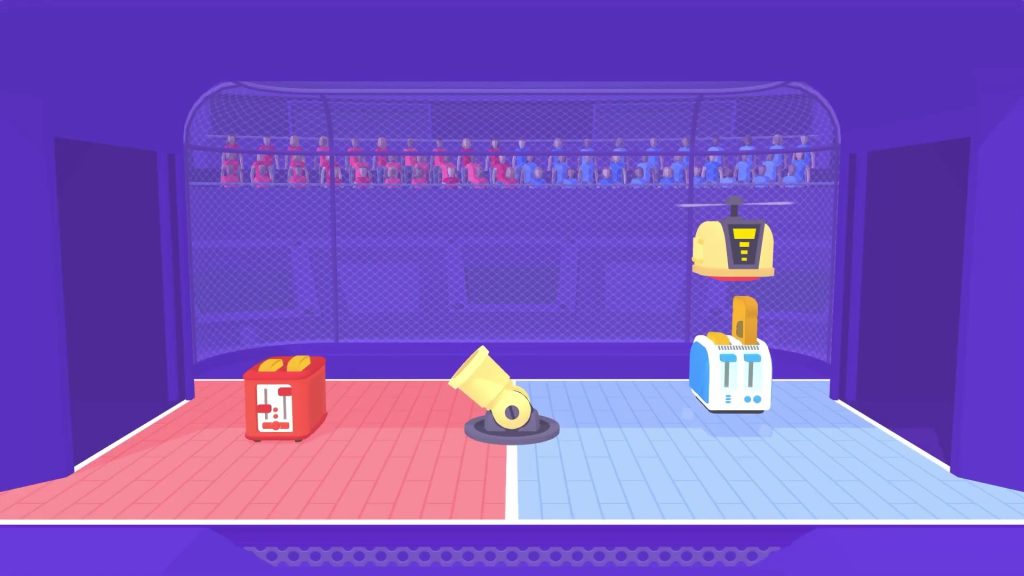 Gameplay and Variants
Up to 4 four players can play together. Players can choose to play alone, with AI or against it. The goal is to score in the opponent's door. 
The game has gameplay variants like fire or electrified traps, destructible objects, platforms, moving fields and environmental changes.
Players also can create their own field with their favorite variations and game rules.
With these last the players can set the score to achieve and choose the HP of doors and toasters.
Toasterball will be officially released on May 3rd on Steam and coming soon on Nintendo Switch. We have only a 2 minute trailer and we can't have anything certain, but the game seems to be really fun, especially when played with friends.