TAILS OF IRON: Redgi and the fallen kingdom
Our review
A compelling and exciting plot
Tails of Iron is a medieval-style action RPG developed by Odd Bug Studio that takes players to a world ravaged by a bloody war.
The plot begins with a short story about the eternal conflict between the rats clan and the fetid army of frogs, led by the ruthless Green Wart.
After a long struggle, the rats, led by the monarch King Rattus, manage to send the frogs back to the swamp, setting the stage for a new and peaceful kingdom.
Here comes the protagonist Redgi, son of King Rattus and future pretender to the throne. After a long and hard training Redgi is finally ready to go to the place of the final test.
Just as King Rattus is about to deliver the crown to Redgi, the frogs surprise the rats army by assaulting Crimson Fort and barbarously killing a defenseless King Rattus.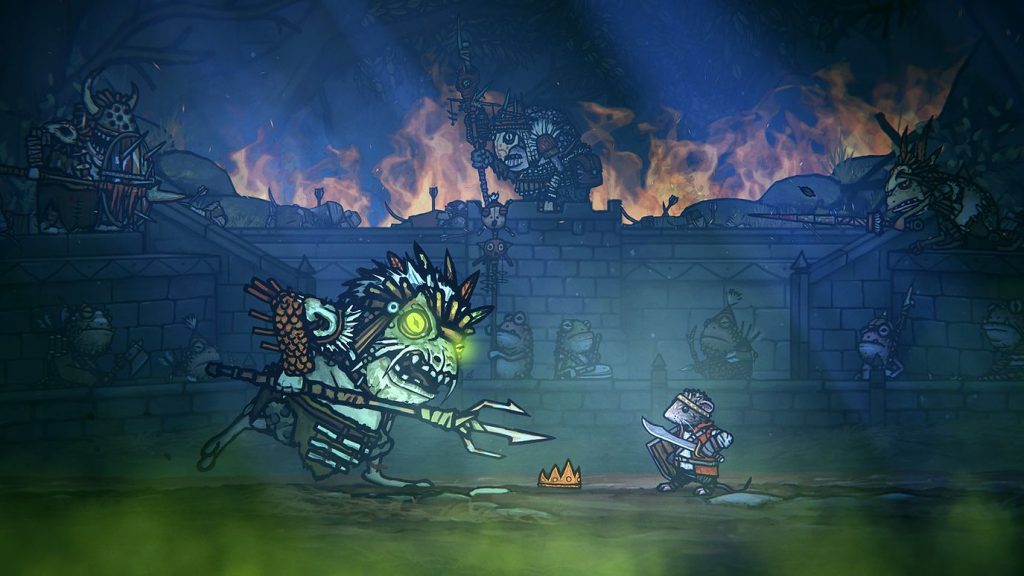 With an army now decimated and the fortress almost destroyed, Redgi is the only one who can restore peace and prosperity to the kingdom.
And this is where our story begins: a story that will put us in touch with Redgi, with his moods and with an almost impossible journey in search of revenge and truth: a story that is told to us by the fantastic Doug Cockle, the famous voice of Geralt of Rivia in the videogame saga of The Witcher.
Thrilling and violent gameplay
The gameplay is very simple and intuitive with an engaging combat system and a good exploratory component. A fight that, despite appearances, will give the player a hard time.
Each enemy can represent a danger to the player, whether we are talking about a simple frog or a huge boss with a particular moveset. In Tails of Iron it is essential to understand the parry-dodge mechanism right away.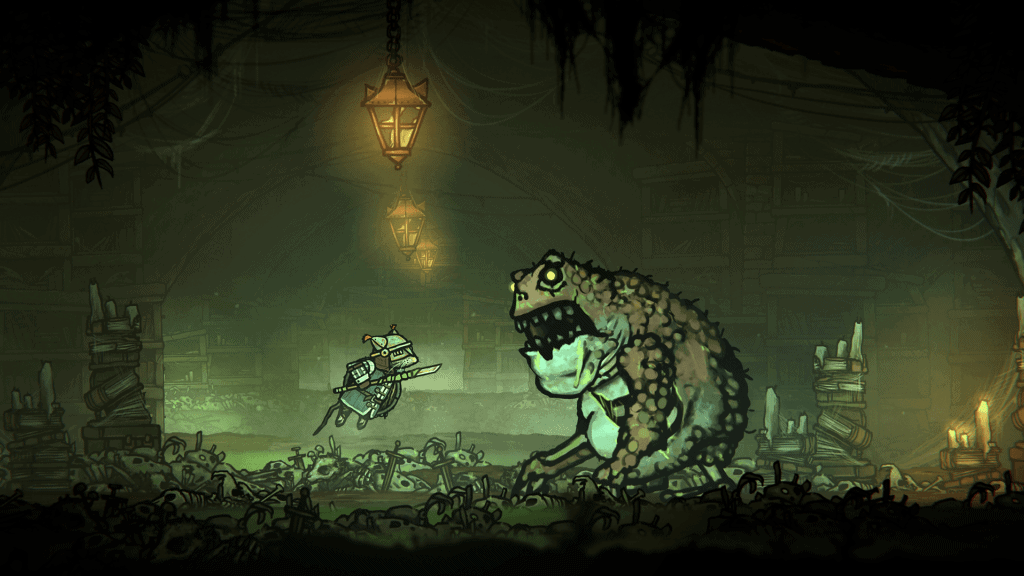 The enemy's attack will in fact be surrounded by three different colors: red for the unstoppable attack, yellow where it is necessary to make the parry and white, which is the weakest and most parable attack.
Redgi also has a vast arsenal of weapons, divided into one-handed weapons (in addition to a shield), heavy two-handed and throwing weapons, useful for hitting enemies from a distance.
We will also have to pay attention to what clothing to use, since some armor have unique characteristics: some will enhance our defense, others will improve our resistance against certain species of beasts (frogs, cockroaches, mozis…).
It is important to choose well, as we will not be able to change anything else until we find the appropriate equipment trunk.
The benches represent a real checkpoint, the point from which to restart once you have fallen in battle. It is important to remember not to overload Redgi's equipment with weapons and clothing that are too heavy, otherwise we could limit his movements.
The final verdict
I think the choice of secondary missions is excellent, which certainly give an extra something for the development of some subplots and know all the secrets of Tails of Iron, including some challenging and memorable "boss fights".
I really appreciated the work done by Odd Bug Studio on the technical and audio sector: a work that manages to make the proposed settings perfectly credible.
Despite some woody animations and other small flaws, Tails of Iron is an excellent indie title that brings a solid narrative, a difficult but balanced gameplay with excellent opportunities for exploration in an incredibly deep adventure where there are, however, some small accidents along the way.
Tails of Iron
"Tails of Iron is a medieval-style action RPG developed by Odd Bug Studio that takes players to a world ravaged by a bloody war"
8/10