The missing link between vintage and modernity
Are you looking for a truly immersive experience, and perhaps you have a fondness for arcades from the 1980s? Tabula Natural Interfaces undoubtedly desired to experience these shared emotions, giving birth to S-ARKADE, an absurd but very cool application.
All you need is a projector, a controller, a smartphone, and, of course, the app, which will be available for both PC and Mac.
WHAT IS S-ARKADE?
S-Arkade is an innovative application that allows players to relive the excitement of old arcades by shooting them with a projector around the house.
We learned about this intriguing project thanks to the ongoing Kickstarter campaign. But let's dig a little deeper and find out exactly what it does.
First and foremost, as previously stated, it is a spatial augmented reality game system. What does it mean? You can project a whole series of games inspired by 1980s arcades on the walls of your home (or anywhere else) in an immersive, engaging, and electrifying scenario.
The first step is to obtain any projector, as the software will handle the calibration and various image adjustments directly.
However, short throw projectors (with a throw ratio of 0.5, meaning that the image size from 1 meter is approximately 2 meters) are recommended because they can be used to create larger images indoors.
In terms of lamp power, all tests and videos (both indoor and outdoor) were conducted using Optoma short throw projectors with 4000 ANSI Lumens and full-HD resolution (1920×1080).
Next, you will need to download S-ARKADE on your PC or Mac (even mini-PC).
Finally, you'll need to calibrate your playground and draw levels around the objects on the wall. Simply take a picture of the room for automatic calibration, and then play around with the editor to create the levels.
The calibration process has been greatly simplified so that you no longer need to use any of the projector options to distort or keystone the image. Everything that happens inside the S-ARKADE editor is accessible via any PC or tablet.
Mapping is an exciting and stimulating phase. In S-ARKADE, you have complete control over the game scenario. You can change the game's background and style, as well as special effects and specific elements such as bonuses and traps.
From now on, you can choose and play the available titles of S-ARKADE.
THE S-ARKADE GAMES
Let's start by saying that these are not ordinary games; they are designed to take advantage of the concept of spatial augmented reality through projection.
Immersiveness and fusion between physical and digital. Immersiveness and fusion between physical and digital. Thanks to a real gravity, the objects of the game hit by it can bounce off your furniture, the liquids fall and fill the spaces between a shelf or a frame hanging on the walls, until you can fire projectiles to beat each other in the ultimate party game.
Therefore, we will have GAME PACKS inspired by various themes, especially games from the 80s and 90s.
WALL-E-ROIDS is set in the classic deep space scenario, with asteroids and other enemies to contend with.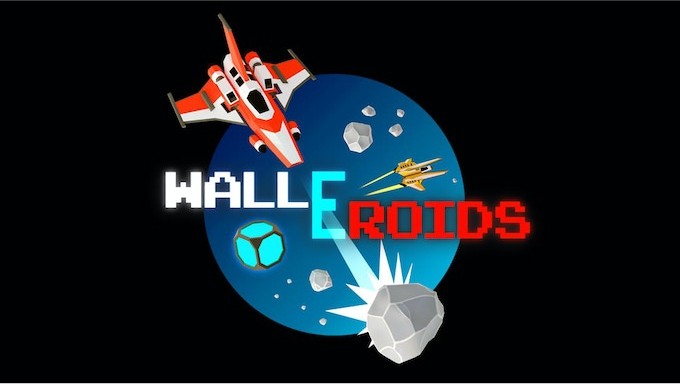 It is possible to play with up to ten people who will queue for their turn, and there are modes such as Collaborative and DeathMatch.
RAIDERS, on the other hand, is a series of platform games designed to be played on vertical walls in order to take advantage of gravity.
To earn points, your character must capture flags and return them to his base, whether he is part of a team or working alone. To accomplish this, you'll need to use ropes and grappling hooks to reach higher platforms (aka: your furniture!) while avoiding traps and employing ballistic weapons to assist the team in reaching their goal.
While ROOM RAIDERS takes place in a tropical adventure film setting with crumbling rocks and erupting volcanoes, NEON RAIDERS takes place in a sci-fi setting with different weapons and mechanics such as teleporters, energy traps, lasers, and machine guns.
PONKANOID is a futuristic pinball game set in an abstract circuit world reminiscent of TRON.
The name suggests a hybrid of PONG and ARKANOID mechanics, in which each player (within his team) uses his energy paddle to push the ball into his goal.
This game takes full advantage of the structure you create around your objects; the ball bounces in predictable patterns, and the paddle can snap to accelerate or steal the ball – skills must be developed to master this game!
The Arkanoid part includes randomly appearing bricks and special power-ups (shotguns to destroy other shovels or deflect the ball, magnet to catch it), and the game is enhanced with bonus levels and other dexterity challenges.
But let's go a bit "horizontally"…
TABLERACE allows you to project a supercar racing track onto a horizontal surface such as a table, the floor, or even the ceiling and play on it.
What these crazy genius guys are planning isn't all here, but for now, I recommend you check out their campaign for more information.
THE KICKSTARTER CAMPAIGN
The project started on November 8 and has already achieved its goal less than an hour after its publication.
The campaign will end on Tuesday, December 27, 2022, at 07:00 CET, and with 900 supporters, they have raised €280,929 out of a €10,000 goal.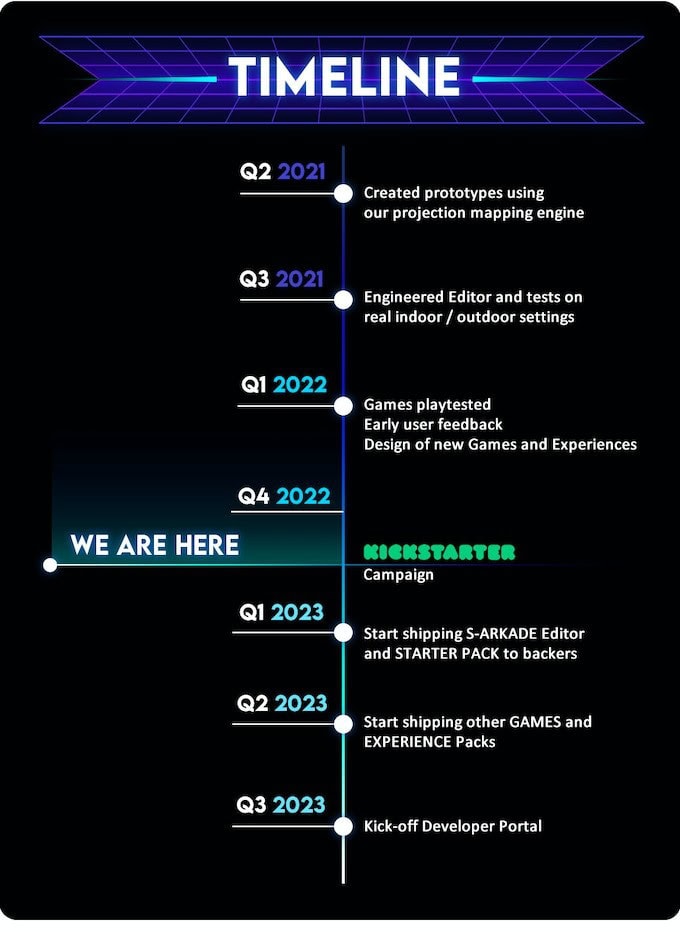 I recommend you check out the campaign for all the rewards and growth of the project, because there is a lot to discover, but in short, there is the PLAYER PACK, which is a license for home users, usable in your own space (internal or external), with friends and family. This is the kind of license that comes standard with any home entertainment device.
ENTERTAINER PACK, on the other hand, is a special version of the application and a license for entrepreneurs, designed for any business that wants to use S-ARKADE to entertain their customers at their business location (such as a bar, a shop, a disco, a restaurant, a paid event…). Owners of this version will also have first access to new games (which are also designed for more projectors and larger crowds) as well as the ability to order custom games and skins.
The game's official release date is set for February 2023.
ALL-ITALIAN DEVELOPMENT TEAM
Stefano Baraldi is a senior IT engineer and entrepreneur who founded TABULA Natural Interfaces in 2010 after finishing his PhD.
He worked on the first multi-touch table prototypes and, in 2006, created FaçadeSignage, one of Europe's first projection mapping software, which continues to empower exhibitions and shows around the world.
After 12 years of projects in immersive experiences and exhibitions, he has dedicated part of his team to interactive projection mapping prototyping, with a focus on gaming.
The S-ARKADE core team currently consists of Stefano and Francesco for coding and Geremia as the lead technical artist.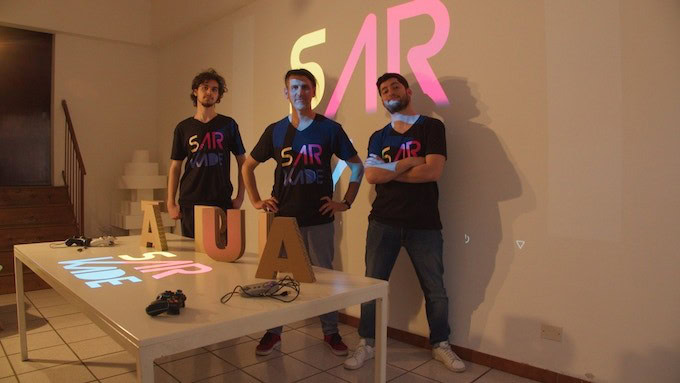 In order to bring new games and experiences to the platform, they also collaborate with other game designers and studios.
They currently collaborate with the following indie game studios:
Trinity Team is the creator of the 'Slaps and Beans' series starring Bud Spencer and Terence Hill, as well as 'The Darkest Tales,' a dark and twisted 2D action-adventure platformer.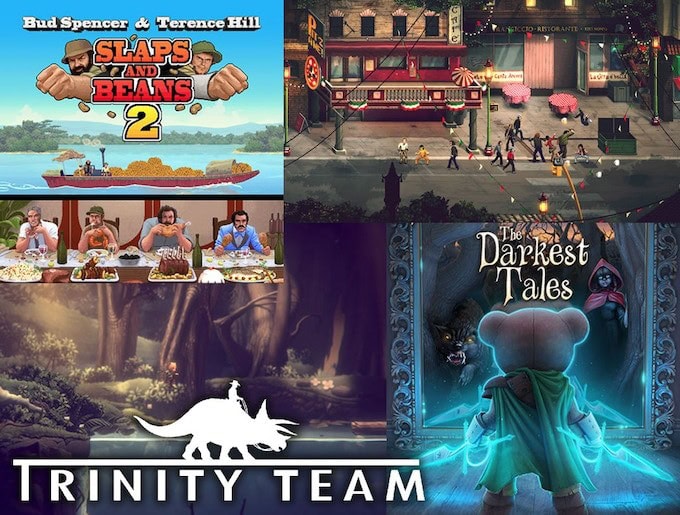 Studio Evil is the developers of "Super Cane Magic Zero," a local cooperative RPG based on the story and characters of cartoonist Simone "Sio" Albrigi, and "Syder," an old-school shooter inspired by European Amiga classics.
The Kickstarter campaign is only a few days away, and we are all excited to try this new, super fun experience.