Pape has been summoned to the adventure. He escapes the "cage" with ingenuity and patience and goes to save his world.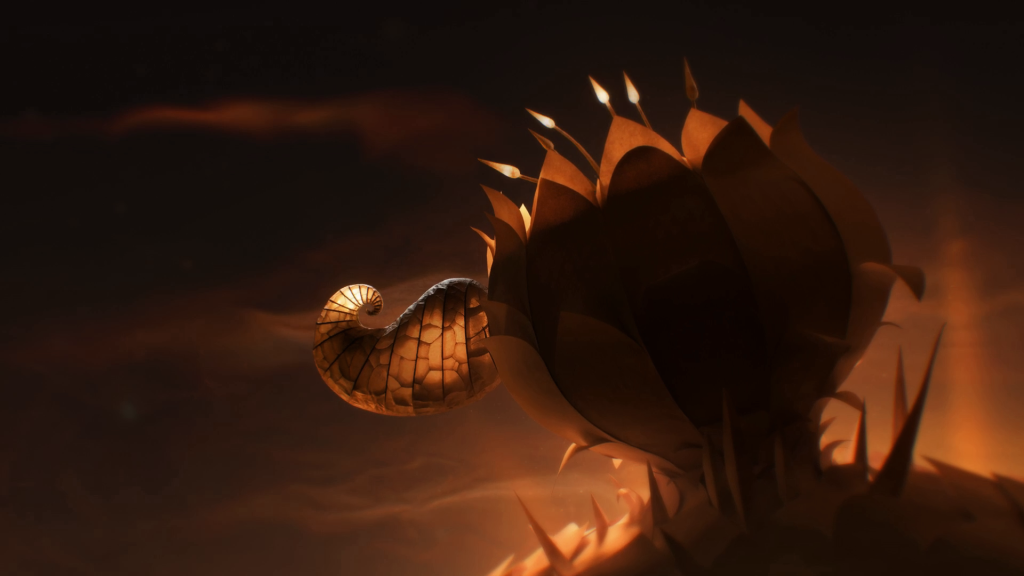 Papetura, released for Mac and PC on May 7, 2021, is an artistic experience inspired by classic video games like The Neverhood and Machinarium, with a particularly refined touch, where visual and auditory elements intersect to bring forth a clever and original puzzle game.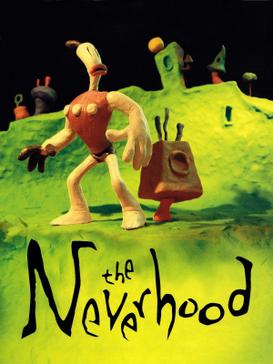 It is a point-and-click video game created in a blend of stop-motion and skeletal animation, and it is the most bizarre title I have seen in a long time. Original, elegant, and at times disturbing, it is a true work of art entirely made with paper, a material that is easy to manipulate, cut, and join together with simple glue.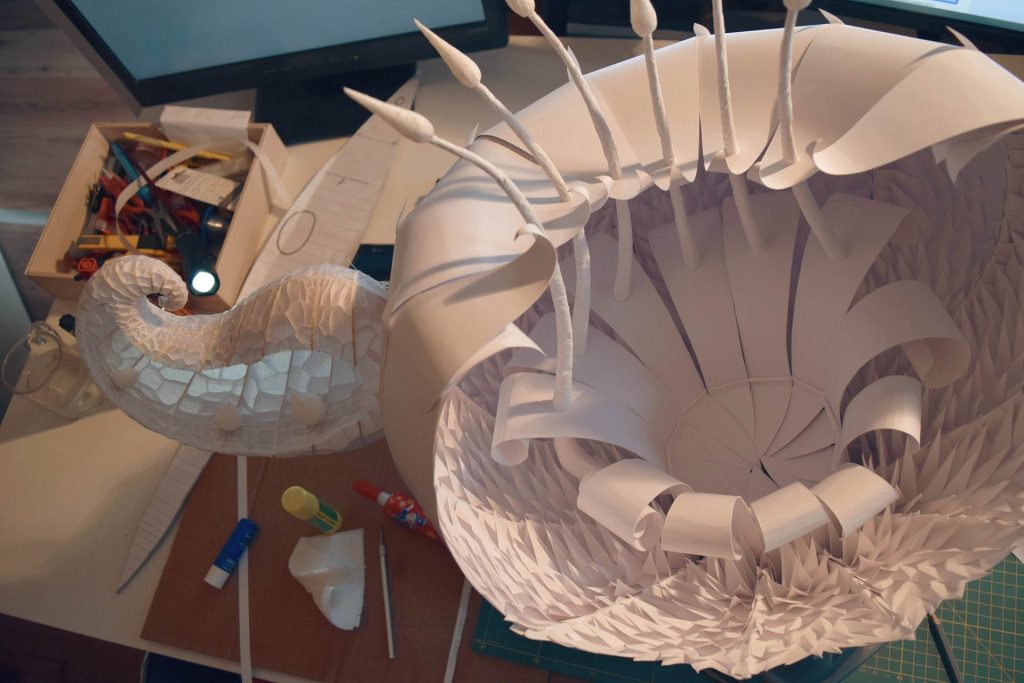 Why is Papetura a work of art?
First and foremost, it is due to the technical aspect. The skill of the developer and their collaborators, combined with their strong dedication, are clear signs of a creator at work, intent on crafting something magnificent that stems from an almost obsessive commitment.
Then there is the aesthetic component. Talent and passion, along with technical abilities, give rise to carefully composed and balanced visuals, a skillful and, above all, creative use of lighting, and an impressive attention to detail, including the sound design.
Originality and the message conveyed are the final points that, when combined with the aforementioned aspects, allow a product to be defined as a work of art.
Who are the artists?
The development studio behind Papetura is Petums, primarily composed of Tomasz Ostafin, a solo developer from Bytom, Poland, who came up with the idea of creating a video game entirely made of paper.
Seven years of hard work, which can be seen in the video below:
There isn't much more to add. The making-of video for Papetura is as powerful as the game itself, and it's difficult to put it into words. These are the kind of experiences that need to be personally witnessed.
Ostafin was fortunate to collaborate with individuals who made a significant contribution to the project. One of them is musician Tomasz Dvorak (Floex), a renowned and award-winning composer known in the world of video games for his soundtracks in the Machinarium and Samorost series. The other collaborator is the sfx artist Juraj Mravec.
Papetura is composed of two elements: image and sound. Two senses that Petums and co. perfectly satisfy.
A little world of paper
Pape is a small crumpled and grumpy sheet of paper. One day, he decides to venture out of his cocoon/flower and embarks on a journey that will prove to be crucial for his own salvation and that of the world he lives in.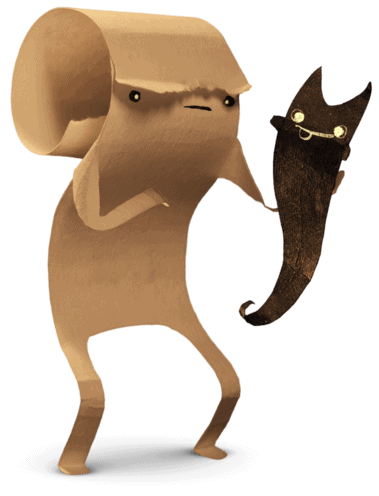 Pape will have to face the challenge of fire.
There are many obstacles, but our Pape is determined and patient. Moreover, he can rely on the valuable help of Tura, a small magical creature that resembles a cat.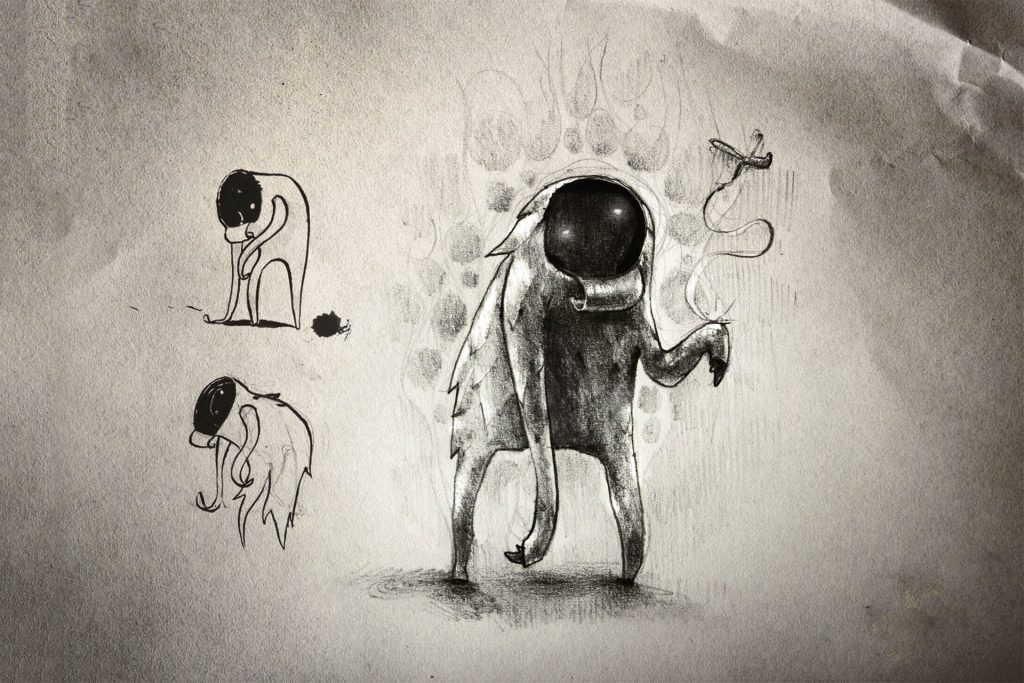 The world of Pape is difficult to define. Ostafin has poured all his creativity into creating such a unique setting, not just because it is made of paper.
Why should a sheet of paper be as big as an insect? Why are there dolphins at a certain point?
Undoubtedly, imagination is one of the strengths of this game, but what truly makes it shine is the mastery in its creation.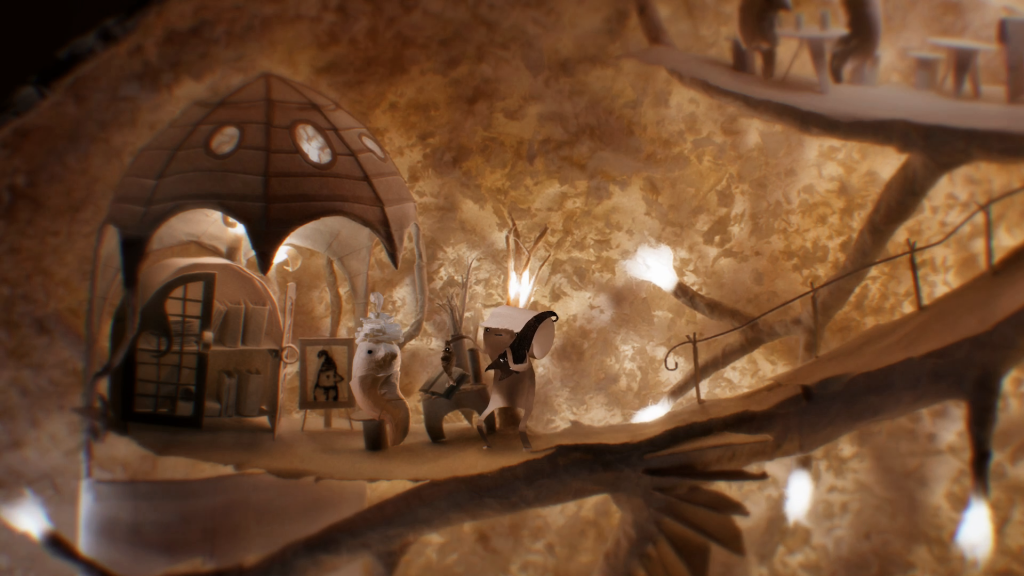 If you have seen the video, you already know what I'm referring to. If not, try to imagine that in the scene below, there are numerous intricate "sculptures" meticulously crafted using only paper, a cutter, and glue. Occasionally, a touch of soldering when necessary.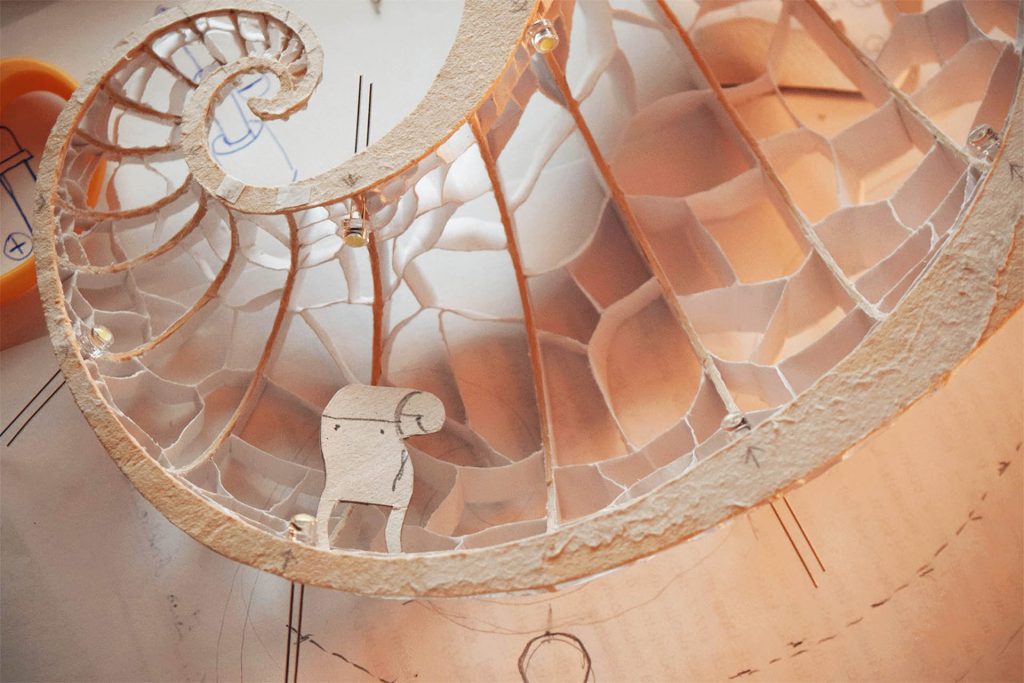 Ostafin has truly put in the effort to gift us these perfect artworks.
Papetura is also a video game
Is Papetura more of a video game or a work of art?
I'm inclined to answer the latter: Papetura is primarily a work of art and a visual and auditory experience.
However, it is also a video game, and it is not entirely secondary because the gameplay is well-executed and has its purpose, albeit simple: Pape walks, interacts with certain elements in the environment, and occasionally shoots projectiles to hit things.
Papetura is a slow-paced game that allows you to observe the details of the scenery. You are almost obliged, in a sense, and fortunately so, because it is truly worth it.
Due to its leisurely pace, there is time to reflect when the puzzles are less intuitive and the obstacles are more challenging to overcome.
For this reason, it may occasionally feel a bit frustrating and boring, but the overall duration is short (a couple of hours), so it doesn't weigh too negatively.
If you choose to play it without particularly appreciating the visual aspect (which would be a shame, but you never know), Papetura is still an enjoyable game that requires cleverness and skill, and it provides a sense of fulfillment, much like a good adventurous fairy tale does.
Conclusions
In October 2022, Feardemic decided to produce Papetura, allowing its release for the Nintendo Switch. They rightfully couldn't pass up such a gem.
Petums is currently working on something new and quite interesting, but in the meantime, let's continue to give space and visibility to this title because the world has always needed, needs, and will need Art.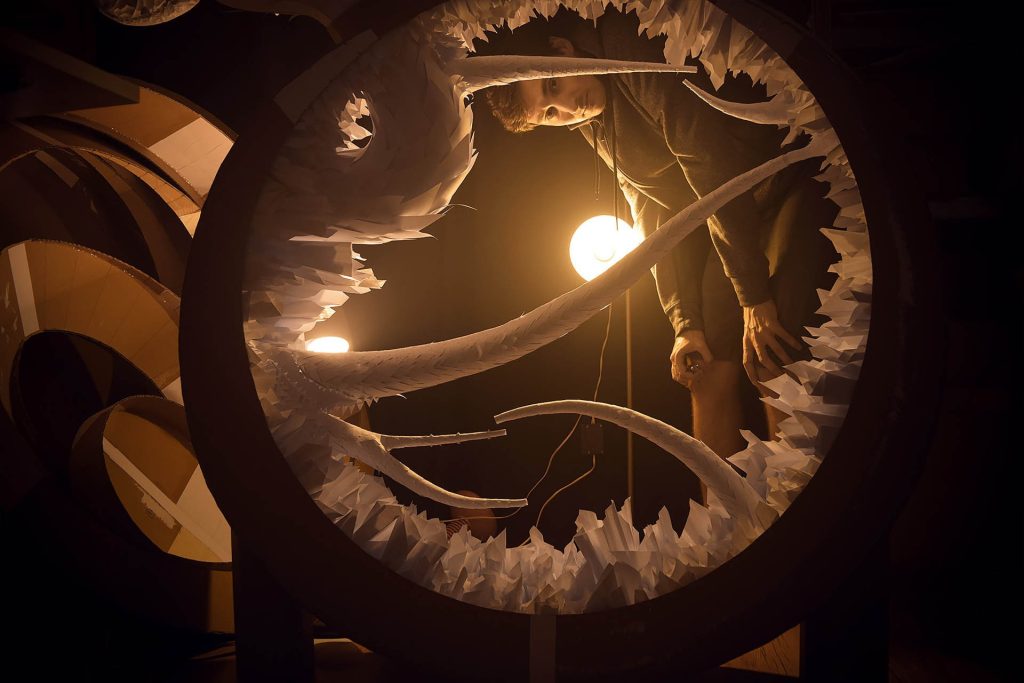 Papetura is an incredible visual and auditory experience, crafted with care and devotion, using paper as a material to create beautiful sculptures that serve as the backdrop and embellishments for this fabulous and bizarre world. The gameplay is simple yet effective, and the slowness of actions allows one to fully appreciate the hard work of its creator. It is a video game that draws inspiration from classics but has its own original and extremely captivating graphic.
It also reminded me a lot of Laika Studios' superlative animated film Boxtrolls, a true handcrafted masterpiece with a grotesque and incredibly unique aesthetic.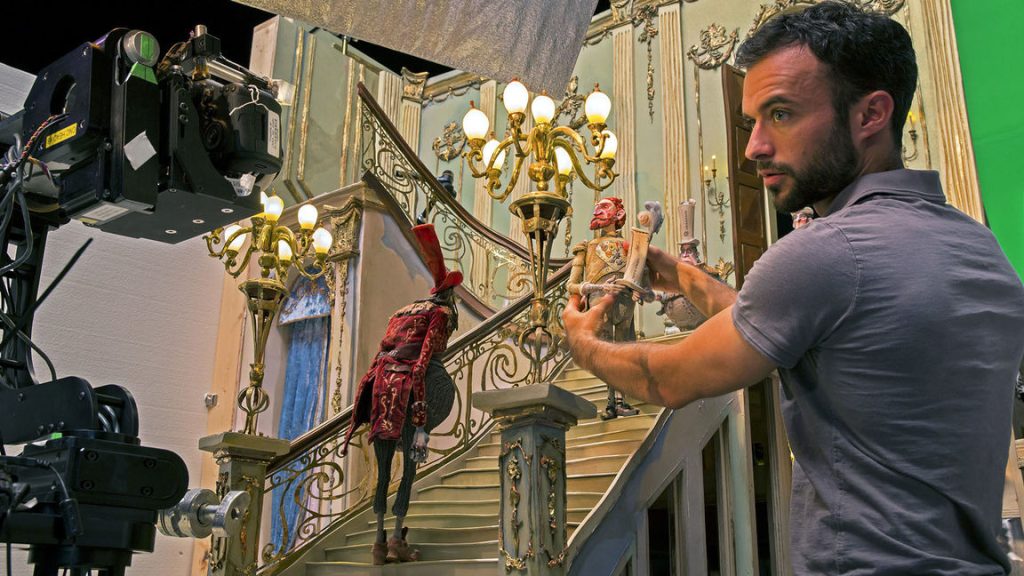 For more info, visit the officiale website.
Papetura
"Papetura is an incredible visual and auditory experience, crafted with care and devotion, using paper as a material to create beautiful sculptures that serve as the backdrop and embellishments for this fabulous and bizarre world. The gameplay is simple yet effective, and the slowness of actions allows one to fully appreciate the hard work of its creator"
PRO
Original and captivating graphics
Handcrafted with paper
Simple yet effective gameplay
CON
A bit too slow
Short duration
8.5/10