Go on a road trip, visit lots of fun places, meet lots of nice people… What can go wrong?
I was searching for a new game to play and I stumbled upon this new title that will be available on October 21st, and I fell in love with the project: Monster Prom. The last chapter is Roadtrip and it seems to be a bit unlike the previous games.
THE INITIAL PROJECT
Monster Prom is a 2D visual novel video game, more specifically a dating simulation, released initially for Windows, macOS and Linux on 27 April 2018, then for Nintendo Switch port on 21 May 2020.
Published by Those Awesome Guys and developed by a studio based in Barcelona and founded by Julián Quijano: Beautiful Glitch.
It was written by Julián Quijano, Cory O'Brien and Maggie Herskowitz and illustrated by a formidable Arthur Tien. The programming is by Elías Pereiras.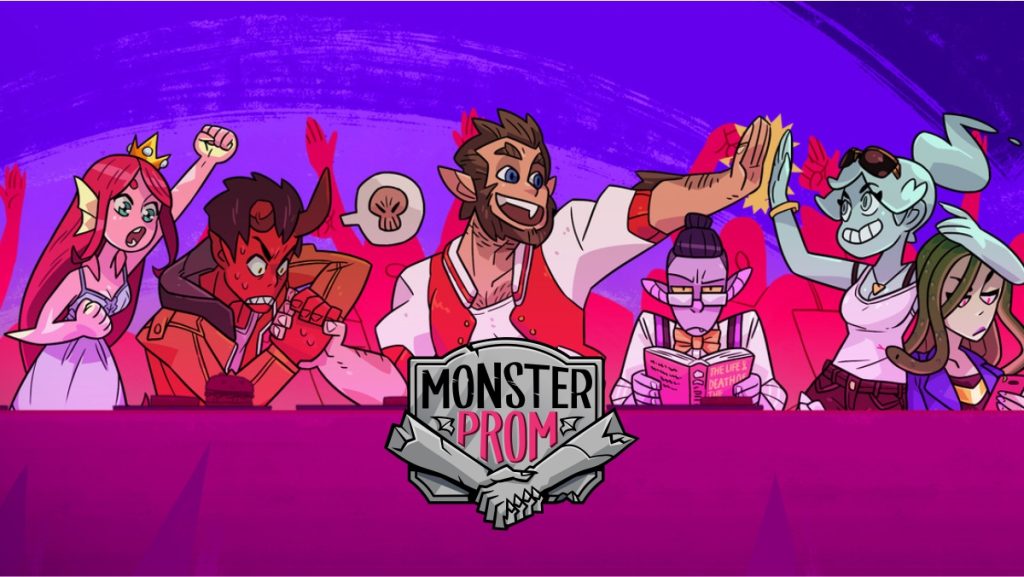 In the initial game, players assume the role of one of four pre-set characters, all of whom students at Spooky High, and can choose between six different monsters they can try to date in 3 weeks.
You can play as any gender and pronouns with the game allowing for straight, gay, and lesbian dating options. It features both a single player mode as well as a multiplayer competitive mode of up to four players.
Full of funny and absurd situations, the strong point of the game concerns the beautiful and charismatic characters, developed through hundreds of dialogues written by Cory O'Brien, Maggie Herskowitz and Julián Quijano.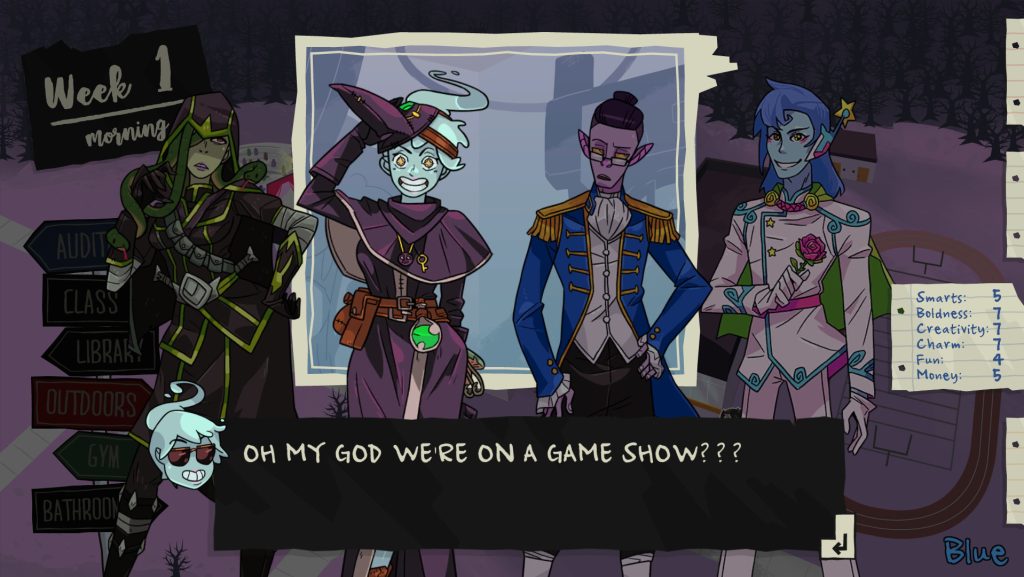 Your choices affect future situations and they can let you unlock new and potentially secret endings that could be related to specific love interests.
All of this is spiced with a shop full of secrets, that is to say new items you can unlock in order to aid you in your highschool adventures or uncover new events and endings, for example a penguin mask, a spork, a slave, an erotic fanfic about dragons, and a pot-pourri of outfits, fashion, style, quirks and all trimmings of the modern world of love: selfies, dating apps, d**kpics, raves, emojis and more.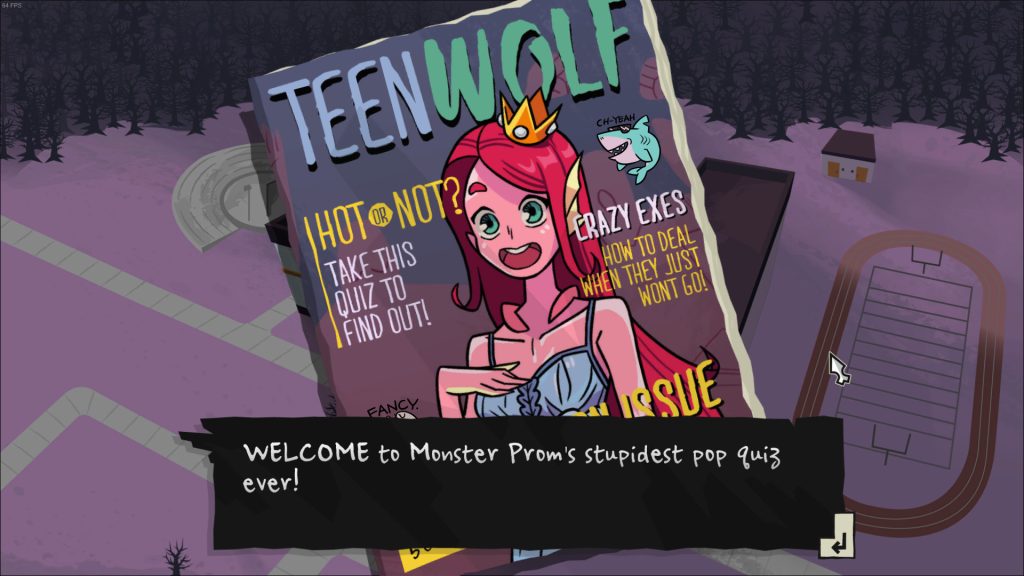 Monster Prom features mature themes, naughty words and some objectively bawdy scenarios, not suited for the sheepish or the faint of heart.

In my opinion, the most important thing in this game is the freedom of choice, which specifically means that monsters don't like boys or girls, they like monsters. The game experience is unaffected by gender or sexual orientation, since finding love is already hard enough.
WHAT'S IN THE MIDDLE

On May 8, 2019, Beautiful Glitch announced a sequel titled Monster Prom 2: Holiday Season and launched another Kickstarter campaign with a playable demo.
The planned sequel was set to feature the same characters from Monster Prom in three minigames: Summer Camp, a dating simulation similar to the original game; Winter Retreat, a strategy game featuring Vera and Miranda; and Roadtrip.
Within a month, the campaign raised over €535,000 from nearly 9,000 backers, exceeding their goal of €32,000. As development progressed and the scope of the game expanded beyond the team's expectations, the decision was made to release the Summer Camp portion of Holiday Season as its own game title, Monster Prom 2: Monster Camp, on October 23, 2020.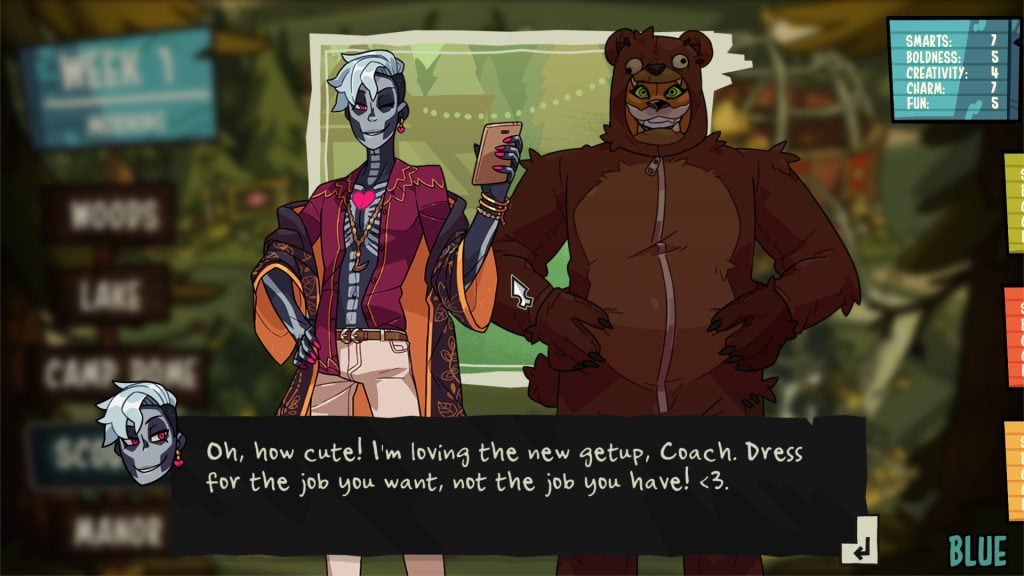 Originally, the plan was to release Winter Retreat and Roadtrip under the title Monster Memories, along with an additional DLC game titled Monster Prom: Not another isekai!, which had been funded through Kickstarter. However, similar to Monster Camp, these games were once again separated into their own titles. Beautiful Glitch released a reveal trailer for Roadtrip, now titled Monster Prom 3: Monster Roadtrip, on April 28, 2022.
WHAT WE EXPECT NOW
Roadtrip is a multiplayer narrative survival adventure and differently from the previous titles this is not a dating sim, although it will include dating mechanics.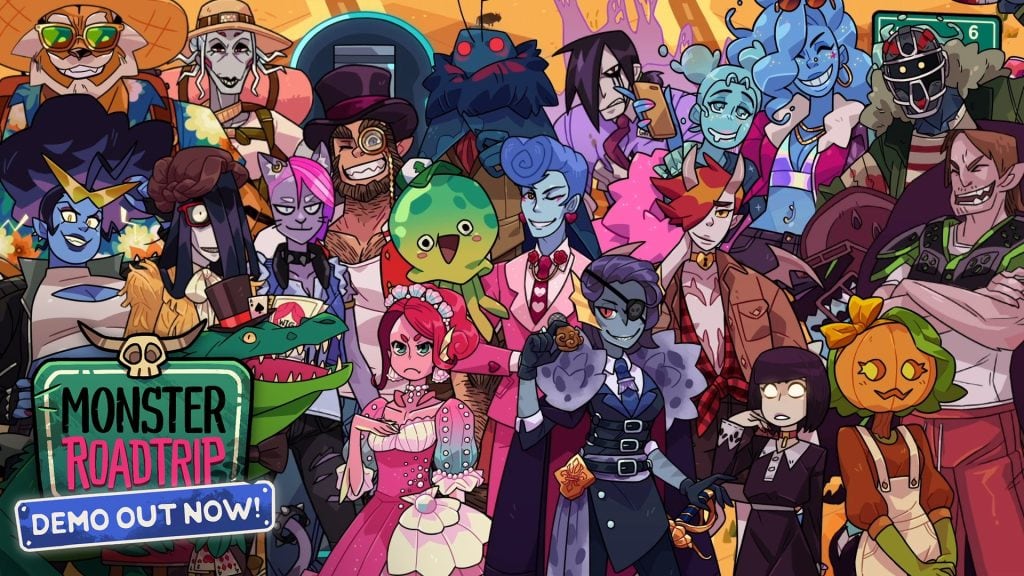 You'll ride alongside Polly and Scott, but be sure, this game is filled with all sorts of characters, new and old friends.
All you have are a car and a road, and after the famous "Double Choice" infrastructure bill was passed in 1974, all roads are required to lead you to different locations.
So, guided by a sexy statue with a peak cap on which there is the word "narrator", you start your adventurous trip and begin to choose your weird destination, as, for example, the DOOM'S, one of the "top 10 most Cursed Restaurants You Should Never Ever Visit".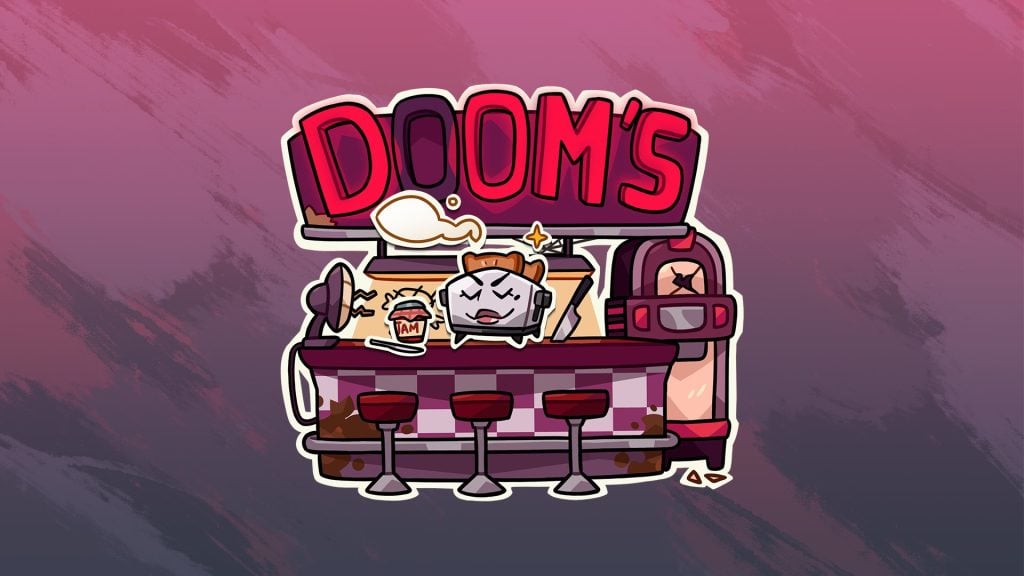 In any place you visit, you meet interesting characters, but, above all, you have to make some choices. These choices conduce you to lose or gain points in your values: Hype, Magic, Mind, Money, Soul and Stamina.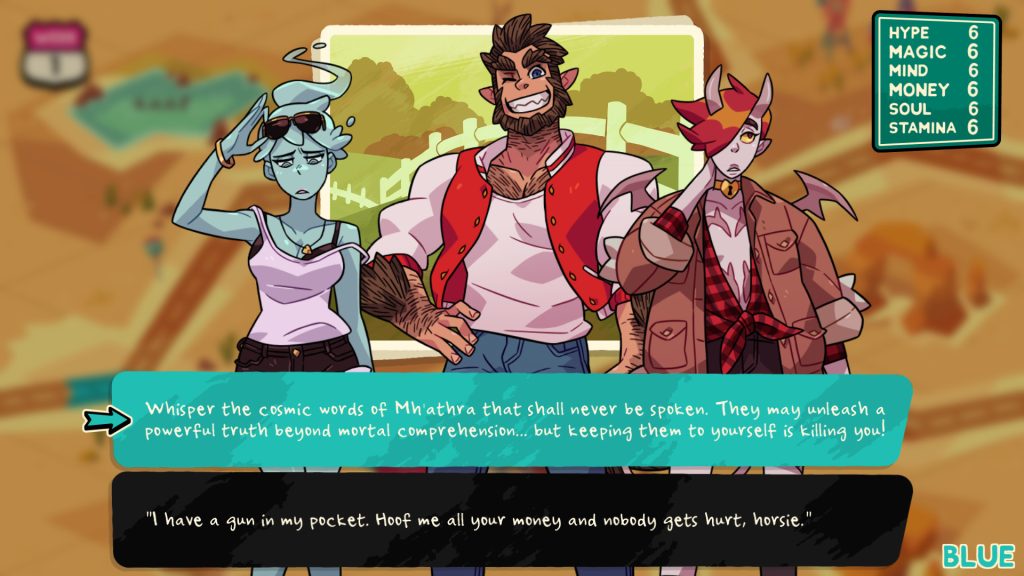 As we said, this time the goal isn't getting a date but surviving the road trip (although you still can score a date if you play wisely).
You and up to three friends will face a variety of bizarre conflicts while attempting to manage your road trip resources. If a resource runs out, you can say goodbye to your trip. But if you meet the right requirements, you might be able to reach one of the dreamy destinations that will put an epic end to this adventure.
I immediately loved the style and this game seems to be full of this charming and amusing art, included droll chibi versions.
Furthermore, dialogues and situations are pretty damn funny. I really laughed my head off trying the free demo, and I can't wait to play the full game.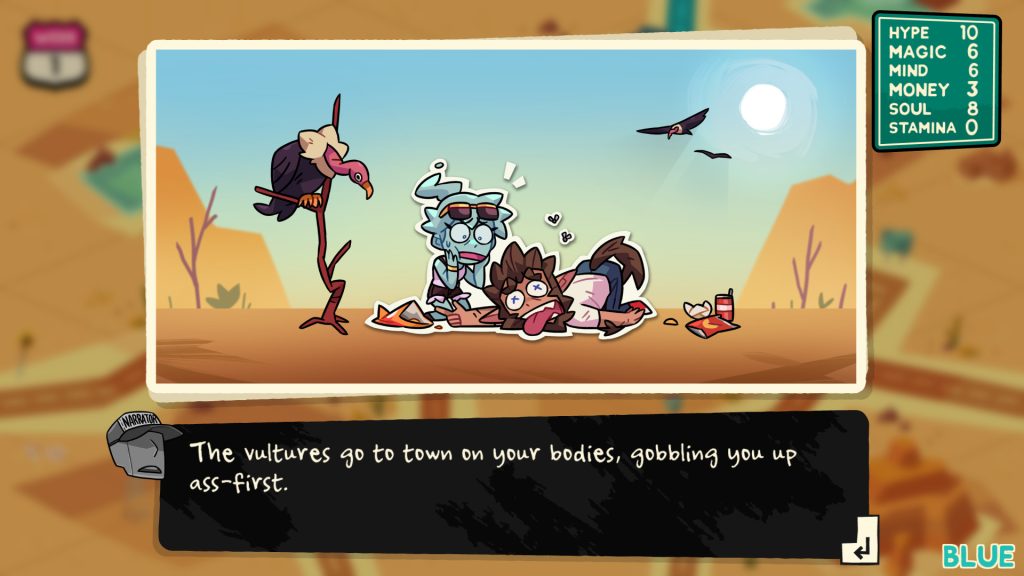 Beautiful Glitch has just found a new avid fan.
Useful links: