Dream of the Beast: the DLC that expands Metal content thanks to the collaboration of Cristina Scabbia and Will Ramos
If the developers of Metal Hellsinger have already had the courage to merge two different genres together, such as a rhythm game with a first-person shooter, reaching a score of 97% of positive reviews on Steam, the DLC raises the bar again.
The Outsiders and publisher Funcom's Metal Hellsinger expansion bring new additions to the Metal-heavy repertoire and also add a new weapon and three outfits that provide unique gameplay modifiers. That's all? – No, so let's see together what Dream of the Beast offers us.
Rhythm gameplay
As already in Metal Hellsinger, we will be called to the rhythmic massacre. In the game we play as a hybrid between human and demon, called Unknown, on a mission to destroy the Red Judge. We'll have to make our way through hordes of infernal creatures who have one goal: to stop us. The sense of rhythm therefore remains fundamental also in the DLC, which sees us face increasingly ferocious and numerous hordes with annexed final Bosses as we continue in the levels.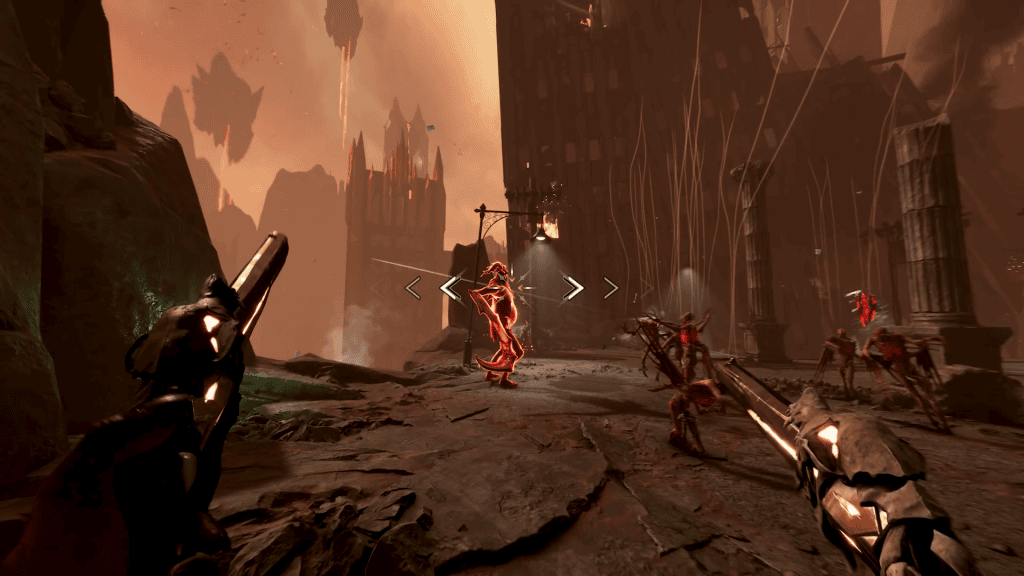 We'll have to sharpen our reflexes to keep the damage multiplier under control, which will increase exponentially the more we follow the rhythm of the songs that accompany us on this journey through hellish environments!
Some highlights include
A rich and intense soundtrack that keeps you engaged and enthusiastic to play
No time limit on levels allows new players to play at their own pace and learn the game without having to beat both enemies and the clock
The opportunity to level up your arsenal and unlock new and powerful weapons that help you take on tougher foes
A well-tuned difficulty curve that keeps players engaged as they face ever more skilled enemy forces
Encounters with unique bosses and other challenging enemies push players to the edge, requiring perfect timing and finesse to emerge victorious
The "Song Selector" function
Metal: Hellsinger is a paradise for metalheads and there is no doubt about that!
The soundtrack is a vital and defining element of rhythm games. Nobody wants to invest time in music unless the soundtrack is unique and powerful, and let's face it, Metal: Hellsinger exceeds expectations.
With the DLC comes the new free Song Selector feature, you can choose any song (including new ones) to play in each level. Since gameplay and music are two sides of the same coin, this adds a new variety to Metal: Hellsinger.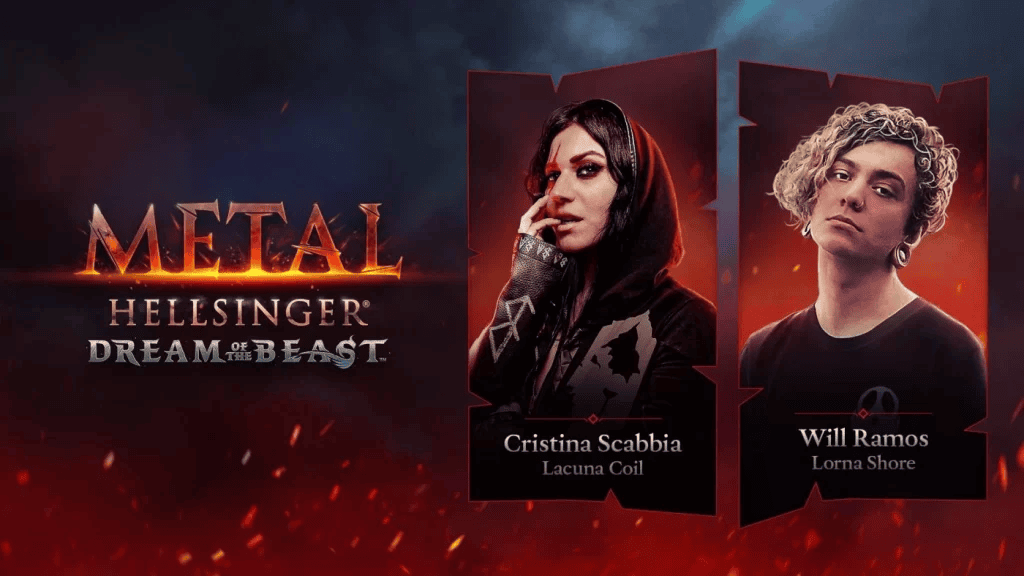 The new songs introduced are two: "Dream of the Beast" performed by the extraordinary Cristina Scabbia (Lacuna Coil) and "Leviathan" performed by the infernal voice of Will Ramos (Lorna Shore).
Other artists you can hear in the game:
Björn Strid (Soilwork)
Tatiana Shmayluk ( Jinjer)
Serj Tankian (System of a Down)
Matt Heafy (Trivium)
Mikael Stanne (Dark Tranquillity)
Dennis Lyxzén ( Refused & INVSN)
Randy Blythe (Lamb of God)
Alissa White-Gluz (Arch Enemy)
James Dorton (Black Crown Initiate)
The "Red Right Hand" is the novelty with regard to the arsenal part. The latter is a machine gun that will help us make our way through the demonic creatures that the level will throw at us.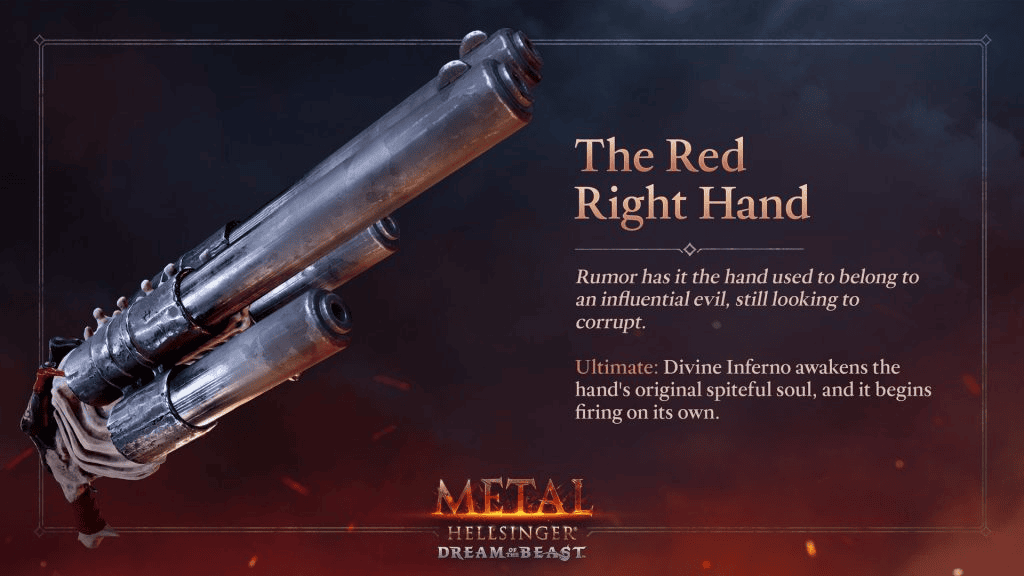 Join the battle with the adrenaline-pumping rhythms of Metal songs, wielding the Red Right Hand – "The divine hell awakens the original mischievous soul of the hand and starts shooting itself". Who can stop us now? Hardly anyone but… watch the rhythm!
The Suit Set consists of three styles with effects including shields, healing, or max ammo.
Let's have a look:
Angel Eyes 
"Slinging bullets and looking damned fine. What else is there do to in Hell?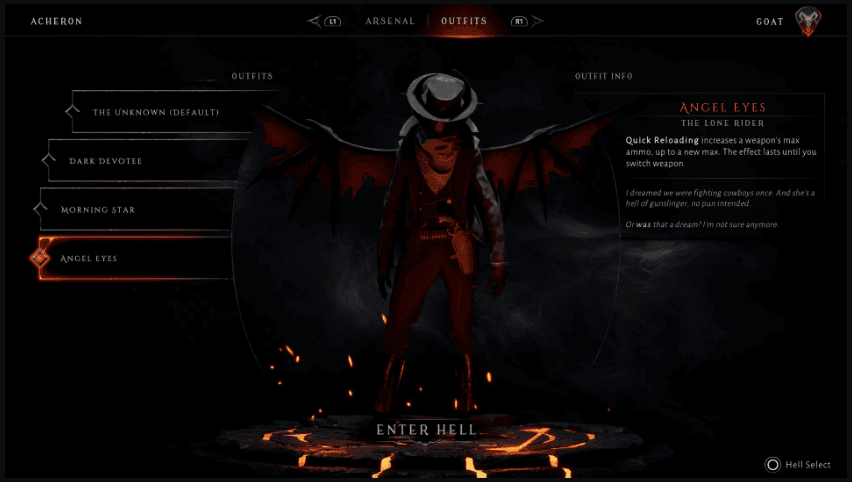 Effect: Quick reloading increases a weapon's max ammo. The effect lasts until you switch weapon.
Dark Devotee 
"If you thing hell is hot, try it in leather and latex"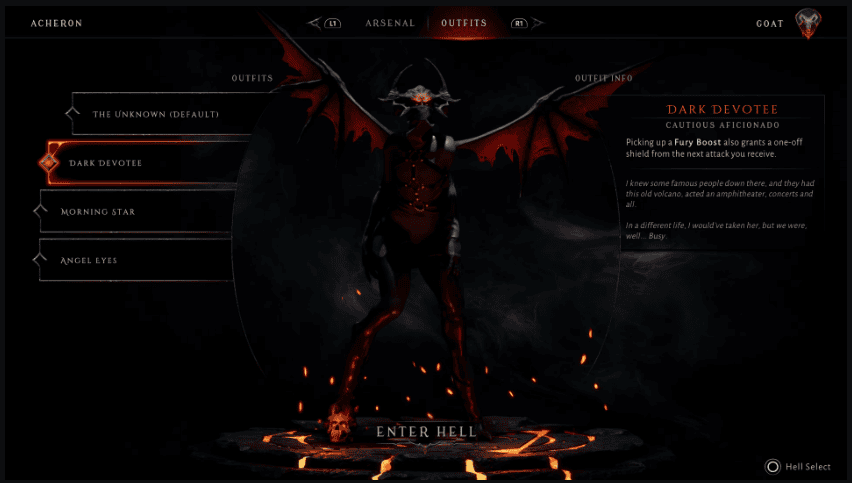 Effect: Picking up a Fury Boost also grants a one-off shield from the next attack you receive.
Morning Star
"You can take a break from blasting demons, but not from that sizzling drip"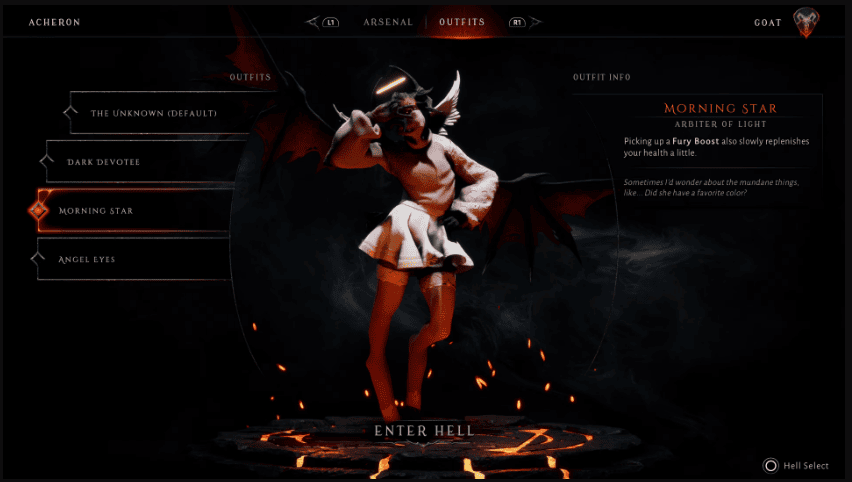 Effect: Picking up a Fury Boost also slowly replenishes your health.
To play or not to play?
This rhythm shooter offers players a unique and exhilarating gaming experience by merging these two genres into one. With Metal Hellsinger: Dream of the Beast get ready to  embrace the pace of destruction and dive into the fast-paced, heart-pounding gameplay.
If you like metal music then this game will probably be perfect for you because it has a lot of famous metal songs. Even if you don't like this genre, the game is still fun and challenging.
Whether you're looking for a game to really sink your teeth into or want to kick back for a weekend and enjoy some mind-blowing headbanging carnage, Metal: Hellsinger is the game for you. We remind you that the game is available for PS5, Xbox Series X|S and PC.
Please let us know if you have already played Metal: Hellsinger and if you will be playing the DLC as well. Or if reading the article you were tempted by the hellish world to discover with Unknown.
Whatever the answer, we wish you all a good massacre!