Let's learn more about High on Life: the insane new first-person shooter created by Justin Roiland's creative and brilliant mind.
High On Life is much more than a video game to distract yourself from the problems of everyday life, or a viable alternative to what you are currently playing. It will be an experience that will keep you glued to the screen from beginning to end, transporting you to a parallel world where excess, satire, and the overthrow of political correctness merge in a bizarre and sensational experience.
The game, ironically labeled as a "Triple I," i.e. a game that falls somewhere between an indie and a AAA production, quickly established itself as a truly outrageous sci-fi first-person shooter in which we will have to face criminal alien traffickers by combining our resourcefulness with the strength of irreverent and special talking guns. Everything will be spiced up with dark humor and the cheeky style that fans of Rick and Morty's adventures have grown accustomed to.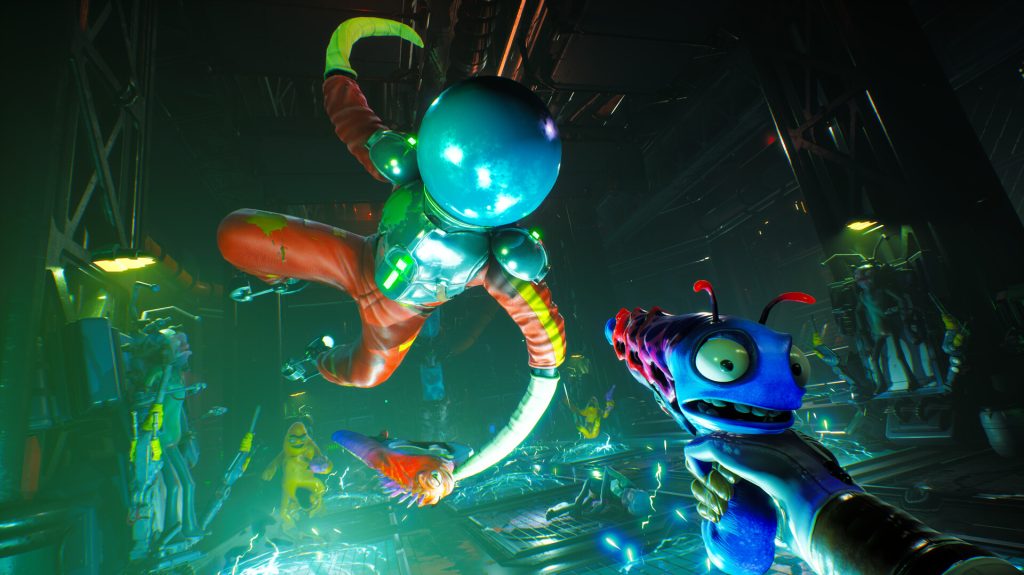 The project, developed by Squanch Games and conceived by Justin Roiland's sharp mind, will be available on December 13th for Xbox One, Xbox Series X|S, and PC, and will be included in the Xbox Game Pass subscription from the start.
A crazy and unprecedented video game that could be one of the most extravagant and insane ideas of 2022. On the other hand, it was to be expected, given Justin Roiland's exceptional artistic abilities and previous Squanch Games productions.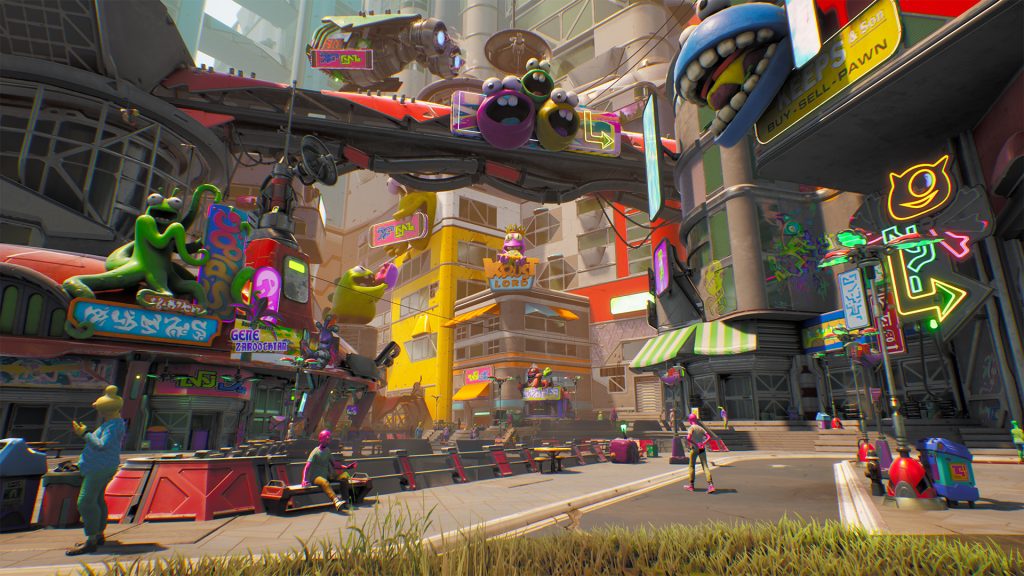 But it is not my intention to foreshadow anything about what follows. Because the release date is only a few days away and there are so many details and news that I cannot leave out or withhold from you, I believe it is essential to provide you with a detailed recap of everything you need to know about High on Life.
So, are you still here? What can I do to persuade you?Trust me and join me on this strange adventure full of crazy ideas, unexpected twists, and intense emotions.
Justin Roiland: An evergreen, brilliant, and creative mind
High On Life is born from the brilliant ideas of an all-around artist who places artistic and creative processes at the heart of project creation.
And I believe it is essential to mention Justin Roiland in this context, not only for his significant artistic contribution, but also for being one of the architects of contemporary satire in its most complete and imaginative form, employing black humor as an effective stratagem that continues to make thousands of people laugh and entertain today.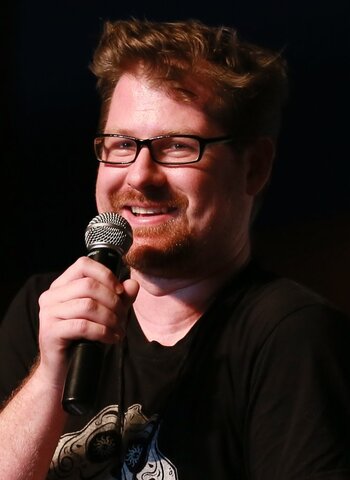 And it is likely that Justin Roiland's career has reached its pinnacle with a valuable and unforgettable art design. An art form that consists of two main moments: the design and creation of a unique and inimitable aesthetic style that combines with a fascinating and memorable character design.
A limitless creative mind that manifests itself as a voice actor, animator, writer, producer, and director. Currently, he works as a voice actor, lending his voice to the two Rick and Morty characters from the homonymous serie, which he co-created, co-wrote, and produced with Dan Harmon.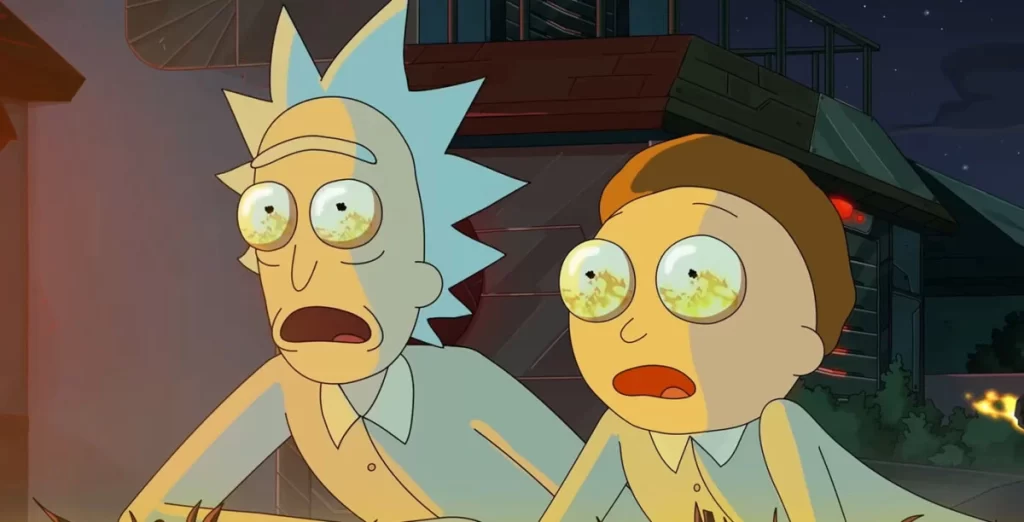 However, reducing his work to a single massive production would be overly simplistic. And, without going into detail, consider the creation of the very nice Solar Opposites series, or his countless dubbing roles, such as Earl of Lemongrab in Adventure Time or Blendin Blandin in Gravity Falls.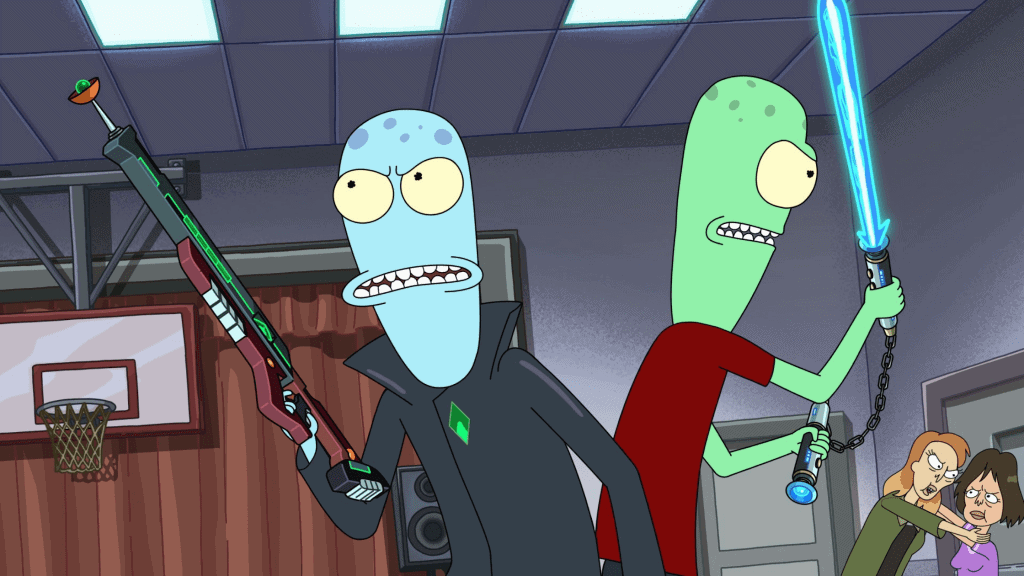 Justin Roiland is an artist whose works have unavoidably influenced my adolescence, accompanying and cheering me even in the darkest of times. And I'm pleased to see his style establishing and confirming itself in the gaming industry.
So, should we anticipate his involvement to be primarily artistic, or will he have a say in some narrative and playful decisions as well? The chromatic choices, as well as the extensive character design, will continue to be elements to watch.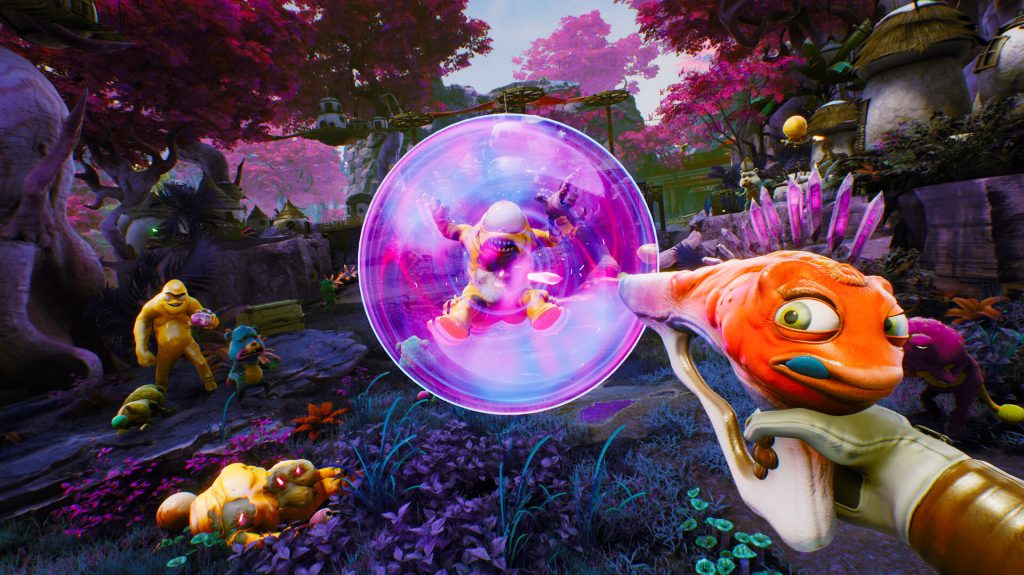 Roiland's is an unusual comedy that does not appeal to everyone, but rather must be understood and appreciated, as well as his artistic and illustrative style. As a result, I have reason to believe that this production will not be a product suitable for everyone, especially in terms of style. So much so that Squanch Games has stated that High On Life should be kept out of the reach of children.
The game will be an experience reserved for those who understand his genius in its purest form, so I would avoid it if you are too prejudiced or sensitive to some themes, explicit violence, and drug references.
Whatever we see in the full game, we can be confident that a strong and creative mind like his has left a significant and decisive imprint on what the finished product will be.
The Hyperbong: An instrument of human enslavement
Assume you are a student who has just completed your studies and has no plans or a job. An inept member of a cruel society who doesn't look for or want you, and thus spends his life lounging on his sofa like a loser.
But don't worry, a tyrannical alien cartel will spice up your daily routine! An army of smugglers intent on enslaving your planet and subjugating humans through the use of a drug known as Hyperbong.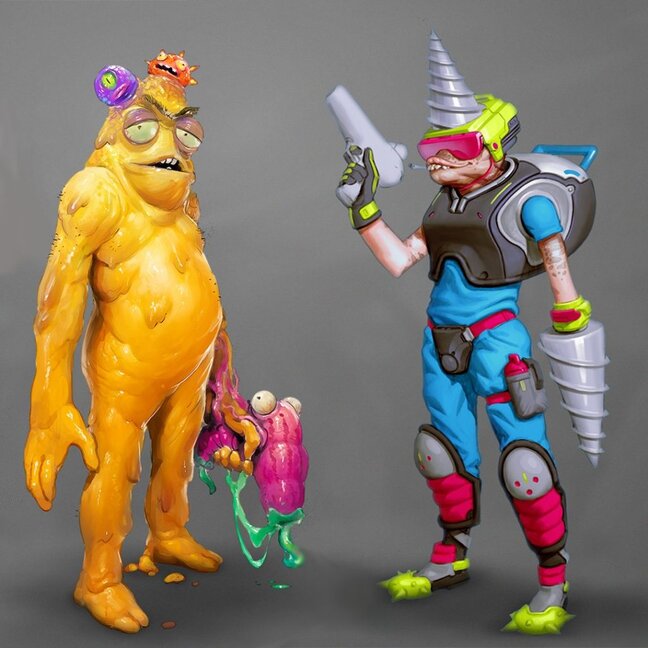 At the helm of these revolting scrambled aliens will be the mighty Garmantuous, commander of the aliens who intend to exploit man as a means of fueling their business. It is up to you, as a marginalized student in contemporary's society, to put an end to this threat.
However, you will not be alone. As an intrepid hero, you'll have to join forces with the Gatlians, an ancient alien race capable of transforming themselves into fearsome weapons of war, to become the intergalactic bounty hunter who will save humanity from extinction.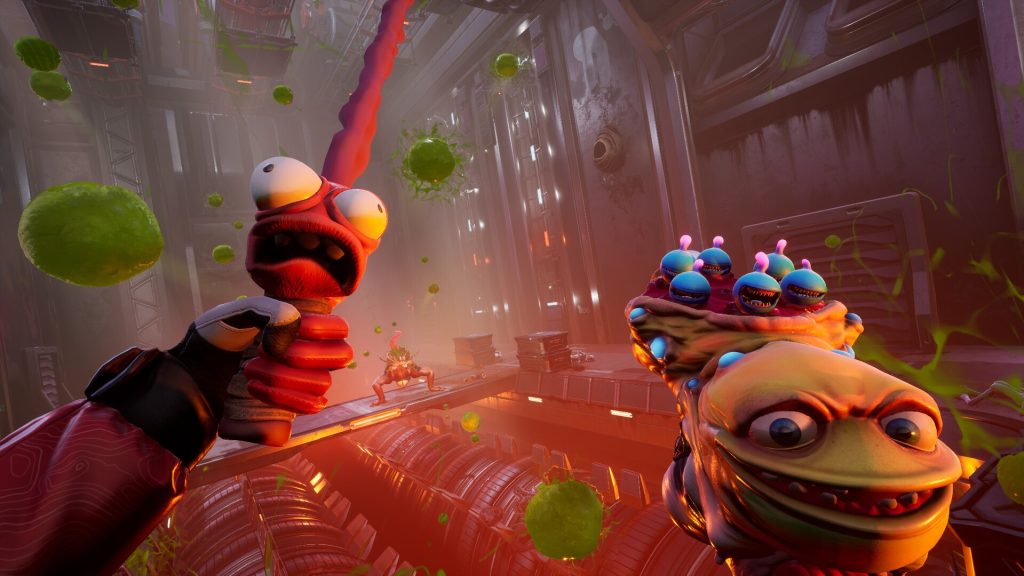 A tragicomic narrative vein will serve as a pretext for unrestrained gameplay and in-depth exploration of the various planets with unforgettable settings such as a massive alien metropolis, a futuristic slum, and even in the midst of unspoiled nature, until reaching the lands of traffickers to put an end to their reckless experiments.
Talking weapons? Guaranteed fun!
The gameplay of High On Life appears to be a crazy sci-fi FPS with some intriguing RPG mechanics. We will begin the adventure with only a few weapons, gradually upgrading the unstoppable weapons we already had, combining the versatility of new talking war machines.
Our weapons will not only be unstoppable and atrocious talking tools with which to sow chaos among the enemy ranks, but also real supporting actors who will not back down and decide to comment on our every move, how we fight, all in Justin Roiland's perfect style.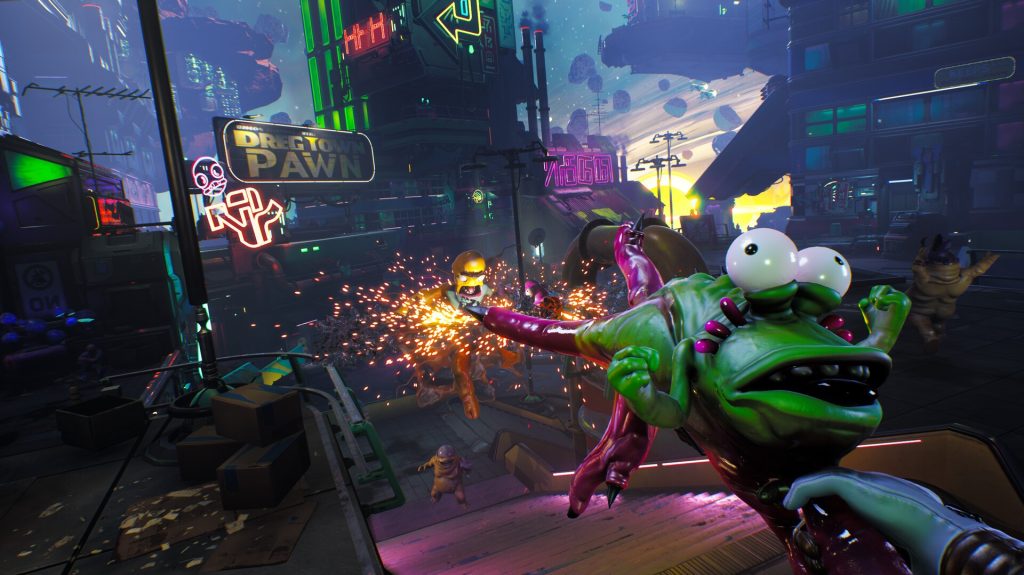 I noticed a standard gun with an adjustable rate of fire, a rifle that generates little blue creatures capable of assisting us in battle, a shotgun that also fires rotating discs if necessary, a grappling hook, and finally "Knifey": a very small edged weapon useful for hand-to-hand combat.
Furthermore, it is unclear what narrative purpose the Gatlians will serve, but based on the information shared, they will have a strong bond with the protagonist, and their relationship will undoubtedly influence the dialogues and, most likely, the narrative's implications.
In terms of RPG elements, I can tell you that we will be able to accumulate resources to upgrade our arsenal or purchase new alien technologies in the appropriate shops. To discover more facets and aspects dedicated to gameplay, simply wait for the game's release date.
Squanch Games: Passion, Love, and Fun
A development team was formed with the goal of captivating players, involving them, and creating a bond between them and the video game. Squanch Games wishes to make its creations available to anyone who wishes to play them. Crazy gaming experiences that captivate all of our senses and transport us to an unforgettable personal or collective atmosphere.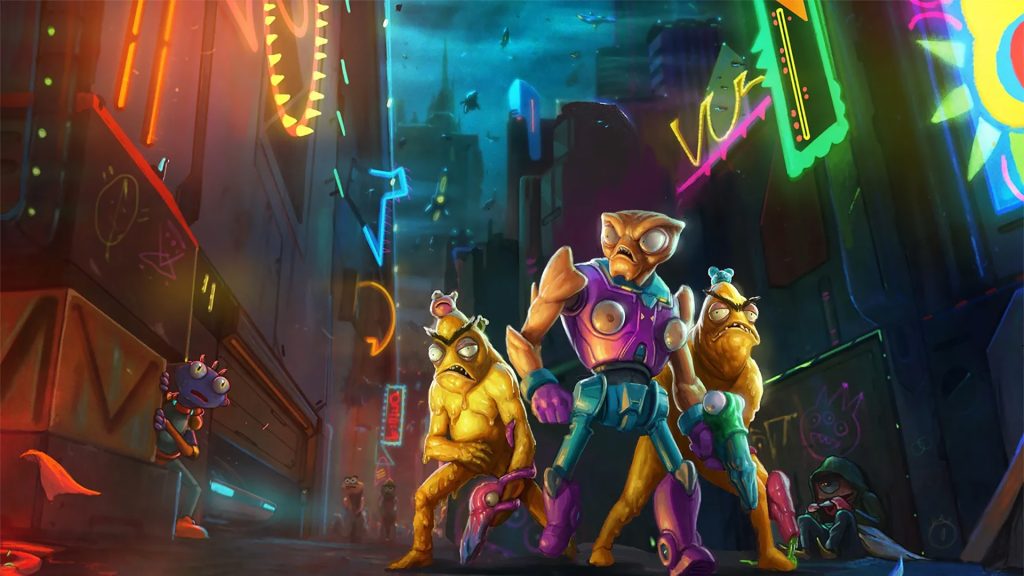 Justin Roiland, co-creator of Adult Swim's Rick & Morty and Hulu's Solar Opposites, had the idea for Squanch Games in his head for several years before the studio was officially formed. For him, the ability to use gaming technology to create fun, new, and exciting content that went beyond television and into the hands of gamers was extremely exciting. Roiland, on the other hand, had a background in television and film entertainment and needed some assistance getting started!
After years of talking to various developers and game industry experts, Roiland finally met Tanya Watson, a games industry veteran with experience in bringing major AAA franchises to market. After realizing they shared a passion for bringing comedic experiences to VR, handheld, and traditional gaming platforms, the two officially founded Squanch Games in 2016.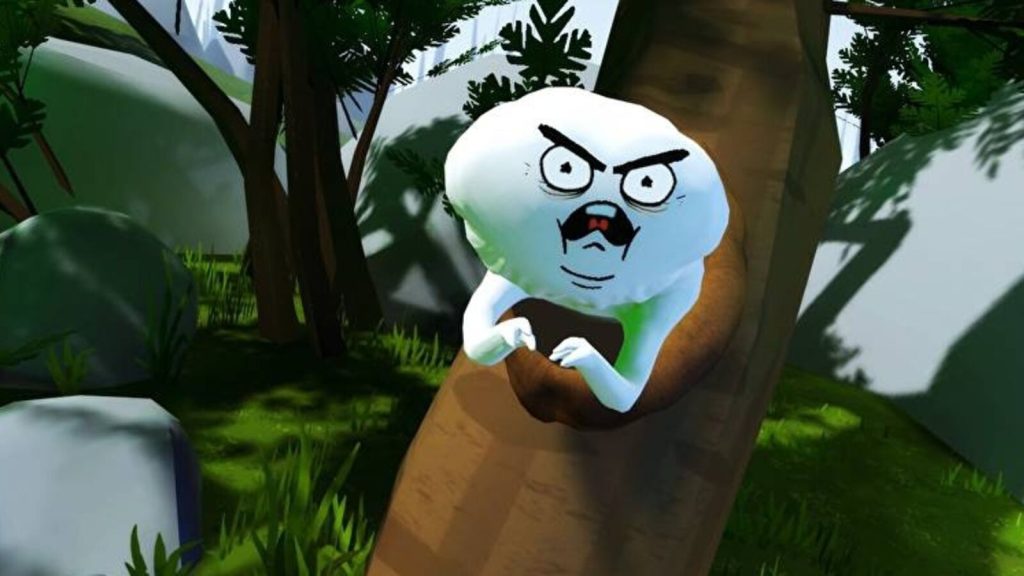 A development team that has always stood out for out-of-the-box ideas, with a focus on tradition and innovation. If you've ever played Trover Saves the Universe or Accounting+, you'll understand what I'm talking about.
And I sincerely hope that High On Life is just another example of how their reality is breaking into the gaming world and establishing itself as a promising and deserving development studio.
It's time to bring the universe back into order
I don't have much else to say except congratulations to Squanch Games on the release of High On Life. Although I can't fully express myself, I believe that the solid foundations we've seen so far will be enough to distinguish High On Life from the other canonical first-person shooters we usually play.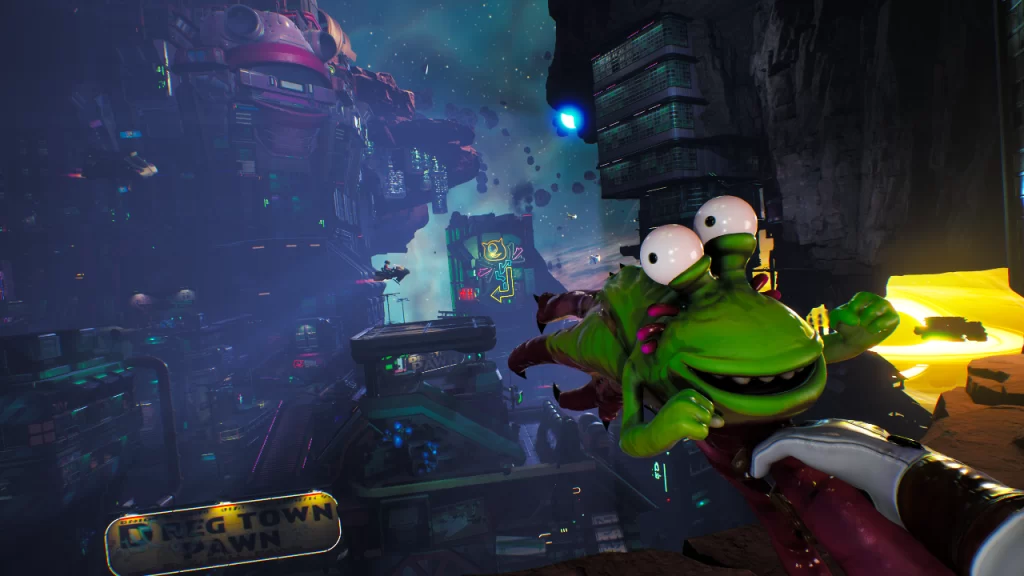 But, now that we've made all of these assumptions, why not sit down on the couch and put ourselves to the test in one of the craziest and most hilarious titles of 2022? Let's band together to rid the universe of alien traffickers!
Useful links: