Assume the role of a fearless and brave warrior and accompany her on a terrible quest in search of vengeance and redemption.
Hellblade: Senua's Sacrifice is the massive project developed by Ninja Theory, a team of British developers already recognized for several very popular videogame projects such as DmC Devil May Cry (2013) and Heavenly Sword (2007).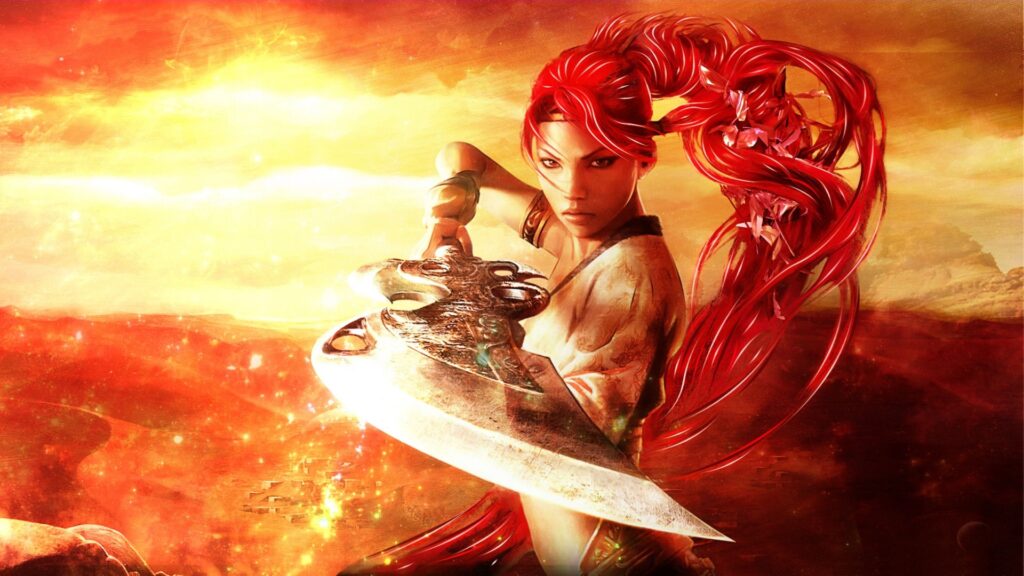 The project, which was released on August 8, 2017 for PlayStation, Xbox, Nintendo Switch, and PC, was an instant hit, thanks to the exceptional work done in the narrative, technical, and sound sectors.
Hellblade has also received numerous major nominations and accolades, including the 2018 Develop Awards for Writing or Narrative Design.
A priceless creation that has established itself from the start as a shocking project with a powerful emotional component, transporting the player's thoughts into a dark and dreary world.
THE CRUEL FATE OF SENUA
The narrative is one of the most important aspects of Hellblade, both for properly understanding the protagonist Senua and for the care and attention to detail that the developers wanted to devote to every detail.
A highly refined and personal narrative sector, which is crucial for us to inform you about the Ninja Theory video game.
For this reason, we recommend that you play this excellent title before contacting any source of information about it. You won't risk depriving yourself of a perfect sensation of identification and emotional involvement this way.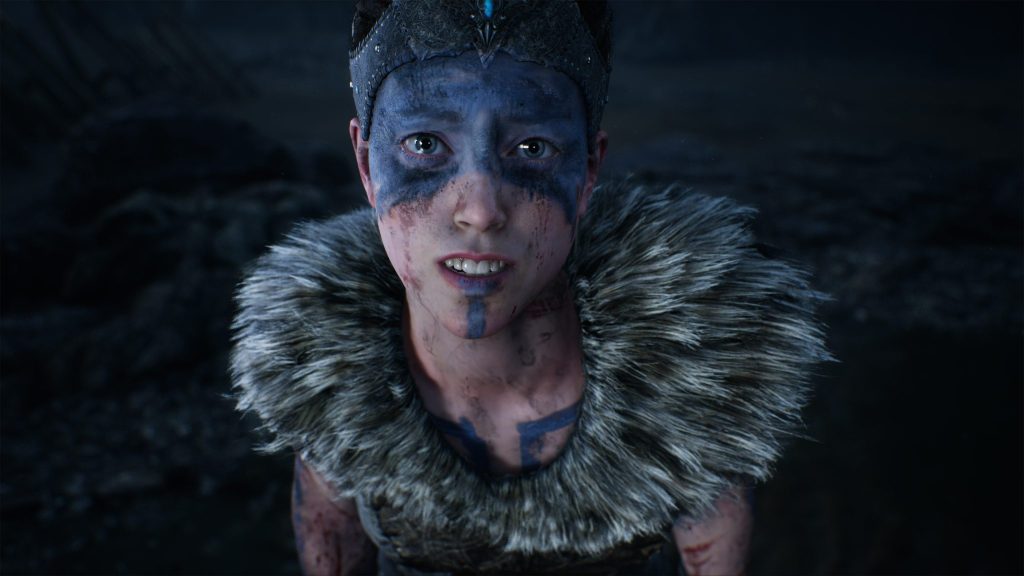 We are in the wilds of ancient Scotland, more specifically the Orkney Islands, at the time of the Norsemen invasion (around the year 800).
Particularly, within local tribes, such as the Picts, the figure of our protagonist Senua emerges: she is essentially a warrior, with her face and some portions of her body painted in a distinctive and identifiable blue.
Senua is a young woman with clear and very deep eyes that are filled with obvious sadness but are also fiercely combative.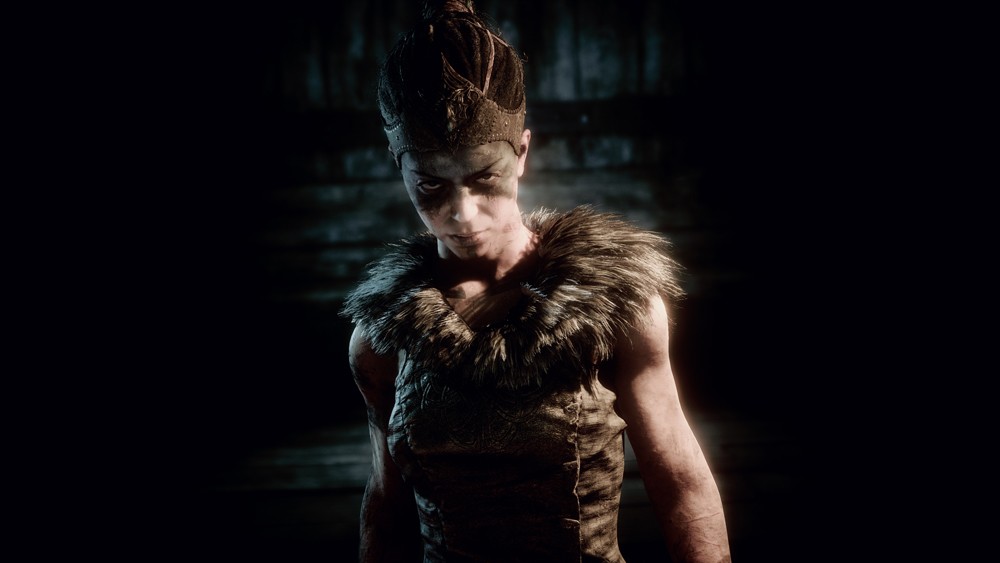 We just know that Galena (Senua's mother) is suffering from madness (as we will discover to be also the daughter). Those plagued by these diseases, in an era like the one in which the narrative is set, were considered cursed and the bearer of misfortune.
For these reasons, Senua's father, Zynbel, a druid who believes he is in direct communication with the spirits, intends to sacrifice his wife for what he believes to be the will of the gods. Zynbel makes the decision to burn her alive. Senua, who is still a child, will assist defenseless powerless in the face of this terrible scene.
This trauma, along with others that progressively resurface, will be suppressed by the girl's mind, manifesting itself in an increase of her psychological disorder.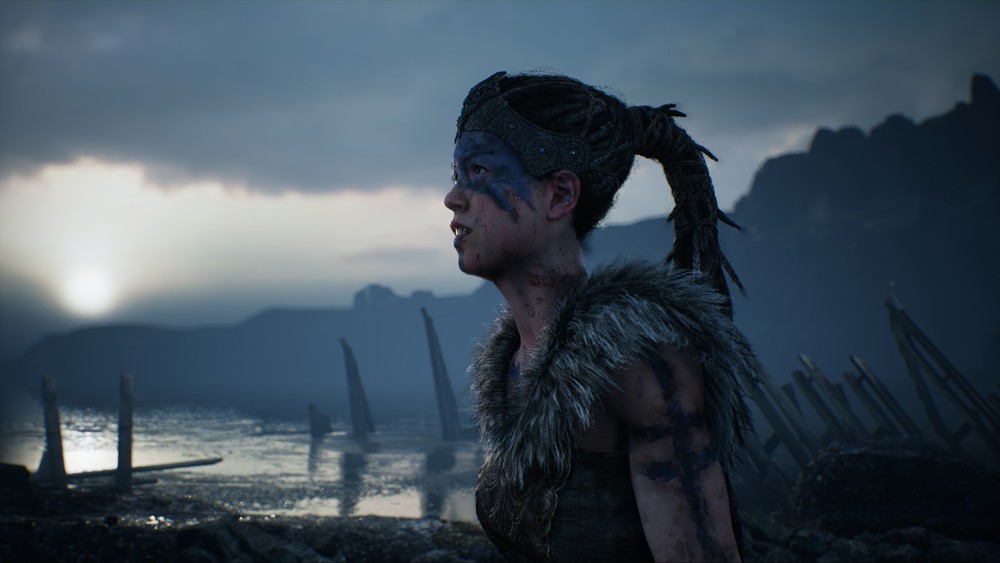 Senua, in fact, hears the voices. These voices have a decidedly important role, both from a playful and narrative point of view. They will guide Senua in her path, but at the same time they will lead the player to suffer the discomfort of our warrior, forced to live in a constant buzz of judgmental words, sometimes overlapping and contrasting that, essentially, never remain silent.
The most traumatic events in her life, which are the source of the instabilities that grasp the young warrior's psyche, are rarely discussed or explained in a hazy manner.
However, it is clear that after sacrificing his wife, the father will engage in repressive and abusive behavior toward his daughter in order to chase away what he refers to as "darkness," which is what we discussed earlier about the mental disorders that begin to manifest themselves more and more in Senua's subconscious.
All of this, however, fuels the daughter's darkness, and she begins to believe that she is responsible for everything around her.
In the rare occasions when her father allows her to go out and wander around the village, Senua meets Dillion, who will initially instruct her on fighting and the use of the sword and will later become her beloved.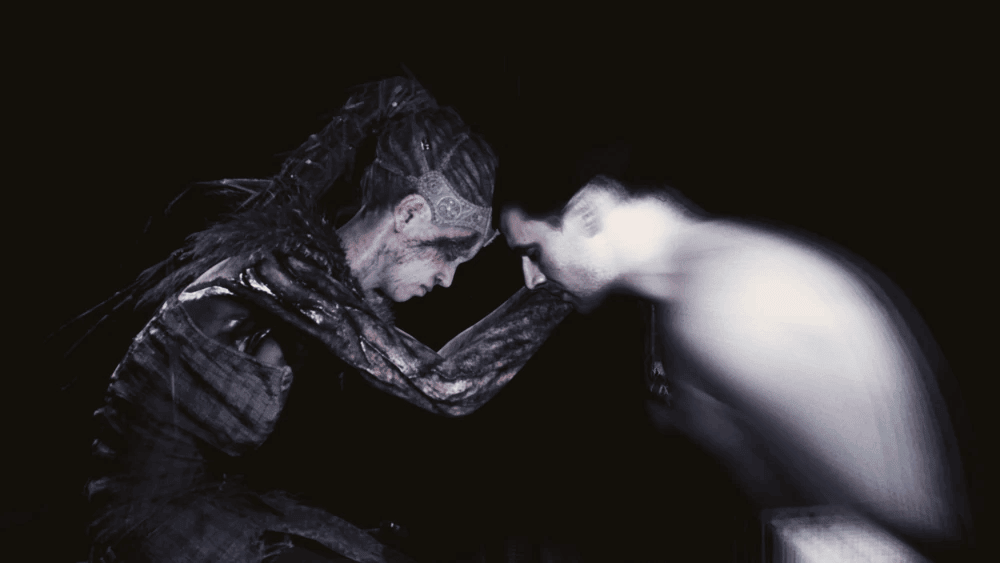 Senua emancipates herself in this beautiful interlude of life and positively lives the love received and offered. Her tranquillity, though, will not endure. Her beloved Dillion will be cruelly murdered following the Norse invasion.
Our young protagonist's world will undoubtedly collapse, and her psyche, voices, and visions will become increasingly powerful. Visions that drive her on a perilous voyage to Helheim, the realm of the dead, in order to recover Dillion.
An intimate, mature, and poignant story that exemplifies the developers' desire to produce an impeccable narrative sector, as well as the outcome of continuous research and study to cope with such a complex and delicate issue.
THE PATH TO THE KINGDOM OF THE DEAD
Hellblade offers a straightforward, intuitive, and above all clear gameplay component from the start. Our goal will be to enter the realm of the dead at whatever cost in order to save Dillion's soul.
The gameplay is in fact a mix between the classic sword-fighting and a fairly detailed exploration of the game environments. To continue it will also be necessary to unveil and solve environmental puzzles, of various difficulties, in perfect Norse symbology.
The fighting sessions are simple and linear, while at the same time maintaining an interesting, balanced and above all very pleasant style.
The game's control scheme is fairly simple, focused on light slashes, heavy blows, parrying, dodging and an extremely powerful kick to break the guard of the most fearsome creatures.
Senua has an intriguing offensive bonus as well. This is the Focus: a brief span of time during which the protagonist can slow time and unleash all of her offensive strength, resulting in a barrage of blows.
This is a unique skill that can only be used after successfully completing a series of actions (dodging, parrying and attacking).
A combat system that is highly intuitive and basic, but yet very fluid in both the protagonist's fundamental motions and more advanced moves such as charged attacks and backward dodging.
As for the enemies, it is very interesting that the aesthetic and spiritual characterization of each hideous creature is the manifestation of the different protagonist's moods. In fact, each of our adversaries has monstrous features and aesthetically appears to us as a sort of dark, gloomy and never distinct presence in our sight.
Each scenario explores the dichotomy between light and dark. The protagonist's state of mind is continually trying to express something to us, both from a playful and narrative point of view. And we admired Ninja Theory's desire to constantly explore and experiment with colors, resulting in a blend of feelings that overlap and create a contrast between light and darkness.
The environmental puzzles are intriguing, but we expected more variation and differentiation in the construction of the numerous riddles. In other circumstances, the entrance will be blocked by a particular number of runic symbols, which we must identify by exploring the game environment. In other circumstances, we'll have to "cross" Senua's mental illusions and investigate supposedly impassable portals.
During our exploration, we will also come across several intriguing inscriptions embellished with runes. By concentrating on them, we will be able to learn important facts and legends about Norse mythology. These entries are also required to complete all trophies.
A CHARMING AND UNUSUAL NORSE MYTHOLOGY
Hellblade: Senua's Sacrifice approaches a sensitive topic like Norse mythology in a creative and unique way, aiming to distinguish itself from the various competitors and provide players with new insights and knowledge on Nordic myths.
And it is essential to underline this aspect precisely because the gaming industry is currently almost saturated with projects that base their foundations on Oriental or Norse stories.
Senua will have to confront scary and formidable creatures in order to cross Helheim's gate. Only once she has defeated them all will she be worthy of entering the Kingdom of the Dead and confronting Hela.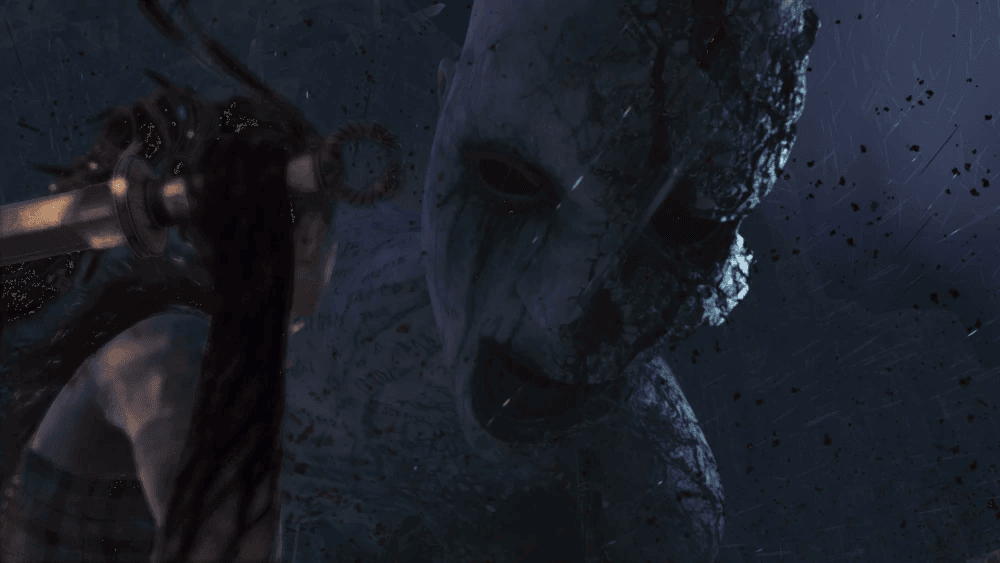 Among the most significant apparitions is a black presence that is absent from most Nordic mythology. Valravn: the deity of illusion. It is a particularly unusual deity, both in form (it is a cross between a crow and a human person) and in its inclusion in Danish mythology.
On a playful and exploratory level, the existence of Valravn is also crucial: only by beating him will we be able to cancel the effects of his illusions and obtain his mark.
This cruel entity is also one of the clear representations of Senua's fears.
On the other side stands the fire giant Surtr: the undisputed master of the kingdom of Muspell. It is a creature from Norse mythology, engaged in Ragnarök to counter and defeat the Æsir.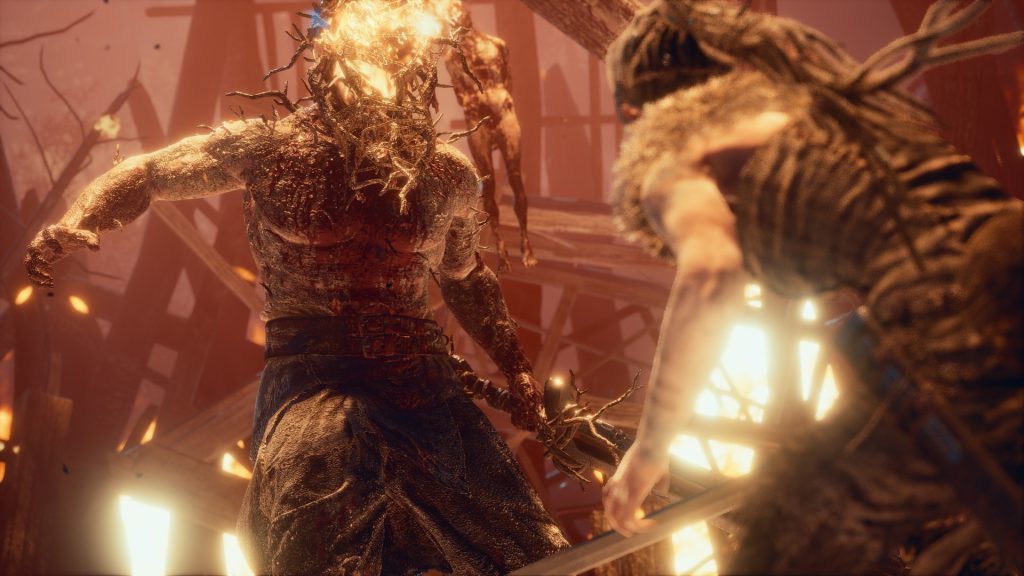 Surtr is a powerful and extremely dangerous enemy. To reach him, Senua will have to face the flames of the Underworld and her fears, to defeat him once and for all and obtain the mark to cross the gates of the kingdom of the dead.
The last creature to mention in this section is the beast that protects Hela: the guardian of the gates of Helheim.
This is Garm: a huge and revolting creature in an evident state of decomposition. It is a creature known to mythology, but represented in other features: the head and jaw are skeletal, while the few remaining parts of meat appear pale and covered with rot.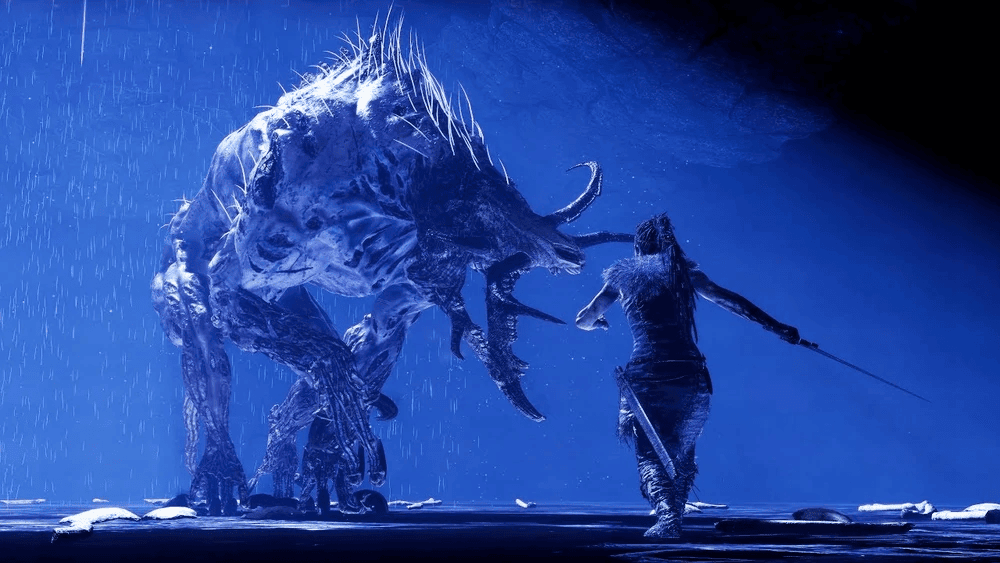 Unfortunately, his amazing combat strength and lucidity more than compensate for his terrible appearance. Garm, in fact, walks in utter darkness and arrives abruptly and rapidly like a shadow, launching a powerful strike in charge.
We believe that the desire to tell the Nordic stories in such a rich and original way gave Hellblade that something extra. Another feature that makes it a must have for lovers of Norse mythology.
SENUA: A COMBINATION OF STRENGTH, AUDACITY AND FRAGILITY
The psychology of the subconscious of the young Senua is among the fundamental mechanics for an effective and concrete understanding of Hellblade: Senua's Sacrifice.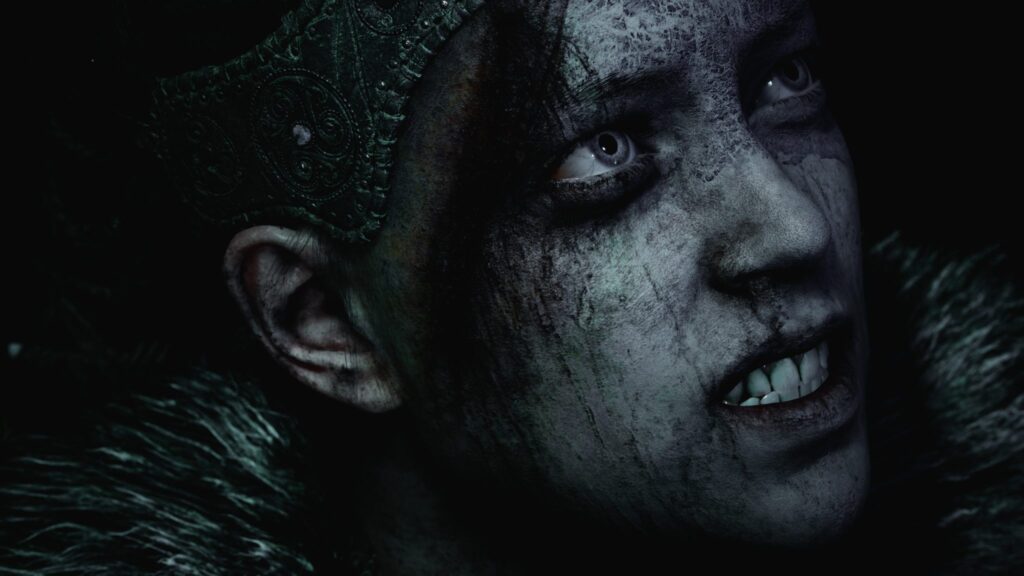 A special mention to Ninja Theory for creating this exceedingly challenging character, as well as to Melina Juergens: an actress and video editor of German nationality of exceptional quality, who manages to give a thousand colors to an extremely complicated character like Senua.
The actress also won the award for best performance at The Game Awards in 2017 and at the British Academy Video Game Awards in 2018.
The German actress's outstanding voice interpretation and expression make the young warrior an immensely rich and well-characterized character.
Senua is a powerful, belligerent, and vulnerable woman. Her heart is torn apart by the loss of her beloved Dillion, and the only way to mend it is to bring him back to life, sacrificing her bodily integrity in order to have him back in her arms.
It is said that an actress perfectly portrays her role when we are immediately able to identify in the character se played, in her situations, in her daily dramas. And we are extremely happy to admit that Melina Juergens has succeeded in full!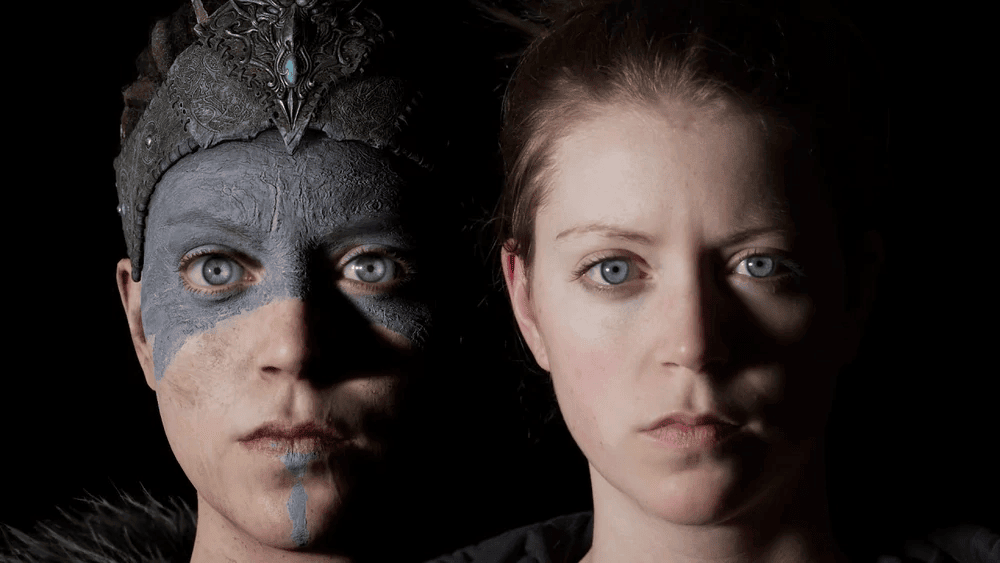 A FLEBLE HOPE IN CRUEL DARKNESS
Hellblade: Senua's Sacrifice is an extremely rare project. A work that stands out from the crowd on both a narrative and psychological level, providing the players with a dramatic, painful, but emotional experience.
We would also want to mention the outstanding work done in the technical and sound sectors. Ninja Theory does not spare itself in this regard, delivering a visually avant-garde product with meticulous attention to the settings and unique characteristics of each character.
It is highly recommended to enjoy this journey with headphones in order to not miss any details, the beautiful soundtrack or the constant whispers that afflict Senua's soul. No detail is left to chance!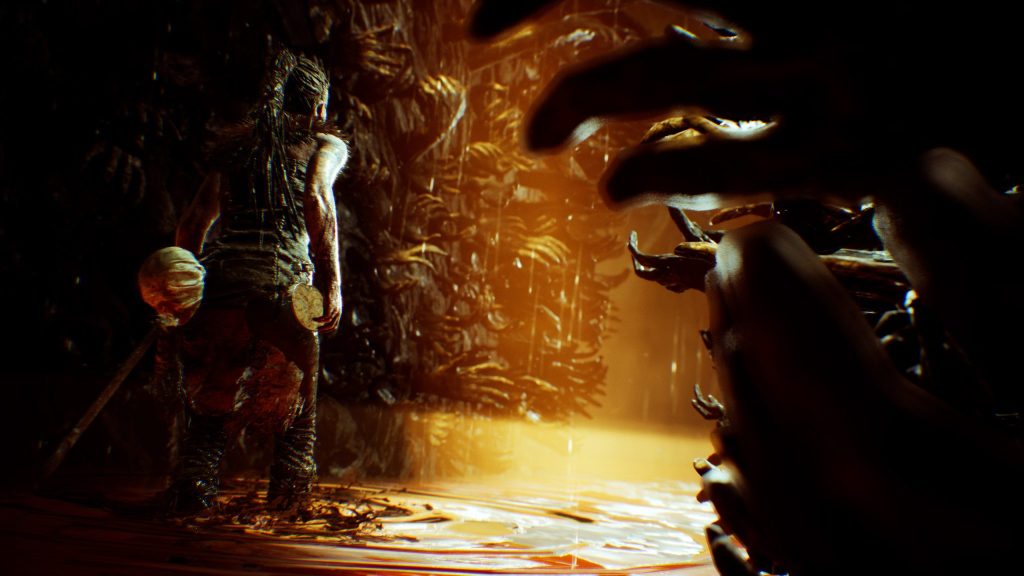 Despite some slight imperfections on the environmental puzzles and on the gameplay in general, Hellblade is an experience to say the least not to be missed, as long as you go in search of a project based on a strong narrative and psychological component.
What the hell are you waiting for? Pick up your sword and live a memorable adventure in the company of the young Senua!
Useful links:
Hellblade: Senua's Sacrifice website
Hellblade: Senua's Sacrifice
"Hellblade: Senua's Sacrifice is the massive project developed by Ninja Theory, a team of British developers already recognized for several very popular videogame projects such as DmC Devil May Cry (2013) and Heavenly Sword (2007). The project, which was released on August 8, 2017 for PlayStation, Xbox, Nintendo Switch, and PC, was an instant hit, thanks to the exceptional work done in the narrative, technical, and sound sectors."
9.5/10