Angry Demon Studio will take us with this demo to a world of twisted toys and murderous unicorns. Riding our Hoverboard we will have to dismember our enemies and make our way through a destroyed land.
I must confess that as soon as I installed the demo of Gori: Cuddle Carnage, I had no idea what to expect. Of one thing, however, I was sure. I would not have had to deal with a game "like the others".
Already from the introduction we get to know the main protagonists.
Gori: Our star, an adorable and tough red kitten.
F.R.A.N.K.: our hoverboard with a consciousness of its own. It is both a vehicle and a lethal weapon, thanks to its razor-sharp blades. I forgot: he says a monstrous amount of profanity.
CH1-P: A depressed modular AI that does nothing but whine as we take out hordes of depraved toys.
You got it right! Our heroes will have to face, at least in this demo, a horde of ferocious and lovable killer unicorns.
A Lovely Army
Our trio are drawn against their will into a battle that has wiped out humans and devastated the earth. The Adorable Army, with its Dark Leaders decided to eliminate everything that for them was not cute and cuddly enough.
In light of this, we would have to face a horde of mutant and bloodthirsty toys.
Our spaceship is attacked and we are forced to make an emergency landing. So Gori and F.R.A.N.K.  leave in search of a component to get back on the road. Obviously the Adorable Army does not agree with our choice and will try to stop our heroes by any means.
Skate 'n' Slash 
After the premise of the intro we find ourselves directly in the action.
The demo is basically a tutorial that gets us familiar with the basic mechanics.
Gori: Cuddle Carnage is a third person hack 'n' slash that borrows mechanics from the various cornerstones of the genre (DMC, Bayonetta, Astral Chain, Nier Automata…). Gori already starts the adventure with a very long double jump, a dash, a dodge and a spinning hoverboard attack.
F.R.A.N.K. can allow us to slide by adhering to some side walls or rails made of neon suspended in the air.
In combat Gori will be able to use light and heavy attacks with a good list of combos to read directly from the pause menu in game. Double jumping can also hurt enemies in groups and give a lot of mobility. Furthermore, a dodge made at the right time will activate a sort of witch time, slowing down time.
In addition to the life bar we will have a fuel bar. The latter will be used to be able to make super hits using RT plus the respective attack button. These moves while effective consume a lot of fuel. Remember to retrieve it from the dispensers scattered around the map or by destroying the surrounding environment.
During the clashes based on the combos made, the time taken and our ability not to get hit, we will increase our score. At the end of the fight we will get an overall evaluation of the battle.
We will be able to buy new skills and upgrades for Gori directly from a device located on the map.
Going forward with the adventure we will meet not only simple unicorns. These deviant creatures will come with attachments including ranged weapons and very dangerous insectoid scythes. Even more dangerous will be those with a barrier that can only be destroyed with a certain type of attack.
We will continue our massacre until we get to a boss battle, after which the demo ends.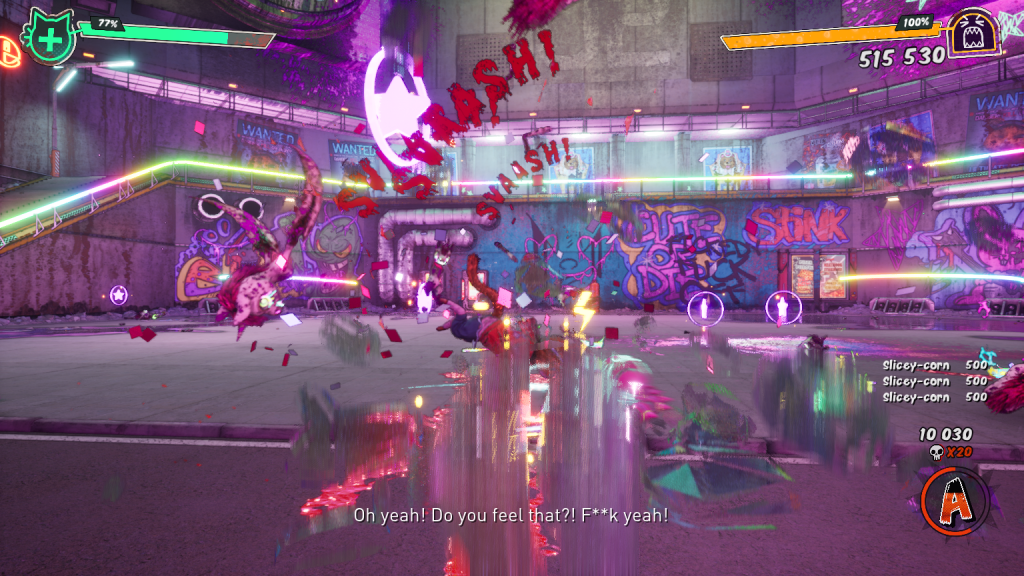 Gore, Neon and Softness
What is most striking about Gori is certainly the graphic style and the music. The character design is really well done and in a few minutes we can understand the feelings of the protagonists.
The decadent steam/cyberpunk setting is made really well. While the neon colors with an almost acid tone give that extra touch. Both the design of the unicorns and the protagonists help a lot to the purely technical and graphic deficiencies. For example, Gori seems soft but at the same time bloodthirsty and lethal. Not to mention F.R.A.N.K. who does nothing but comment with an avalanche of profanity and beeps throughout the gameplay. Angry Demon Studio has chosen an unusual route. In addition to the vulgar language, the battles are bloody, and we will literally see unicorn shreds flying surrounded by their blood.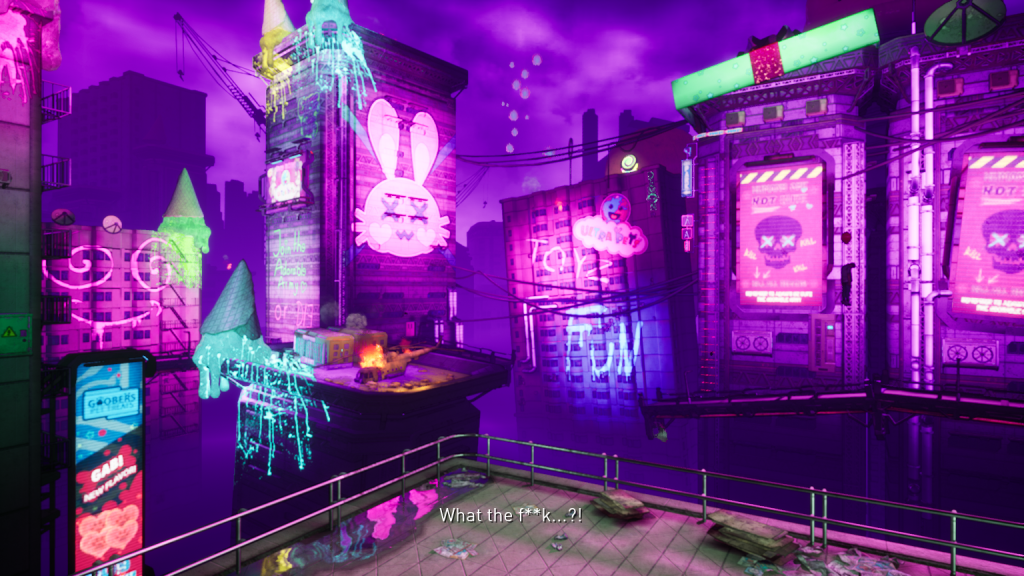 My Two Cents
Gori: Cuddle Carnage demo although it does not shine on the technical aspect, given the numerous micro freezes and the not exceptional graphics, it has a truly remarkable impact. Especially for the attention to detail, especially on the characters. Even if all those neon colors create some confusion during the fights.
The combat system is promising. The developers probably want to focus everything on the mobility and use of the hoverboard and its characteristics. The arenas are large and seem made to allow us this. Also because it would be difficult to manage the hordes of enemies by only dodging and fighting.
The boss we will face also requires a lot of mobility and he will always be accompanied by hordes of mobs.
Working on correcting some inaccuracy on jumping, cameras and targeting issues this game could be a really nice surprise.
Available for PS5, PS4, XBOX SERIES X|S and ONE, NINTENDO SWITCH and PC for 2023