Our interview with David Younger: Writer, Director and Producer of Foolish Mortals.
Foolish Mortals is a new and macabre point-and-click adventure developed by Inklingwood Studios.
A project that drew the attention of many fans right away, thanks to a Kickstarter Campaign that reached its main goal in less than 24 hours!
It's a mysterious and dark journey in which players will take on the role of Murphy McCallan, a young treasure hunter who explores the island of Devil's Rock in search of the lost treasure of Bellemore Manor.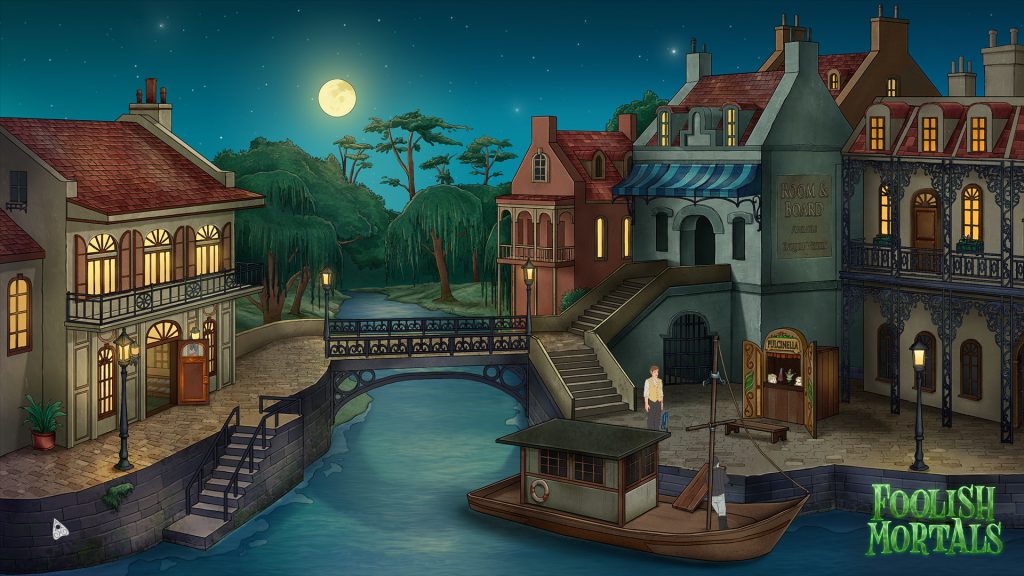 A disturbing and dramatic experience filled with cryptic puzzles to solve and creepy environments to explore in order to unravel an ancient mystery.
What could be better than discussing it on Halloween Night? The night of dark forebodings and uncontrollable evil spirits roaming the streets of cities?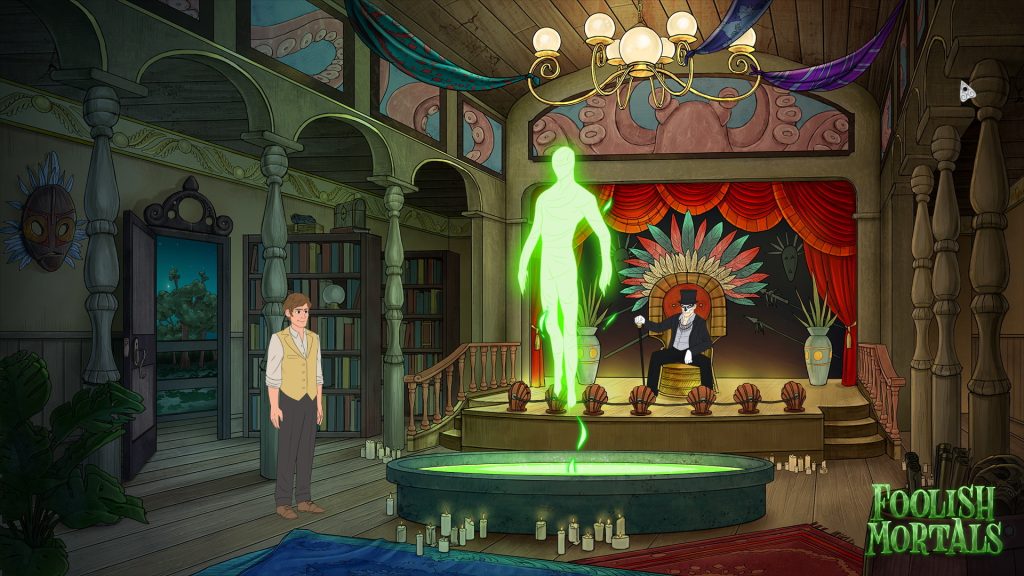 For these reasons we decided to interview David Younger, the writer, director, and producer of Foolish Mortals, in order to learn more about the most important aspects of this title.
Before I leave you to read the interview, I'd like to remind you that you can still support the project on Kickstarter, and there are only three days left until the campaign ends. Hurry up!
Francesco:
More than 30 people have contributed to the development of Foolish Mortals. But how did you come up with the idea, which was then transformed into the video game you're working on? Could you tell us a little bit about your artistic background?
David Younger:
My background is actually in theme park design, where I worked as creative designer and writer on park and attraction concepts before COVID hit all of that work ground to a halt.
I'd wanted to make an adventure game ever since I was a child, when I used to make my own adventure games by drawing out the locations on paper and blue-tacking down the spirits (although I didn't know that term at the time!) for my friends to play, and realized that there would be no better time to embark on the project than that moment.
Coincidentally, my wife Sophie went on maternity leave at the same time, and despite working as a primary school teacher decided that she wanted to contribute, so taught herself how to program the game. Without Sophie, this really wouldn't have been possible in the timeframe we're working to.
There's a lot of design concepts that overlap between theme park design and video game design because they both try to tell story primarily through environment: I just don't have to worry about queue lines and restrooms any longer!
Francesco:
The Kickstarter Campaign was a success, with the main goal reached in less than 24 hours! Are you pleased with the response from those who followed the project? What improvements would you like to make to the project after this significant milestone?
David Younger:
The response has been incredible, not only in terms of how quickly we reached our goal, but also in terms of how involved our backer community has been in pushing the game to be the best it can be, which is something I'm extremely grateful for.
We had to cut some things out when we first designed the game to stay within the budget I had ("value engineering" is the theme park term for it! ), but thanks to exceeding the Kickstarter goal, we were able to add all of those things back in, as well as additional budget for things like bonus animation and bonus music. For example, in Part 1 of the game, you had to find five ingredients for a Summoning Spell, but now we're upping that to seven!
Francesco:
Foolish Mortals is a dark and macabre adventure full of mysteries to solve. Do you want to tell us why you decided to focus on this point-and-click adventure game concept?
David Younger:
We describe the game as "merry & macabre" because there are dark moments with skeletons, murder, and evil voodoo, but they are interspersed with moments of levity and humour, from Murphy's comments on his bizarre situation to the eccentric characters populating the game's setting: Devil's Rock.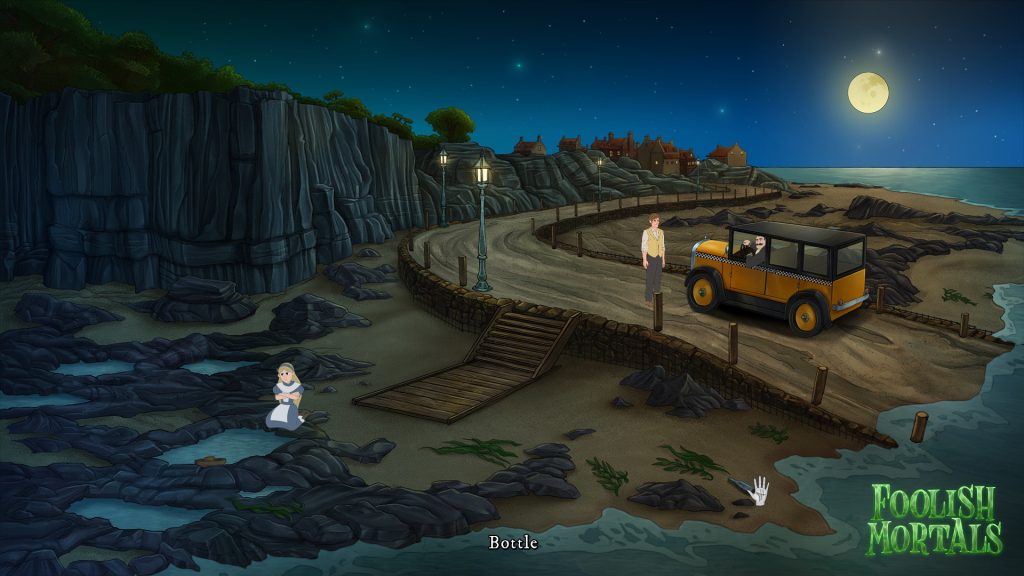 We may have a manor house full of displaced spirits, but they've mostly just accepted their death as a fact of life, with some unusual results: the perpetually fighting Tallagoula Twins have discovered that a pistol duel isn't quite as decisive as it used to be, and Madame Planchette the psychic medium has discovered that communicating with the dead isn't quite as impressive when she's dead as well.
Some spirits, however, are more malevolent, and it's up to Murphy to figure out what they're after.
Francesco:
A wedding vanished, a treasure lost, and a broken heart. Our disturbing adventure will begin with these assumptions. How did you create the narrative sector and Murphy McCallan's story?
David Younger:
We chose this story after considering two other story concepts, and we originally chose this one (which we called "The Ghost Game" at the time) because it would be the easiest to make. That all changed when we started exploring the concept and realized how exciting the story could develop, the locations Murphy could visit, the characters he could meet, and it all grew into a full-length adventure game.
I spent six months working on the story and puzzles before we committed to making the game, and I have pages and pages of locations, puzzles, characters, and story concepts that never made it into the game (including an entirely different Part 3).
I can still remember the moment the story 'clicked' into place for me, when I leapt to my feet in front of Sophie and eagerly recounted the story I'd come up with.
Francesco:
How long will the full gameplay experience last, including the narrative, gameplay, puzzle solving, and any side missions?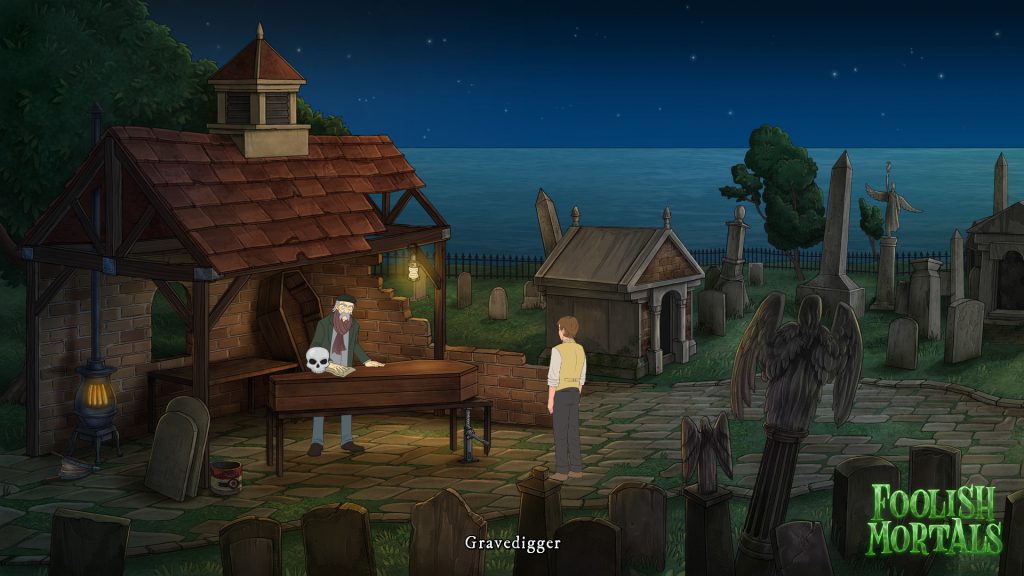 David Younger:
The full game should be about the same length as classic adventure games from the 1990s like Monkey Island, Broken Sword, and Grim Fandango. It is definitely a full-length experience! The game is divided into four parts, the first of which is revealed in the demo as 'The Summoning Spell.'
Francesco:
The playful component is divided into a wide range of mechanics and solutions. What exactly should we be bracing ourselves for? And what are the main components of Foolish Mortals' gameplay?
David Younger:
Foolish Mortals will be a classic adventure game centered on using inventory items, exploring the environment, and talking to the characters you meet to solve puzzles and accomplish an overarching goal in each section of the game – all in search of Bellemore Manor's lost treasure.
We don't have any reflex-based challenges, no places where you can get permanently stuck, and you can't die…at least not in the sense of restoring, restarting, or quitting!
You'll be collecting ingredients on an old voodoo manuscript, firing the cannons of an old French fort, sneaking into a club for sea captains, getting buried alive, climbing down a wishing well, and much more as you race an evil phantom to the Bellemore treasure and discover the terrible secret that connects it to the vanished wedding, among other things.
Francesco:
The hand-drawn setting is very evocative, and the artistic direction impressed me with its high quality. Has an historical event or a literary work influenced you in any way, or is it entirely the result of your ideas and imagination?
David Younger:
Foolish Mortals has taken inspiration from all sorts of media, from other adventure games like Monkey Island and Broken Sword, to movies like The Goonies, The Rescuers, and The Addams Family. And of course, given my background, the concept originated in the world of theme parks.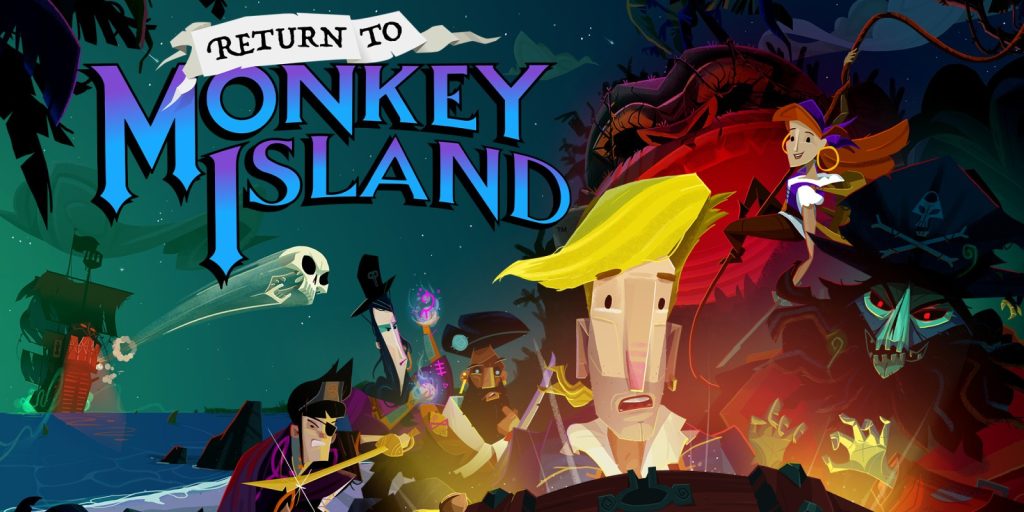 Ron Gilbert once stated that he wanted Monkey Island to feel like the Pirates of the Caribbean ride at Disneyland, but with the added bonus of being able to step out of your boat and explore the entire storybook world.
Foolish Mortals began by imagining what it would be like to step out of your Doombuggy on Disneyland's The Haunted Mansion ride.
Unlike many haunted house stories, I didn't want the entire game to take place solely inside a house, so we built the island of Devil's Rock around it to include a voodoo riverboat in the bayou, an old French-Caribbean fort, and the creaking port town of Deadnettle.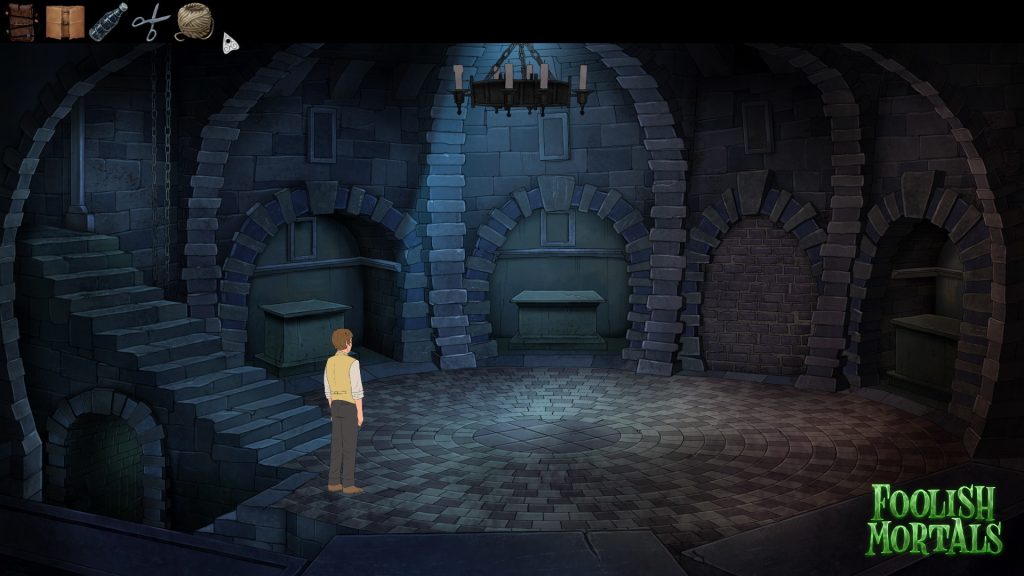 The main goal was to recombine the tropes of treasure hunts and haunted houses into an original story.
Francesco:
I believe that voice-acting is an essential component of any video game project, and I noticed that one of the project's final goals is to give all of the characters voices and interpretations. What are the next steps in the process of voice-acting and sound design?
David Younger:
That's right! The game, like the demo, will be fully voiced – and with another twenty-seven characters in the full game in addition to the eight in the demo, that's a lot of characters to cast for! All of our demo voice actors will return, of course, but we plan to hold a casting call for the new characters sometime next year, and I can't wait to hear how they sound!
The voice-acting for the demo was also rushed, so we know better systems will be in place for the full game to ensure leveling across voice, music, and sound effects is tighter.
Francesco:
Do you have any upcoming projects that you'd like to tell us about? Would you rather focus on a future DLC or the development of a new IP?
David Younger:
We're currently focusing on Foolish Mortals, and there are no plans for DLC because the story of Foolish Mortals is so self-contained. But, having said that, we've had so much fun making it that, as long as this game is successful, we'd love to make another adventure game – I'm just not sure what it would be!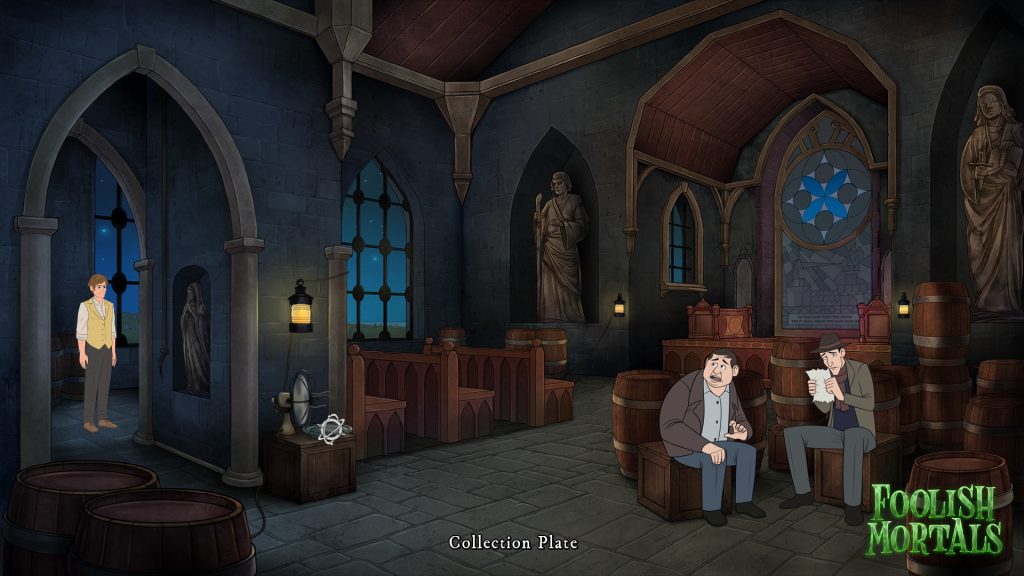 Conclusion
If this interview has piqued your interest in Foolish Mortals, all you have to do now is keep up with the latest project news, wait for the release, and play the demo available on Steam.
Looking forward to exploring the dark island of Devil's Rock, we thank David Younger for his availability and wish him the best of luck with the project's future.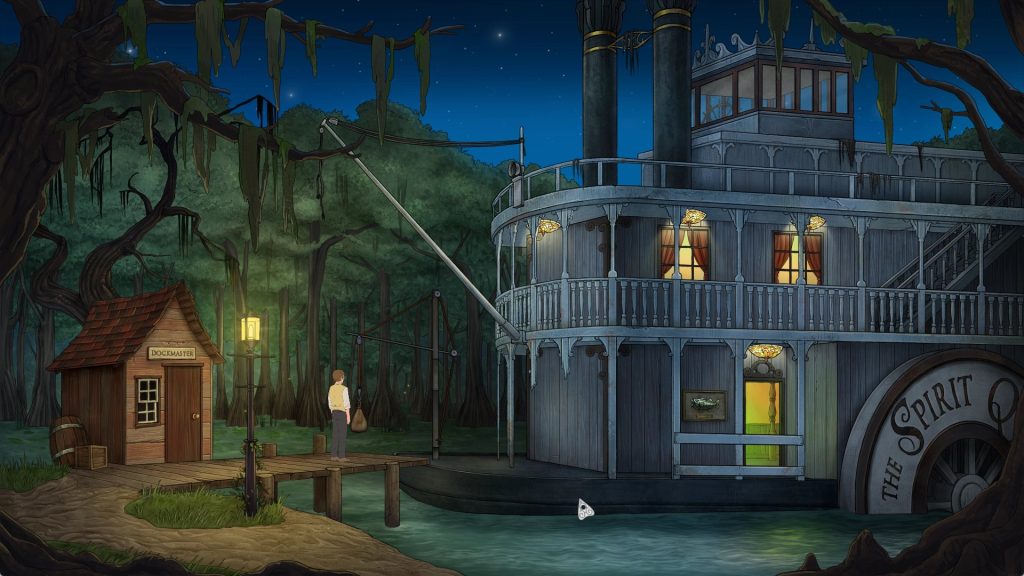 If you, too, can't wait to embark on this journey, we invite you to stay up to date on the development team's official contacts and to follow us for more news about this intriguing video game.
Useful links:
Foolish Mortals (Twitter)