A beautiful action-adventure RPG set amidst the pristine beauty of the cozy Alpine village of Hinterberg. Join the burnt-out law trainee Luisa and get swept away by the natural wonders of the Austrian Alps.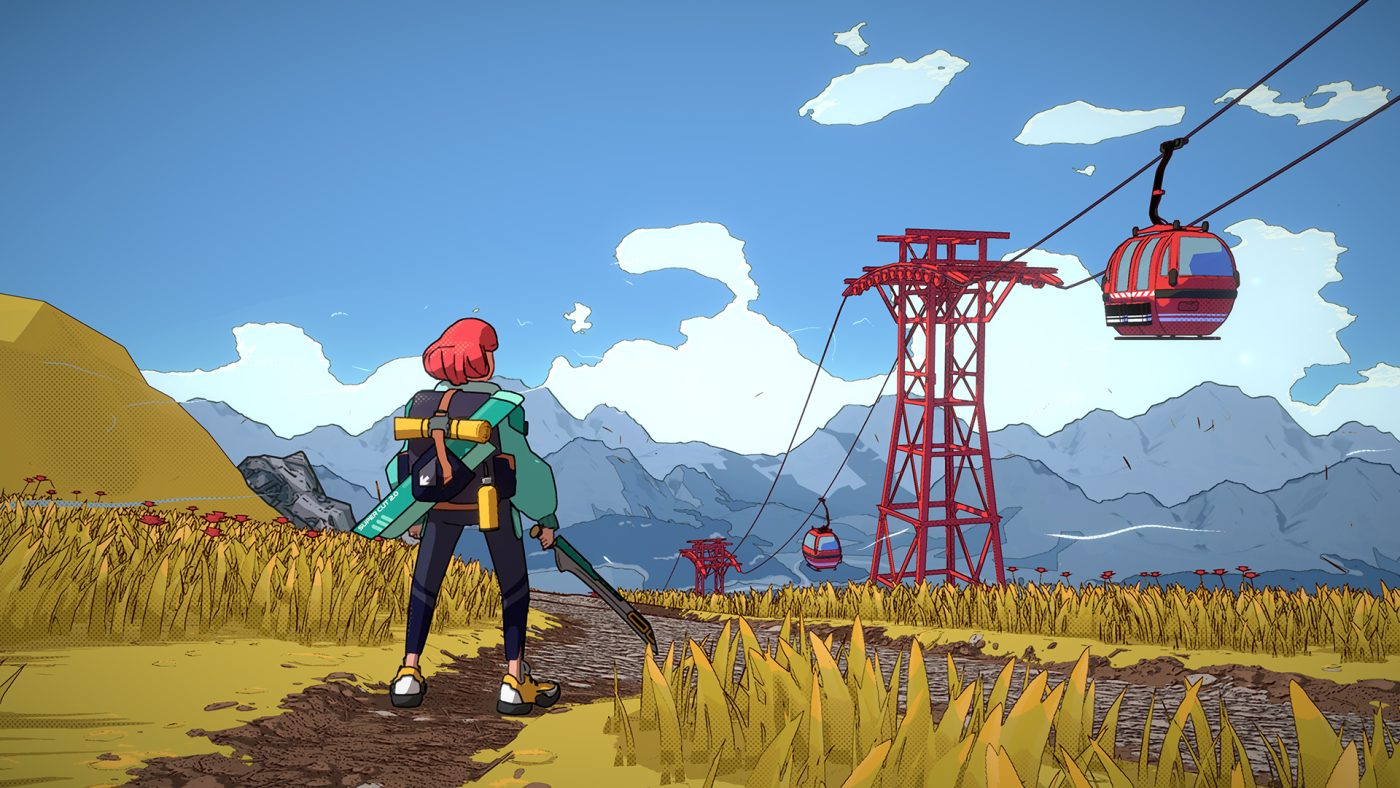 You know, the magnetic pull of the Alps is simply irresistible. The enchanting sight of snow-draped mountains, the serene ambiance filled with the soft whispers of nature, the leisurely strolls along winding trails, and the captivating allure of riding a cable car to reach the highest peaks. What if we told you that Dungeons of Hinterberg manages to capture all of these sensations within a single experience?
From the Austrian-based development team at Microbird Games, in collaboration with the British publisher Curve Games, arrives Dungeons of Hinterberg, a fascinating alpine action-adventure RPG with fantasy undertones and life sim element, planned to be released in 2024 for PC and Xbox Series X/S.
So, without further ado, let's embark on a journey to Austria and uncover what awaits us in Hinterberg.
Microbird Games' unbreakable bond with Austria
Dungeons of Hinterberg provides us with a glimpse into its development team, Microbird Games, a small indie game studio founded in 2020 by Regina Reisinger and Philipp Seifried.
Both of them bring extensive experience in video game development. Consider Regina Reisinger's background in the computer games industry, complemented by her skills in modeling, texturing, pipeline setup, tech art, and game development. Notably, her expertise extends to classical graphic design and 2D backgrounds. She is not only the Co-Founder of the indie studio Microbird but also serves as the 3D & Lead Artist.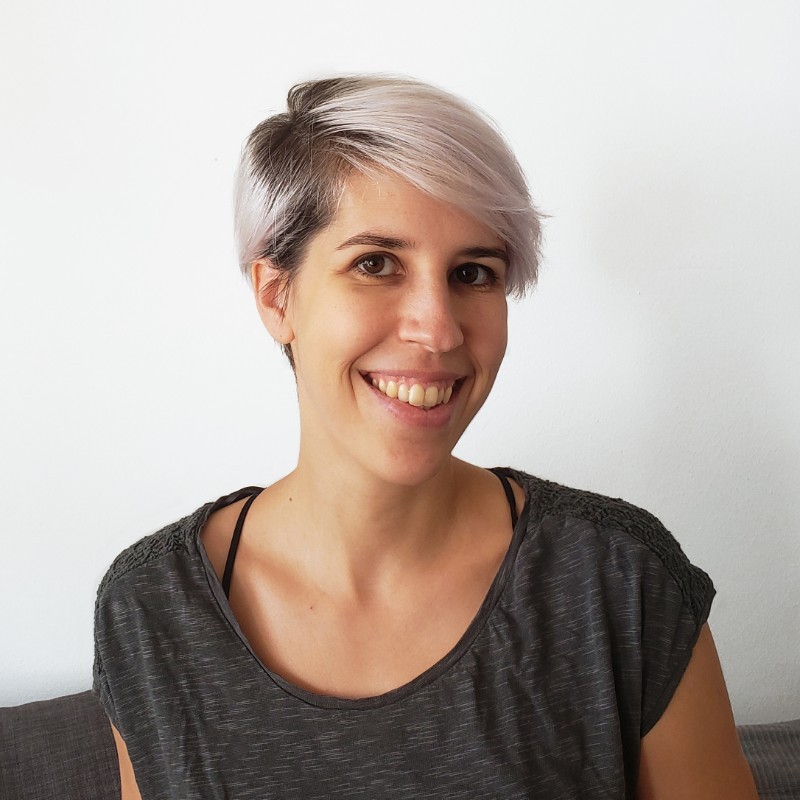 Philipp Seifried equally boasts a wealth of experience in game development. This includes his previous positions as a programmer, game designer, and creative director at Iron Mountain Interactive, a Vienna-based startup co-founded by him in late 2017. Additionally, Philipp has worked as a writer, game designer, and programmer at the mobile game studio Socialspiel and created the critically acclaimed space combat game "Ace Ferrara And The Dino Menace" as a one-man team. Currently, he holds the roles of Co-Founder and Game Designer at Microbird, while also overseeing tech art and management for Dungeons of Hinterberg.
Currently, Microbird Games is composed of a 10-member strong team. While the name of their development team and their logo, featuring a small bird gracefully moving across the letters that form "Microbird," might give the impression of a small studio, it's essential to note that this perception is solely related to the team size. In terms of quality, Microbird continues to stand out, earning recognition for its exceptional art design and the unwavering dedication the team invests in bringing this title to life.
Their approach and philosophy to game development are clear, distinct, and easily translated into pure passion, a deep love for their homeland, nature, art, and a heartfelt tribute to the Austrian landscape. These features are all elegantly reflected in Dungeons of Hinterberg, marking their debut as a team in the video game industry.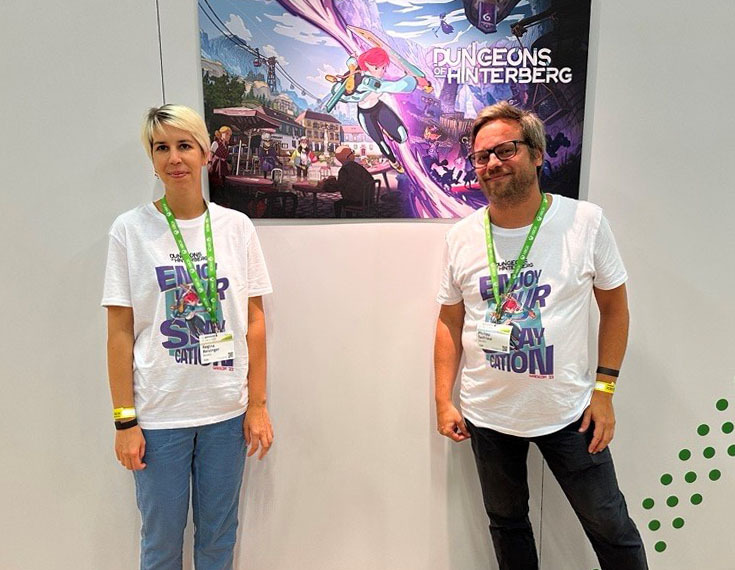 Curve Games: A unique Independent Publisher for Indie Developers
Curve Games is an award-winning independent publisher that has been active since 2005, founded by Jason Perkins and based in the heart of Shoreditch, London. The company has been collaborating with some of the industry's top talents to shape and amplify what we can define as the "Triple-I Games" scene.
The team is currently undergoing a significant transformation, as CEO John Clark of Curve Games explains, providing us with a clear and direct explanation of the team's modus operandi:
"Our first skill is finding games we love, made by developers we trust and respect. Our second strength is being able to turn those developers' ambitions into reality. Together, we are achieving progress faster and more efficiently than many organisations ten times our size. Our culture is based on strength and success through knowledge – learning from each other and our partners and being laser focused on improvement every single day."
Curve Games defines itself with the adjectives "Independent, Innovative, and Inspirational." The company is composed of a talented team of industry experts who place integrity and empathy at the core of their growth strategy. As a result, it holds a prominent position as a veteran and influential company in the publishing industry, boasting an extensive portfolio of titles, including notable ones such as The Ascent, For The King, Human: Fall Flat, and, naturally, Dungeons of Hinterberg, to name just a few.
Does the village of Hinterberg actually exist? Does it correspond to a real place?
Before we delve deep into Dungeons of Hinterberg, let's address one of the most frequently asked questions surrounding Microbird Games' project. Yes, Hinterberg does indeed exist. It's a real place, and quite beautiful, if you're curious to find out.
More precisely, it's a tiny village in the municipality of Böheimkirchen, nestled at the foothills of Southern Austria. The village of Hinterberg is located one kilometer northeast of Böheimkirchen, just north of Lanzendorf, at an elevation of exactly 250 meters above sea level. It's an incredibly captivating area from a natural and geographical perspective, surrounded by the beauty of the Alps and immersed in pristine nature.
Perhaps the most intriguing aspect of Hinterberg is its population, as of January 1, 2023, records indicate that the village is home to a total of 75 residents!
Historical references about the village are quite limited. However, you can find mention of Hinterberg in the Franziszeischen Cadastre around 1821, describing it as "a village with various large and small properties along the road."
While we don't know precisely which event, anecdote, or particular circumstance influenced the developers in designing the setting of Dungeons of Hinterberg, we find it quite fascinating. It's truly intriguing how a small village could have served as a source of inspiration for Microbird in shaping the concept, and how the art design and game world convey that feeling of home, familiarity, and everyday warmth. However, we will delve into this specific aspect in the upcoming sections.
Holidays in the Alps
Before delving into a glimpse of the game's narrative, it's crucial to start with a premise, a foundational assumption that will provide you with a clearer insight into how Microbird will craft the storyline, setting, and context, shaping the overall experience.
Dungeons of Hinterberg aims to capture the splendor of the Hinterberg village, the harmonious embrace of nature, and the profound sense of peace and serenity awaiting players. However, it achieves this through a different interpretive lens, reimagining it in a more fantasy setting, as if the developers were narrating a tangible, real-life fairy tale, interwoven with elements from the fantasy world, in an adventure that straddles the line between the real and the fantastical.
Microbird's approach is, naturally, a different and unique method of narrating the story of Hinterberg. It centers around two highly captivating elements: an unconventional storytelling approach and the foundational feature upon which this storytelling is built—the dungeons.
The plot immerses us in in the story of Luisa, a young burnt-out law trainee taking a break from her fast-paced corporate life to conquer the Dungeons of Hinterberg. Armed with a sword and a tourist guide, Luisa must navigate a world infused with magic and navigate challenging dungeons and slaying monsters.
The goal is to reimagine the tourist hotspot of Hinterberg in a fresh light, where the most entincing tourist attraction isn't the cable cars or even the mountains themselves; it's the magical dungeons and the thrill of monster-slaying that beckon and captivate adventurers from every corner of the world. Microbird's team has a simple concept in mind: instead of taking a traditional vacation, you'll be immersed in the art of monster-slaying. Will you be able to handle the pressure? Will you be sent packing on your first day, or will you stay on to become a Master Slayer?
Strolling through Hinterberg
Luisa's life in Hinterberg is divided into two distinct phases: the "action phase", where our protagonist tests her Monster Slayer skills within the magical dungeons, and a "social phase", where she explores the world around her, interacts with the locals, and lives her everyday life, all while monster slaying remains an integral part of her daily routine.
In Dungeons of Hinterberg, Microbird integrates various elements that enrich the gameplay of an alpine action-adventure RPG. The foremost among these is the exploration of the game world, which Luisa can traverse on foot, uncovering every hidden corner of Hinterberg, or by using her snowboard, which is perfect for racing along ziplines and taking in the beauty of the glaciers.
And that's not all… You'll have the chance to experience the thrill of mountain climbing, descend from the peak of a glacier, and even… enjoy a coffee by the lakeside. Yes, because life is also about relaxation, every now and then.
And then, of course, there are the dungeons, which don't necessarily mean slaying monsters, massacring creatures, and swinging your SuperCut 2.0 sword, but using your wits! The dungeons offer a significant opportunity to test your mettle with intricate puzzle sections, finding solutions through the application of your intellect and magic. Not to mention the enthralling platforming phases and the highly inspired level design that make up the game.
However, this doesn't mean that combat won't play a significant role within the dungeons. Combat remains an integral part of the dungeons, an aspect where Microbird has meticulously crafted an enchanting blend of physical and magical combat abilities. Alongside wielding her SuperCut 2.0, Luisa can manipulate the world around her, freezing time and harnessing elemental powers. These include the wind, through which she can conjure powerful whirlwinds, and ice, freezing monsters into solid blocks of jelly. Naturally, this is just a brief overview of the abilities that Luisa will have at her disposal.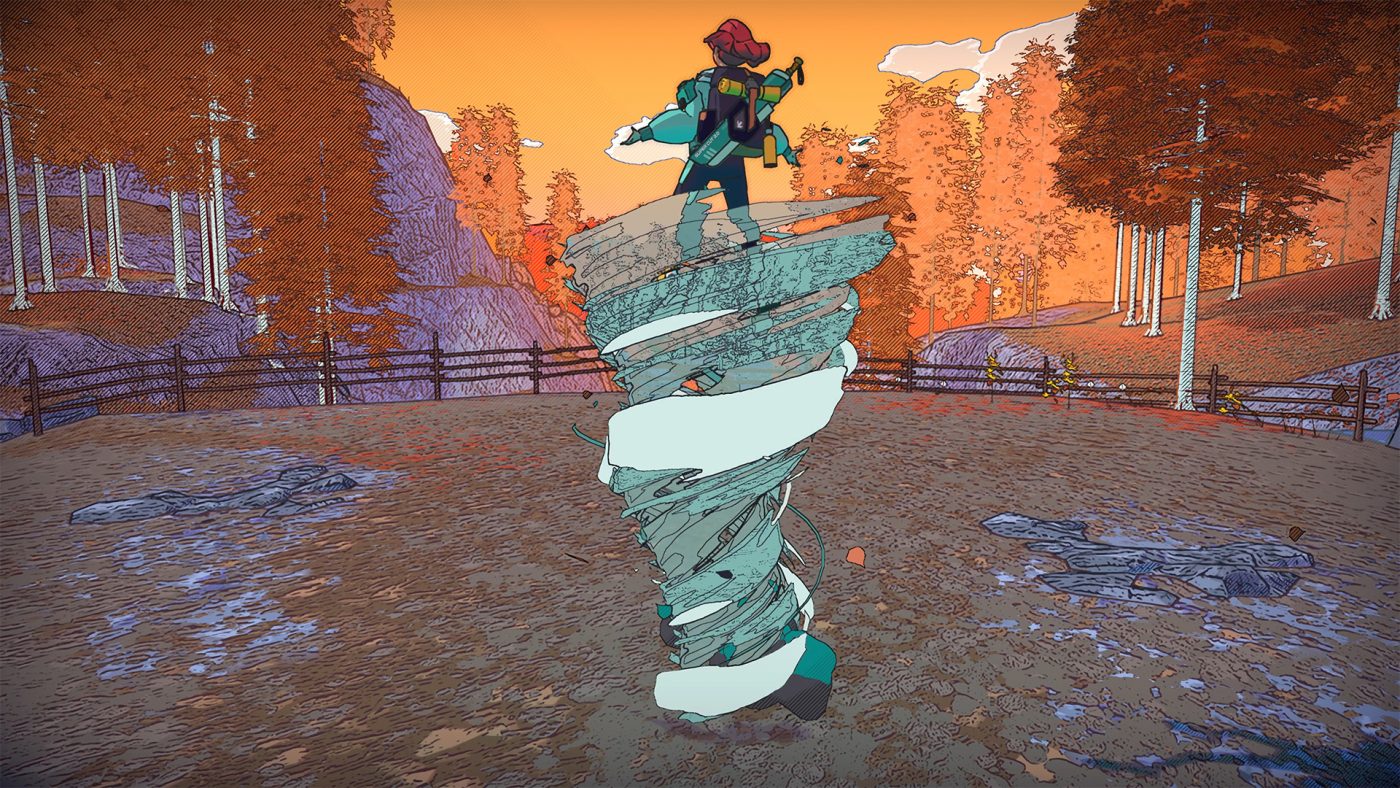 As for the monsters… well, based on what we've seen so far, they range from nimble, less menacing small-sized creatures to truly colossal and exceptionally formidable giants. In this regard, we anticipate the game's bestiary to be equally diverse and biodiverse, much like the game world itself.
In Dungeons of Hinterberg, there will also be a substantial life sim component, giving you the chance to take a little break between dungeons and enjoy city life. Here, you can acquaint yourself with the locals of Hinterberg and forge new friendships. Some will teach you new skills, while others may simply want to spend time with you, engage in conversation, or take selfies. Always remember, building good relationships is one of the key pillars of becoming a successful Monster Slayer.
Looking at Hinterberg in… a different light
Through their artistic direction, the Microbird team has allowed us to perceive Hinterberg in a completely new light. Imagine as if you had never visited a place (in this case, Hinterberg) nestled at the foothills of the mountains in the heart of the Alps—a haven for travelers, skiers, and mountain enthusiasts. What image and colors come to mind? Just one? Perhaps the pristine white of snow draping the mountain peaks?
Here's the point; Dungeons of Hinterberg reimagines and interprets the game world in an unconventional and marvelous manner, capturing all its nuances. Hinterberg is a colorful and vibrant village, bursting with a spectrum of colors that mirror the rich environmental biodiversity, enhancing and infusing life into the setting, creating a familiar and inviting atmosphere.
Dungeons of Hinterberg dispels any illusory impressions or preconceived ideas one might have about a mountain tourist destination without firsthand experience, introducing us to a multi-themed world adorned with warm and cold tones, where the landscapes are as central to the game's narrative as Luisa herself.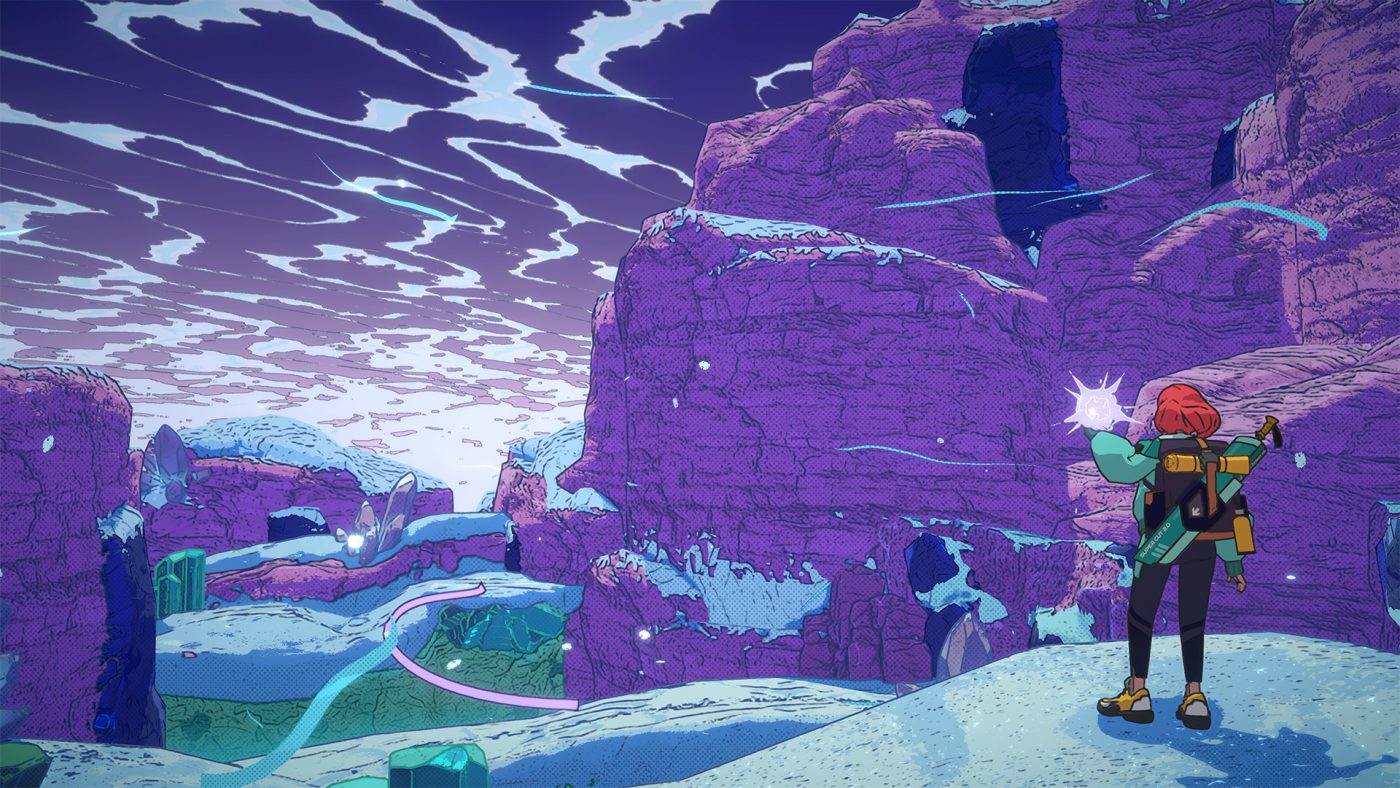 The setting assumes the role of the story's narrator, enabling us to appreciate various perspectives of itself, from the chilly alpine glaciers to an autumn-style forest, and all the way to the inviting lanes of the village. Every corner of Hinterberg represents a miniature world waiting to be discovered, aiming to continually captivate and transport players on an unforgettable experiential journey.
The feelings that arise are that of a constant sense of familiarity, well-being, peace, and tranquility, all sensations one can experience on a mountain vacation, but with an additional twist that adds allure to the entire project. So, are you ready to visit Hinterberg?
We'd like to remind you that Dungeons of Hinterberg is planned to be release somewhere in 2024 for PC and Xbox Series X/S. To stay updated on the project and learn more, keep following us, and don't forget to visit the game's official website and its X account.
That's all for today. We'll see you in the Alps.