We take you to CyberPunk 2077: Phantom Liberty. We'll tell you about the new characters, the new setting and much more
We are approaching the release of the highly anticipated CyberPunk 2077 DLC, Phantom Liberty, precisely due out on September 26, 2023. We remind you that it will be available for PS5, Xbox Series X|S and PC! It will be content with a Spy-thriller character; we will return to the role of V, grappling with the "problem" of the time bomb that carries in the brain. In the trailer V talks about the problem with Johnny who doesn't intend to give up and a little later we are contacted by a new character, Songbird who says he has the cure for us. In return we will have to complete missions steeped in espionage. As the world of CyberPunk has shown us over and over again, everything has a price…freedom is no different. Whether it's freedom from death or the redemption of one's life doesn't matter. Everything has a steep price to pay.
So let's find out more about this continuation in the story of CyberPunk 2077!
The Dogtown District and its history
The events narrated in Phantom liberty will take place precisely in Dogtown. A city within the city of Night City. A place devastated and controlled by local militias. Originally, subdistrict of Pacifica; it was supposed to be a paradise devoted to entertainment, with casinos, hotels, the strip and much more. Its construction was interrupted by the Corporate War leaving the work unfinished.
At the end of the conflict the combat zone is called Dogtown by the Renegade Militech Colonel, Kurt Hansen.
Ignoring the return order, he manages to carve out a slice of territory on which to lay the foundations of his new small empire. The developers were inspired, as regards the internal political dynamics of Dogtown and the figure of Kurt Hansen, from the South American drug lords. People who invest in local communities, thus becoming role models and at the same time using the community as a front for their shady dealings. Dogtown is an interesting place, a mix between authority and anarchy. Order, so to speak, is maintained by the barghests, a unit that is part military, part local gang. The areas controlled by the latter are to be considered "more" secure. Other areas, on the other hand, are so dangerous that no one dares to go there because it is really easy to get killed there. Also, due to how dangerous Dogtown is, don't expect the Trauma Team, because they'll never set foot there.
Colonel Kurt Hansen
For some a gangster or a terrorist, but above all a businessman. Charismatic leader, rules Dogtown, runs the district on money from his large-scale smuggling operation.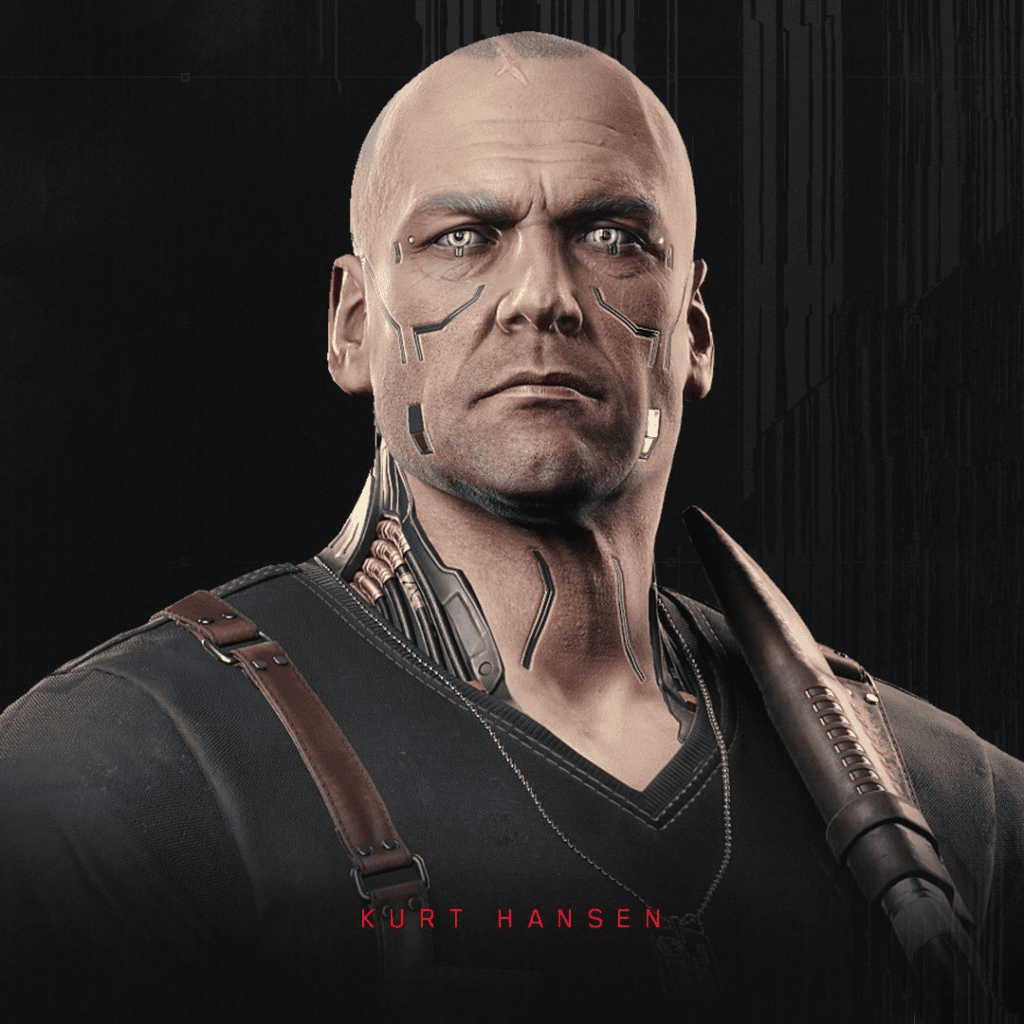 With Dogtown created a safe haven without Corpo and cops. He carved out his portion of land during the Unification War and intends to preserve it with the help of his loyal barghest soldiers.
Zookeepers AKA Barghest
The Barghests are made up of loyal fellow soldiers of Kurt Hansen, like him ex-Militech. They are military veterans and well-trained mercenaries who will turn your life into hell if you don't go straight. Their ranks are constantly being reinforced by dozens of street kids, fascinated by becoming part of something bigger.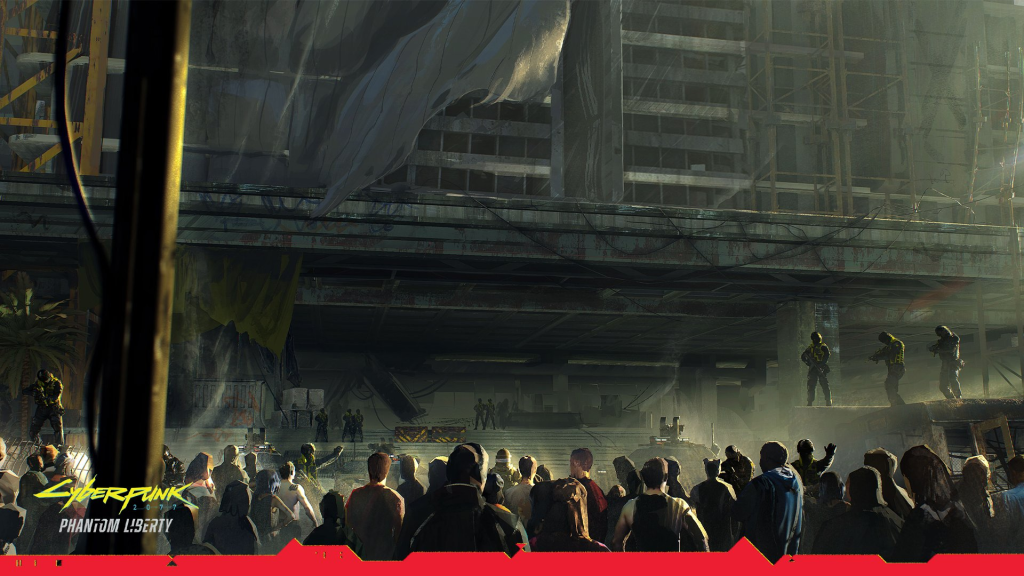 This private army has no real military structure. Sometimes barghests take the initiative on their own; while still respecting the figure of Kurt Hansen. He is simply the boss and it would be foolish to step on his toes.
Dogtown's business hub
With the end of the Corporate War, what we know as Dogtown remains an abandoned, free-trade area in close quarters. Having taken power over the area, Kurt Hansen opens the Black Market. This place is the beating heart of the district.
The powers that be don't lift a finger; there are too many profits in the arms trade and in the business of bigwigs.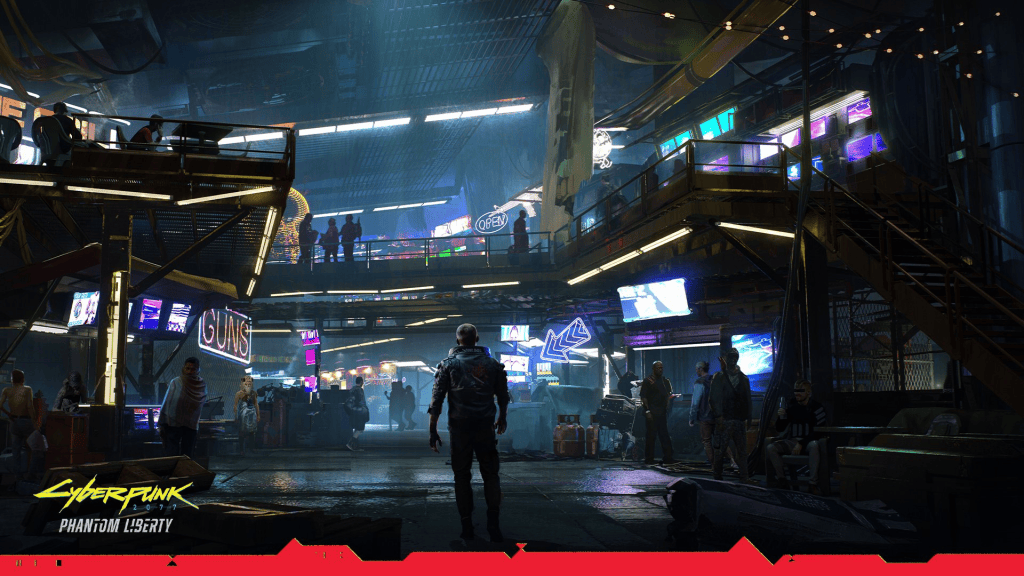 Dogtown is where things "just happen" if you want to do business of a certain kind. If you are looking for something unique, from illegal or customized cyberware, to smuggled weapons, solutions for your personal needs or why not a tank…all this in an area free from corporations and above all from taxation; this can only be the right place! This is how Kurt's kingdom thrives behind the wall without laws to curb it, indifferent to the poverty of the inhabitants.
But watch your back: this place is guarded by Hansen's rabid dogs, the Barghests. One false move and… you're dead!
Who is Myers' character?
Better said, President Rosalind Myers, President of the N.U.S.A. (New United States of America) and CEO of Militech. From the Official Trailer, we see her Space Force One crash in the Dogtown district. We will get to know different aspects of her personality. We won't just know her as a boss-giver as President. But what is her background?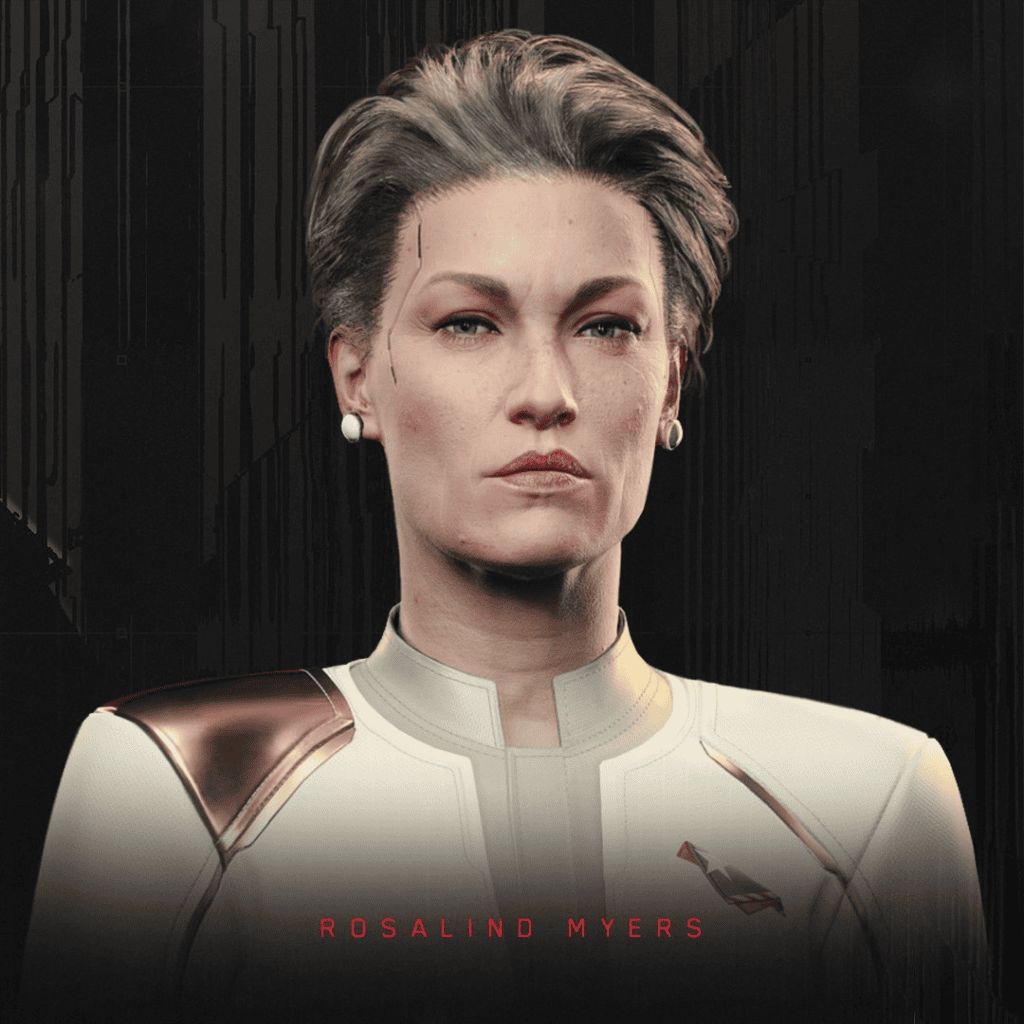 She is a former Marine, a soldier, a smart and very capable woman. Hunted by the Barghest and the entire Dogtown district, it will be a situation a little too complex for even her to handle. And that's where she comes in. V, in her mission to help the President escape.
Not only is Myers a talented fighter but she is also a capable Politician; from the logical approach. The developers guarantee that there will also be moments in which we will also be able to appreciate a very human side of Myers. CD Projekt Red's hope is that players will find her a complex and interesting character.
The Huge Robot in Dogtown: Possible Enemy?
In the cinematic where we see V trying to save President Myers, we notice this huge quadrupedal Robot, waking up from what appears to be wreckage. He lunges at V, who exclaims, "Almighty God, he's moving!" But what is he and where does he come from?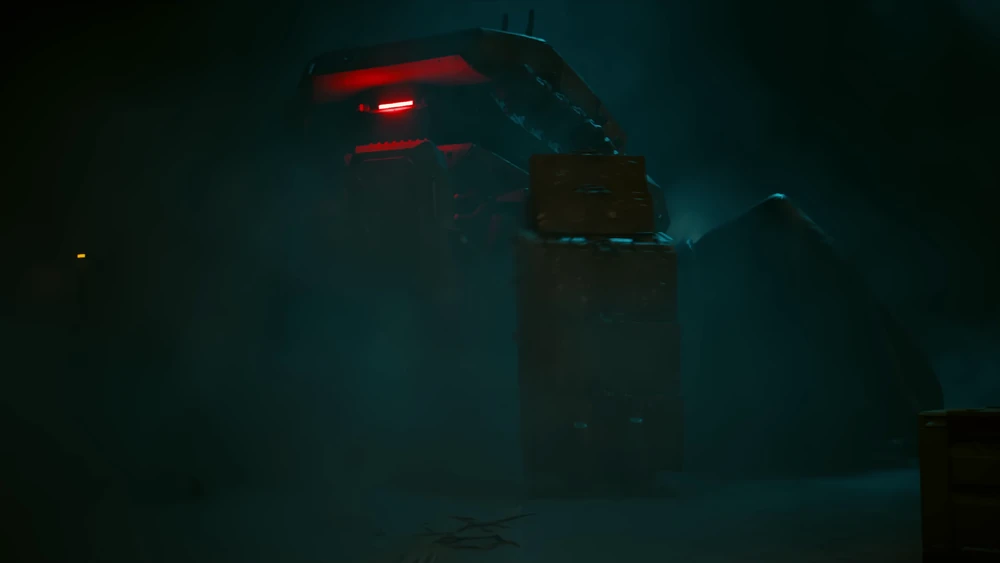 The huge Robot or Drone is a Chimera from Militech. It is part of the equipment left behind after the last Corporate War. Narrative Director, Igor Sarzyński, called it a "ghost" from the past, dangerously left unattended. A Chimera has all sorts of weapons; such as a domed turret that can fire devastating energy beams. If it falls into the wrong hands it could cause a lot of damage. In the adventures of V it could be like not being a significant obstacle.
Idris Elba AKA Salomon Reed
Defined by the Narrative Director, one of the most important among the characters; along with V and Songbird. Reed is the kind of person you would call to change the government of a country. Without knowing how it was possible, he makes it a reality.
Salomon Reed was a NUSA spy, employed in the recruitment of agents and in carrying out very demanding and difficult missions. For seven years, however, he ended up as a sleeper agent. He gets back on track in the events of CyberPunk 2077: Phantom Liberty and will find himself working closely with V.
As with Myers' character, Reed is a complex and layered character. With deeply rooted personal principles, such as Loyalty. Loyal to the greater good, to that of the security of the country and the state. This loyalty is also for the people closest to him.
This will sometimes find him fought, in a sort of push and pull. Reed will face important decisions that V will find a way to influence.
This complexity and depth in the character is also due to the collaboration of an actor of the caliber of Idris Elba, from whom he has tried to get the most out of it.
Who's Songbird?
As previously mentioned she is the third most important character, alongside Reed and V. She is a talented Netrunner and President Myers' right–hand man. There aren't many people who can keep up with her skills.
Her talent makes her a valuable asset to NUSA, one she needs on her side to protect the country's precarious position. Abandoning her position is not a possible option.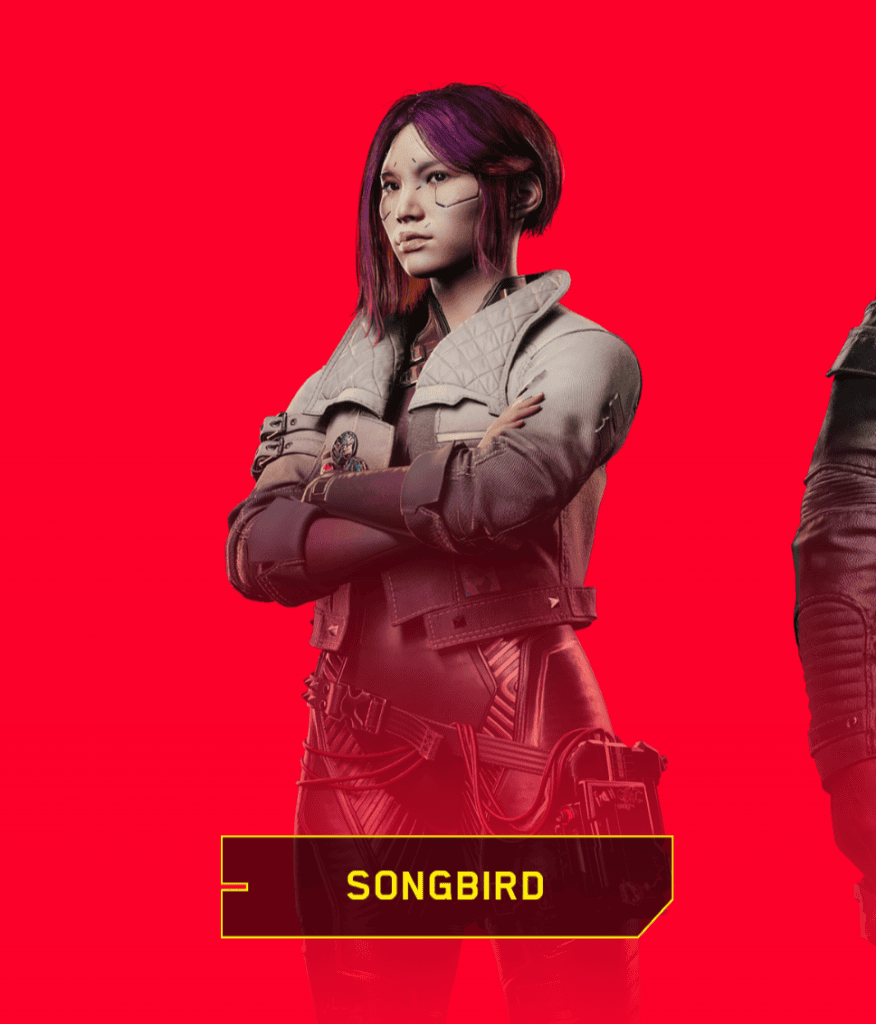 The developers hope that players will perceive her as a mirror of V, at least that's their goal. Songbird interacting with V, will offer a new perspective on V's motives, actions and goals. Thus making her an interesting character. Igor Sarzyński admits that in internal and external tests, Songbird proved to be a "divisive" character. Proof of the goodness of the character. "As with the people around us, we may or may not like them. We are all different, aren't we? Where would the magic be otherwise?" – comments Sarzyński.
The Shapeshifter character
In the Official Trailer footage, we see a character changing it's appearance. His face changes as in a refresh of the matrix that makes up its face. This feature was never seen before in CyberPunk 2077.
Let's start by introducing the character: her name is Alex. She was an aspiring actress of Braindance, she is later recruited by the Federal Intelligence Agency NUSA by Solomon Reed.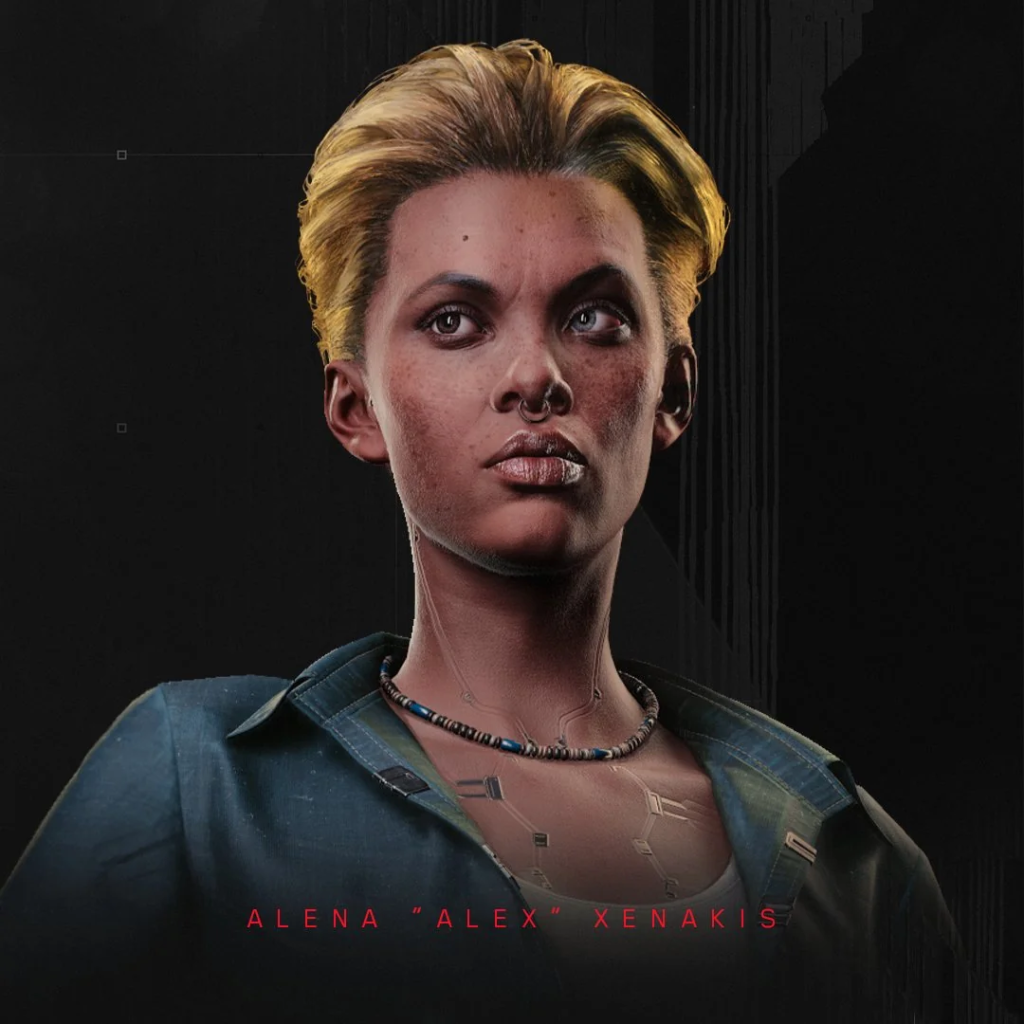 She's a talented shapeshifter, harboring a violent side to her personality that her time in Dogtown hasn't alleviated. As long as she plays a role, her personality remains hidden.
For her character, the developers' inspiration comes from action and spy films such as Mission Impossible and James Bond, who could do spectacular things with their gadgets that would strike the viewer. In Alex's case, her "gadget" is the ability to change her appearance as needed. This idea also serves to keep up the prolonged entertainment to which the player is subject. The idea of changing appearance gives you the opportunity to enjoy more points of view and perspectives and above all a playful approach.
Other sources of inspiration for this character were Bourne and The Mole. To make it as credible as possible they also consulted books, reports of real agents/spies.
CD Projekt Red's mission is to bring reality as the foundation of their games. Offering something unique and real and at the same time interesting and recognizable. They don't just want to remix things that have already seen again and again.
Updated PC System Requirements
These changes will take effect from the next update to the base game, no earlier than 90 days and will also apply to CyberPunk 2077: Phantom Liberty.
The new system requirements keep up with the times, adding support for new graphics cards that weren't available at launch. The desired result is to arrive at a resolution of 1080p or 4k for specific configurations within the game.
The change in the minimum requirements is a consequence of the new standards for game requirements, to run the game at a resolution of 1080p while maintaining an average of 30 FPS with minimum configuration. Updating the requirements is an important part, as it allows you to improve and add new features.
Therefore:
Stop HDD support for minimum requirements (*)
Yes to SSD with faster load times, improved streaming and better overall performance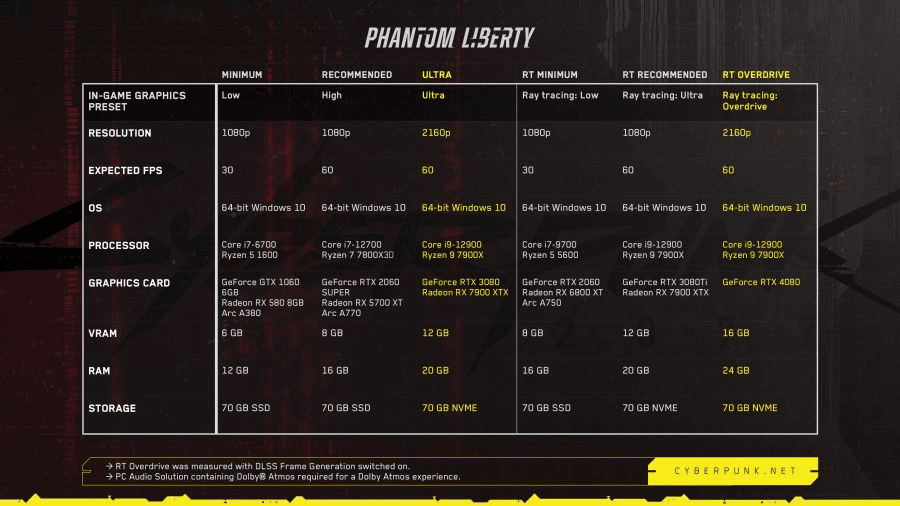 NOTE (*):
Importantly, this does not mean that the game will stop working under the previous minimum requirements. However, following the next update to the base game, active support will be discontinued and testing for the game with such configurations will cease.
NOTE1:
Please note that the FPS data presented is based on internal testing. Performance may vary depending on your PC hardware and software configuration, any changes you have made to individual graphics settings or output resolution. Check the updated system requirements below.
Dear readers, once again we have reached the end of the News! There is definitely still a lot to discover in CyberPunk 2077: Phantom Liberty. Always stay with us for all the news and technical updates before the launch. Let us know in the comments if you've already played CyberPunk 2077 and if you'll be playing the expansion as well!
Good Game everyone!