A new day, a new city, a fresh start for the young and cheerful teenager Becky Brewster, a brand new freshman at Carpentersville High School. Classes to attend, friendships to forge, teachers to endure, her beloved field hockey, social media, and… wait, what? A Vampire Apocalypse?! Brace yourself, Becky!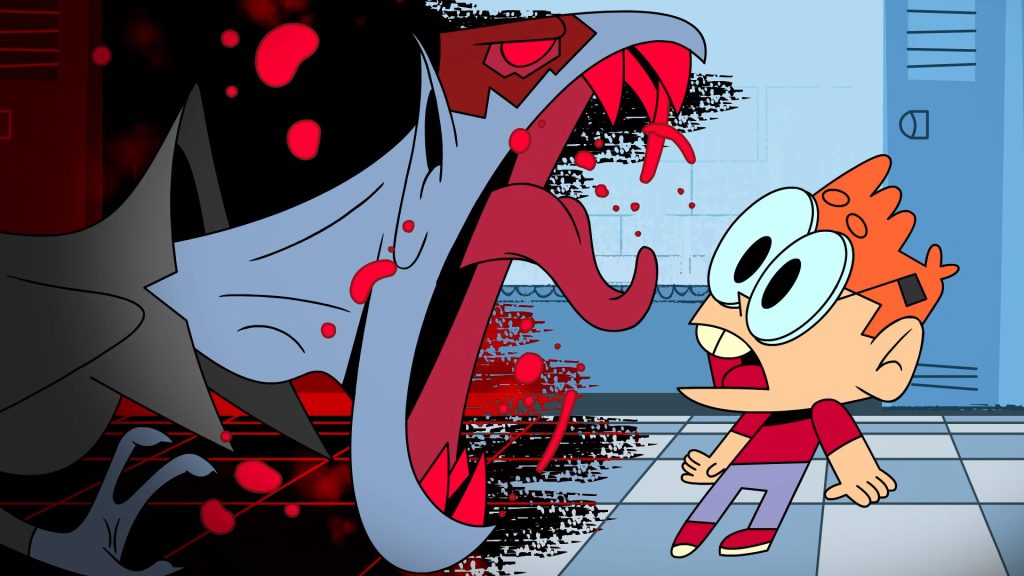 We desperately need to talk to you about a project that we fell in love with at first sight. Vampire-slaying, exaggerated cartoon-style violence, surreal situations, and guaranteed fun. That's right, we're talking about none other than #BLUD, the stunning and delightfully zany hand-drawn animated dungeon crawler created by the talented team at Exit 73 Studios.
A true wave of nostalgia that has literally transported us back in time, specifically to the 90s when we would plop down on the couch, remote in hand, and immerse ourselves in marathon sessions of Cartoon Network, Nickelodeon, Disney XD… Ah, those were the days, such wonderful times.
Imagine a video game that blurs the line between action RPGs and hyperkinetic 90s cartoons, capturing the traditional style of your favorite animated shows while infusing it with the joyful and vibrant animation of the modern era. Now, add a development and animation studio overflowing with style, boundless creativity, and cutting-edge game development techniques. And there you have it, #BLUD.
It all started back in 2017
Developed by Exit 73 Studios and published by Humble Games, the highly anticipated #BLUD is planned to release in 2024 for PC (via Steam). Currently, the developers have not announced any plans for a console port.
The game made its debut with an official announcement trailer during the latest Humble Games Showcase by Humble Bundle. However, the journey of #BLUD began six years ago on February 21, 2017, when it was first unveiled with its original concept.
Since then, the team has been working tirelessly behind the scenes. In 2019, they embarked on a docu-series focused to showcasing the making of the game. Additionally, in the same year, the developers released an early version of the demo at MAGFest.
Having come this far, we now find ourselves in 2021, a year of renewal for Exit 73 Studios. While preserving its unique and enviable concept and style, the studio provides us with a deeper insight into #BLUD, its traditional animation department, and its features, which appear to be more polished, well-defined, and fluid. And now, we fast-forward to 2023, the year that marks the partnership with Humble Games and the highly anticipated release window for the project.
Once upon a time, there was Exit 73 Studios
So, who are the talented individuals behind the development of #BLUD? Let's take a brief look at the background and history of Exit 73 Studios.
Founded in 2012 in New York City, Exit 73 Studios initially started as an Animation and Motion Graphics Company specializing in Animation Production and Graphic Design.
In essence, it is a predominantly small studio comprised of highly skilled individuals with expertise in the field of animation, particularly specializing in 2D traditional frame-by-frame animation. The developers prioritize quality above all else, stating, "We have the ability to hit tight dead lines without sacrificing quality. We believe higher quality animation and design can go a long way in better telling your your story."
Their track record as an animation studio speaks volumes, boasting extensive experience of over 15 years in the industry and collaborations with renowned clients like Cartoon Network and Disney XD, just to name a few. Most recently, the team has produced several original pilots with Nickelodeon, redesigned and animated several General Mills cereal commercials, and crafted captivating animated cut scenes for the game OK KO Let's Play Heroes.
These are the services that the team provides to their clients:
Full Animation Production: All the way from pre-production through post-production, we are able to see your idea to its final form.
Animatics: See your idea in clean storyboard form fully timed out to audio, minimizing the guess work!
Character Design: Let our experienced design team bring your character to life, providing you with multiple options.
Animation: Already have an idea and designs, but still need animation? We can adapt to any style.
2D Character Rigging: Need a reusable character rig? We are proficient at setting up character rigs in Animate, After Effects and Spine.
Compositing: We can add effects, lighting or live action in order to make your project stand out.
And then, well, the turning point came with the venture into video game development. It was an unexpected breakthrough that prompted Exit 73 Studios to channel a portion of their efforts into their first independent project in the gaming industry. Yes, you guessed it, #BLUD.
Welcome Home, Becky Brewster
Well, what are you still doing in bed, sleepyhead? Come on, wake up!
Allow us to introduce you to Becky Brewster, your joyful, radiant, and sometimes drowsy adventure companion. She's a spirited young girl, the new kid in town in the lively city of Carpentersville, as she embarks on her first days as a freshman in high school. With a new city, a new school, and new classmates, it can be quite a challenge to find your place, isn't it?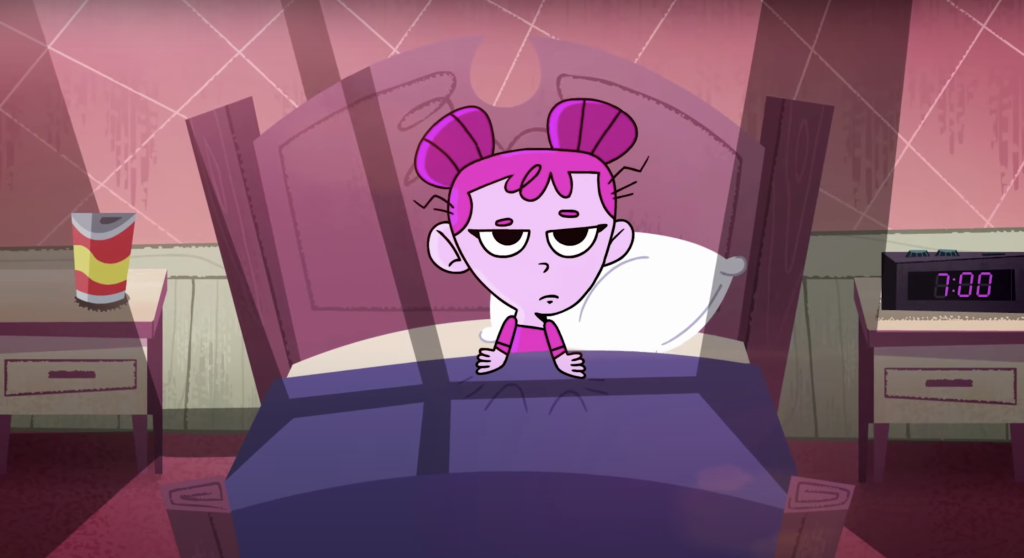 Classes to attend, new friends to make, bullies to deal with, keeping tabs on your social media popularity. And of course, there's Becky's beloved field hockey, her favorite sport. Hey, doesn't all of this get you thrilled?
Oh, by the way, there's also a vampire apocalypse… Wait, what? A vampire apocalypse?
Yes, because things aren't always as they appear, and Carpentersville is not as serene as it may seem. Packs of vampires haunt the town's alleys, while a mysterious plague turns animals into unruly mutants.
Fortunately, the vampires had not foreseen the arrival of Becky, the latest in an ancient bloodline of spellcasting vampire hunters, to the town. What seemed like a tantalizing feast and a prime hunting ground for the undead will instead turn into a glorious spectacle of vampire bloodshed and slaying. It will be your responsibility to stand beside the protagonist, Becky, and offer your support. Come on, don't be shy. Are you ready to tear, kill, and intimidate the bloodsuckers?
Just like every character we'll meet in #BLUD, young Becky possesses an exuberant and unique personality that gradually unfolds itself as we become acquainted with the diverse individuals in Carpentersville. Her animated facial expressions and exaggerated animations are reminiscent of the beloved cartoons from the '90s, a testament to Exit 73 Studios' wealth of experience in animation, particularly in graphic and character design.
It's not by chance that the cut scenes in the announcement trailer, in particular, give us the impression that #BLUD truly captures the essence of a "living cartoon."
And well, if you feel like Becky has jumped straight out of "The Grim Adventures of Billy & Mandy" or other renowned animated TV series, you're not alone in thinking that.
But let's be honest, how beautiful and visually appealing is the hand-drawn style and artistic direction of #BLUD? We were truly enchanted by them, and we expected nothing less from a team that excels in high-quality animations and design. As we mentioned before, it made us feel like children again, evoking that nostalgic sense of childhood we've been missing.
High School, Vampires, and Social Media
Hunting vampires is just another day at school for young Becky, a brand new freshman at Carpentersville High, a typical American-style high school located in the lively town of Carpentersville.
The map showcased in the announcement trailer appears remarkably vast and vibrant, providing Becky with multiple avenues for interaction. She can undertake tasks, quests, and engage with diverse NPCs. The exact scale of Carpentersville's map and the size of each specific area have yet to be determined, but we have identified a total of 11 distinct zones throughout the city. This suggests that the exploratory component will undeniably play a significant role in #BLUD.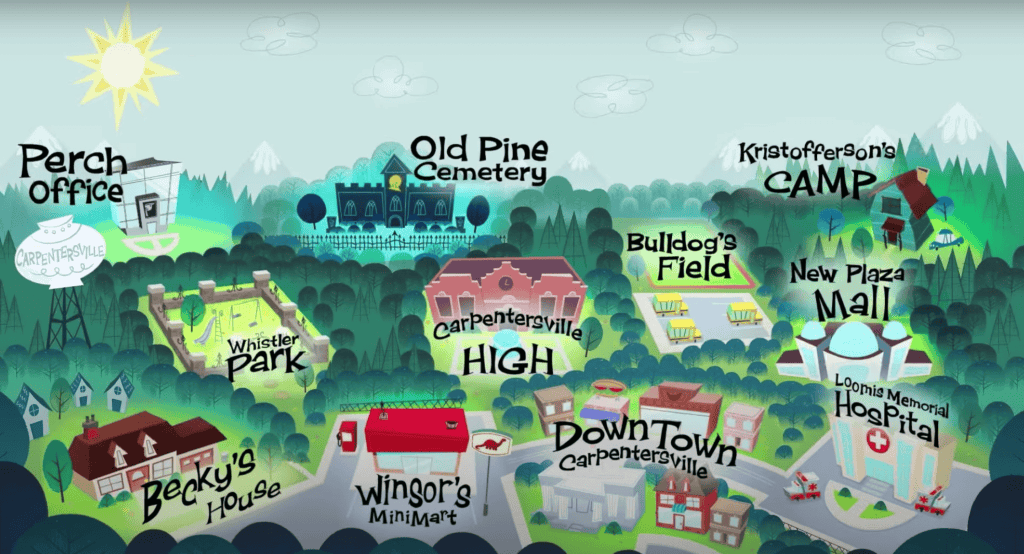 As you may have deduced, Carpentersville High is somewhat the hub, the heart of the city and takes center stage in our story, making it the primary location where Becky will navigate. There are classes to attend, teachers to endure, but above all, there's field hockey—the sport through which Becky channels all her anger, wielding her fiend-thwacking field hockey stick.
The city itself is teeming with the familiar activities one would expect to find in any modern town. From the serene Whistler Park and Winsor's MiniMart to the expansive Bulldog's sports field, the urban landscape offers various outlets for everyday life. However, it's worth noting that Carpentersville also boasts a hospital and a cemetery, which we advise you to avoid whenever possible.
In each of these areas, vampires, mutant animals, and other malevolent infestations will swarm, and it falls upon Becky to eradicate them. From the hallways of Carpentersville High to the alleyways of Downtown, and even extending to the shopping malls, as the descendant of an ancient lineage of vampire hunters, who better than Becky to restore order in the city?
But let's admit it, #BLUD wouldn't be the same without its iconic and uproariously entertaining cast of quirky characters. As you wander through the city, you'll encounter vibrant personalities such as your old mentor, Kristofferson, the affable Becky's father, and her lifelong best friend since grade school, Corey Colton. Fulfill their requests and accept quests that will be assigned to you via social media.
Social media will play an important role in #BLUD, serving as the secret weapon for every teenager to engage in their classic uses like taking selfies with friends, communicating, staying updated on the latest news, and other after-school plans that Exit 73 Studios has yet to reveal.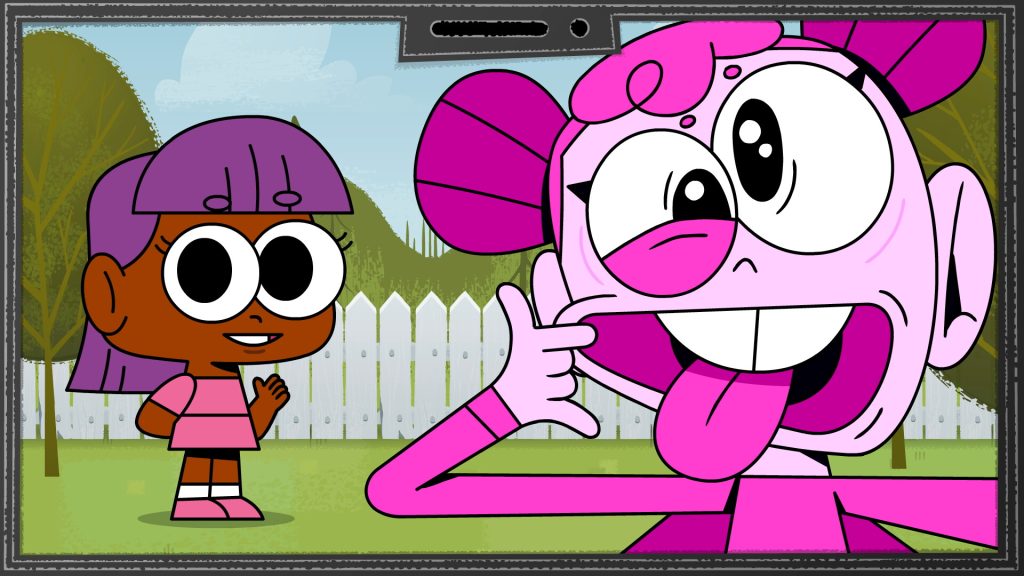 But that's not all. As mentioned, Becky will also be able to use social media in other ways, including accepting missions from the town's social media and using it as a tool for analysis and localization. As the developers emphasize, in #BLUD, there are both archaic and innovative methods to research and analyze vampire hordes. You have the freedom to choose a more traditional approach or translate your family's mystic grimoire, stealthily approach enemies, and snap selfies with them to analyze their strengths and weaknesses. However, be cautious as vampires are not fond of smartphones or your company.
Hunting Vampires
Mice transforming into mutant monsters, strange giant spiders, and blood-sucking vampires of all kinds. In short, the bestiary of #BLUD appears to be remarkably extensive and diverse. The trailer gives the impression that the game offers a wide array of enemies, ranging from vampire manifestations to infested mutant animals.
Gory, exuberant, entertaining, and ultra-fast-paced, the combat system of #BLUD encapsulates its beauty and charm, constantly toeing the delicate line between unabashed violence and humor, reminiscent of the most thrilling brawls from traditional '90 cartoons. Adding to the experience are Becky's hilariously exaggerated expressions and smirks as she annihilates vampires, accompanied by satisfying onomatopoeic "sounds" like "Splat" or "Ka-Boom" that intensify the joy of righteous vampire-slaying.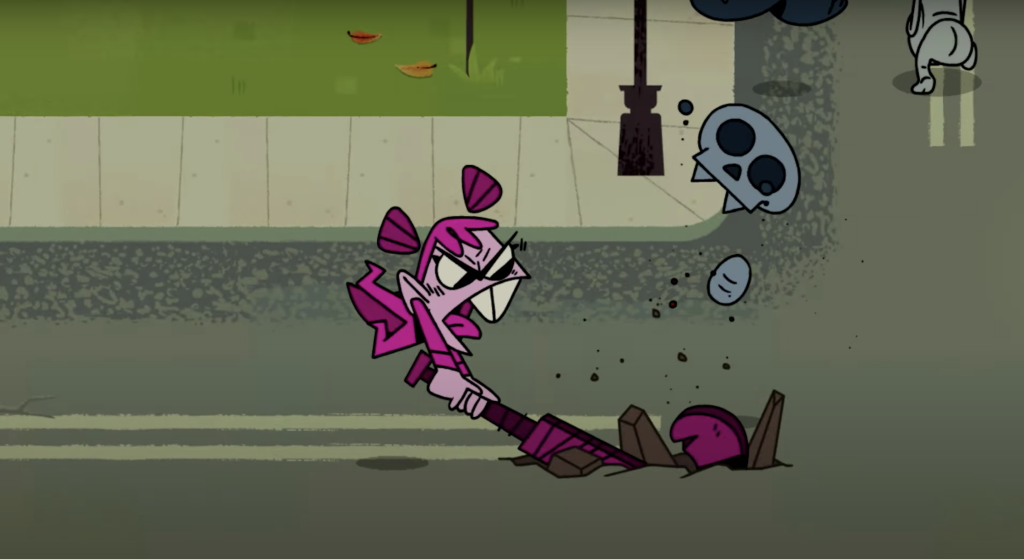 Becky can rely on her loyal arsenal of vampire hunting weapons, led by her inseparable fiend-thwacking field hockey stick. All the weapons and items she acquires, including her abilities, can be upgraded. Additionally, she has access to useful tools such as a grappling hook, shovel, and umbrella shield. In the trailer, we catch a glimpse of another weapon, a pencil, on which the developers have not yet disclosed specific details. However, we see Becky skillfully employing it as a versatile throwing weapon, reminiscent of a throwing knife.
Currently, we do not have information on how Becky will upgrade her abilities, aside from a small clue revealed in the announcement trailer. In the trailer, the narrator mentions Becky's "latent abilities" while showing us a mysterious, protected book. This hints at various clues, implying that the book might be an ancient spellcasting tome for vampire hunters. Although we cannot definitively confirm that the book is the exclusive means to upgrade Becky's skills, it seemingly carries considerable importance. Perhaps, by acquiring and delving into its secrets, we will gain access to a distinct skill tree.
And then, there are the dungeons. Yes, because #BLUD promises a rewarding, enjoyable, and thrilling experience that includes challenging boss encounters and anything but simple or ordinary dungeons. As a pure dungeon crawler, the upcoming video game from Exit 73 Studios embraces the genre's traditional mechanics, highlighted by substantial RPG components and a combat system that demands skill and learning to achieve mastery. All of this is enhanced by the distinctive settings that #BLUD has to offer.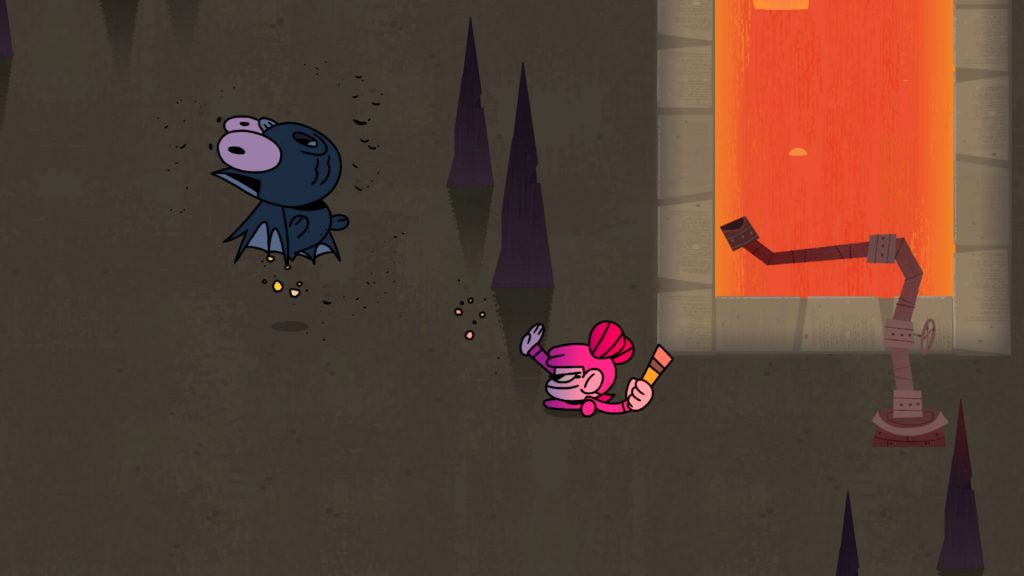 Save the Town, Becky
Our initial impressions of #BLUD are undeniably positive and bode well for the game's future.
The overall impression is that Exit 73 Studios is excelling in the purely artistic aspects of the title, encompassing the style, art design, and animation, while also ensuring a cohesive narrative development and truly engaging gameplay mechanics.
What truly stands out to us is the remarkable attention to detail exhibited by the developers, both in the finer nuances and broader elements, ranging from the meticulous construction of the city of Carpentersville, the in-game town, to the character and vampire designs.
We're thrilled by the team's vision of reviving the traditional style and design reminiscent of 90s cartoons within a video game format. It is a dream come true, and we must admit that the aesthetic result is truly impressive and nostalgic, aligning perfectly with our expectations.
Naturally, it is still too early to provide an in-depth analysis since we haven't had the chance to get our hands on #BLUD yet, but we remain confident based on what Exit 73 Studios has shown us so far.
The release of #BLUD is scheduled for an as-yet-unannounced date in 2024, only for PC.
Keep following us to stay updated on the progress of #BLUD, and be sure to visit the game's official website and Exit 73 Studios' social media profiles for the latest news and updates, including the Twitch livestreams every Friday at 2pm EST where the developers bring the game to life.
Oh, and don't forget to have some garlic handy, just in case of a vampire ambush!
That's all for today. Talk to you soon.