16

min read
Our Interview with Alexis Corominas Barrueco, Founder, General Manager, and Producer at Piccolo Studio, and Co-Game Director of After Us, the recently released second video game from the Barcelona-based Spanish indie game development studio.
If you have been following us consistently in these past weeks, you will know that we have been closely following After Us and the work of Piccolo Studio with great interest and passion, particularly with a recent inside look at Gaia, the Spirit of Life.
Therefore, today we are delighted to present you with our interview featuring Alexis Corominas Barrueco, Founder, General Manager, and Producer at Piccolo Studio, and Co-Game Director of After Us.
But first, some info about Piccolo Studio and Alexis Corominas Barrueco
Piccolo Studio is a "small" game development team based in Barcelona, born from the vibrant passion of its three founders: Alexis Corominas Barrueco, Jordi Ministral, and Oriol Pujadó.
The three founders of Piccolo Studio have been together for 23 years, working from sunny Barcelona and developing interactive experiences for major brands worldwide. But fate had a special opportunity in store for the three founders of Piccolo, a chance to dive into the video game industry, their lifelong dream since they were children.
"Starting from scratch on a risky industry was a leap of faith, something many people advised us not to do, but we were looking for that missing spark in our lives. If you fail, at least fail while doing what you like.
We didn't have much experience, so we recruited some talented, veteran members of the Spanish scene that shared our romantic vision of video games. We say we don't make video games, we craft them. This is why our logo shows a needle and a thread."
Piccolo Studio has experienced exponential growth since its foundation in 2015, currently boasting a team of over 30 members. Theirs is an emotional, unique, and touching vision of video games, aiming to tell memorable stories through this powerful medium.
Alexis is the Co-Game Director, Co-Producer, and Co-Creative Director, with a background in Cinema before transitioning to digital advertising, where he worked for nearly 20 years. Co-founding Piccolo Studio in 2015, he is responsible for shaping the company's vision and overseeing the creative departments.
"He's too passionate about way too many things, but please don't let him start talking about the Roman Empire."
And now, with all the necessary introductions made, let's proceed with the interview!
Francesco:
Piccolo Studio emerged in Barcelona, fueled by the passion of your three founders (Alexis, Jordi, and Oriol). Your professional career began in the advertising industry, where you developed interactive experiences for major brands worldwide for years. Then there were video games, which had always been your childhood dream. What encouraged you to get involved in the gaming industry?
Alexis:
Advertising was not fulfilling anymore. We were having a middle age crisis, and advertising was having its own middle age crisis, moving from creative productions to big data and tactical campaigns. For us, leaving advertising and targeting video games was a romantic, naive, even a foolish move, but one that we did out of passion.
Gaming is a very creative industry, way more than advertising. Video games are the most powerful way to tell a story, because when you make people feel through their own actions, the emotional impact is much deeper.
Francesco:
Piccolo Studio aims to provide a romantic, emotional, and emphatic perspective of video games that handles incredibly contemporary and impactful issues. What is your mission? What emotions do you aim to evoke through your video games?
Alexis:
The vision of Piccolo is to create experiences that move people, that are universal, that talk about how we relate with the world and with each other.
We expect our games to plant a seed rather than deliver specific messages. With Arise that seed was about love and grief, with After Us it is about our relationship with nature, and ultimately about the nature of humans.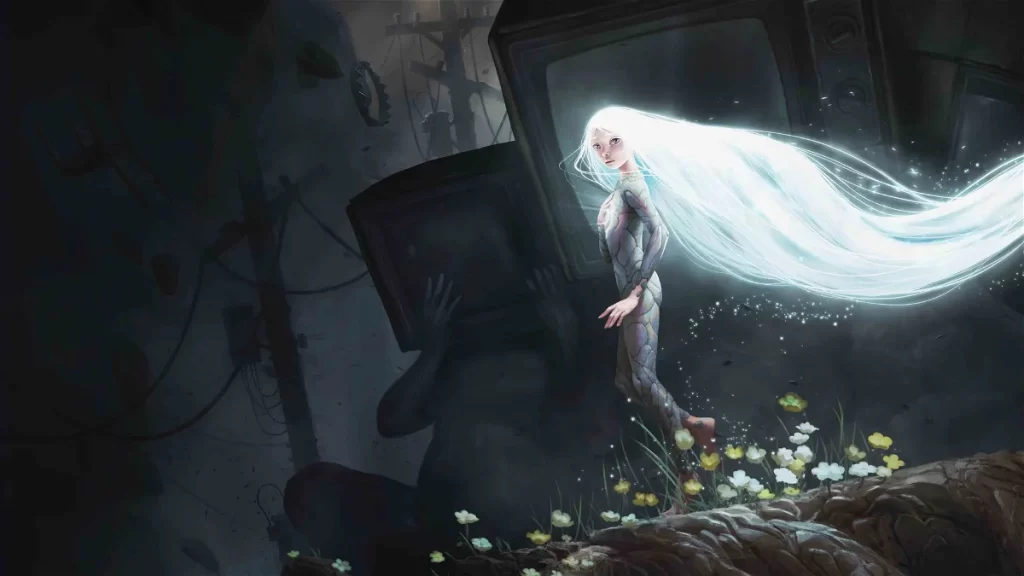 Francesco:
Your logo emphasizes two extremely important symbols: a needle and thread. You identify yourself as a development studio that aims to craft games rather than create them. Your approach to video game development is extremely handcrafted, with the goal of creating truly unique tailor-made stories. Why did you choose a logo that is both so symbolic and emotional? How many meanings are hidden underneath its composition and shape?
Alexis:
We come from advertising, so we pay a lot of attention to branding. We wanted a logo that showed the company vision, and the idea of craftmanship was central.
A needle and a thread are universal, they mean attention do detail, care for what you do, the uniqueness of a handcrafted product, hard work, and creativity. In terms of graphic design, we use curved lines because creativity and emotions are organic, and the use of black and white colors make it more elegant, minimalistic and readable.
The name Piccolo means "small" in Italian and is a word that represented well the idea of a small workshop where magic happens. Small is a relative concept because we were 10 people when we started and we are 30+ and growing now, but we still consider ourselves small. It is not about the size of the company but how we organize ourselves and maintain the spirit of a workshop.
Francesco:
The indie video game scene is rapidly evolving, garnering positive outcomes and the well-deserved recognition within the gaming industry. In your opinion, are there notable Spanish productions that have received the attention they deserve, or do you believe more can be done in terms of publicity and marketing? How does Piccolo Studio fit into all of this?
Alexis:
The indie scene is growing enormously, not only in Spain but everywhere. On one hand it is amazing, the universal access to technology, better tools, lots of platforms to sell, allow a lot of people to create, and we see so many distinct voices enriching the scene.
On the other hand, there is a problem of saturation. There are incredible games out there that have no recognition, that don't sell because they lack exposition and at the end this means that a lot of great studios will disappear. That's unfair, but the market nowadays is brutal. Delivering a good game is not enough, you have to find ways to stand out and surviving being an indie company is a feat in itself.
At Piccolo, we stick to our long-term vision, we don't consider ourselves indies in the traditional sense anymore. We see ourselves as a growing studio that will deliver bigger games in the future, while we rely on creativity and our identity to carve our own space.
Francesco:
Arise: A Simple Story, your first video game, relates the story of a love's loss, the value of life, and the fleeting nature of time. A story about happiness and hardship, joy and sorrow. What is your connection to this title? If you could travel back in time, would you unhesitatingly choose Arise as your first video game?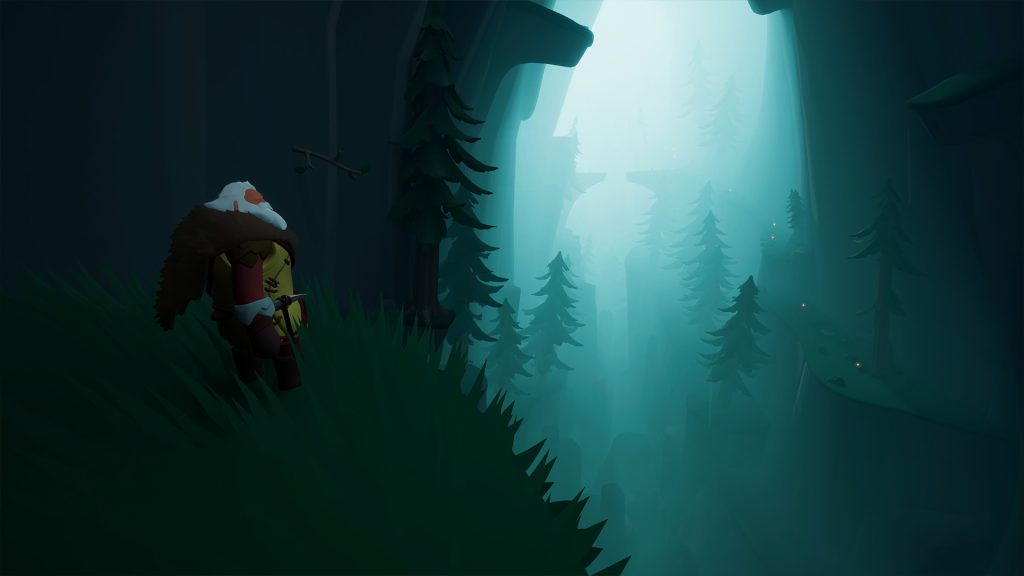 Alexis:
We were having a middle age crisis and decided to look back to our childhood dreams, so the story of an old man looking back resonated with us. Also, we wanted to talk about love and grief and the passage of time because they are the type of universal topics we couldn't explore while working in advertising. Through video games we are free to talk about those topics from an artistic perspective and find original ways to convey them.
We are very fond of what we accomplished with Arise, and proud of the team that we assembled at Piccolo to make it happen. If we traveled back in time, surely we would change some minor things, improve some elements that we didn't have time to polish, but we would do the exact same game again.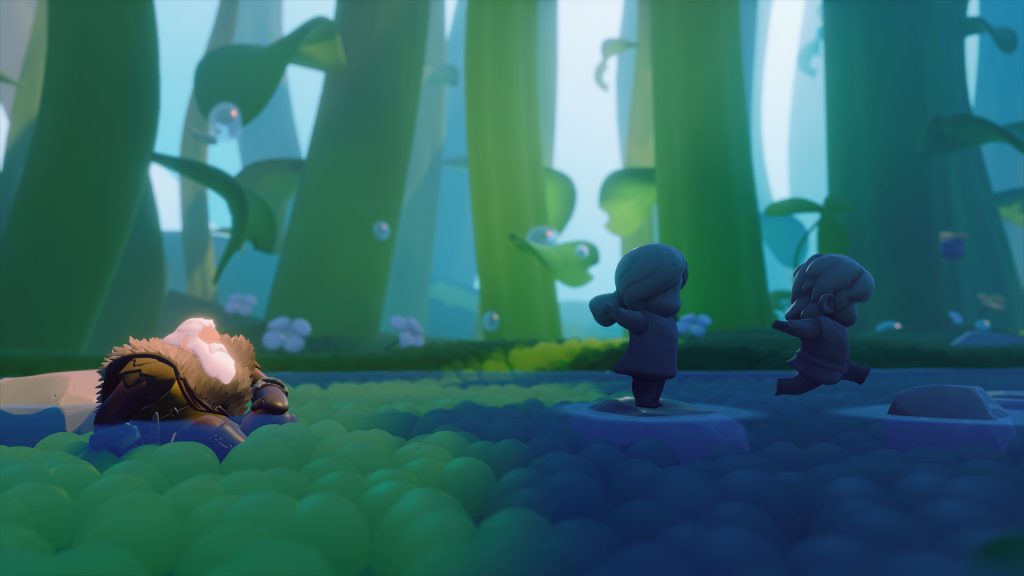 We think it is unique in how it blends art, design! and narrative. Your first baby is always special! 😊
Francesco:
After Us is an intimate and emotional story that capitalizes on the chromatic contrast between light and dark, incorporating a magnificent thematic and representational duality, seasoned with a splendid atmosphere. Could you tell us more about the game's art direction?
Alexis:
That contrast was central in the development of the look and feel of the game. We had this epic, atmospheric, dark, bleak world on one hand, and a small, tiny character on the other hand. It is a contrast of light, color and sizes: the world is huge and the main character feels small, vulnerable, but determined. Everything was built for the big picture rather than the detail. We wanted to create a "dead museum" feeling in which the main character is the only living/moving entity.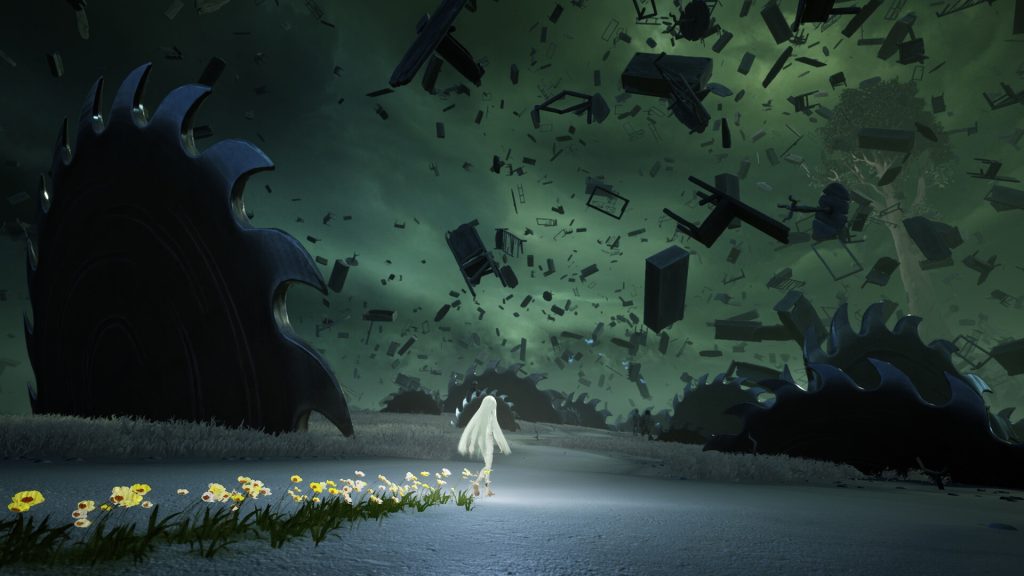 We worked with reduced color palettes, a lot of atmospheric VFX, postprocesses and foliage to achieve density. The main character runs at 80 kms/h and there are a lot of huge, open space, so we burn content very quickly. We had to sacrifice a bit the low detail in favor of the big picture.
To achieve this from an artistic but also from a production point of view, we use a minimalist approach: buildings are just piled up stone blocks littered with rusty ad boards and structures, we use different layers of foliage and a limited set of assets for each biome.
Not only do they contribute from an artistic and production perspective, but also as a narrative one. We incorporate universal symbols into the game.
There are thousands of vehicles in the game but only 3 different vehicle models, which represent the "idea of vehicle". This minimalism serves to maintain a sense of focus throughout the game.
Francesco:
The awe-inspiring environments, the apocalyptic landscapes, the rich diversity of biomes… Everything we have witnessed thus far indicates that nature holds a substantial role in After Us, almost as if it were a co-protagonist within the overall experience. Is this how it actually is, or is it just our perception?
Alexis:
It is, indeed. To us, the world is the main character of the game. Of course, we want you to empathize with Gaia, but we intentionally put the camera quite far so the huge, bleak, devastated world could speak to you. It hits you constantly with epic, symbolic landscapes in which you are that tiny speckle of hope thriving to progress.
And there's another contrast: beyond all those devastated biomes, there is the Ark, a chill, beautiful garden where all the spirits that you free can wander around. This area celebrates life and your actions in the game, and we wanted it to feel like a magic forest.
Francesco:
After Us is an evocative and poignant story that explores the profound themes of the heart and soul, life and hope, oblivion, and perdition. How did you approach narrative design? What is the core message you intend to convey to the audience through this story? Could you tell us more about the game's narrative?
Alexis:
There is a very basic plot in the game, but the narrative is mostly contextual. By exploring the world, player will unveil symbols and short stories about the relationship of humans with nature, but also about the nature of humans.
We talk about a variety of hot environmental topics, but the last thing we want to do is to preach. After Us doesn't give specific answers, doesn't tell anyone what to do, what's right or wrong. The game doesn't judge or condemn.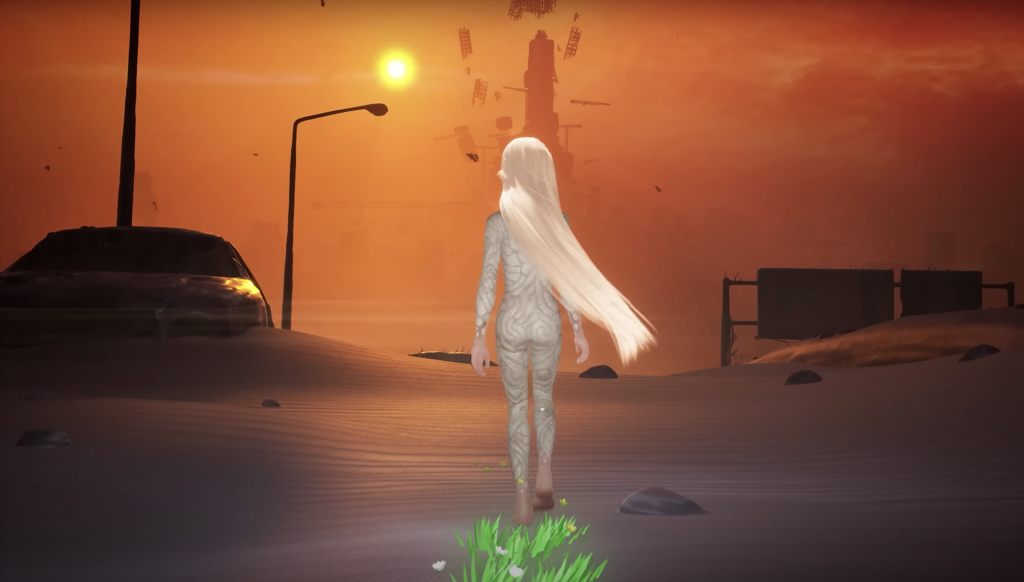 We want to plant a seed by moving the players, by turning them witnesses, but also agents of hope. Because even if the future feels insurmountable, the first step is to build hope, even if a tiny one.
As long as the game moves you and makes you think, we're satisfied.
Francesco:
The gameplay is a multi-faceted blend of platforming, exploration, puzzles, and one-of-a-kind combat mechanics, with a genuinely mesmerizing 3D look and magnetic level progression. Can you explain how the key game design and level design decisions were made?
Alexis:
We wanted to design emotional rewards, instead of mechanical ones. Many of the actions you do in the game are totally optional. You decide to free animal spirits because they deserve it and the world is a beautiful place with them in it, not because you want to progress, improve the character, or earn something in return. You can grow life at certain locations, but again, expect no other reward than the life itself that you grow. It was a bold decision, but one that we thought aligned very well with the concept of the game.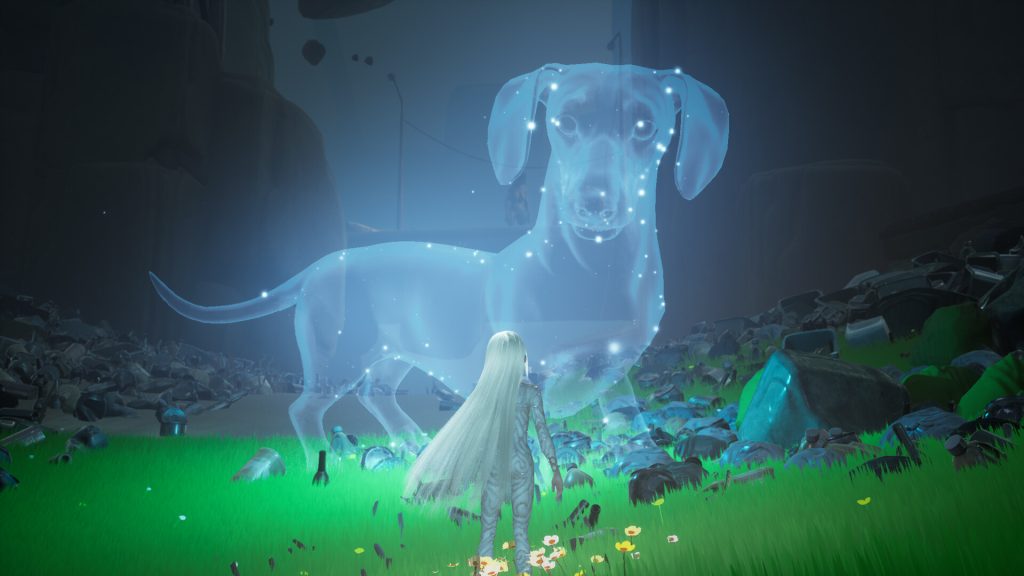 Though it is not a conventional game, we built the basic experience over small chunks of recognizable "gamey" features such as an enjoyable traversal, ways to interact with the world, engage enemies… sometimes the game plays strictly as a platformer, sometimes as a puzzle game, sometimes it is an action game… we wanted to mix genres.
Level design was a major challenge because it is a huge world and we wanted it to be very organic. Traditionally, you don't create an organic world in a platformer, even less in a 3D platformer, because it is very hard to control. But, for us it was key that the world felt solid and not "designed". The designers and artists had to work together. There is a balance between linearity, open spaces and organicity in the world. Sometimes you get a bit lost, but never too much. We used dozens of elements that help you find "the way", while keeping this feeling of a real place. You don't feel you are playing a "game level" with interface plastered on it.
Francesco:
Your new game tackles contemporary themes with incredible sensitivity and tact, such as the human impact on the ecosystem and the alarming risk of animal species extinction. Gaia's cry is an alert, the alarm about the imminent threats faced by nature. What messages do you hope to convey to humanity through After Us? How did you handle these two main themes within the game?
Alexis:
The pillars of the experience were devastation and hope, obviously linked to environmental topics, but ultimately the game is about the duality of humans. We are the only animal that kills for pleasure, but at the same time we write the most beautiful poetry and music.
Individually, no one wakes up and decides to cut down forests. We see an image of a beautiful forest and we feel "at home" deep inside us. What happens is the collectively we are agents of destruction. And we end up being victims of ourselves. We wanted to explore all these grey facets of humans.
Francesco:
The character design, traits, and powers of the protagonist Gaia are among the most captivating elements in After Us. Her heavenly nymph appearance, her tears as lifeblood, her protective bark, her heart as a defensive weapon… Could you tell us more about Gaia, her symbolism, and her mission? What should we know about the Spirit of Life?
Alexis:
We wanted the main character to be a young female. Female because mothers grow life, and young because she is naive, pure and doesn't know anything about the world. She reacts like a child and is vulnerable, but at the same time she's determined. She represents primary emotions that we all had as children. In a way, we want players to connect with their inner child through her, to see the worlds through that glass.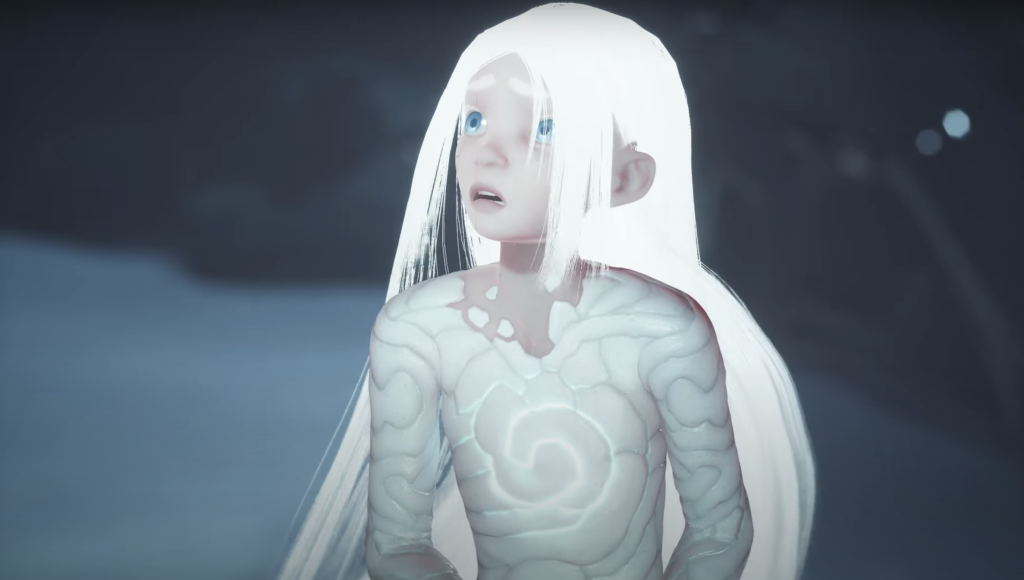 Even though she is anthropomorphic, she's not human, but a fairy. It was important that she could watch everything from an unaligned position at the start.
Elements like the bark, the heart and her glowing hair help reinforce this feeling of fairytale that contrasts so much with the world she is exploring.
In the game, there is a character we call Mother that represents life in an abstract way, like an omniscient goddess. Mother is dying at the start of the adventure, and asks Gaia to retrieve her power, held in the vessels of the last animals that got extinct.
During her travels, Gaia will get in touch with the Devourers and she witnesses the world they left behind, but also she sees humans as victims and she will access some memories that will bring her a wider picture of who we were.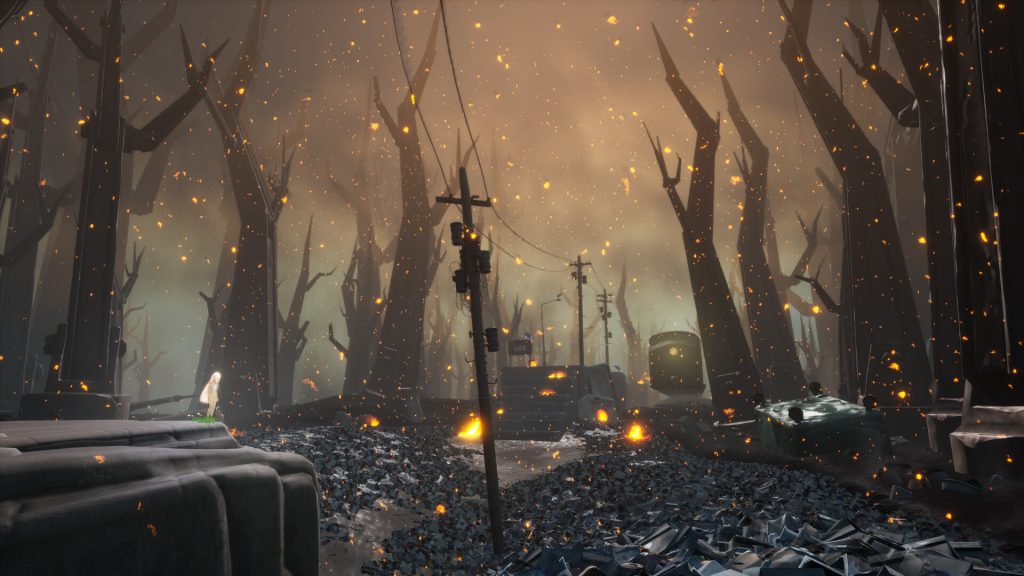 Francesco:
Gaia's name is related to a deep-meaning artistic, mythical, and spiritual language. Will the adventure feature a Gaia similar to the one we're familiar with, or will it feature your own unpublished and personal interpretation and representation? What personality traits best identify her soul?
Alexis:
Actually, we use the name Gaia in articles and pitches, but in the game there is only one place in which the name appears on screen, and it is in the UI legend of a Map. We based the character on the universal idea of Gaia shared by many cultures across the world, and in all of them, she is a female spirit that represents life. We like to use those universal conventions, like calling the hub of the world "The Ark", but through our own interpretation. The narrative of After Us is intentionally loose, so people can fill the gaps to create their own version.
Francesco:
What approach did you take for the game's localization and voice acting? Did you opt to assign this task solely to an omniscient narrator in order to convey the humanity and empathy of After Us' narrative and backstories, or did you decide to bring the individual stories and characters to life through skilled performers and voice actors? Furthermore, if the latter was the case, who did you cast as the protagonist, Gaia?
Alexis:
The game is practically wordless, there is only one character that has dialogues, Mother, but she doesn't talk, she sings. And we have all of Gaia vocal reactions, and she also sings to locate nearby spirits.
The songs for Mother were performed by a Level Designer, Laura Roldán, who happens to be a great singer. As for Gaia's sounds, songs, and reactions, they were performed by Mirella Díez, who is the Audio Director, Sound Engineer and also a great singer. As a studio, we are gifted to have such talent, and they put a lot of passion and tenderness in their performances.
Francesco:
The story of After Us encompasses contrasting themes such as hope, love, sacrifice, destruction, oblivion, and legacy. How did you approach the sound design and composition of the OST in this regard? Can we anticipate finding and hearing this powerful multi-thematic contrast in the sonorities as well?
Alexis:
The game is very atmospheric, so we wanted the sound to complement the devastated, mysterious and oppressive ambiences without being annoying. It was a challenge of balancing different elements.
Traditionally in video games sounds are put in layers, so you can easily distinguish the main character sounds from the environment, actions, music… We came up with this idea of wall of sound, in which SFX and music fuse together like a solid mix to impact you as a whole.
On one hand, Mirella Díez, our Audio Director and SFX Sound Engineer, made everything in the world sound rusty, squeaky, mysterious, and ranging in the low tones. Depending on the intensity of the music, players are allowed to hear more or less of those layers.
On the other hand, we have the music, by Dan Elms. We wanted it to be atmospheric, sometimes dark, sometimes melancholic. We wanted to have electronic noises and layered synths. Dan's remarkable work succeeds in immersing players into a trance-like state, where the music sometimes feels like a meditative mantra. And there is a ton of music. We can guarantee that the official OST is VERY long.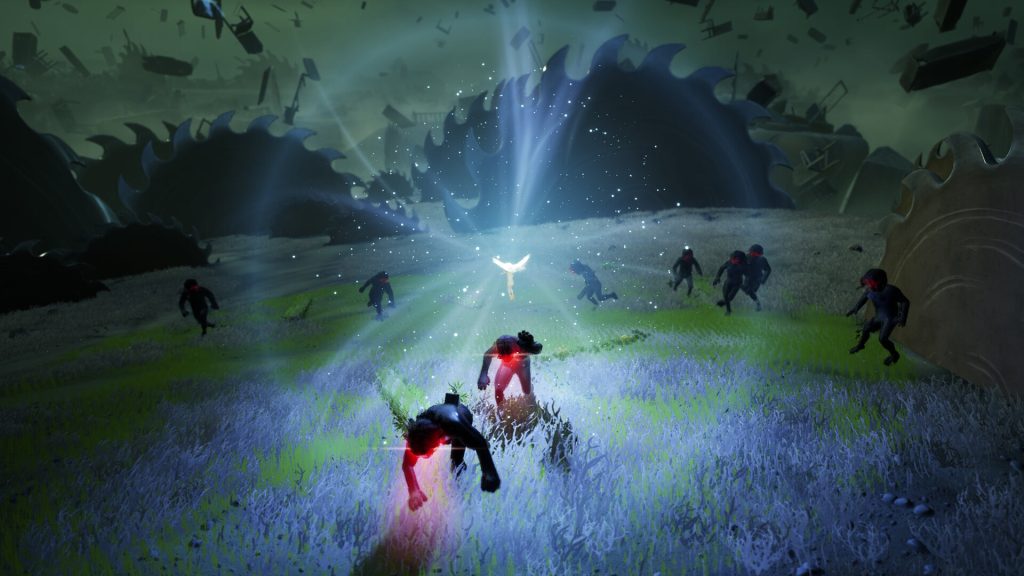 Music and SFX seamlessly merge into a cohesive wall of sound, blending together, so the SFX and music feel part of the world that you are exploring. Mirella had to work hard to balance these elements and make sure that this concept made sense from an audio engineering perspective, and we believe it has been executed exceptionally well.
This wall of sound contrasts with the subtle, magical sounds of Gaia. Her gentle voice fills the air with warmth as she sings, giggles when she finds a spirit, pets an animal or grows a tree. During key emotional sequences, the wall of sound dissolves and melody emerges. The contrast is even bigger in the Ark, where a beautiful theme celebrates life through a melancholic glass.
Francesco:
After Us will be released on PC, PlayStation 5, and Xbox Series X/S on May 23rd. What are your expectations for your upcoming title? Do you have any plans for DLCs and any additional content to expand the title, or will you dive headfirst into a new IP?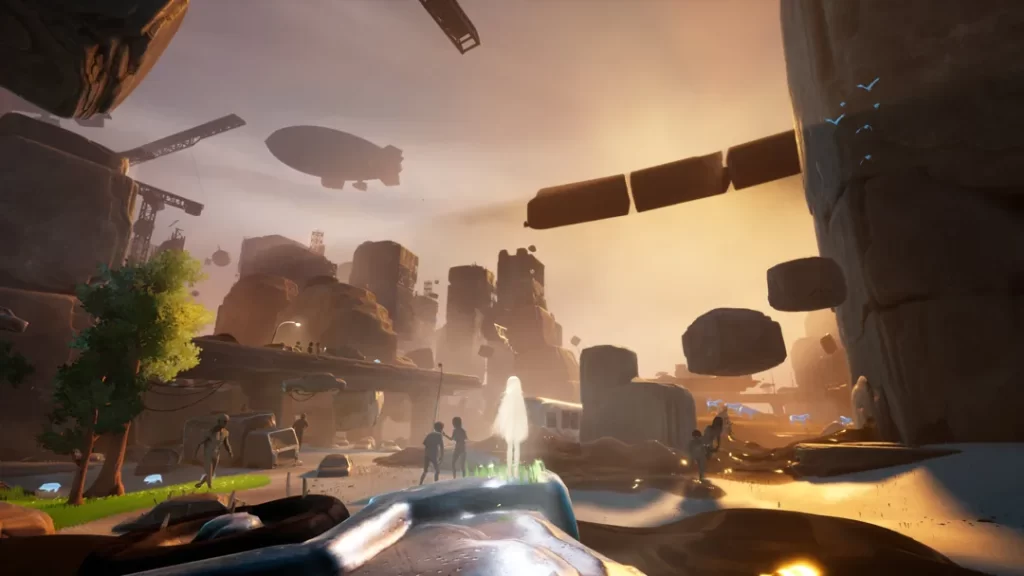 Alexis:
At Piccolo, we aim to create memorable experiences. Our expectations are that players enjoy the adventure and come out of it moved but with a bit of hope. Hope to change things and the will to celebrate and respect life.
There are no plans for sequels or DLCs, and the full Piccolo team is working on a new IP already.
In Conclusion
We would like to extend our heartfelt thanks to the team at Piccolo Studio and the publisher, Private Division, for granting us this interview. A special thanks goes to Game Director Alexis Corominas Barrueco, who was extremely helpful and kind in answering our questions and providing us with intriguing insights and interesting perspectives on After Us.
Furthermore, we would like to remind you that After Us is now available in digital format for PC, PlayStation 5, and Xbox Series X/S starting from May 23rd. You can purchase it for $29.99 by visiting the official digital stores of Steam, PlayStation, and Xbox.
Thank you for following us today as well! Talk to you soon.