A little over a year after its release, DotEmu and Tribute Games present the first DLC Dimension Shellshock. New modes and new characters await us in this new TMNT adventure.
It was June 16, 2022 when TMNT Shredder's Revenge made its release on all gaming platforms. Its great gameplay and great pixel art impressed both new and old fans of the genre. To date, TMNT Shredder's Revenge boasts over one million copies sold.
After this success, DotEmu and Tribute Games announced a DLC scheduled for August 31. Dimension Shellshock a new mode and two new playable characters.
To learn more about this title, I refer you to our review. Now let's see all the elements in detail.
An Interdimensional Brawl
Chaos has broken out in the TMNT universe! Shredder wants to conquer the entire multiverse and the warriors of dimension X need all the help they can get.
Our heroes will have to traverse the various dimensions to stop Shredder once and for all.
This is basically a survival mode.
We have to fight the hordes of minions of the Foot Clan to get the dimensional crystals. Once you've collected enough crystals, you'll be able to travel across dimensions in pursuit of Shredder! We will cross different historical dimensions with numerous references to the settings of the TMNT animated series.
After achieving victory on a dimension we will have to choose between two portals with two different upgrades. Choosing one of the latter will determine the next dimensional clash.
We can collect special pizzas, mysterious perks or even turn into the Turtles' greatest enemies!
After each journey through the dimensions we can power up and get bonuses for the characters. We can even unlock exclusive colors for the characters.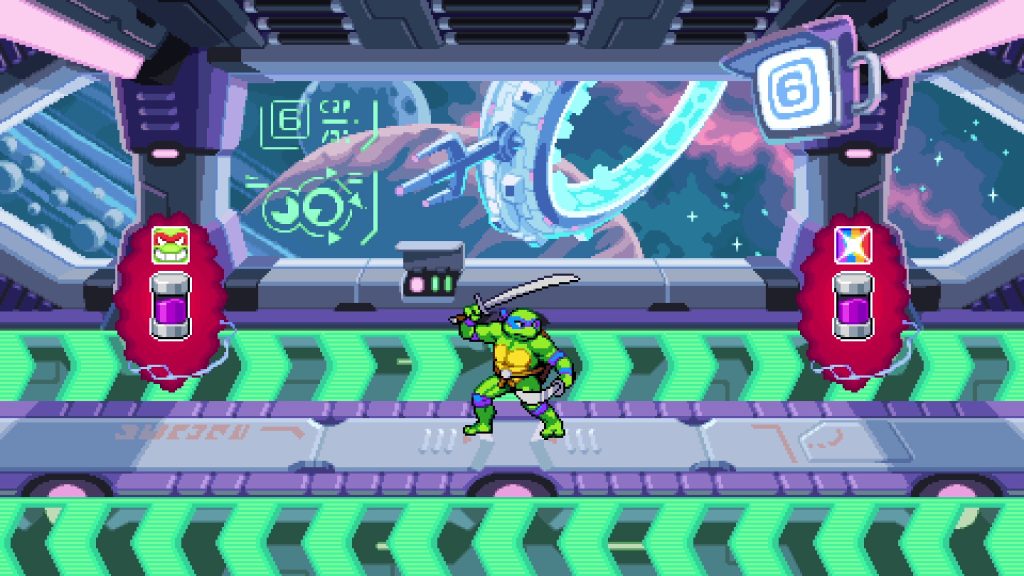 The New Allies
Dimension Shellshock offers new playable fighters: Usagi and Karai.
Usagi Yojimbo is a comic book series by Stan Sakai. It is set primarily at the beginning of the Edo period of Japanese history and features anthropomorphic animals replacing humans. The main character is a rabbit rōnin, Miyamoto Usagi, whom Sakai based partially on the famous swordsman Miyamoto Musashi. Usagi wanders the land on a musha shugyō, occasionally selling his services as a bodyguard.
Usagi appeared several times in Teenage Mutant Ninja Turtles  and the Turtles have appeared in Usagi Yojimbo as well. In the 1987 series, "Usagi Yojimbo" is incorrectly used as his actual name, but in the 2003 series, where he appeared far more frequently, he was referred to correctly as Miyamoto Usagi. Usagi's first appearance in the 2012 series was the fifth-season episode, "Yojimbo", which was written by Sakai. In his guest appearances, he is closest to Leonardo, both sharing the same ideals and code of ethics.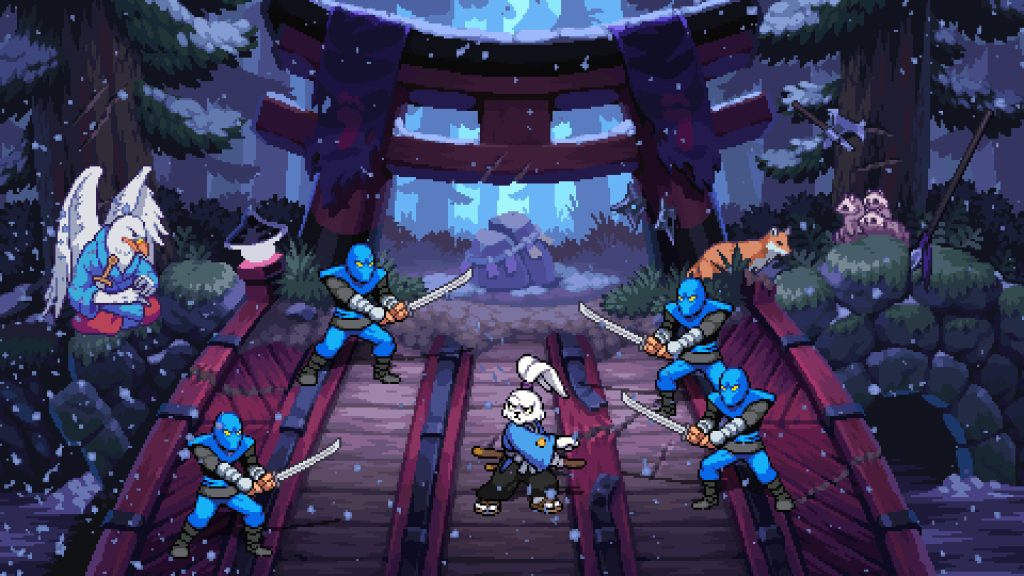 Karai is a fictional supporting character appearing in Teenage Mutant Ninja Turtles comics and related media. She is usually a high-rank member of the Foot Clan. She was originally introduced in the comic book series in 1992. Since then, she has appeared in several different Teenage Mutant Ninja Turtles comics, television series, films, and video games. She is depicted as Shredder's second-in-command or adopted daughter in most versions. She shares a rivalry with Leonardo and is at times considered his love interest. In one version of the comics, she is the granddaughter of the immortal Shredder.
DLC Dimension Shellshock will be available from August 31st on PC, PS4/5, XBOX Series S|X and Nintendo Switch.