Sony has revealed the April 2023 Monthly Video Games for PlayStation Plus Essential. This new lineup will feature two intriguing old favorites as well as a brand-new Day One Release. Let's take a look at what these games are and what you should know about them.
Sony has officially announced the April 2023 Monthly Video Games available for PlayStation Plus Essential.
This month, PS Plus Essential subscribers will have the opportunity to enjoy a new intriguing lineup comprised of two old favorites and a brand-new Day One Release.
The following titles will be available to PlayStation 4 and PlayStation 5 owners on April 4th:
Meet Your Maker – Day One Release (PS4 and PS5)
Sackboy: A Big Adventure (PS4 and PS5)
Tails of Iron (PS4 and PS5)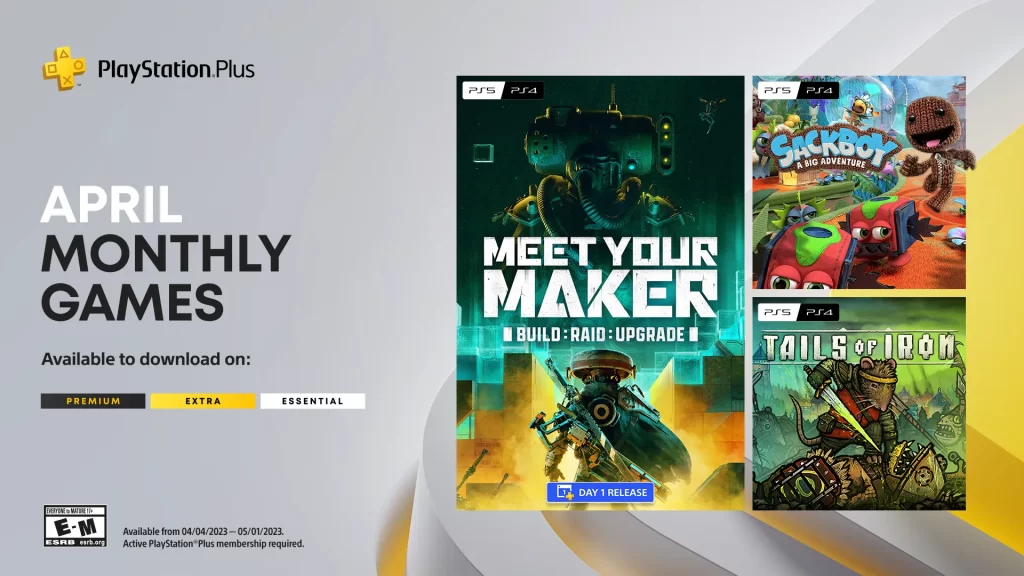 From April 4th to May 1st, these three titles will be free to download and will be accessible in your games library forever. To play them, you must be an active subscriber to the PlayStation Plus: Essential plan.
This means they'll still be there, but you won't be able to play them again unless you renew your membership to the same subscription on the same account.
So, without further ado, let's take a closer look at this month's new releases. Let's get it started!
Meet Your Maker – Day One Release
From Behaviour Interactive, the makers of Dead by Daylight, comes Meet Your Maker, a new co-op first-person building and raiding game set in a post-apocalyptic world.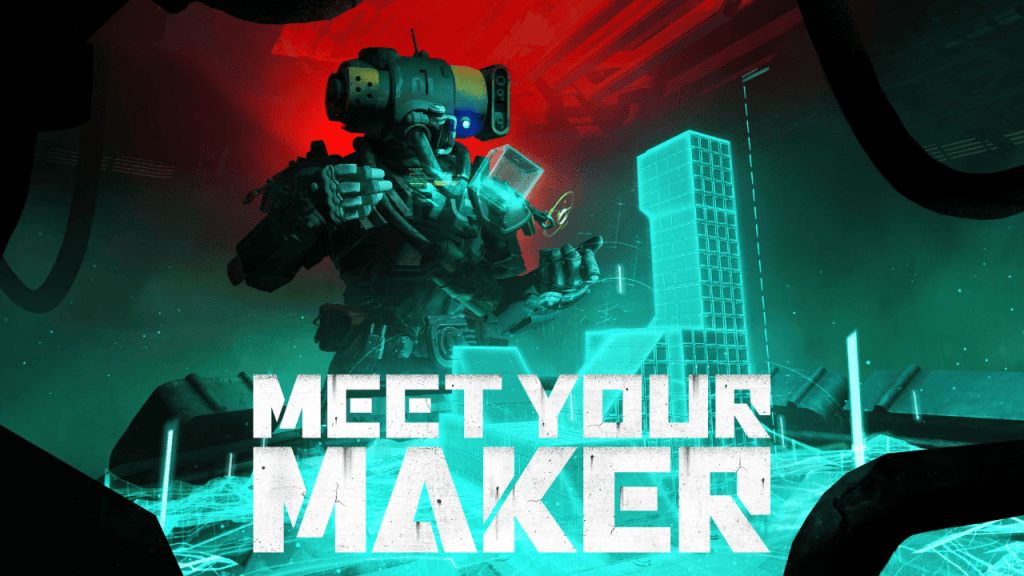 Perhaps you remember the developers from the mobile game Game of Thrones Beyond the Wall (Android and IOS), or from the survival-horror Dead by Daylight.
You may have also heard of them following the official announcement of Project S, a fascinating multiplayer open-world puzzle game coming soon on PC and Console.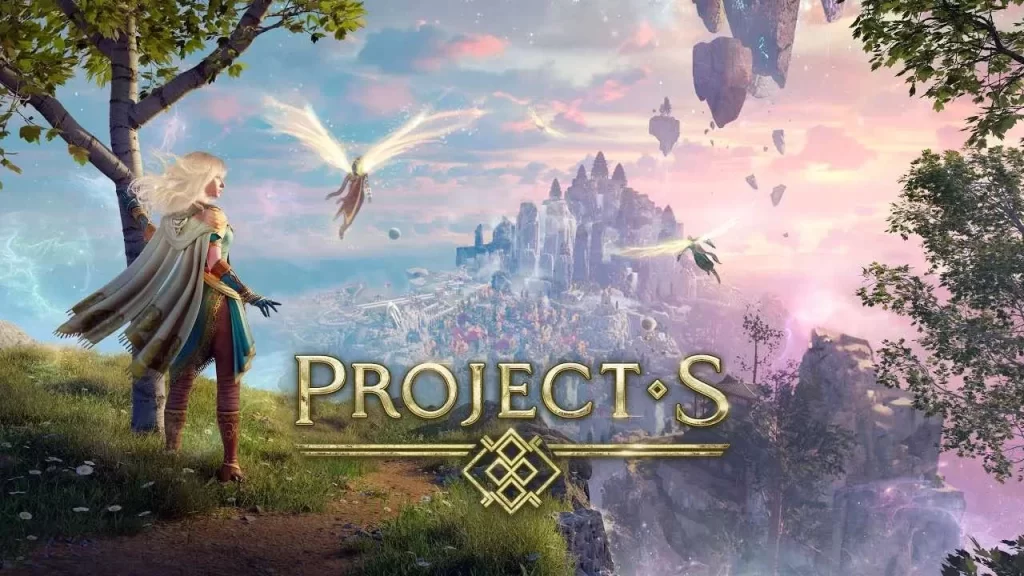 Meet Your Maker is an unusual and intriguing video game that combines building and raiding mechanics in a block-based, first-person level building game that can be played in both single-player and co-op modes.
The developers tell us about a dying land that has lost its lifeblood:
"You are the Custodian of the Chimera, a living experiment created as a last resort to save life on Earth," the developers explain. "Enter a tactical battle for the planet's most coveted resource and the key to your Chimera's evolution: pure Genetic Material. Construct and fortify brutal Outposts to extract and guard your Genmat. Infiltrate and outsmart other players' Outposts to gather more. Adapt, upgrade, and evolve… or die trying."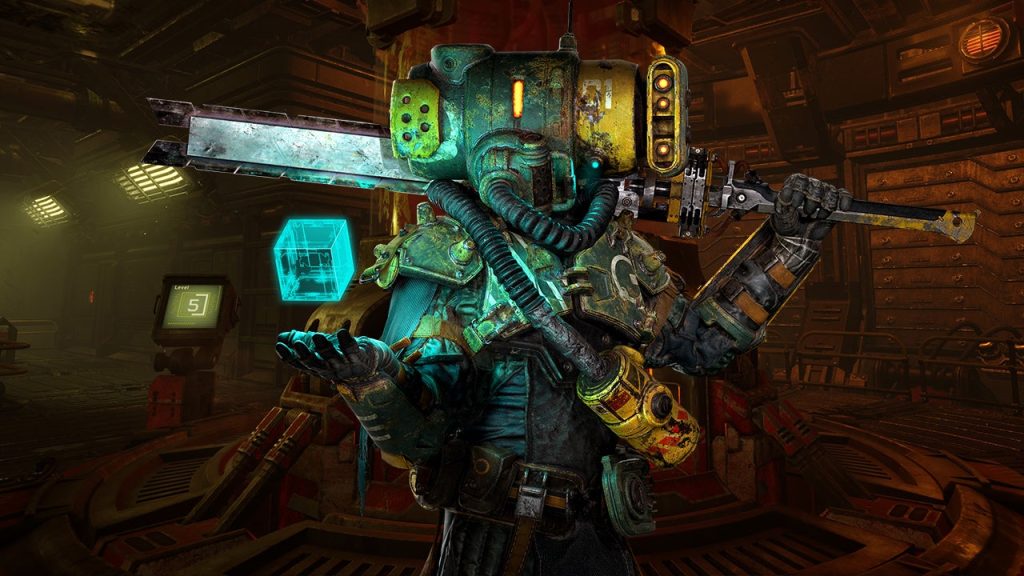 The game features an intriguing asynchronous multiplayer gameplay that makes use of a solid building component, allowing players to create traps, mazes, and custom guards to defeat other players, as well as pre-record custom patrol paths for your guards using the innovative AI recording systems.
As you progress, you will gain access to increasingly hyper-technological customization, including a vast, ever-expanding toolbox of traps, guards, mods, and augments that will allow you to be more creative while fortifying your impenetrable base.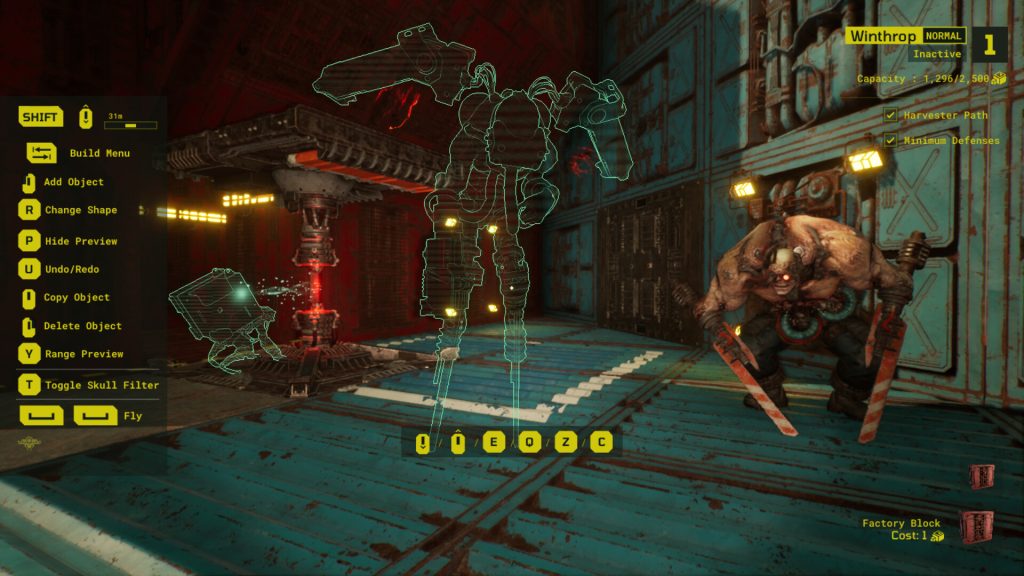 Combat works similarly to a traditional FPS, with melee and ranged weapons. It will be up to you to select the appropriate equipment, determine the best strategy, and fight. A strategic approach can be critical to success.
At times, you'll be able to run head over heels at times, tearing apart every creature and player in your path. Other times, you'll have to think about it and wait for the right moment. The more times your Genmat dies, the more solutions you'll discover to your previous mistakes.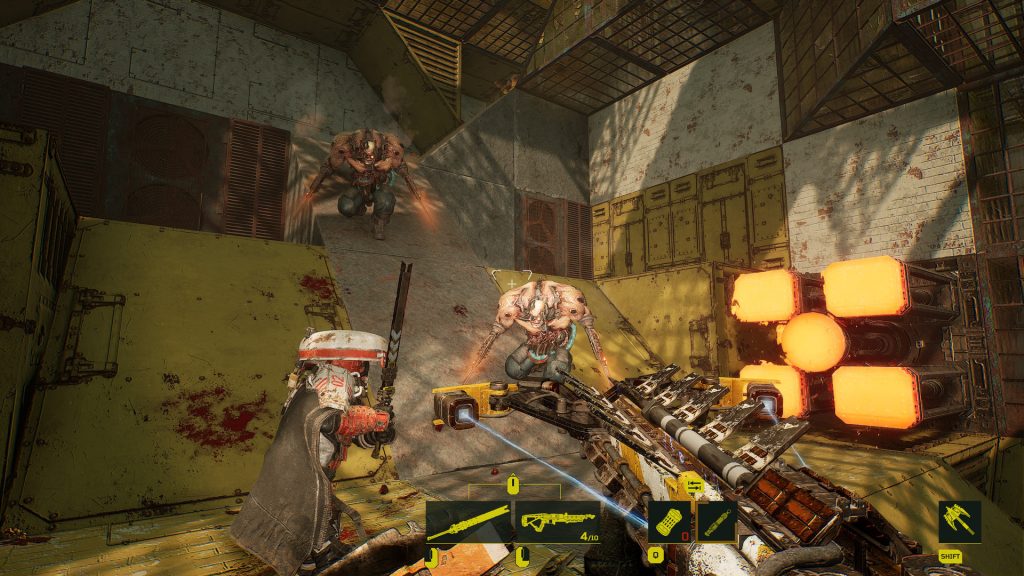 Who is Meet Your Maker primarily aimed at?
Well, if you enjoy canonical first-person shooters combat, you should not pass this one up. An explosive and bloody combat system will be in place, comprised of demonic weapons, intelligent strategic approaches, and disgusting creatures to maim.
If, on the other hand, you're looking for a block-building component with which to freely build and upgrade your base, that's also available. And it's one of the key components in both single-player and co-op survival.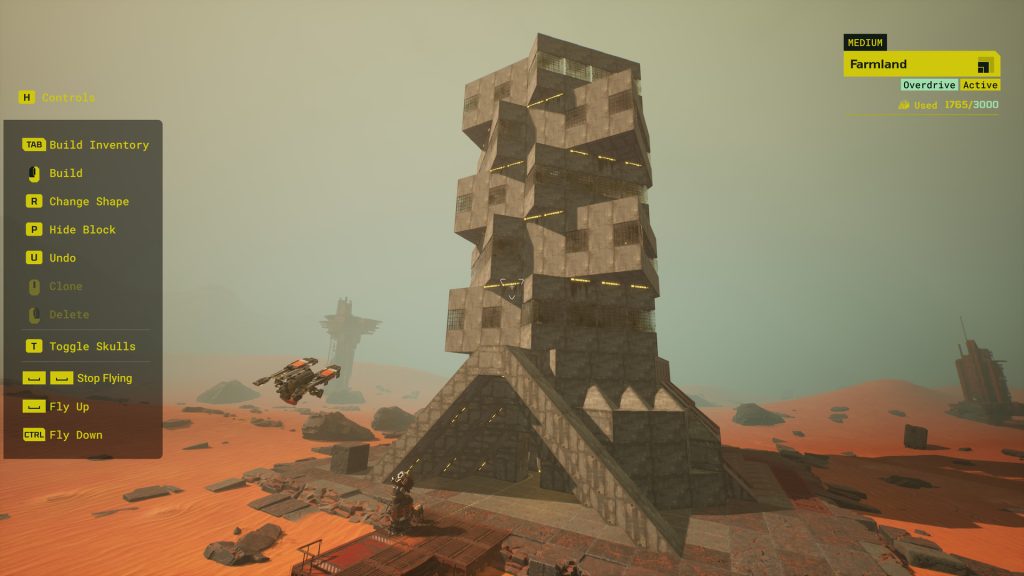 If you're interested in at least one of the two main game components, this could be the game for you. Bring a friend and join the party. The end of the world has arrived, and only the most talented Genmats will survive.
Meet Your Maker will be released today, April 4, 2023, on PC, PlayStation 4, PlayStation 5, Xbox One, and Xbox Series X/S. The game will be included in the PlayStation Plus: Essential subscription as a Day One Release.
Sackboy: A Big Adventure
The most iconic sack boy of all time is back!
Sackboy: A Big Adventure is a 3D multiplayer platforming game developed by Sumo Digital and published by Sony Interactive Entertainment.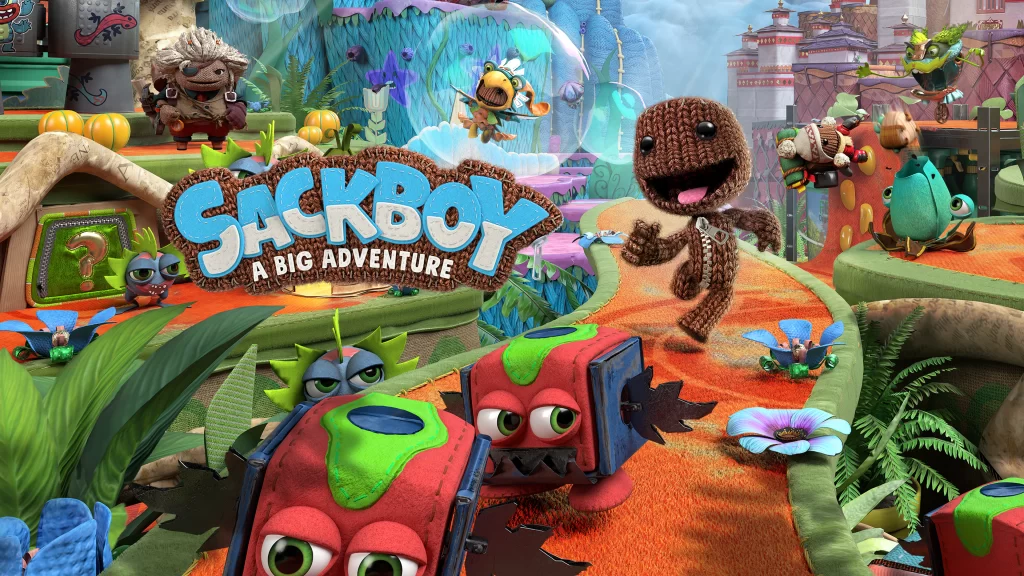 The game was released for PlayStation 5 and PlayStation 4 on November 12, 2020 in North America and Oceania, and on November 19, 2020 in most other regions. The game's PC version was released on November 19, 2022.
Sumo Digital's new platform adventure is now available on PlayStation Plus: Essential!
Based on the popular IP Little Big Planet, Sackboy offers a winning and enjoyable formula, drawing inspiration from the series while introducing some novel changes to level design and platforming.
But first, a few words about the protagonist. For newcomers, Sackboy is one of the most popular fictional characters on PlayStation and the undisputed protagonist of the Little Big Planet series.
Introduced in 2008 with the first Little Big Planet installment, Sackboy is a tiny anthropomorphic, humanoid doll-like character made of burlap sack with a brown knit pattern by default, with a zip fastener and button eyes.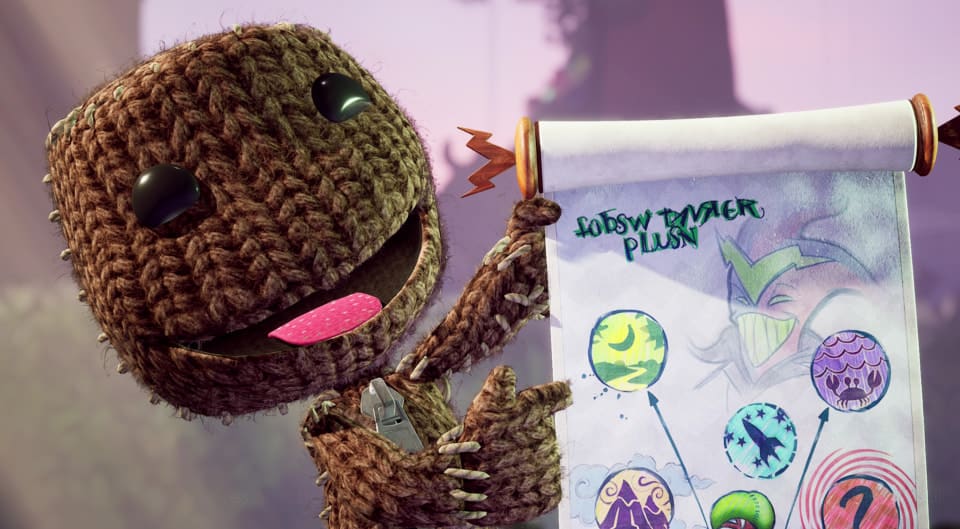 The plot follows Sackboy's thrilling adventures as he attempts to save his kind from the terrible threat of Vex, Overlord of the Uproar.
In Craftworld, in the village of Loom, the Sackpeople are enjoying their lives when the villain Vex rips through the sky and begins to suck everything up with his machines in order to enslave the Sackpeople and use his Topsy-Turver machine to take over Craftworld with his evil Uproar.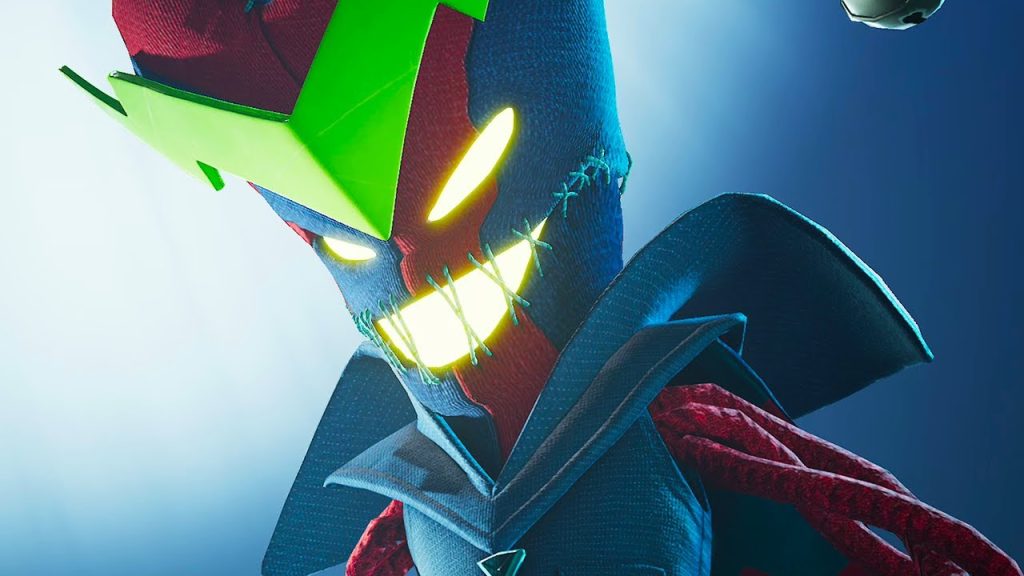 Sackboy manages to avoid enslavement and steals the Topsy-Turver plans before fleeing in a rocket. He uses the plans to travel all over Craftworld with the help of an elder sackperson, Scarlet, and tries to prevent Vex from getting the final materials he needs to finish the Topsy-Turver and take over the world, solving many of the problems Vex caused and gathering Dreamer Orbs along the way.
The gameplay is similar to the original Little Big Planet series, but the platforming has been improved to provide a more three-dimensional perspective and movement.
Sackboy's move set has also been significantly expanded, allowing players to slap enemies at will, roll, punch, pick up items, and even swing. The levels are entertaining, interactive, and challenging, allowing everyone to have a good time, from the oldest to the youngest.
And if you enjoy music, you'll be pleased to know that the soundtrack to Sackboy: A Big Adventure is a true gem, featuring some truly memorable music levels like Treble in Paradise (Mark Ronson's Uptown Funk), Beat the Heat (Jungle Boogie by Kool & The Gang), and many other important artists such as Britney Spears, David Bowie, and the Depeche Mode.
For the more daring, Scarlet has curated 15 Knitted Knight's Trials, challenging time trials to complete in order to improve your skills, beat your previous records, and obtain the coveted Platinum Trophy.
Before proceeding to the final trial, you must successfully complete the previous ones. Only in this way will you be able to gain access to the final special trial, which consists of all previous stages to be played sequentially. To finish them all, you'll need time, patience, and cunning, so take your time.
As with Little Big Planet, you can customize your Sackboy by collecting cosmetic items in different levels or purchasing others from the traveling haberdasher ZomZom's Shop.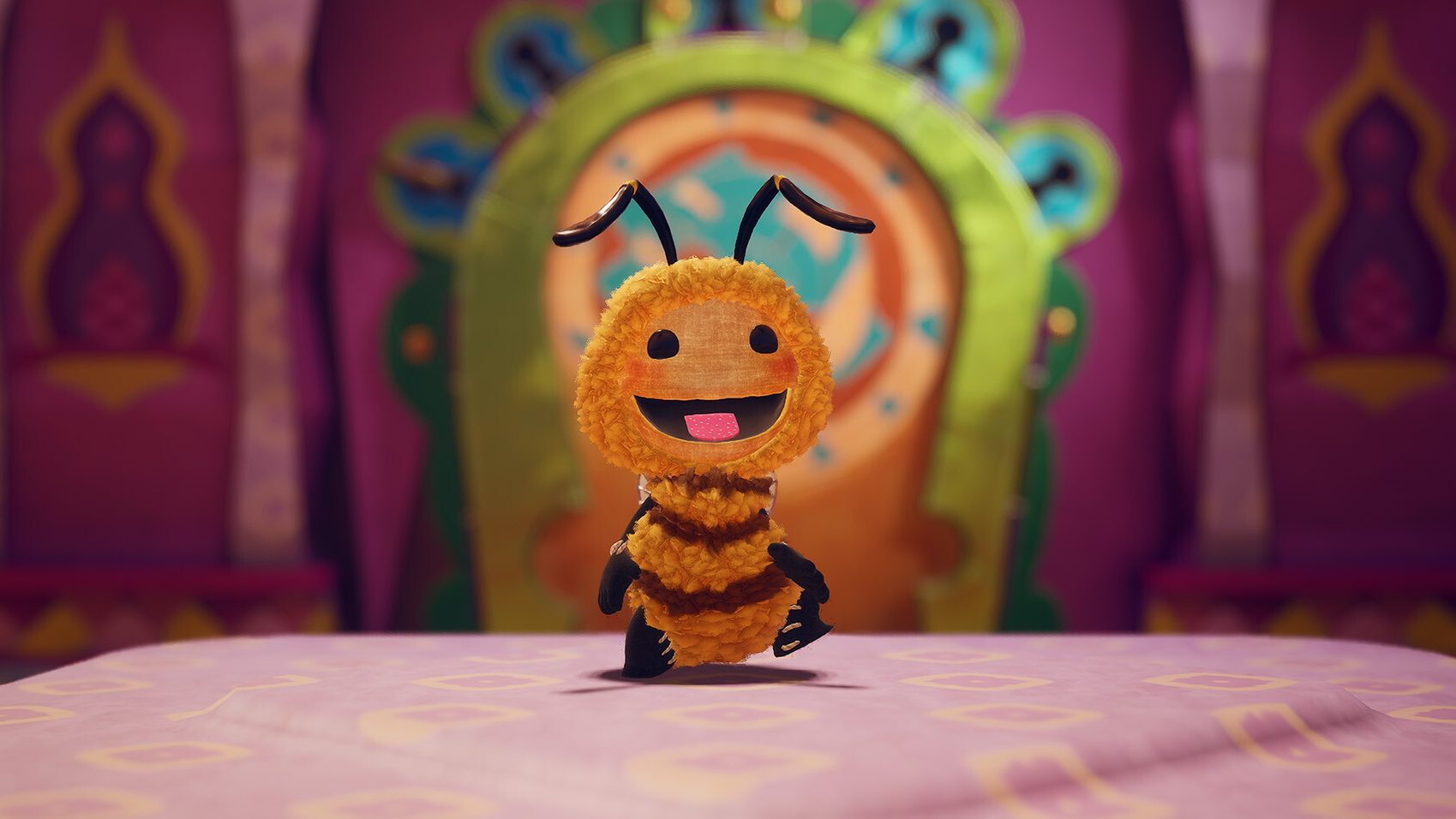 With the release of Sackboy: A Big Adventure on PlayStation Plus, over 40 new skins are also available for free.
If you want to further customize your protagonist, the constant post-launch updates have resulted in a slew of interesting crossovers between PlayStation IPs, including the very cute themed skins of The Last of Us and God of War.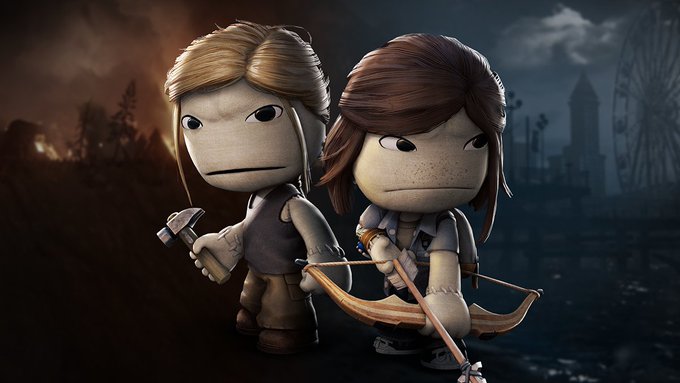 The game is fully playable in both local and online multiplayer modes, allowing up to four players to enjoy the game together. Each world contains stages that require multiple players to enter and are specifically designed to require players to work together in order to progress.
Do you want to play a fun adventure 3D platform game with a friend? So, what are you still waiting for? Sackboy: A Big Adventure could be perfect for you!
Tails of Iron
From the ruins of a defaced throne, a valiant rat will rise. He will reclaim his royal lineage and exact vengeance on the heinous murderers who have defiled his Kingdom.
Tails of Iron is a stunning hand-drawn action RPG side scroller developed by Odd Bug Studio and published by United Label and CI Games.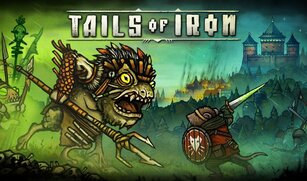 The game was released on PC, PlayStation 4, Xbox One, and Nintendo Switch on September 17, 2021, and was later updated for Next-Gen consoles (PlayStation 5 and Xbox Series X/S) with significant improvements such as DualSense Adaptive Triggers, which optimize the combat experience with thoughtful responses, native 4K resolution, and 60fps graphics.
Set in a grim and war-torn land, you must restore your shattered kingdom as Redgi, heir to the Rat Throne, by exiling the ruthless Frog Clan and their vicious leader, Greenwart.
The narrative is a never-ending climax of emotions and thrilling moments, so I won't spoil anything for you if you decide to play it.
You'll be fully accompanied by the legendary Doug Cockle's deep, raspy narrations, an internationally renowned voice actor who will never leave you alone. He'll go over every detail of the story in great detail. He will be your light even in the darkest times.
Tails of Iron's game world is filled with war-torn environments, secret caverns, unexplored mines, and putrid environments infested with terrifying enemies. And then there's Crimson Keep. A fortress to be rebuilt and shine. This is where Redgi interacts with her brothers Rem-Rem, Bam-Bam, and Dug.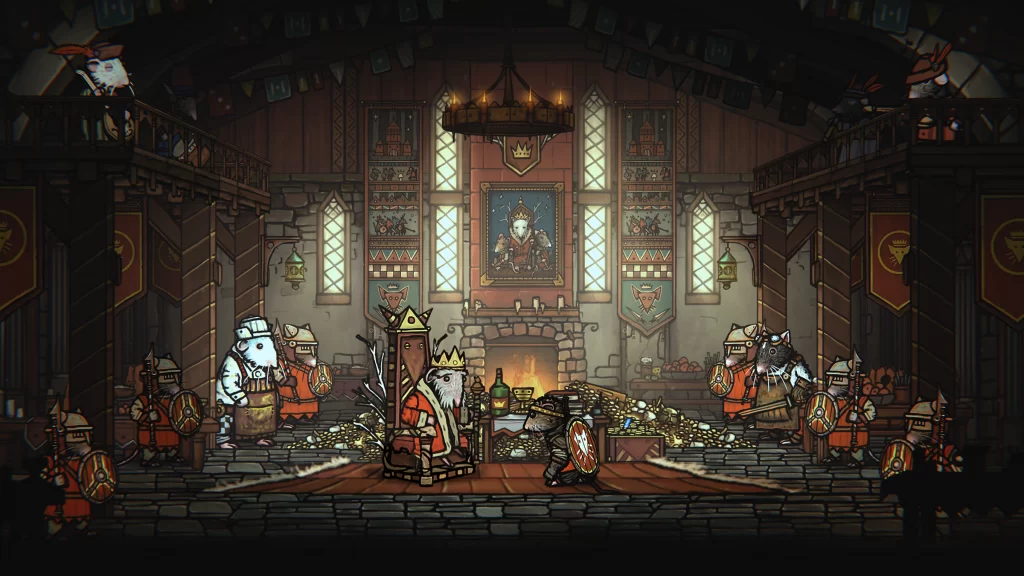 Rem can cook up a health-boosting feast with ingredients found throughout the world, while Bam can craft new weapons and armors from special blueprints you'll uncover… if you look hard enough. And then there's Dug, who'll update you about new quests available throughout the Kingdom.
Tails of Iron is built around brutal, punishing, and rewarding combat. Take on GreenWart's most powerful generals, master dodge-rolls, parry bashes, lethal executions, and wipe out entire legions of frogs.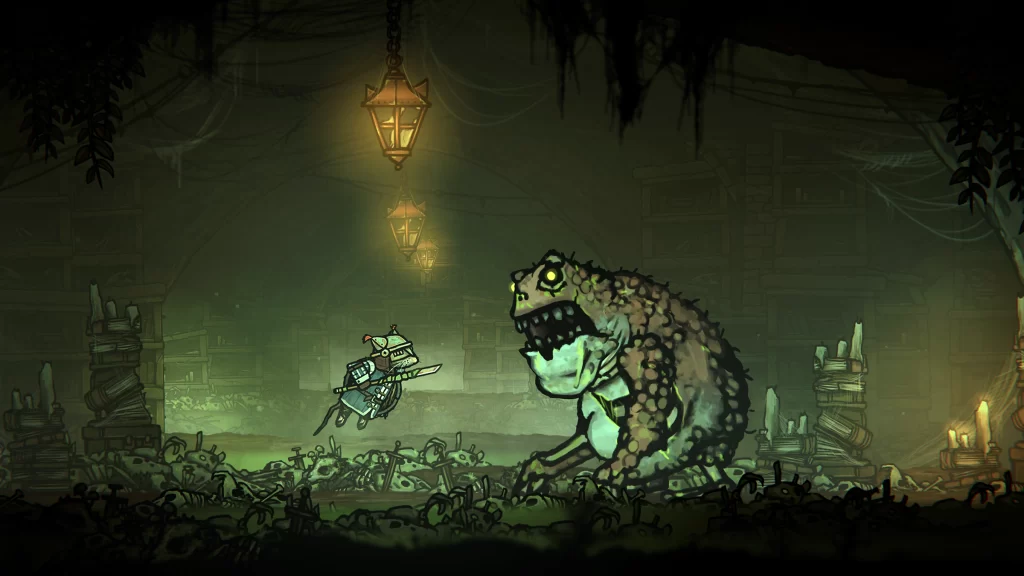 Frogs aren't the only threat. Confront the raucous Mozi, the sky's guardians, and the Grubs hidden within putrid caverns. Make friends with clever Moles and engage in no-holds-barred subterranean combat against Champion Moles in the arena.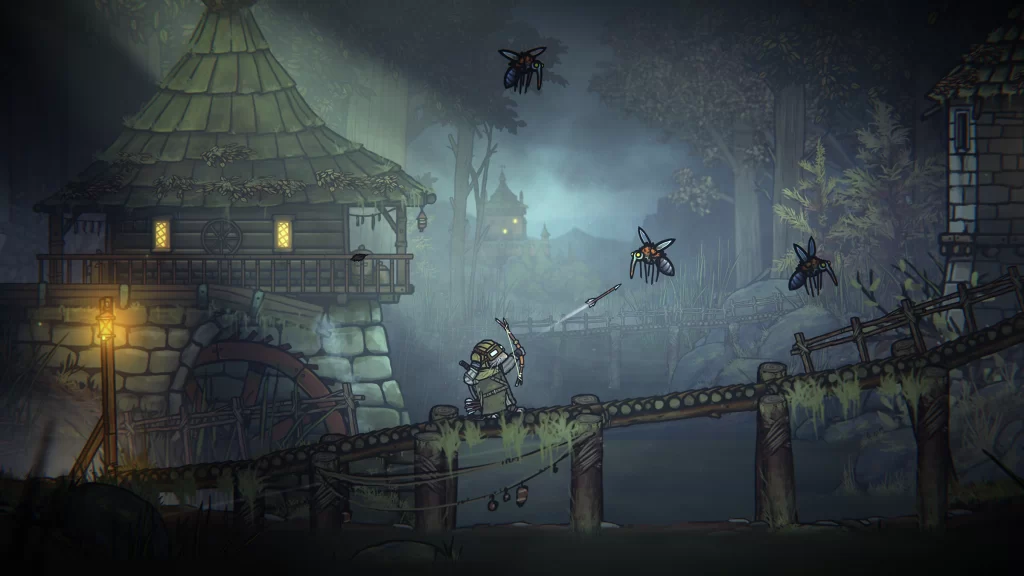 You'll be able to select your fighting style, armor, and weapons. Remember that each weapon and armor affects Redgi's weight. If his armor is too heavy, his movements will be slowed.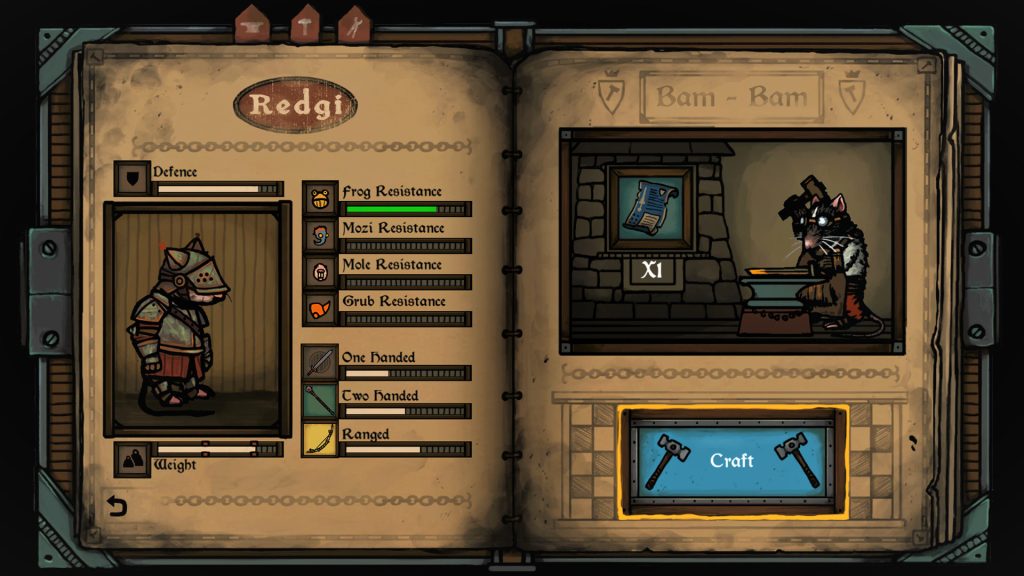 If that isn't enough, once you reach the end game, you will be able to claim the free Bloody Whiskers DLC.
A free Tails of Iron expansion that adds a new post-game questline, two new difficulty modes, five new bosses, a selection of special armors and weapons, and a secret that was perhaps better left forgotten…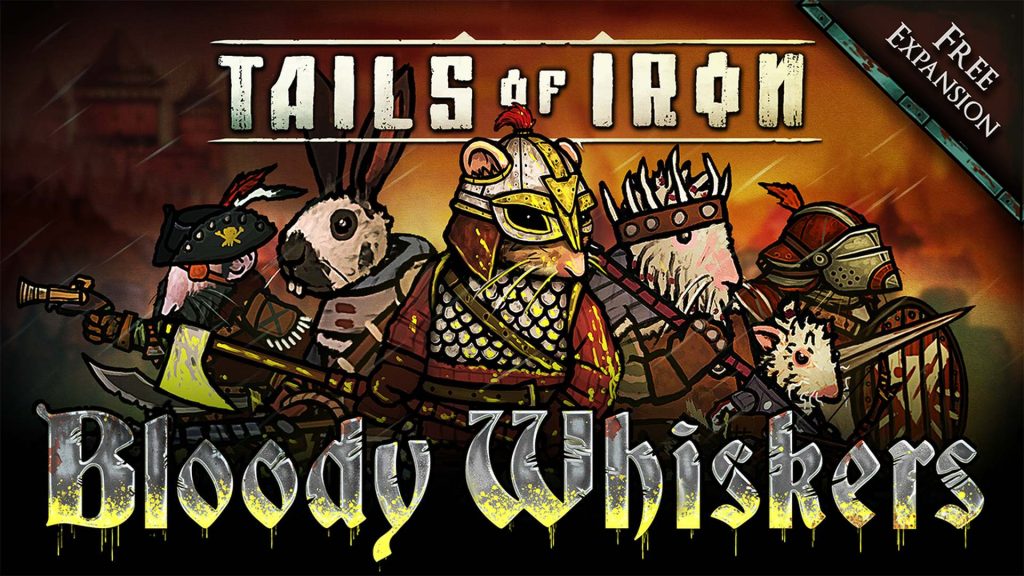 With the tyrannical Greenwart now defeated, King Redgi's vast lands chime with celebration. But the recently crowned saviour isn't free to rest easy on his throne just yet. As decreed by an ancient Rat tradition, the new King must prove his worth… in a deadly trial of combat.
Are you ready to re-enter the fray and prove your worth?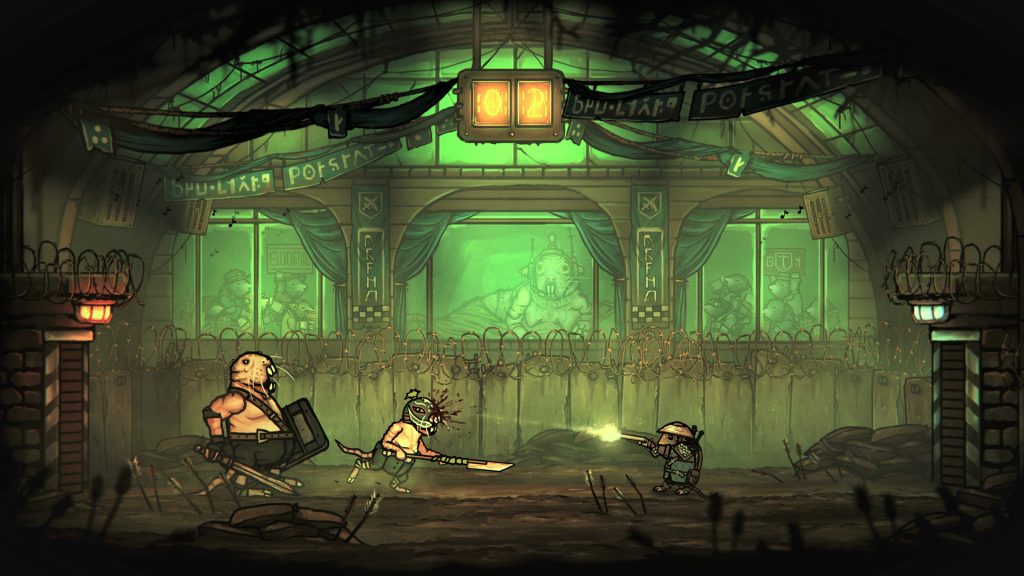 Defeat the most lethal warriors from across the land to claim the key to the old King's room. But what heinous secret lurks within?
Tails of Iron is a memorable experience that I would recommend to anyone. Its Action RPG formula is flawless and successful, and it never ceases to amaze me. Obviously, you'll need to master a difficult and punishing combat system, but don't be disheartened if you die several times during some boss fights. This is also the beauty of Odd Bug Studio's production.
Die, learn the enemy's pattern, try again, die again and again, and relish the sweet sensation of skewering the enemy with your preferred weapon.
If you want to learn more about Tails of Iron, check out our interview with Jack Bennett, Co-Founder, Producer, and Game Designer at Odd Bug Studio.
For example, did you know that all of the main rats in Tails of Iron (including Redgi) are based on Team Leader Daniel Robinson's pet rats?
See you next month
So, what are you going to play this month? Will you join the frenetic and bloody raids of Meet Your Maker, save the Sackpeople from the Vexterminator, or face the ferocious frogs with the brave Redgi?
Every month, the PlayStation Plus subscription provides exclusive discounts on many PS4 and PS5 video games. By renewing your PlayStation Plus: Essential subscription each month, you will be able to redeem three new "free" games that will be available from the beginning of each month until the end of the following month.
Have you claimed your March Monthly Games? The following titles are no longer available for free download as of April 3rd:
Battlefield 2042 (PS4 and PS5)
Minecraft Dungeons (PS4)
Code Vein (PS4)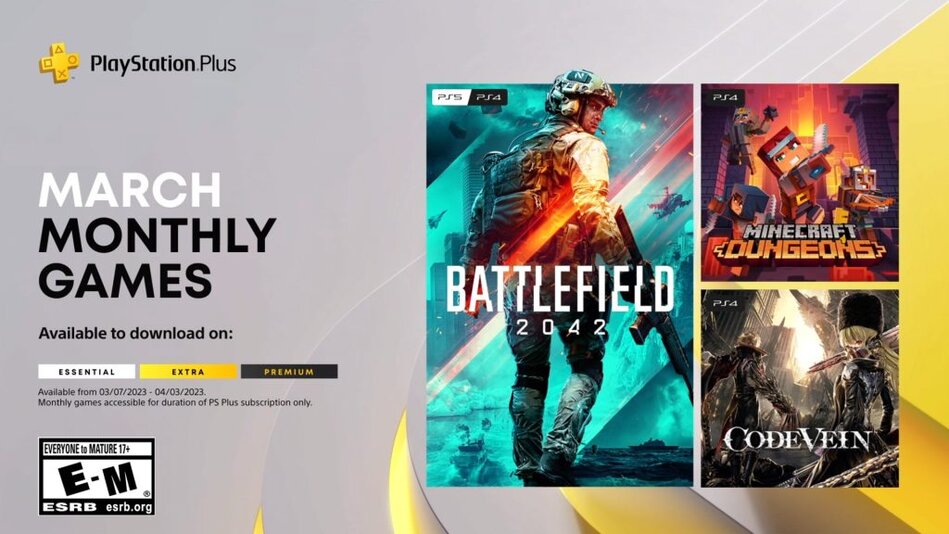 That's all for today. I hope you found the information I provided helpful. See you at the end of April for the new May Monthly Games lineup. Thank you for reading; talk to you soon.