Leila, the newest project from Ubik Studios, coming to Steam. We tell you everything we know so far about the Protagonist
Today we tell you everything we know about Leila. It's a graphic adventure game with puzzle elements that makes the narration, already the protagonist, an even more engaging element. The hand-drawn graphics are meticulously cared for. It comes with a palette of warm and pastel colors that make for an even more immersive nad relaxing experience. Proof that Ubik Studios does not only want to provide players with a video game that makes time pass. They're aiming to provide a real experience that can remain in the players' memory. This is possible through a narrative, a graphic and sound sector with attention to the smallest details.
Now, from the official Ubik Studios Twitter profile, we know that the game finally has an official page on the Steam platform. Leila' is set for the late 2023. It will be available for PC and MacOS and you can now add it to your wishlist in the meantime. We also hope that soon the public will be able to experience a portion of the game through a Demo.
Leila – Creating a woman
When we look out over the immense videogame panorama, we immediately notice that the main characters are almost always (if not always) male. We do not deny there are also main female characters, let's just say that statistically there are fewer.
Thanks to Ubik Studios, however, we can also add Leila to these female characters.
In her play, Ubik, puts a lot of effort into making Leila not a "type" but a character, a very authentic and real character. Leila is a person with weaknesses, flaws, hopes and goals, like all of us. Even though she may appear ordinary, she is unique, authentic through and through.
"The effort to perfect her story as much as possible and turn it into an enjoyable gaming experience is invaluable, not only because this game is about a woman, but also because it brings her to us in a very deep and entertaining way." – the Ubik' narrator comments on it
Let's get to know Leila's story
Leila is a famous writer. Now old, she decides to write her autobiography of her. As she begins to write it, she realizes that her past is filled with a number of "turning points" that have shaped her life. She decides to revisit these moments and examine them more closely to better understand herself and her past.
The actress, who plays the role of Leila, experiences the phases she goes through at various times in her life, helping her to move forward at these turning points. As Leila digs deeper into her past, she begins to uncover secrets and hidden truths about herself and her loved ones.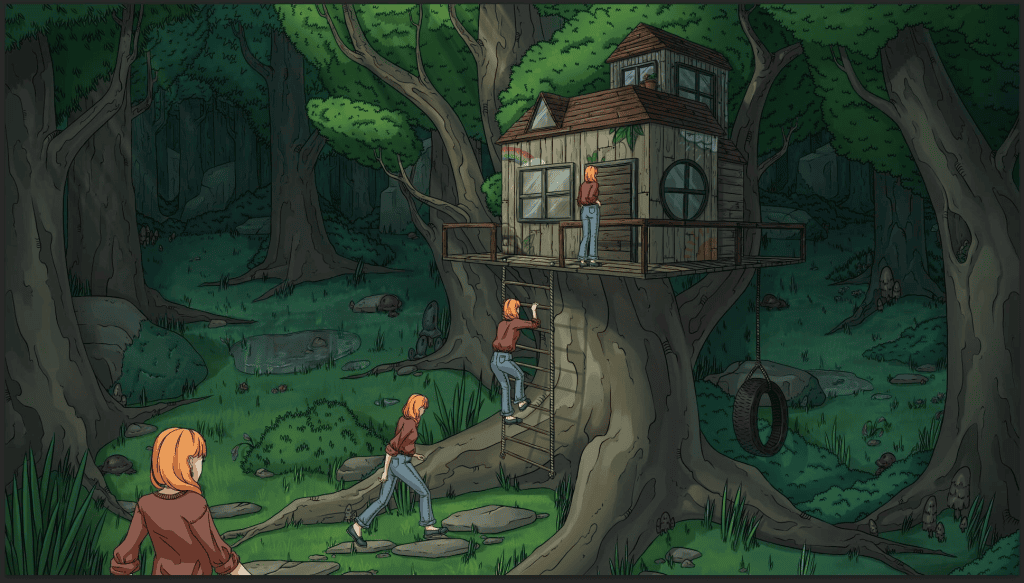 The player must help Leila make decisions and solve puzzles. As she tries to piece together the events that have shaped her life. Along the way, Leila must face her own flaws and mistakes, as well as the challenges and obstacles that stand in her way.
As our protagonist's story unfolds, we will have the opportunity to experience a wide range of emotions, from triumph, joy, sadness and even regret. The game explores the power of memory and the importance of understanding your past to move forward in life.
Upon reaching the end of Leia's journey, the player must help her make a final and crucial decision. This will determine the fate of her and her legacy that she will leave behind her. With the player's guidance, Leia comes to terms with her past and achieves peace and closure.
Features to expect:
4 Chapters
Story-related puzzles and mini games
Hand-drawn cinematics
16 original soundtracks
Voice acting in English
Click and Drag Gameplay
Our very first thought
Exploring the memories of Leila's life, of course, we will feel emotionally connected with her. We'll see pieces of our own life through her story. This is because, Ubik Studios, aims to provide an experience that appeals not only visually and story-wise. Above all, it aims to move the emotions of the players. They put curiosity, happiness, puzzles and much more into the ordinary. Transformimng the simplest form of life into play, our simplest emotions, our experiences that originate and multiply in everyday life. They aspire, therefore, to presenting us with a unique and full of meaning narrative.
Ubik Studios is ready to offer all of us a large magnifying glass with which we can hunt down all those details of everyday life, which most of the time we risk losing or taking for granted.
We are excited about this brand new title, Leila. We can't wait to update you with new content about it. Stay up to date with us!
Good Game everyone!