We took a virtual leap into the studios of Jyamma Games, an interesting and promising video game studio Made in Italy based in Milan. From their background to their beginnings with mobile video games to now, with the development of the highly anticipated Enotria: The Last Song. Here's what the development team shared with us.
Today, we are thrilled to present our interview with Jyamma Games, an ambitious, promising, and young independent video game studio based in Milan, Italy.
From exploring their backgrounds to tracing their beginnings in the gaming industry with mobile gaming, and up until this point, with the development of their highly anticipated Action RPG, Enotria: The Last Song, we have embarked on a "small" virtual journey into their studios. Our aim is to gain a deeper understanding of the team's origins, their unique approach to game development, and to glean insights into their perspectives and aspirations for the future.
Leading us through this captivating and immersive journey will be the developers themselves, through their backgrounds, words, and stories.
Jyamma Games: A fast-growing independent video game studio
"We at Jyamma Games do not want to compete with anyone, but on the contrary, we want to promote a sense of mutual help and cooperation. I strongly believe we can bring Italian excellence also in video games," says Giacomo Greco, CEO & Founder of the team, as he introduces us to the world of Jyamma Games.
Jyamma Games is as a a fast-growing independent video game studio based in Milan, initially formed by a small group of passionate game developers. From the very beginning, the team embraced an immensely significant mission: to contribute to the advancement of the Italian video game industry, enhancing its quality, diversity, and infusing it with a breath of fresh air.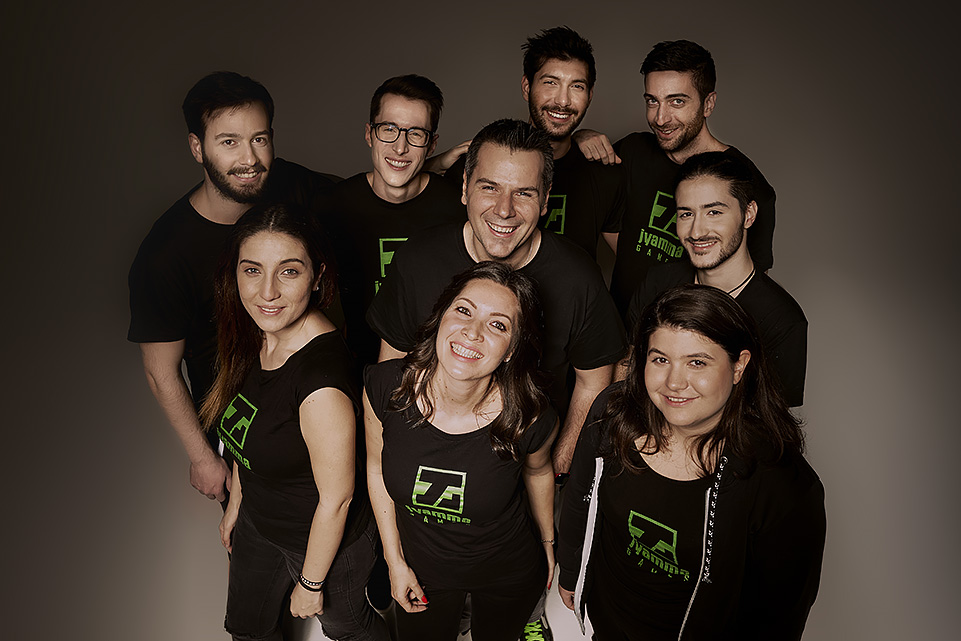 Along the journey, the studio accumulated experience, skills, and a team of highly talented individuals from some of the leading companies in the video game industry. Currently, the team consists of over 50 collaborators from various countries, under the experienced guidance of senior professionals from the entertainment industry.
The team is currently hard at work on their upcoming project, Enotria: The Last Song, an AA Action RPG rooted in Italian culture and folklore. The developers describe it as a "Summer-Soul" experience, capturing the beauty and vibrant colors of the Italian summer.
However, it will be the devs themselves who will delve deeper and provide further insight into everything we have previewed. So, without further ado, it is with great pleasure that we invite you to read our interview with Jyamma Games.
Francesco:
Jyamma Games is a young Italian independent video game studio with a modern and contemporary perspective of video games, aiming to improve and add value to the Italian video game industry. Would you like to tell us about your team's origins? How did Jyamma Games come to be, and what were the stages that led you here?
Jyamma Games – CEO:
Jyamma Games was born in July 2019 as a small mostly mobile game development company, I had intended, after my long experience in the recording industry as a producer and entrepreneur, to open a software house, and after studying the basics of the industry and acquiring the necessary know-how about the industry I set out on this adventure bringing with me what I considered to be the best talents I had worked with at the DBGA academy the year I graduated.
Francesco:
Your studio offers a bold and modern vision of the world of video games, focusing on extensive research, creativity, and innovation. What is your current mission and what target do you hope to achieve? And what, in your opinion, are the distinguishing traits and strong points of your company?
Jyamma Games:
From this project we expect to get the right prominence and blazon, the reason we came to develop Enotria is precisely the will to start a much bigger process, we are convinced that in Italy, as well as in many other states, the video game sector can be a positive driving force, both economically and culturally speaking.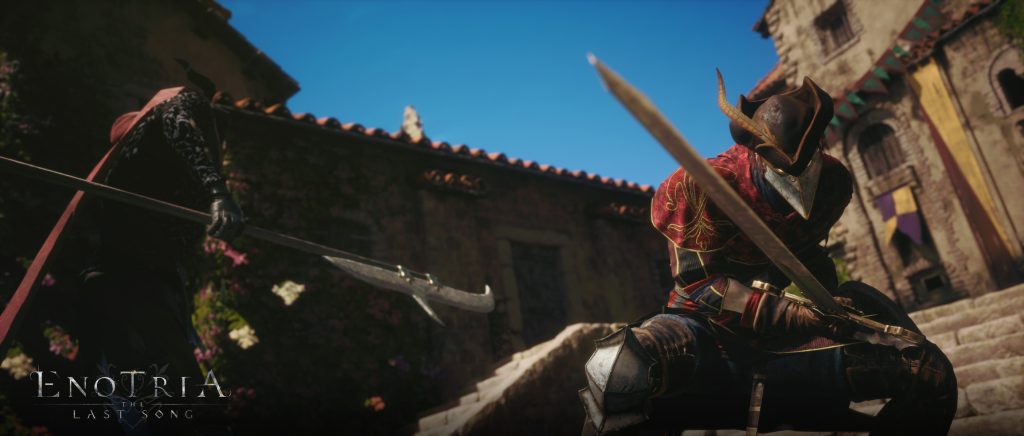 We have noticed a gigantic hole in which no one has had the courage or the opportunity to launch, to date there is no video game in the world that allows Italian culture and video game entertainment to merge into an internationally appreciable product.
The potential of Italy's art, culture, and history is completely untapped. We have examples of successful companies, such as Milestone, with its products on the racing genre, which has made history in the Italian industry, but here at Jyamma Games we firmly believe that we can do much more than that, and we have examples around the world, such as CD Projekt Red.
Francesco:
Between 2020 and 2021, you released four mobile video games: Hi-Ball Rush, Matchy Catch, Go Down, and Cowzuka.
Enotria: The Last Song, the highly anticipated Action RPG Souls-Like based on Italian folklore, will be released in 2024.
What has changed in the last two years? Was there any feeling or special need to address a bigger worldwide audience, a desire to test yourself with a larger-scale video game, or was it entirely a spontaneous, artistic and stylistic choice?
Jyamma Games:
Being a start-up and having started with a limited number of collaborators (9), we decided to consolidate our knowledge and pipeline by developing technically less complex games. We had to test all mechanisms and the team itself and mobile games were the perfect testbed for this end.
During this time we expanded the team, built a solid internal structure, assembled a cohesive team, until we were ready to develop a much more complex and ambitious product like Enotria: The Last Song.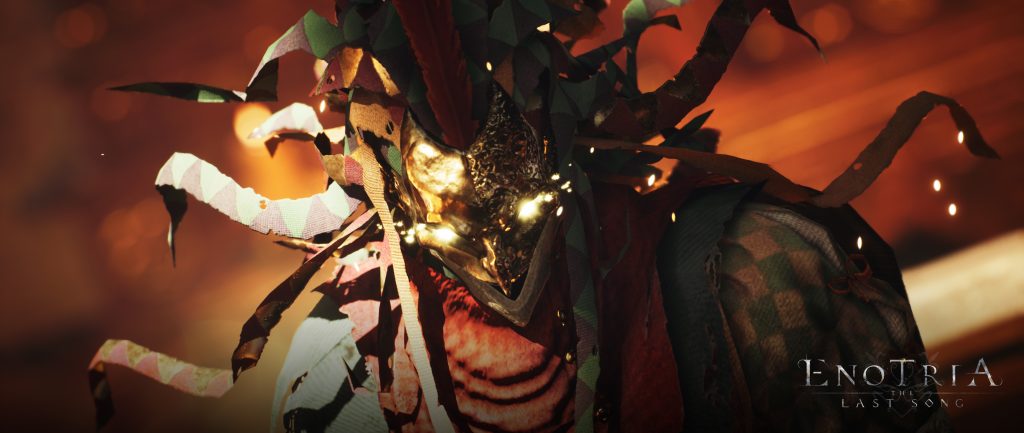 We decided to develop a souls-like because it is the only kind of product that would allow us to satisfy at the same time both the market needs and the passions of the people on our team. Of course, the latter is more luck than choice, as the real needle in the balance was marketing research, studies of trends and future releases, in short, the general souls-like according to our studies was in the process of evolving from a niche product to a main-stream market force, and for the time being, given the worldwide success of Elden Ring, we probably managed to analyze the above data well.
Francesco:
Enotria unveiled itself to the international audience at the Tokyo Game Show with a jaw-dropping gameplay reveal teaser (also voiced in Japanese) that briefly showcases some game sequences, combat phases, and magnificent landscapes, all of which are still in the early stages of development.
How was the reception of the game at the event? Are you satisfied with the initial feedback?
Jyamma Games:
Very positive. We waited for the right moment of professional maturity to be able to deal with this engagement in the best possible way, we were not in a hurry, and in fact we were rewarded very well, both in terms of media, community, and business.
Between that event and the next one (Taipei game show) we really had a lot of satisfactions, including the most important one ever, which was the meeting that the very famous Yoshida, Playstation's historical president and currently in charge of managing the Indie side of Playstation.
Francesco:
Enotria embraces the Souls-Like genre, but with an added magical twist, aiming to depict and "paint" a world based on the colors of the Italian summer, the liveliness, and the overall sensation of visiting Italy during the summer, which you have defined as "Summer-Soul".
Would you like to provide more insight into what you mean by this definition and share how you have shaped the game's artistic direction?
Jyamma Games:
Compared to other titles addressed at the same audience our artistic direction is bright, faithful to the landscape you can find in Italy and sunny. At the same time, you can sense the mystery and the darkness behind that beauty and that motivates you to go further and discover all the secrets of Enotria.
Francesco:
Enotria: The Last Song will be released for PC and Console in 2024. How is development progressing? Can you provide any information about a possible release window at this time, or is everything still a mystery? And, while we're at it, do you have any plans to release an open beta or demo for users in Q2 2023?
Jyamma Games:
We cannot share much, just pay attention to our official channels for new updates soon!
What worth has a Song, deprived of its End?
Thus spoke a mysterious voiceover during the Official Gameplay Reveal of Enotria at the Tokyo Game Show 2022, where the developers unveiled captivating gameplay glimpses and tantalizing hints about their upcoming video game.
An impactful and symbolic statement that we deemed the perfect "verse" to conclude our interview with Jyamma Games Studio, but not without expressing our gratitude for their availability and for sharing intriguing insights and details that we are eagerly looking forward to exploring in the near future.
A special thank you goes out to all of you for joining us once again. In conclusion, we remind you to take a look at the official websites of Enotria: The Last Song and Jyamma Games to stay updated on what the developers have in store for us.
We'll talk again soon, but in the meantime, we highly recommend that you continue to follow us to stay up-to-date on our latest updates and news regarding Enotria.