Publisher Microids, Microids Lyon/Paris Studios and Paul Cuisset unveiled a new trailer for Flashback 2, the sequel of the legendary video game Flashback, originally released in 1992.
The first Flashback, released in1992, revolutionized action gaming and gained legendary status, ranking amongst the top 100 video games in history! 
Developed by the game's original creator Paul Cuisset,  Flashback 2 will offer an experience faithful to its predecessor. The development brings back together some members of the original team, such as Thierry Perreau in game design and Raphaël Gesqua, the renowned composer of the Amiga version.
The Plot So Far
In the year 2142, intelligence agent Conrad B. Hart discovers that shapeshifting aliens known as Morphs have infiltrated human society. He records a message to himself, but before he can warn anyone else, he is captured and his memory erased.
The Plot Now
In the 22nd century, the United Worlds extended throughout the Solar System. This tranquility is threatened by the Morph invasion led by the gruesome General Lazarus. 
After overcoming the Death Tower, Conrad and his allies must once again face the Morphs, the alien race that threatens all civilizations. In search of his lifelong friend Ian, he dives once again into a breathtaking adventure full of twists and revelations with the help of his few allies, including A.I.S.H.A., his iconic weapon!
Games Features
We can Immerse ourselves in a vibrant sci-fi/cyberpunk universe and explore various environments like New Tokyo, New Washington and the jungle.
We can use I.S.H.A., a lethal adaptive weapon enhanced with combat AI. A very helpful weapon in a gripping, fluid and intricate platform shooter.
We can experience a complex and tactical 3D environment. Designed and developed by the creator of the original, Paul Cuisset.
Limited and Collector's Edition
The Limited Edition will be available on Nintendo Switch, PlayStation 4, PlayStation 5, Xbox One and Xbox Series X, will include:
The game
An exclusive Steelbook®
Flashback 2 digital Soundtrack
The Collector's Edition, planned for Nintendo Switch, PlayStation 4 and PlayStation 5, will include:
The full game
The original Flashback video game in digital version
An 8-inch (20cm) figurine of Conrad
3 lithographs
An exclusive Steelbook®
A unique badge
Flashback 2 digital soundtrack
2 stickers sheets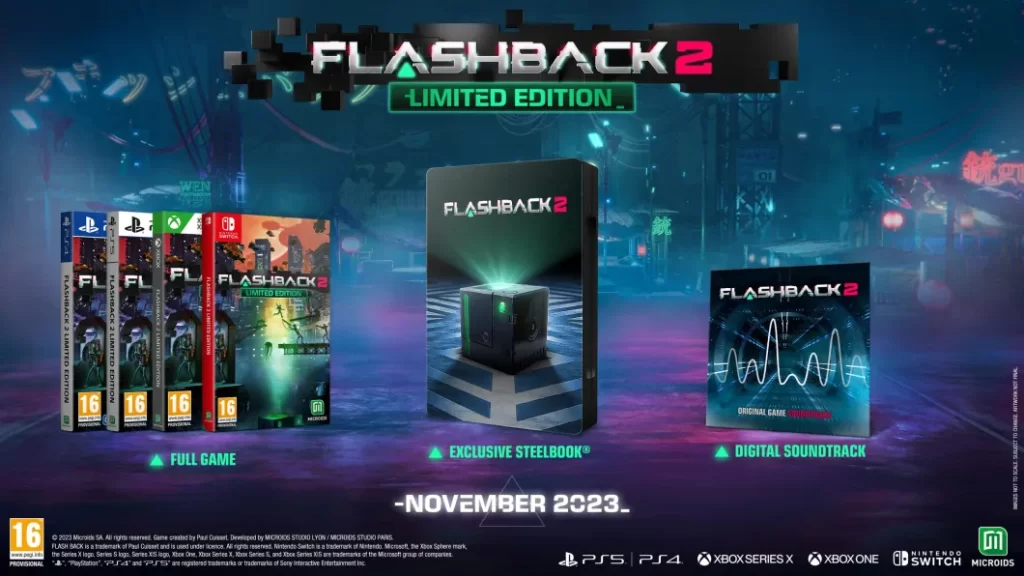 Flashback 2 will be released in November 2023 on PlayStation 4, PlayStation 5, Xbox One, Xbox Series X|S, Nintendo Switch and digital version on PC.