The young and talented 13-year-old solo developer Max Trest, better known under the label of his indie game development studio Lost Cartridge Creations, introduces Astrolander, an exciting co-op adventure planned to release exclusively on PlayStation 5 in 2024, designed to harness the potential of the DualSense.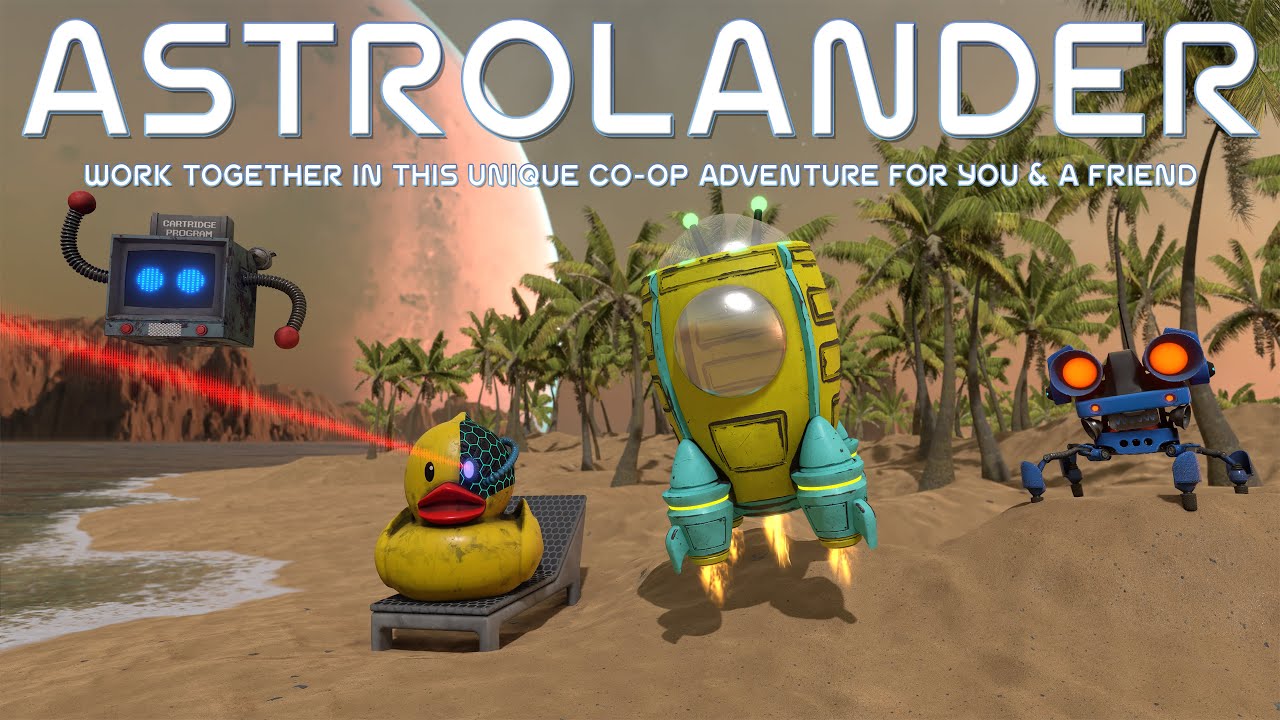 With the arrival of PlayStation 5 and the DualSense controller in the gaming industry, Sony has marked a significant divide between the distinctive controllers of the new-gen and the "old-gen". They've crafted a wireless controller with remarkable potential that, in many ways, redefines their own standards. Consider, for instance, the unique features of the DualSense, such as haptic feedback, adaptive triggers, and the recent innovative DualSense Edge, the true 2.0 controller for the PlayStation 5. It offers full customization of controls and introduces fresh adjustment and mapping capabilities.
However, despite this, there are still only a few PS5 exclusives that can boast of having fully harnessed the immense potential offered by the DualSense controller and its innovative features, with perhaps some notable exceptions. One such exception is undoubtedly Astro's Playroom, the delightful 3D platformer by Japan Studio, meticulously crafted for the PlayStation's new generation to vividly demonstrate the still untapped potential of the DualSense.
And here comes Astrolander, the captivating new PlayStation 5 exclusive crafted by a 13-year-old developer named Max Trest, who made his debut in the gaming industry under the banner of his label, "Lost Cartridge Creations." Astrolander is an intriguing cooperative survival adventure currently in development, coming in 2024, exclusively for the PS5. So, without further ado, let's get to know young Max Trest a bit better and delve into the details of the exciting project he's currently working on.
Who is Max Trest, the brilliant mastermind behind Astrolander?
Before we delve into the topic and explore Astrolander, let's provide some crucial background information to help you grasp who Max Trest is and how his project came to be.
As narrated by the solo developer, Astrolander emerged just a few years ago with a reputation as a "small hobby project," likely born out of his curiosity for the world of video game development or, quite simply, for fun. During the development process, Max frequently attended important shows and events, including Emerald City Comic Con (ECCC), Seattle Indies Expo (SIX), GeekGirlCon, Pocket Gamer Connects, Bellingham Maker Faire, and Geek Xtravaganza. However, it wasn't until the Seattle Indies Expo that the project caught the attention of PlayStation Studios, who proposed an exclusive agreement to bring it to PlayStation 5. Naturally, Max welcomed and accepted this proposal with enthusiasm.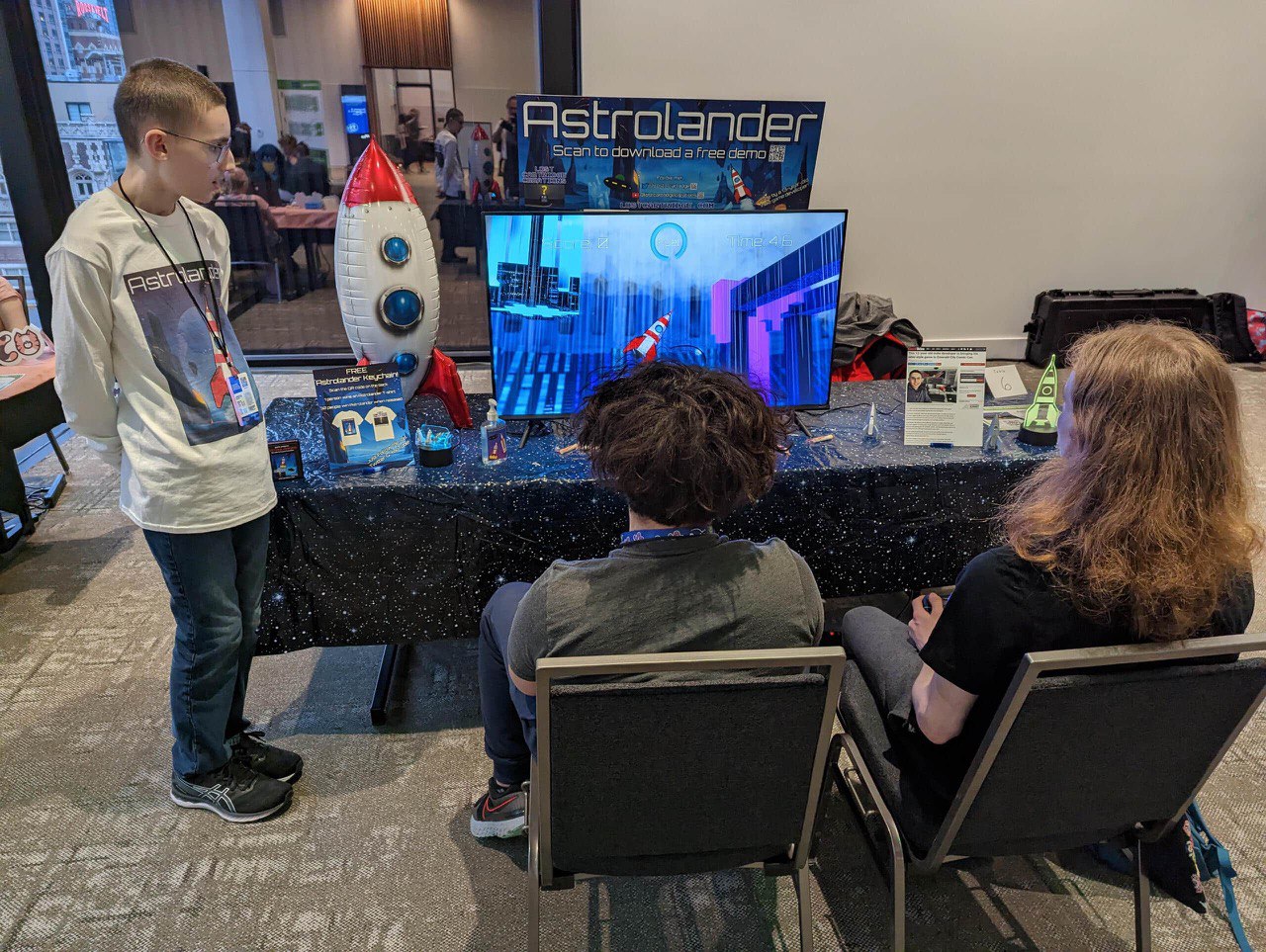 There is no denying that Max Trest is a prodigious individual with innate talents in video game development. This is evident not only due to his young age but also through the skills he has honed as a solo developer, including substantial expertise in Unity, Blender, C#, GitHub, JetBrains Rider, Visual Studio, and the Unreal Engine. Right from the start, the game received positive acclaim at various events Max participated in, earning excellent feedback and generating high expectations.
In 2022, Max achieved two significant milestones: firstly, the official establishment of his own label and self-employed indie game studio, "Lost Cartridge Creations," and secondly, a more personal achievement—the unveiling of a legacy demo version of Astrolander for PC at the Museum of Pop Culture (MoPOP) in Seattle as part of the Indie Game Revolution exhibit.
In 2023, the game continued to impress with significant advancements, particularly in terms of its technical aspects, featuring a renewed and notably more captivating and polished presentation. It stands poised to secure its place in the lineup of PlayStation 5 exclusives coming in 2024.
What is Astrolander?
Taking Max Trest's project description quite literally, "Astrolander is an action-packed local co-op video game featuring dramatic cinematics, intense action, and lush levels."
Players will collaborate to advance through the adventure by taking control of the protagonist, Haptic, a kind of sentient spaceship with two pairs of antennae, along with their charming robot companion, Feedback (do their names sound familiar?), on their mission to rescue the MVP's (Most Valuable Programs).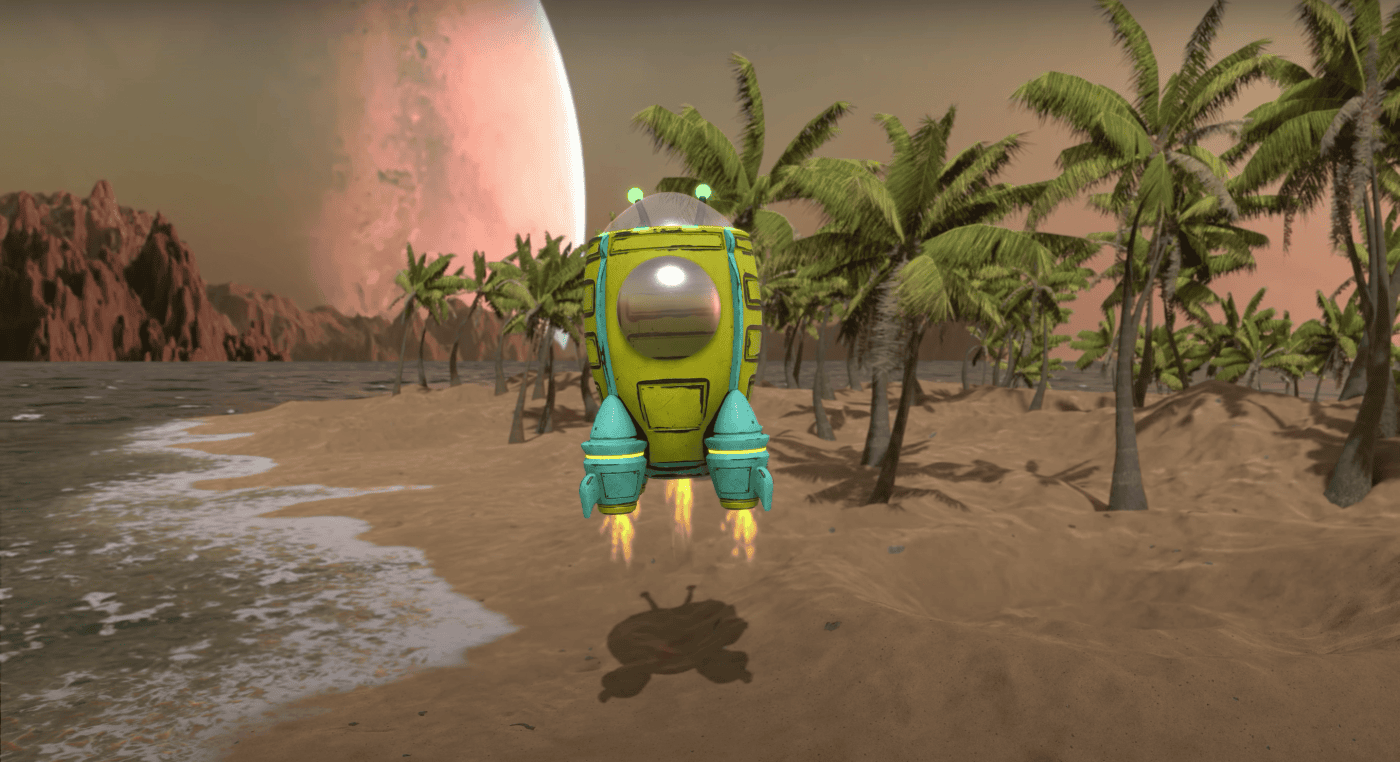 The adventure promises to be intriguing and filled with challenges: mechanic assassin ducks armed with laser eyes, ocean-strewn bombs, ominous hovering spacecraft, dragons, and hazardous environments of various kinds. What could possibly go wrong?
What distinguishes Astrolander is not its narrative, the relationship and storyline between the two characters, or its status as an enchanting adventure that excels in both visual and gameplay aspects. Instead, it is a video game meticulously conceived and purposefully crafted by the developer for the PS5, with the aim of unlocking and harnessing the true potential of the DualSense controller, delivering an enjoyable gameplay experience for all while offering relaxation without entirely sacrificing a balanced level of challenge.
Astrolander can be played either in local co-op with a friend or solo, though Max Trest strongly recommends enjoying it as a duo to significantly enhance the level of enjoyment.
In the next section, we will take a closer look at the interactive features and game mechanics the developer is working on and how Astrolander aims to harness the potential of the PS5 and its controller.
Here's how Max Trest will harness the features of the DualSense
As you may have easily deduced, the names of the protagonists, Haptic and Feedback, are by no means coincidental; quite the opposite, in fact. Consider that their names, when combined, allude to one of the most captivating features of the DualSense controller—a novel means by which players can perceive the sensations and immersive feelings that a video game imparts to the in-game experience.
For this reason, we find the underlying concept behind Astrolander highly appealing. It has been meticulously crafted by the developer with the mission of elevating the gaming experience to a higher plane. All of this greatly intrigues us and makes us extremely curious to explore the world envisioned by Max Trest.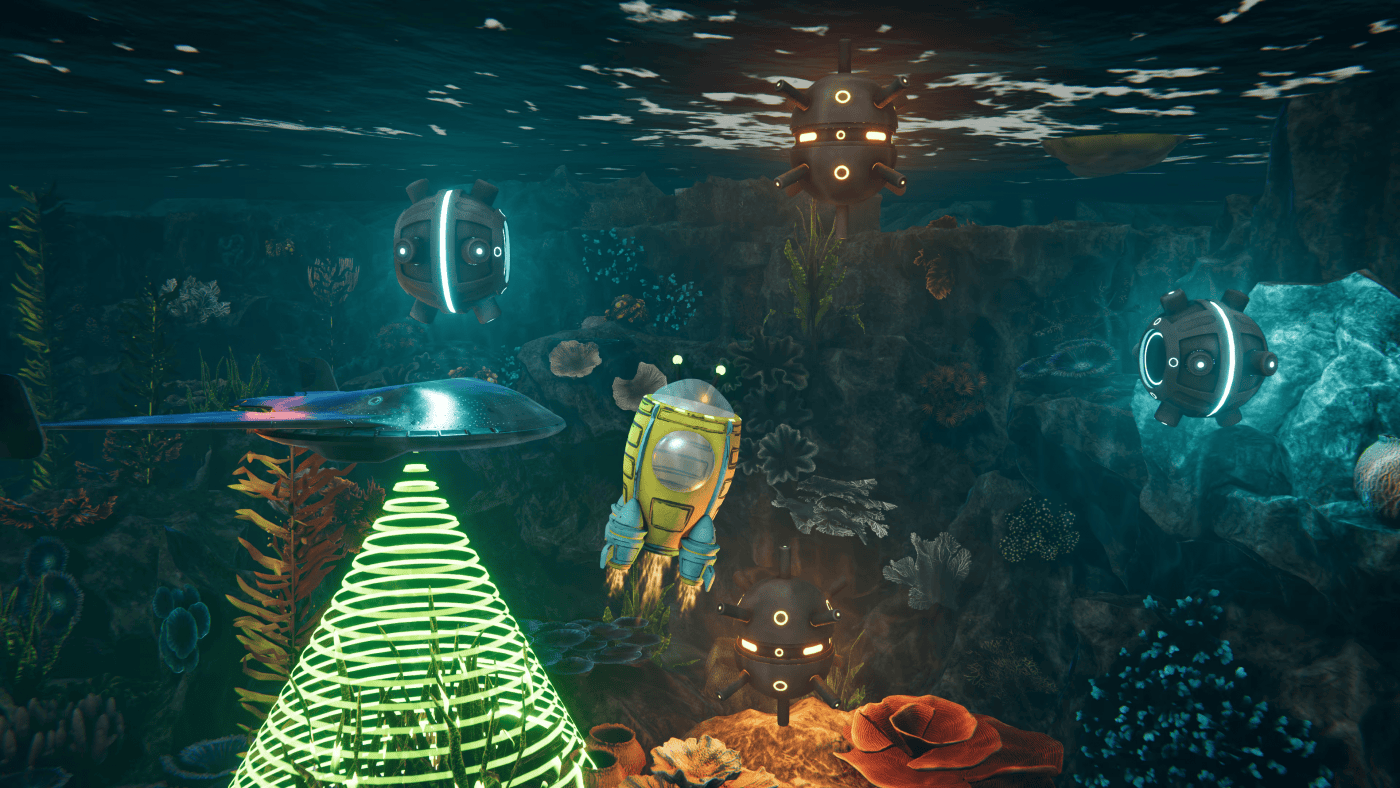 Until now, there has been only one video game that has executed this brilliantly—Astro's Playroom. A delightful and interactive journey through the history of PlayStation with a technical prowess and level of detail that leave you speechless, fully utilizing the key features of Sony's new controller. This is where Astrolander, Max Trest's project, comes into the picture. It's not about competing with Astro's Playroom; rather, it's about delivering a wholesome and enjoyable experience in which a solo developer has adeptly studied, designed, and demonstrated how to harness the DualSense to ensure its seamless, functional, and fun integration into gameplay.
Naturally, as Max Trest explains, the use of the microphone and touchpad will play a pivotal role in Astrolander, allowing players to directly manipulate and sense the world around them with innovative and immersive uses of the DualSense. Through the microphone, players can, for example, control Haptic, "the spacecraft", providing it with power and speed based on the intensity of their breath, as well as toppling dangerous foes. Meanwhile, the touchpad will serve as a crucial tool for generating powerful tidal waves and tornadoes, enabling players to escape and evade the menace of cyberquax and cybermoos. Additionally, players must pay close attention to the numerous "ambient sounds" emitted by the DualSense, such as experiencing realistic sensations as cybertrains approach or hide in the tides to elude cybertrackers.
Each of the three elements the developer has worked on (sound, microphone, and touchpad) is seamlessly integrated into the gameplay, and it will be the players' responsibility to uncover how to make the most of them. For example, if you blow too forcefully into the microphone, you'll give Haptic an additional turbo boost, which could result in it colliding with an explosive bomb or getting zapped by the laser-equipped mechanical ducks.
In conclusion, what we've seen of Astrolander so far has left us highly impressed, primarily thanks to its intriguing concept. We're eagerly looking forward to learning more, especially about the additional features that the young Max Trest plans to incorporate into his game.
We'd like to remind you that Astrolander will be exclusively released on PlayStation 5 in 2024. Please visit the official website of Lost Cartridge Creations to stay updated on all the latest news regarding Max Trest's project.