The new Smoking Gun videogame aims to render the player mentally paralyzed by turning his most ridiculous phobias into terrifying creatures
"Each of us must confront our own fears, must come face to face with them.
How we handle our fears will determine where we go with the rest of our lives.
To experience adventure or to be limited by the fear of it."
Judy Blume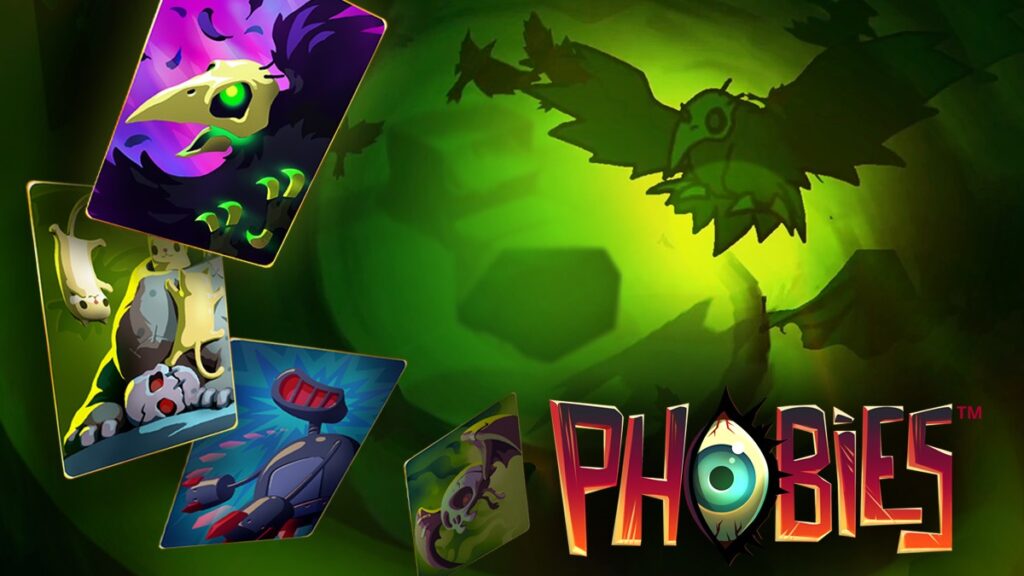 Have you ever felt the same level of fear and anxiety at the same time? Imagine yourself in a paranormal universe where all of your ridiculous and unfathomable phobias come to life as horrifying and dangerous beasts.
Phobies is the new thrilling Free-to-play videogame by Smoking Gun Interactive. Released on March 8, 2022 for PC and mobile devices (for both Android and IOS), the game quickly makes a fantastic first impression thanks to compelling attention to detail and fun and never tiring gameplay.
Do you feel up to the task at hand, or would you rather wait until dusk and fall victim to vicious beasts and unknown creatures?
Well? Are you still here? Follow me then. There are so many things you need to know and so many skills to master before night falls!
A whisper in the shadow
Phobies immediately immerses the player to what I will simply call a tactical CCG. We're talking about a collectible card video game that has tactics and a turn-based combat system as essential facets.
Turn-based combat is in fact one of the pillars of this project; a feature which we will discuss later in the section dedicated to gameplay.
However, I never expected to befriend a monstrous talking mouth. I may describe him as a helper, a buddy, or even my only chance of surviving in a kingdom where only panic and fear dwell. His name is Lippy.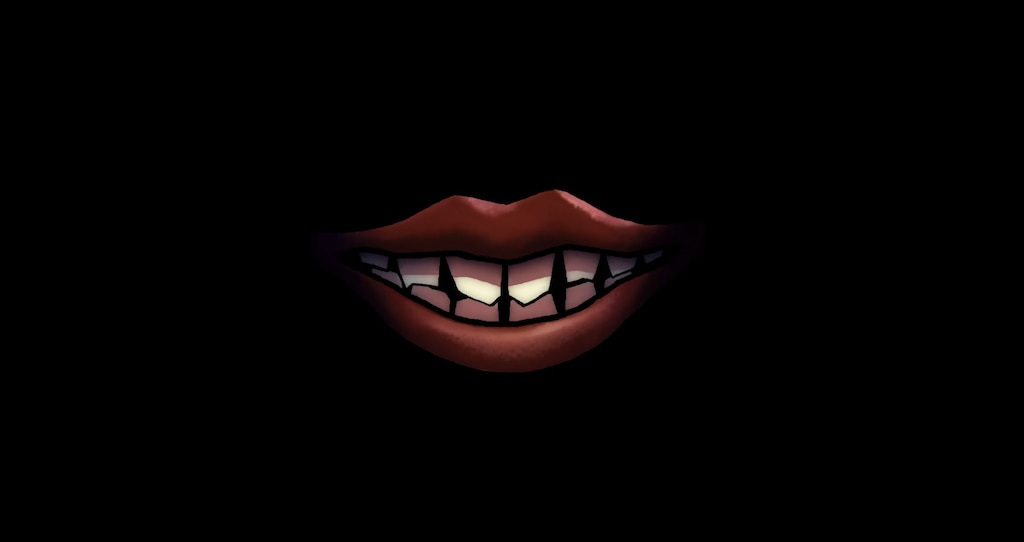 Its first appearance is as gloomy as it is unexpected. Lippy is indeed a mentor; the only one who can teach you how to learn the basics of survival and combat.
Listen, learn and hunt like a predator so you don't fall victim to the darkness. His warm, scary voice will be your only whisper in the shadow.
Turn your phobias into a war arsenal
Unquestionably, one of the foundations of Phobies is the gameplay. Your misadventure in this hopeless realm will begin right with a quick survival tutorial from the evil Lippy.
The tutorial will break down all of the essential elements of the game, while differentiating the strategies used in the various duels to ensure your quick and secure triumph.
At the end of the tutorial you will discover the real currency of the place, which is separated into three items of exchange: coffee, tears, and XP. You'll also come to know Vendy: a humble and monstrous trader desperate for coffee. This character is especially crucial to your survival in the game since he will be the one to give you the card packs you require to acquire new phobies or enhance the ones you already possess.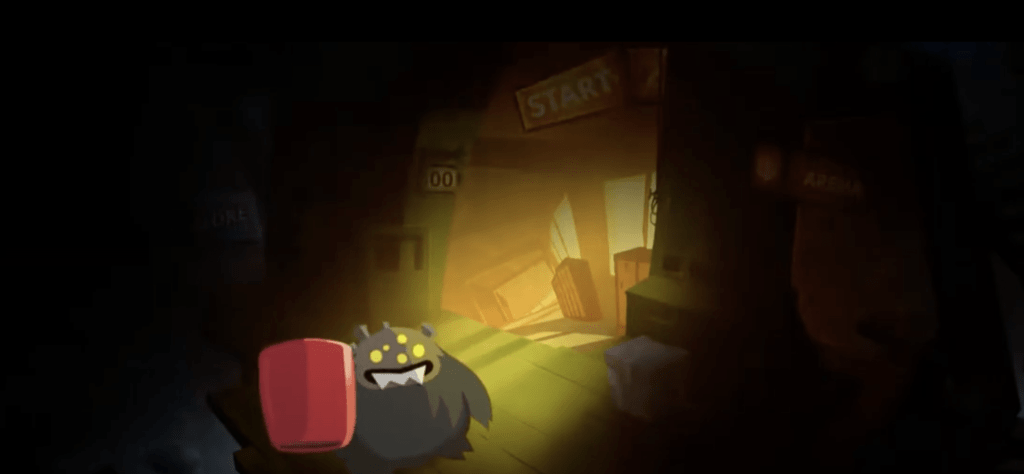 Keep in mind that as you enhance your unstoppable creatures, your stress level will continue to rise. You can do this to acquire special creatures and power-up cards (depending on the stress level you unlock). Your phobies tamer level will start to climb as your stress level rises.
After completing the tutorial and learning the mechanics of Phobies, you can also feel free to choose the game mode you prefer.
You can decide whether to engage in asynchronous PVP battles, test your skills in a real-time battle in the arena, challenge your friends in the "Frenemies" mode or try your hand at the challenges of your mentor Lippy.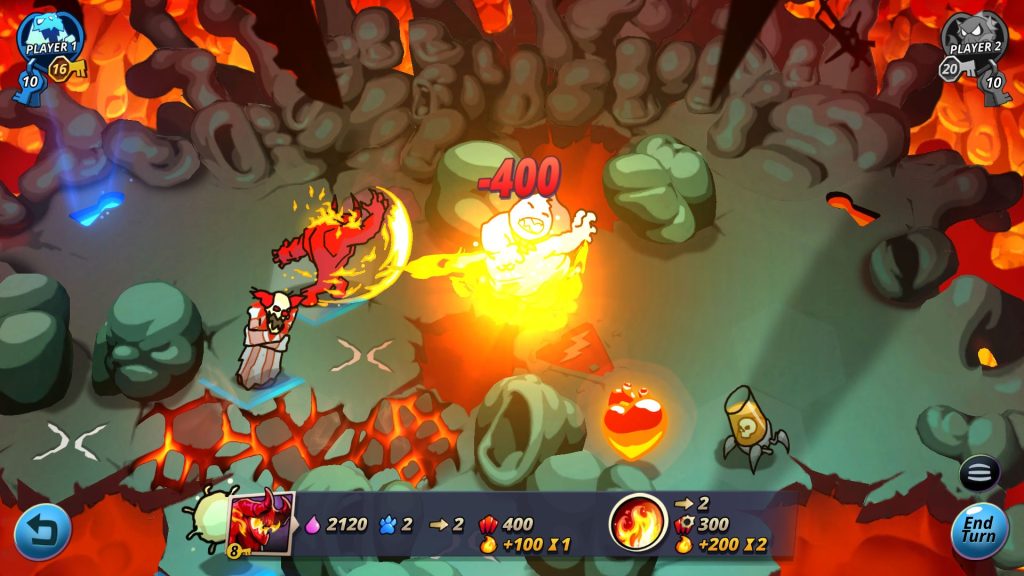 The gameplay involves even-handed combat in which you will have the chance to bring your cards to life in the form of scary creatures.
Each duelist begins the combat with a specific number of keys, which are required to set up your phobies on the battlefield. You must be careful to dosage the keys properly, because each turn will only allow you to use a portion of the ones you were given.
You won't be able to call your creatures onto the pitch until you have accumulated enough keys from the battlefield. Each creature has its own level of summoning and needs a sufficient number of keys to appear on the battlefield.
You must destroy every one of your opponent's creatures or cause his heart to explode in order to win. Additionally, you will need to carefully study the map because each arena contains a variety of traps and shelters, platforms that will temporarily strengthen your phobies attacks, pools that will serve as an antidote to the poison, and many other strategies that you should figure out before it's too late.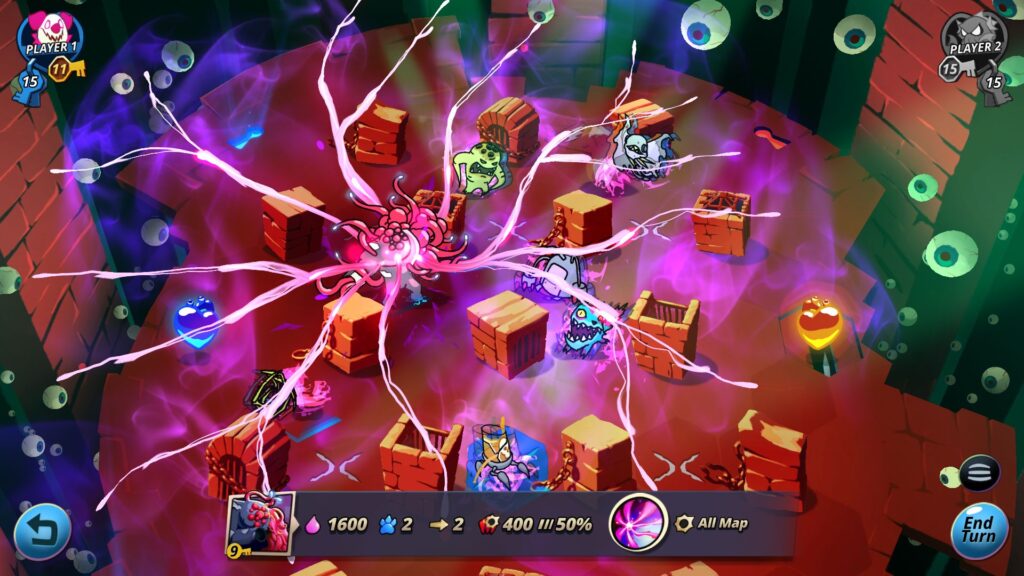 You'll need to assemble an army with a balance of might, brutality, and quickness to survive the duel. Each summoned being has entirely unique attacks, abilities, and moves from the others.
Once the match is complete, the game will reward you with a generous dose of coffee, tears and experience points. Fight and experiment to level up, complete daily missions and climb the leaderboards.
All of this will provide you the chance to advance in leagues, receive more juicy rewards, and further develop your sizable collection of spooky creatures.
A simple and intuitive gameplay, but which it never felt repetitive or boring to me. And I don't believe it's completely simple to state it because it shows off the fantastic work done by the developers on the level design and the enormous variety and quality of creatures the player can engage in battle.
It was, in my opinion, a bold and smart decision that adds to the fun of playing Phobies. A decision that I fully support and that I consider essential to make the playful component overall enjoyable and never boring.
The distressing phobias of the subconscious
One feature of Phobies that I just can't leave out is the variety and quality of creatures that Smoking Gun Interactive has created.
There are 133 phobies as of right now. Each of them is unique from the others in terms of mobility, aggression, and categories. As a result, we classify phobies into four major groups that help us understand how to exploit their skills.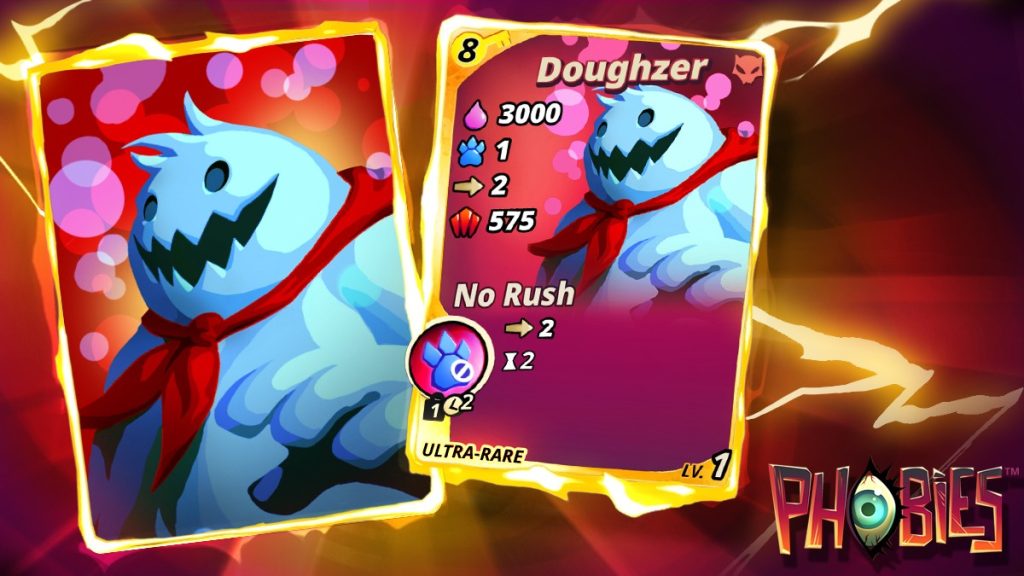 Monsters are easy to utilize and incredibly effective in combat. Red cards represent these creatures, don't have any advantages or disadvantages due to their race.
Undead (depicted in green) have both a bonus and a malus: if they don't have all of their life points, they can deal and drain 40% of the damage they inflict on the enemy. Their disadvantage is that there is no cure for them. Terrordactyl can also resurrect with 400 life even after death (as long as no creature steps on its meager bones). This special power makes him somewhat difficult to deal with in battle.
Mechanical (depicted in blue) are immune to any kind of poison. Their primary flaw is that they are quite vulnerable to electrical attacks (which all other breeds are immune to).
Dimensional (depicted in purple) are extremely powerful and tough phobies. Once you've vanquished them in combat, they'll threaten your phobie with a powerful counterattack equal to a basic strike, also attracting his opponent by one square. Stabby also possesses another unique ability: every time he suffers an attack, he will deal a 30% counterattack for the damage he took.
On the other hand, I remind you that every phobie is a unique creature regardless of the race they belong to. Grave Digger is in fact very important during the clashes because he can enclose the playing field by building a statue to protect your weaker creatures.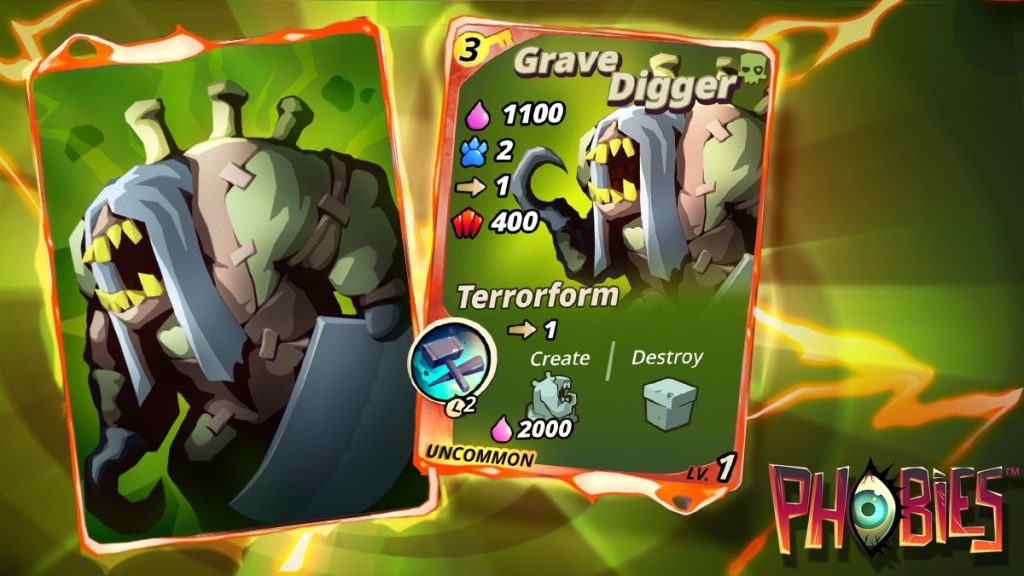 Additionally, Grave Digger is also particularly useful when flanked by creatures that use ranged attacks.
Combine its defense techniques with the offensive skills of Staremaster and Eratic to defeat your opponent's army.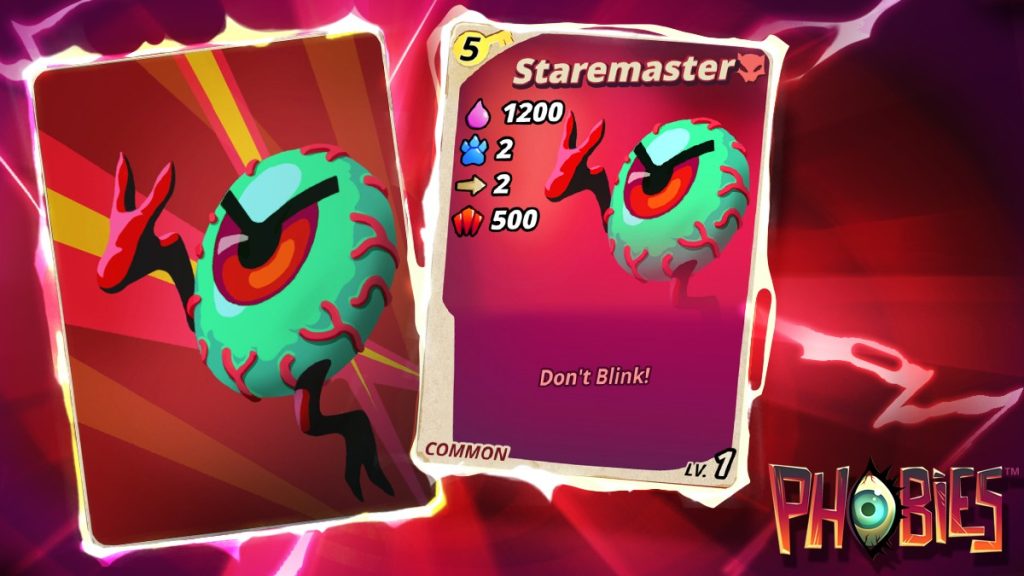 A special applause is in order for the meticulous attention to every single card and the accurate portrayal of the phobies on the field.
I really appreciated how each creature had its own aesthetic, and I liked how the development team wanted to make each phobie both frightful and humorous.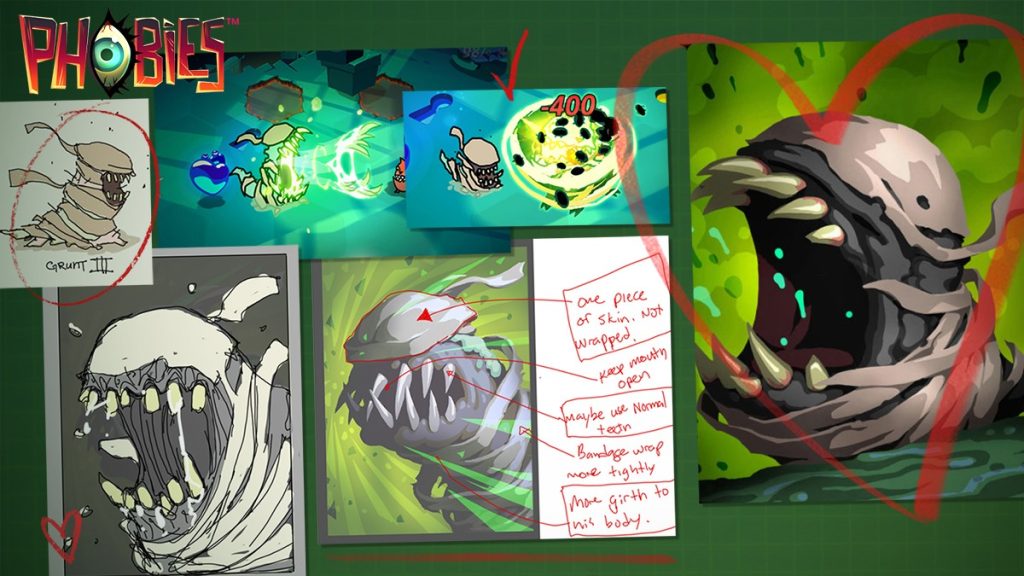 Collect them all!
I must admit that I never anticipated that I would get so involved with Phobies!
The playful component is fun and interactive and the clashes never appear trivial or repetitive, also thanks to the excellent work done by the development team on the composition of the maps. Each component has meticulous management and well-defined details in order to create something that remains imprinted in the mind of the player.
Despite some flaws due to optimization (already solved with the related updates) I believe that Phobies is an unmissable title: the characterization of the creatures is also a feast for the eyes and I find it one of the real pillars of the new Smoking Gun project.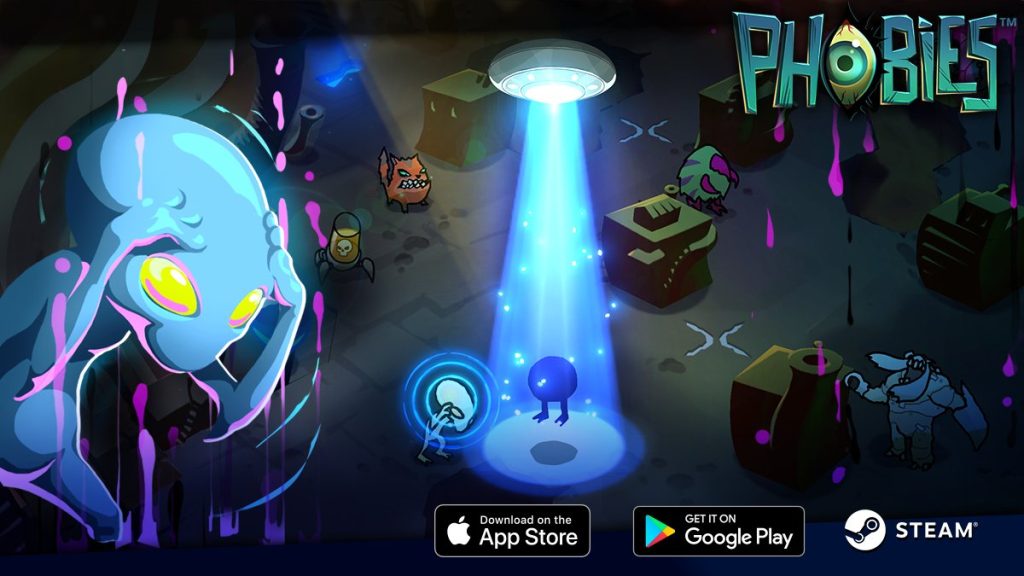 What are you waiting for? Download Phobies for free for Steam, Android or IOS and immerse yourself in this thrilling adventure!
Phobies
"Have you ever felt the same level of fear and anxiety at the same time? Imagine yourself in a paranormal universe where all of your ridiculous and unfathomable phobias come to life as horrifying and dangerous beasts. Phobies is the new thrilling Free-to-play videogame by Smoking Gun Interactive. Released on March 8, 2022 for PC and mobile devices (for both Android and IOS), the game quickly makes a fantastic first impression thanks to compelling attention to detail and fun and never tiring gameplay."
8/10